She's hooked: The 19-year-old Singaporean crochet artist designing clothes and even S$333 bags
Amidst the unabated crochet craze, CNA Women speaks to crochet artist Hayley Sim about the rise of this slow-fashion trend and how she started Softly Made Cottage.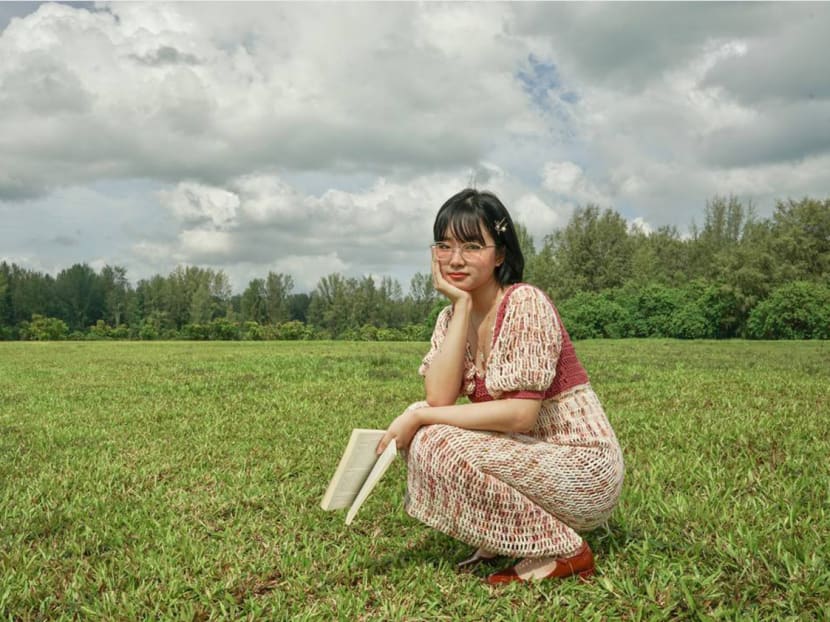 She doesn't have a well-known fashion label. She doesn't work with a production factory or seamstresses. She hasn't even completed her creative direction for fashion course at LASALLE College of the Arts.
Yet crochet artist Hayley Sim has a sizeable Instagram following of more than 27,000 at @softlymadecottage where she often gets commissioned to make the items she wears. Her most expensive sale to date is a bag, which she sold for S$333.
Sim is a prime example of a new wave of Gen Z-ers embracing the crochet trend. The 19-year-old spends most of her waking hours with hook and yarn. On weekdays, she crochets for five hours daily. At weekends, she often crochets for a whopping 15-hour stretch, from 9am until close to midnight.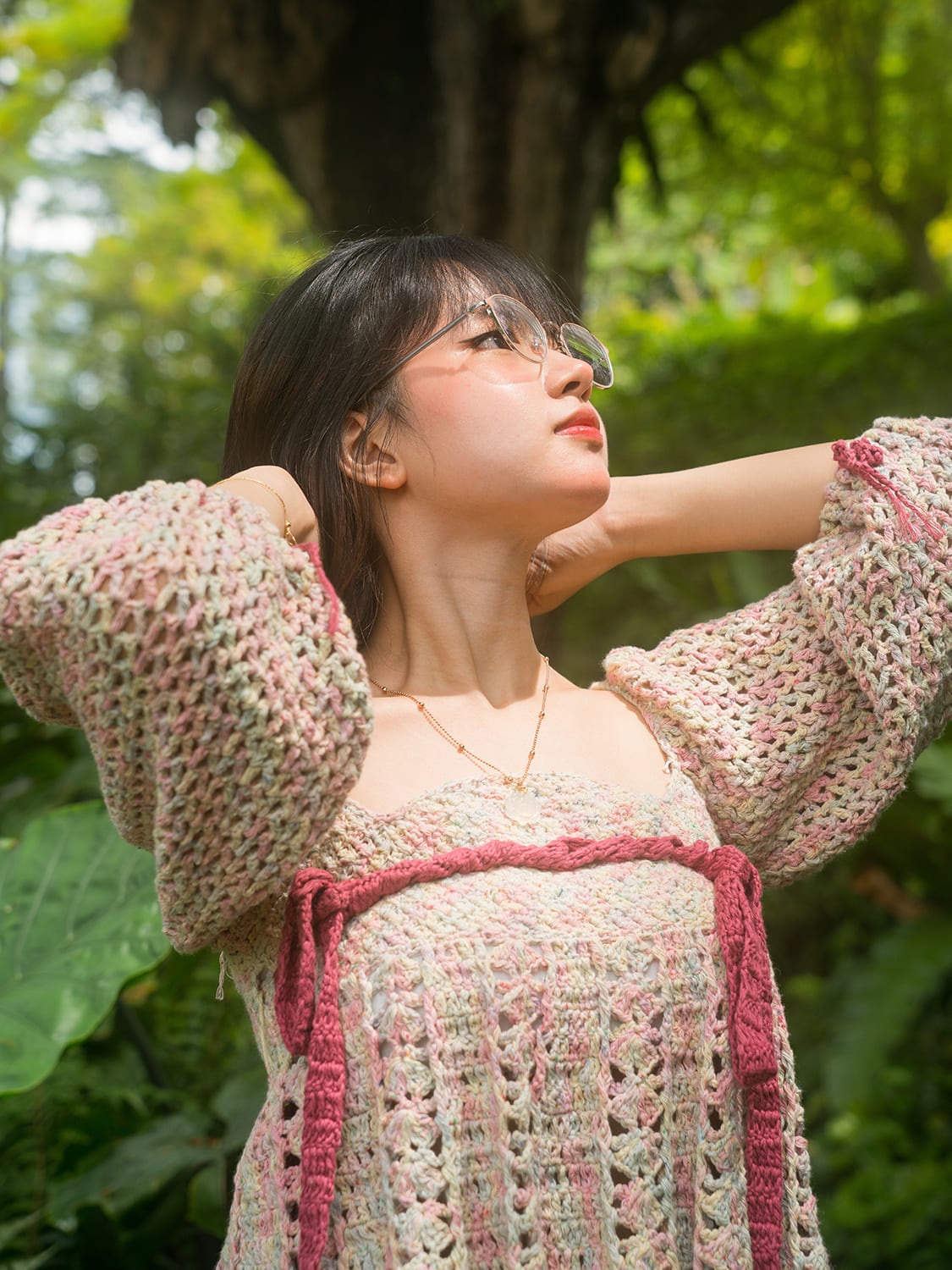 Just five years ago, it would have been hard to imagine crochet taking off amongst this digital generation. Time-consuming and repetitive, it felt like a pastime better suited to the older crowd. Even the famous women who professed to love it are from that generation – think actresses Cher, 75, Meryl Streep, 72, and United States Vice President Kamala Harris, 57.
All this changed with the pandemic. Suddenly, this traditional handicraft became a popular lockdown activity, cutting across age groups. More than a hobby, the slow-fashion trend has also found its way into the wardrobes of many young people.
HOW SHE GOT HOOKED
What exactly reinvigorated this once dated handicraft? "Crochet fashion has moved away from shawls or very vintage-looking pieces it used to be associated with," Sim observed.
"People began making trendier clothes like mini skirts and crop tops. More celebrities and influencers began wearing crochet items, and tutorials were created on how to make them.
"Many saw how trendy crochet became all of a sudden and jumped on the bandwagon to make their own items or commission them from creators," she added.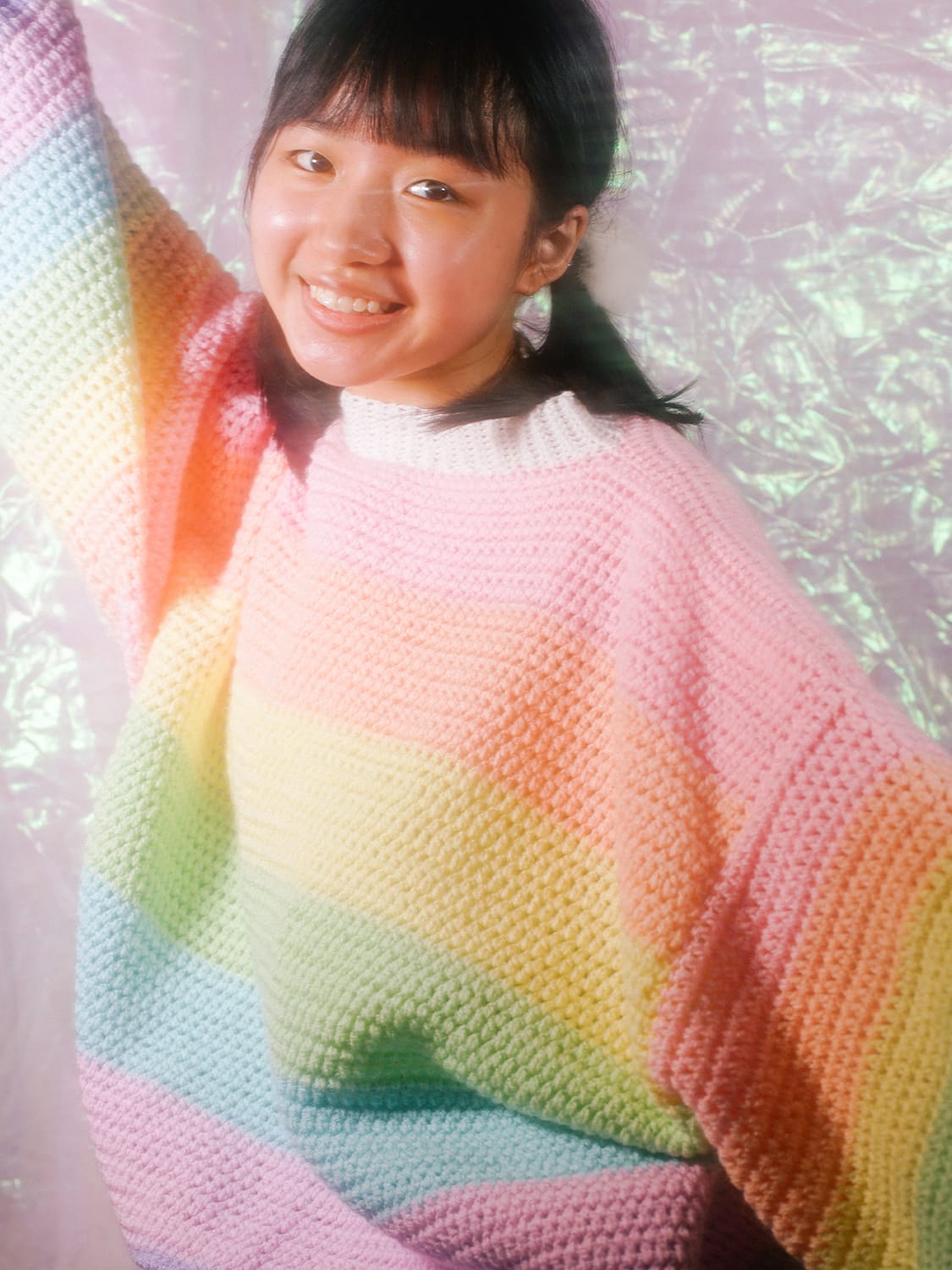 For Sim however, it was neither celebrity trends nor pandemic boredom that sparked her interest. It started innocuously enough after her O-level exams in November 2019 – she saw a YouTube video on how to make a Rilakkuma bear keychain, a fictional character by Japanese company San-X.
She never finished making the keychain, but got sucked into the world of handmade fashion, and it became a full-blown obsession.
"I have always had an interest in fashion – niche handmade stuff, not high fashion. I like how homely it feels – you put so much effort into tailoring to what a person likes," she reflected.
"This may be because my grandmother used to be a seamstress and taught me how to sew when I was in primary school. When I was eight, I started to sew simple stuff like clothes for my Barbie dolls."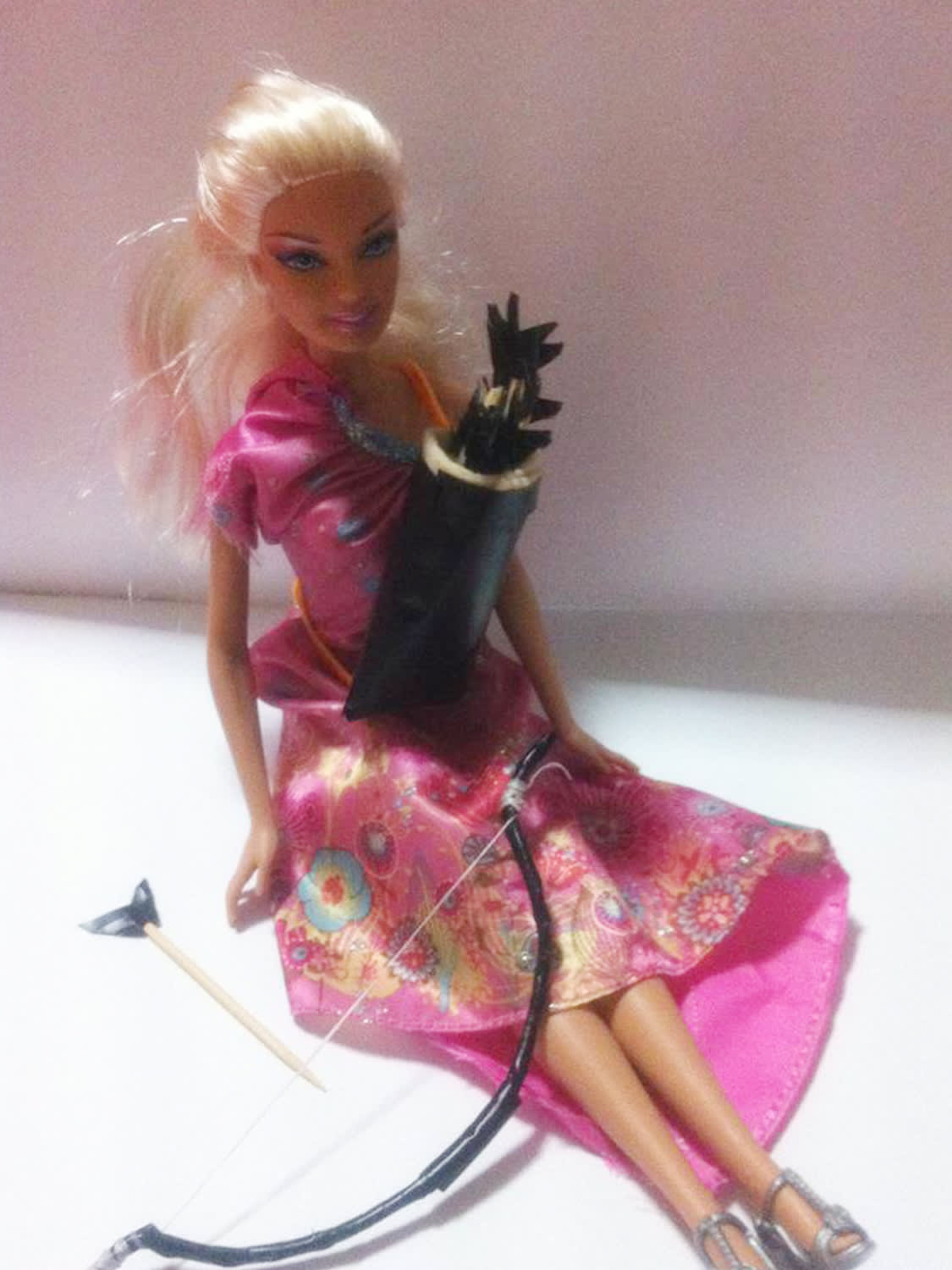 Naturally, when Sim took to crocheting, no one in her family was surprised. "They pretty much expected me to be obsessed with something like this. My mum was the one who bought me my first set of yarns and hooks, which amounted to S$80," she said, adding that her current supplies now cost between S$2,000 and S$3,000.
FINDING HER STYLE
On social media, you will notice a wide array of crochet fashion from y2k mini skirts to Bridgerton-inspired Empire waistline dresses and crop tops with puff sleeves. Sim, however, leans towards cottagecore and fairycore.
"Cottagecore has a naturalistic colour palette, often with natural motifs like strawberries, flowers and mushrooms. It tends to either be a hyper-feminine, modernised version of historical fashion; or a more practical and cosy style. Fairycore is quite similar to cottagecore but with a more whimsical and fantasy style," she explained.
A Chinese history and culture buff, Sim incorporates traditional Chinese fashion, silhouettes and designs into her crochet.
"I enjoy reading Chinese mythology and love characters such as Chang Er. As a Chinese, it is a piece of my identity," she said, revealing that she often goes to TikTok influencer @mochihanfu for traditional Chinese costume inspiration.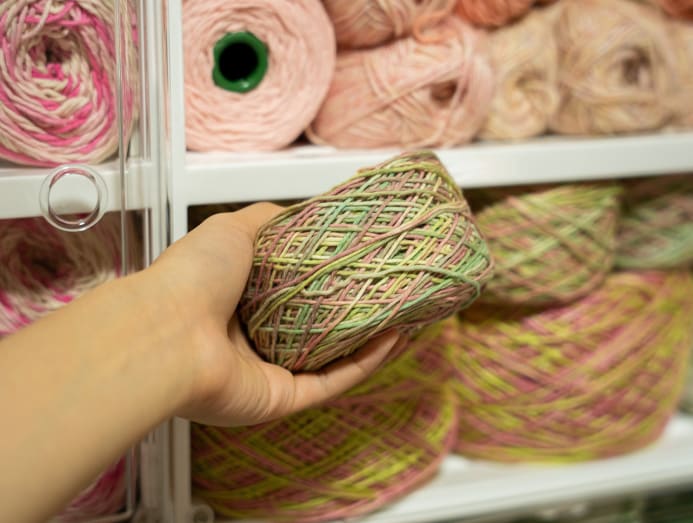 Sim also shops online for limited edition yarns with interesting colour waves. This often results in unique pieces you are unlikely to find at department stores or fast-fashion brands.
"Whenever I wear something like this, people would be interested in why I am wearing it, if I made it, where they can get it. That makes me feel special," she said.
She is not the only one drawn to these unusual designs. When she posted a picture of a pastel pink bucket hat online in 2020, she received many enquiries. That was how she made her first sale. Soon, she was getting bigger commissions for bags.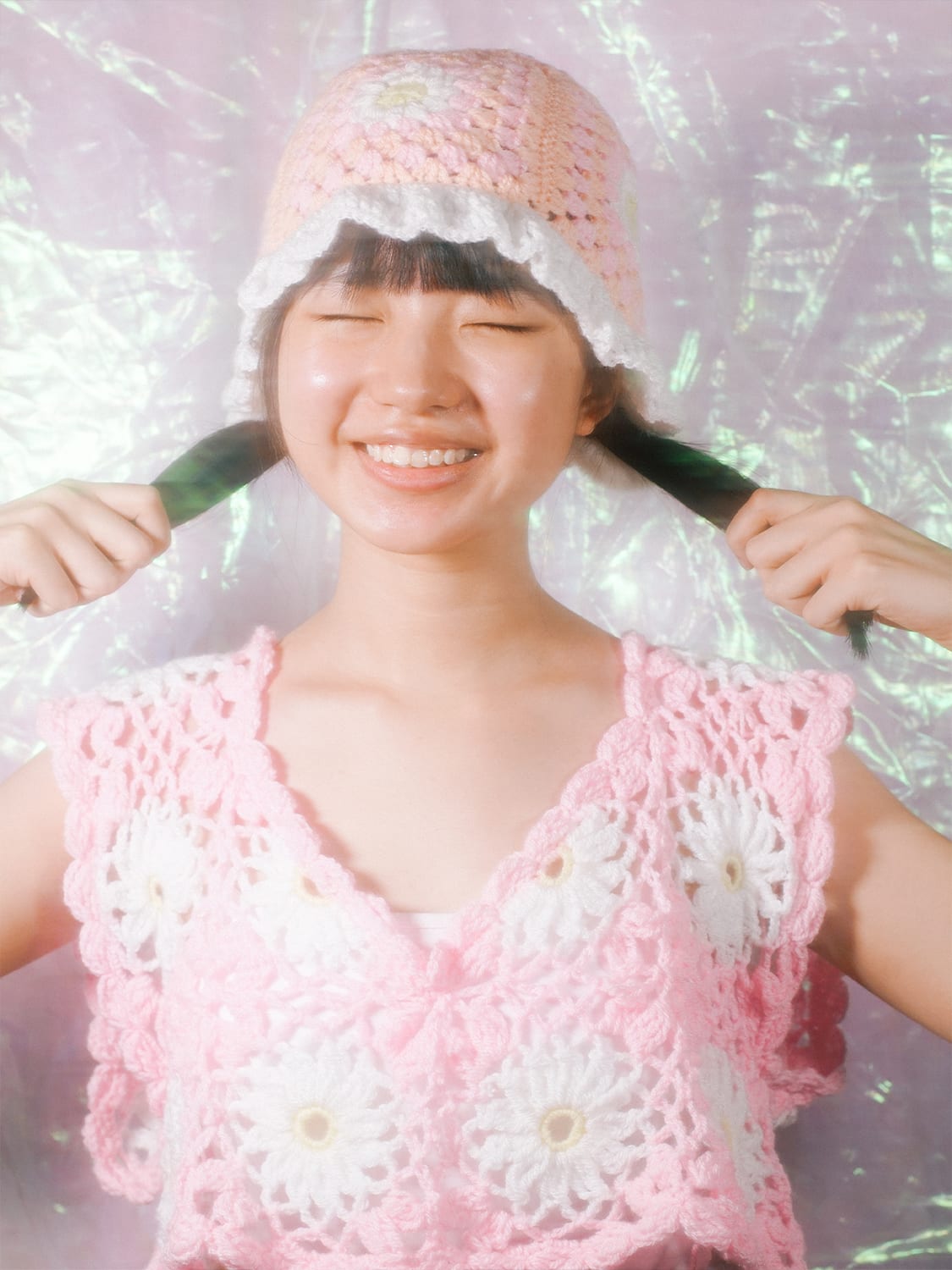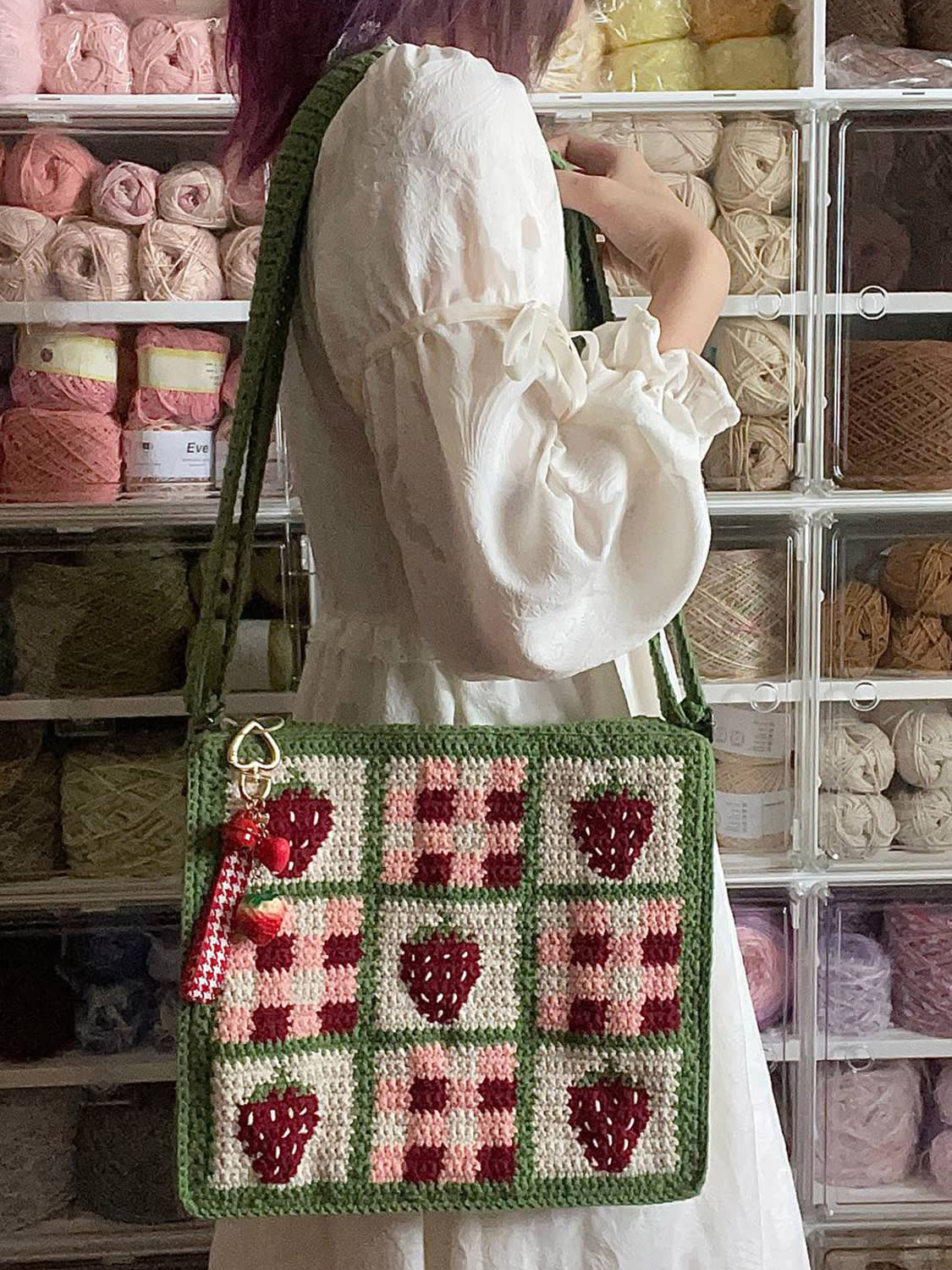 Though her busy school schedule does not leave Sim much time to crochet items for sale, when she does, like many other crochet artists, she charges a pretty penny. A full-length dress, for instance, might cost upwards of S$500, more than fabric dresses by many big brands. Of this, material cost might only amount to 10 per cent.
Why are crocheted items so expensive? "Because it is a very slow and labour-intensive process. It takes a typical creator two to three days to crochet a top. A dress can take a week or more," she explained.
"The cost also depends on the intricacy of the piece. Thicker yarn is easier to work with, but can look bulky. Thinner yarn such as lace yarn will require a very thin hook and intricate work. This will look better if created by someone with more experience. It is a skill we have to hone every day," she added.
SLOW FASHION, SLOW LIVING
Indeed, you could say crocheting is the epitome of slow fashion and slow living. "Unlike simply cutting up fabric as with traditional dress-making, crocheting is a very long process. Whether you make it yourself or order an item, it takes much longer than buying a ready-made item from the shop, which could even arrive at your house the very next day," she noted.
Ironically, thanks to the latest crochet craze, many fast fashion brands are launching crocheted items at cutthroat prices as well. "Fast fashion already exploits a lot of garment workers and they are already very underpaid. With the addition of crochet, they're even more underpaid, because crochet can't be done by machine at all. It's all done by hand," Sim stressed.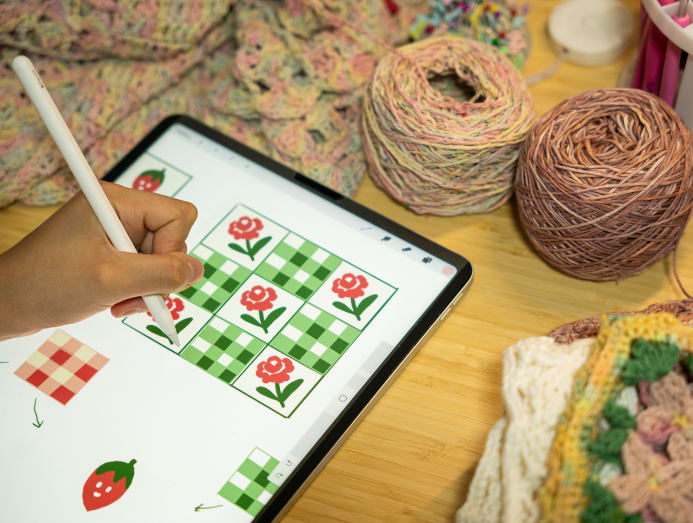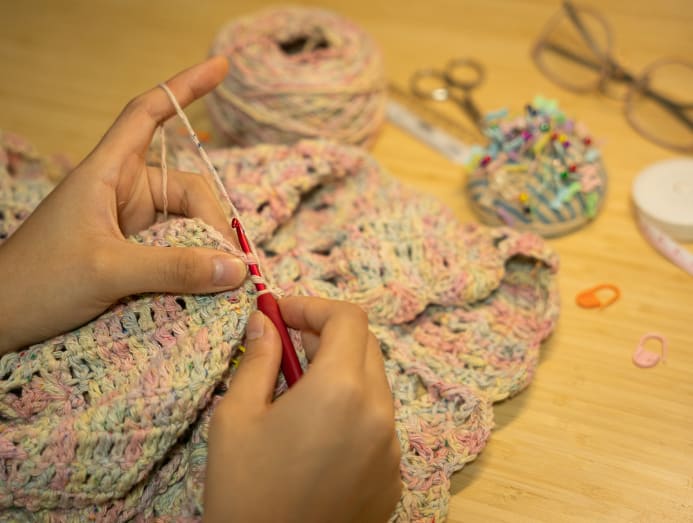 "People are willing to pay so much for crocheted items because they understand that it was not easy to make and creators should be rewarded accurately for their effort and time. If fast-fashion brands charge S$70 for a piece, people will start to think that this is the actual value of the item. This skews the price points for creators like us.
"This also contradicts the whole idea of crocheting. People will just keep wanting more new crochet pieces rather than realising how difficult it was to make each item and taking care of it and re-wearing it for their whole lifetime," she added.
Nonetheless, this does not diminish Sim's passion for her craft because selling her items has always come secondary to her love for crocheting. "I am a very sensory person. I really like touching the textures of crochet and looking at the pretty things and colours that I come up with," she said.
"Whenever I feel stressed or upset, I will just pick up something to crochet, and the repetitive movement with yarn with hook gives me mental clarity," she said, adding that she looks forward to organising crocheting picnics with other enthusiasts in the near future.
"The world is very fast-paced. The beauty of slow living and slow fashion is taking the time for yourself, doing things at a slower pace than the world around you, and enjoying the moment," she reflected.
CNA Women is a section on CNA Lifestyle that seeks to inform, empower and inspire the modern woman. If you have women-related news, issues and ideas to share with us, email CNAWomen [at] mediacorp.com.sg.