How this Singaporean designer went from making stationery to modern Islamic calligraphic art
In this instalment of Creative Capital, we meet 42-year-old Suffian Sumamaili, or Abu Salwa as he prefers to be known as, who started ArtSalwa – one of the few craft businesses in Singapore dedicated to Islamic design and home decor.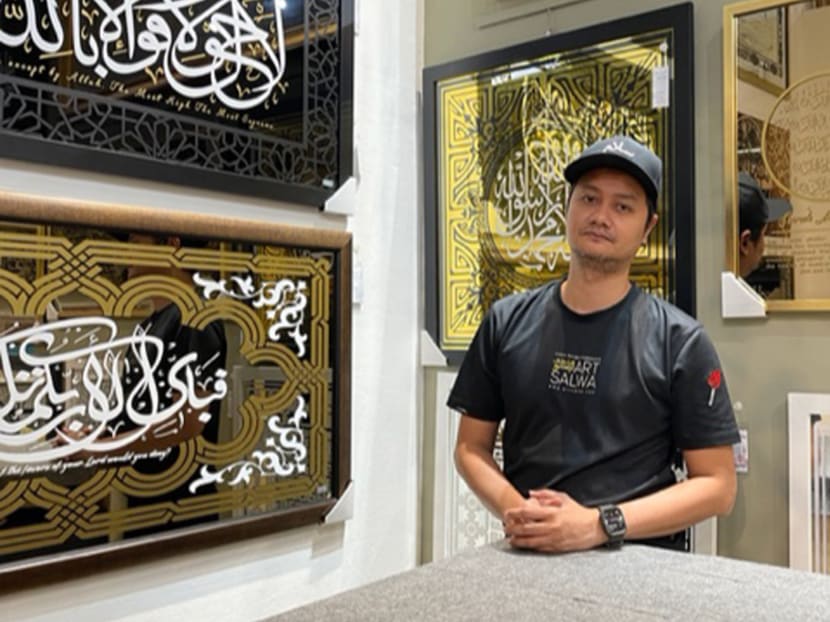 Suffian Sumamaili prefers to be known by a name that is not his own. He goes by Abu Salwa which translates to "Father of Salwa". Born and raised in Singapore, the 42-year-old practices a unique craft. His business, ArtSalwa, is well known in the Malay-Muslim community for affordable, originally designed Islamic art and art frames.
Unable to find well-designed Islamic art pieces, Sumamaili, who once owned his own stationery business, decided to turn his skills towards this very unique and specific form of art and craft. By incorporating a modern style with Arabic-inspired designs and local flavours into his work, he found a niche in the industry and grew his business successfully.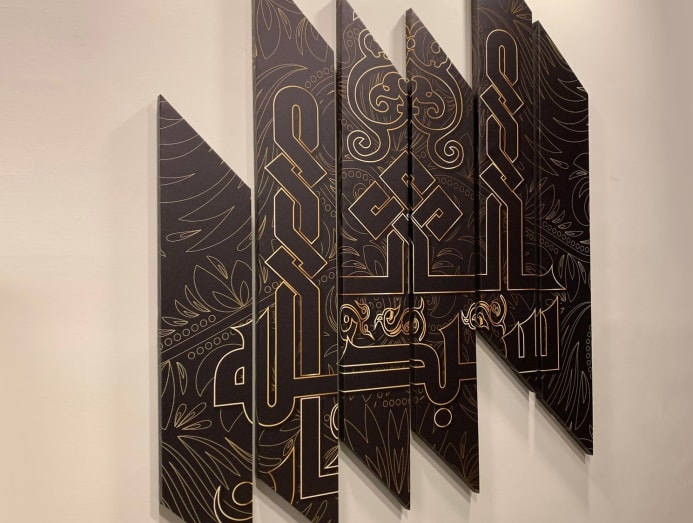 HI ABU SALWA, TELL ME ABOUT YOUR CHILDHOOD. WERE YOU A CREATIVE KID?
I've always loved art, even at a young age. I didn't enjoy playing with toys, but instead was guided by my parents to draw. So you could say that I was raised to be creative.
I KNOW YOU SPENT YOUR EARLIER YEARS AS A GRAPHIC DESIGNER. DID YOU STUDY GRAPHIC DESIGN?
I did not study design full-time. I took several short courses in a private art school. That's how I developed my foundation.
TELL ME ABOUT YOUR GRAPHIC DESIGN CAREER?
I started by taking on a series of freelance designing jobs doing logos and corporate identities at low costs. Thereafter, I was commissioned job by the Underwater World to do stationery. From those experiences, I became more keen to create my own designs for my own products. But there were no social media platforms back then so pitching for sales required face-to-face sessions to sell my ideas.
So, I continued to work as a graphic designer for a few companies but the work I was doing was based on requirements given to me, and I had wanted to do more than just that. I worked in small companies to learn how to do packaging and product designs. The owners of these small companies were like my mentors who were willing to share their trade skills with me. I decided to take up the trade and started to design my own stationery products. It was then that I was spotted by Wing Tai who commissioned me to design their in-house stationery products for Topshop. Concurrently, I rented a small space at Far East Plaza to sell my own line of stationeries like notebooks, posters, wrapping paper, etc. I named the shop and my brand Paper People.
I UNDERSTAND YOU MOVED IT TO HAJI LANE?
I decided to expand my business and took up a space at Haji Lane. It attracted a lot of tourists at that time. I was even interviewed by a Japanese TV programme for the products that I designed. Over the years though, the demand for stationery products dwindled as things started to go digital and my business went down. I ended up closing the shop at Haji Lane and I then turned to working in a Social Enterprise to help create and market products done by persons with disabilities, to create public awareness for them and the VWO that supported then.
WHEN DID YOU START ARTSALWA?
ArtSalwa started in 2015. At the time, I was searching for Islamic art for my own home only to realised that there was a limited range of products in Singapore and those that were available lacked the beauty that I was looking for. I listed a few of my own Islamic Calligraphy art designs on Carousell and immediately garnered a lot of enquiries and orders. This gave me the motivation to create more Islamic Calligraphy designs and products for our local community. It came about more for the love of art, rather than the business aspect of it.  
FOR THE BENEFIT OF THOSE WHO ARE UNFAMILIAR WITH ISLAMIC ART, CAN YOU DESCRIBE YOUR BUSINESS?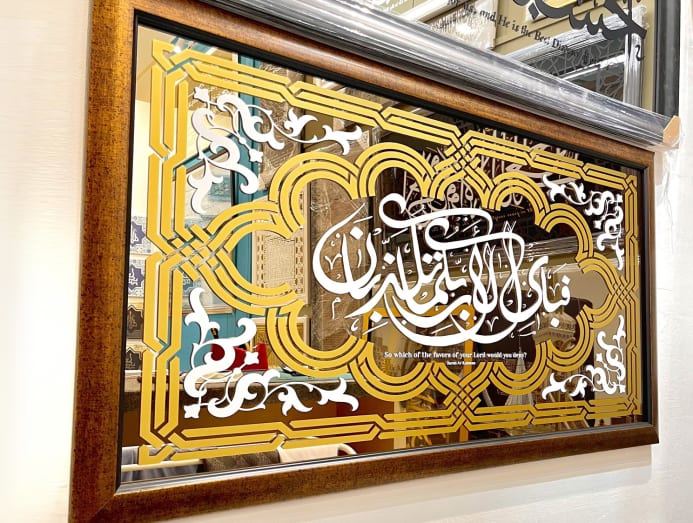 Islamic art is created in a form of artwork to beautify spaces particularly in Muslim-owned homes in our local community, with the basic components of Arabic calligraphy, vegetal and floral motifs and geometric designs.
HOW DO YOU CREATE YOUR WORKS? 
I read a lot of books on Islamic calligraphy and interior design to understand history, culture, and how the designs are beautifully created, as well as how they can fit into modern homes. Then I put my graphic designing experience to practice by creating my own range of designs on the different scripts. I evolve the original and traditional artwork though creating a more modern range of designs to inspire customers. I also seek advice from Madrasah teachers, prior to these artwork creations. I create my works using different mediums like canvas art, mirrors of different colours, resin art, laser cut acrylic, etc. I love being experimental, and am often inspired by my customers.
WHAT ARE THE RULES FOR THE KIND OF WORK YOU DO? ARE THERE ONLY CERTAIN SPECIFIC SCRIPTS THAT CAN BE USED?
There are two forms of designs, one is mainly calligraphic art pieces to beautify wall spaces, and the other are verses of the Quran, for recitation and memorisation purposes. Scripts can be either from the Quran or Hadiths.
WHAT ARE MAJOR MISCONCEPTIONS AROUND THE WORK YOU DO?
There are individuals who would say that I am misusing the verses from the Holy scriptures and profiting from such Islamic artwork and calligraphy. But I've always hoped that my customers choose my Islamic art with sincerity, not just to beautify their homes, but to understand the meaning behind each of these Islamic scriptures.
DO YOU MOSTLY DO CUSTOM WORK OR DO PEOPLE BUY READY MADE WORK?
Both are equally sought after, the difference is that there is a production lead-time for customised artwork.
WHAT HAS BEEN THE MOST CHALLENGING PART OF BUILDING AND RUNNING THE ARTSALWA BUSINESS?
Unfortunately, I have experience copycats who at times try to confuse customers by creating similar artworks that I have done which they try to pass off as their own. This is disappointing.
HOW HAVE MOST OF YOUR CUSTOMERS FOUND YOU?
Mostly word of mouth. Quite a few are family and friends of past customers. I also have returning customers. And then there are social media platforms like Instagram, Facebook, Carousell, and even Google and my own website.  
ARE YOU SERVICING A GLOBAL CUSTOMER BASE OR IS IT VERY LOCAL RIGHT NOW?
Most customers are local, though I also have customers in Australia, Germany, Dubai, Pakistan, India, America, United Kingdom and Malaysia. 
WHAT HAS BEEN THE BEST THING THAT HAS HAPPENED TO YOU SINCE RUNNING THIS BUSINESS?
I truly enjoy the work that I do and have always felt the need to continually be inspired to create more ranges of products that can enhance the beauty of Arabic calligraphy. 
WHAT WOULD BE YOUR DREAM COMMISSION?
It gives me pleasure just knowing that my artworks are well-received by customers, that they don't treat them as just another product that they own in their homes. Because of the meaning in the text, they are special pieces.
WHAT IS YOUR DREAM FOR THIS BUSINESS?
To be able to continue to evolve and create more products through different kinds of mediums that do not age over time.