Buffet surplus food and free groceries: 9 money-saving apps in Singapore you should have on your phone
From half-priced mains to supermarket vouchers, here are nine ways to get the most bang for your buck in Singapore.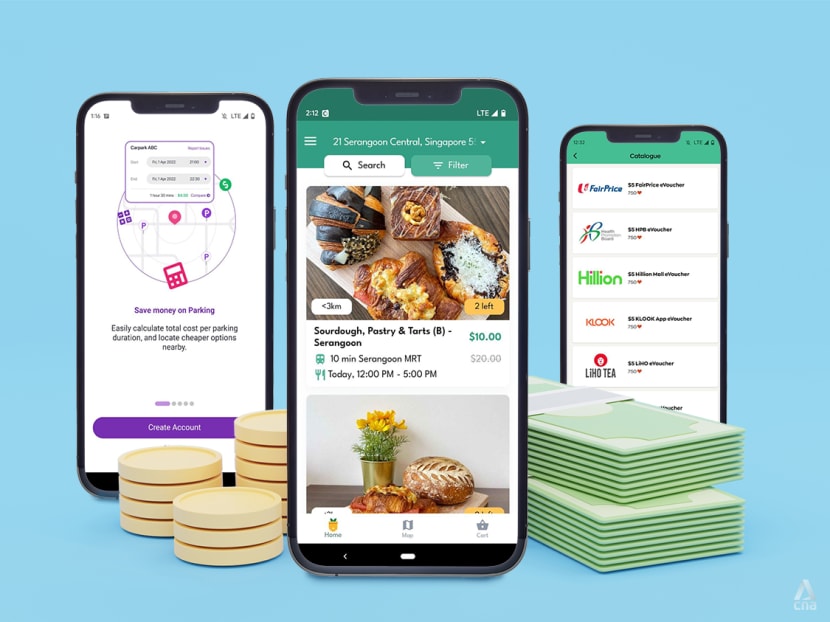 Everything is more expensive in 2022. Inflation, the keyword of the year, is en route to a 14-year high. Egg prices soared overnight, and electricity tariffs increased six consecutive times. Only our bank account balances didn't get the memo.
As social lives resume, scrimping and saving can be difficult. But what if it was possible to snag hotel grub for as little as S$10, and half-priced restaurant mains just by showing up at the right time slot?
Whether you're shopping, dining out, or simply getting around, here are nine underrated apps in Singapore that will help you stretch that dollar. And no, they don't include paid subscriptions or cashback apps you're already on.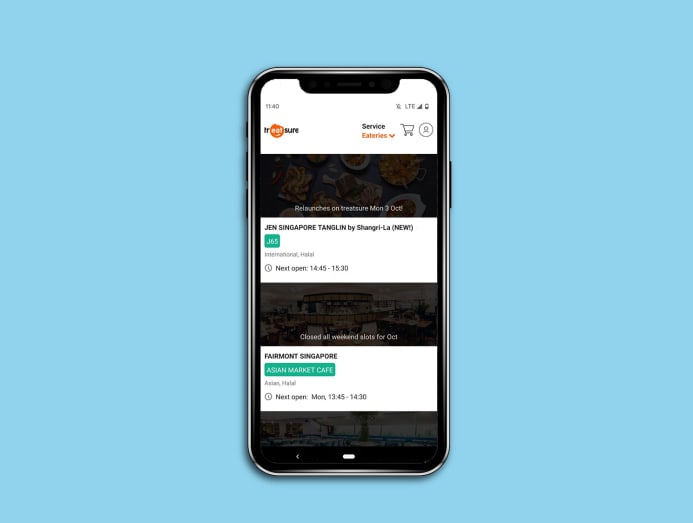 Ever wondered what hotels do with their surplus food from buffets? You're not alone. In fact, two Singaporeans are on a quest to turn one man's trash into another's treasure or, shall we say, Treatsure?
Launched in 2017, Treatsure claims to be Singapore's first mobile reservation platform connecting everyday consumers to businesses and hotels with surplus food.
Their buffet-in-a-box concept is simple. You pick a restaurant from the app's listings, show up within the indicated time frame, and receive an empty box upon payment. Like any regular diner, you can help yourself to the buffet line and create your own atas version of economic mixed rice.
2. JUST DABAO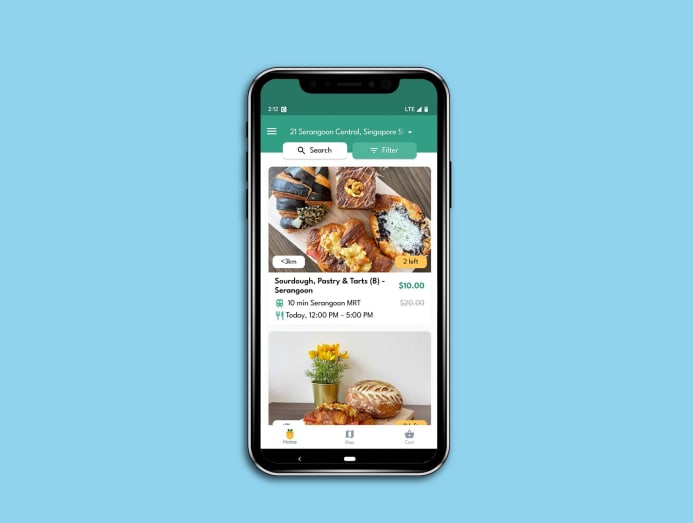 If Treatsure's buffet locations are out of the way for you, try Just Dabao instead. With leftovers from more than 400 cafes, restaurants and bakeries, including popular ones like Baker's Brew, people with a sweet tooth will be spoiled for choice.
The app lets you filter results by location, cuisine and price before selecting a "Shiok Bag" that calls out to you. Expect unsold salads, hot meals, and sweet treats, alongside grocery items like fresh produce and bottled beverages. All you have to do is pay for your order, confirm the pick-up time and voila!
3. OLIO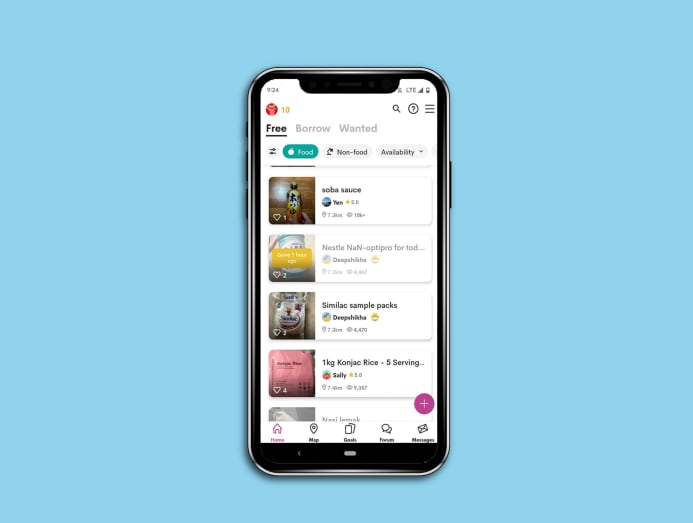 Olio, a global free-sharing app with a user base in Singapore, is yet another proponent of the circular economy. It differs from Treatsure and Just Dabao in that it's community-driven, even though things may change in lieu of their recent partnership with Pandamart.
Upon registration, we were surprised to see more than 10,000 users nearby giving away food items nearing their expiry dates and non-edibles like books and clothing. Olio told us that a tin of Frisolac Gold Milk Formula was snapped up some three hours ago, but if we wanted, a brand new box of Froot Loops was mine for the taking. The app is strangely reminiscent of the Soup Kitchen on Neopets – blink and you'll miss it. And even if everything runs out, there're always heaps of McDonald's Garlic Chilli sachets up for grabs.
4. EATIGO
They say the early bird catches the worm, but timing is a matter of perspective on Eatigo. Rocking up to Harry's at 3pm, for instance, could slash your tab by half.
The reservations platform is known for discounts that fluctuate across the day. You can get your Korean BBQ fix in the late afternoon for half the price, or have an early dinner of free-flow seafood at 30 per cent off. Office folks with fixed lunch hours won't miss out either. Since peak hour differs across eateries and locations, half-priced dim sum and hotel buffets are available as early as 1pm – if anyone needs ideas for that team-bonding budget.
5. HEALTHY365
How does one get a sedentary population moving? The Health Promotion Board answered in every Singaporean's love language – vouchers. Their app, Healthy365, has gained massive traction for good reason. Just by walking, you get to earn Healthpoints and exchange these for e-vouchers. These can be redeemed at merchants like Fairprice, Koi and Mr Bean, to name a few.
You would've heard of the app by now – it was launched in 2015 – but here's a reason to finally jump on the bandwagon. The average Singaporean takes 5,674 steps a day, according to a Stanford study in 2017. That works out to be at least 3,600 Healthpoints a year, which earns you nearly S$25 in Fairprice e-vouchers. Think of all the freebies you've been sleeping on.
6. EZ-LINK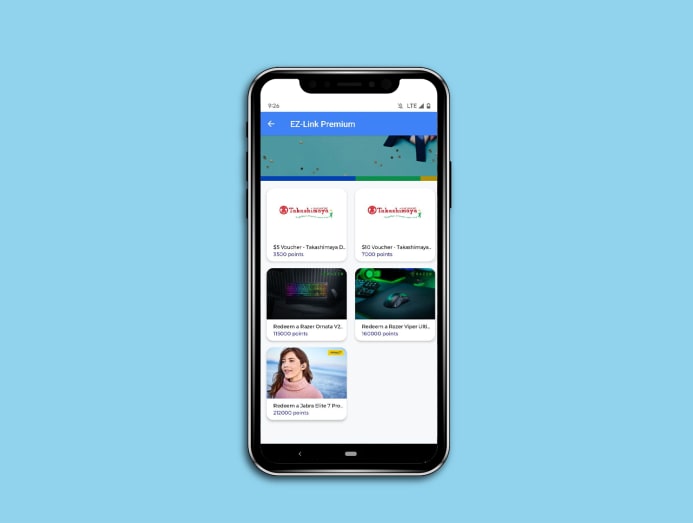 Here's another way to cash in on something you already do every day – taking public transport. The EZ-Link app is not only a nifty tool to manage your card balance, it also allows you to earn a reward point for every S$0.10 spent on bus and train rides, ERP and carpark payments, as well as retail transactions.
You can then redeem these reward points for discounts at merchants including Amazon.sg, iShopChangi and Fairprice. For example, if you spend S$350 on transport every month, that's already 3,500 reward points to redeem a S$5 Takashimaya voucher.
7. CARDSPAL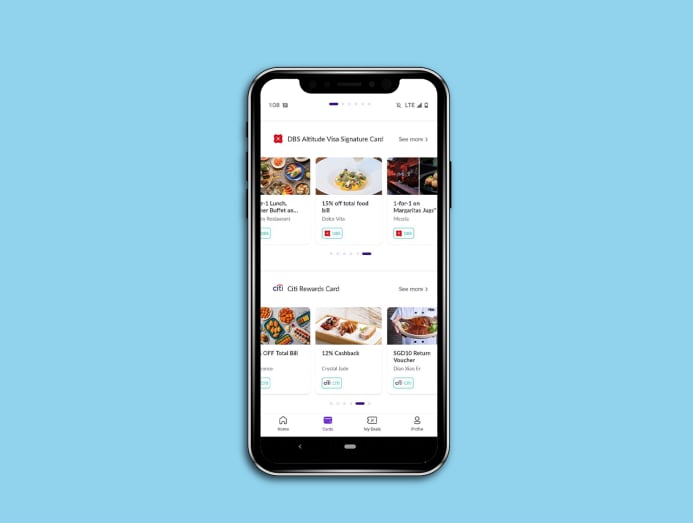 Most of us have separate credit cards for dining out, buying groceries, pumping petrol, shopping online – the list goes on. But can we be sure we're always using the right one?
No one has time to keep up with all the updated offerings, which is why CardsPal is here to do the heavy lifting.
Add your credit cards to the app, and it will optimise the best cost savings you can access. By aggregating the best dining, shopping, and leisure deals from over 2,400 merchants, it identifies the right card for every spending occasion. You can also seize flash deals, browse deals near you, or save them for later. Plus, there's a cashback calculator to save you the hassle (and embarrassment) of wrestling with the mental sums at checkout.
8. PRICE KAKI
There's no lack of Facebook and Telegram groups for good bargains, but often we arrive at the supermarket only to realise the entire neighbourhood had beaten us to it. Try Price Kaki instead – an app by the Consumers Association of Singapore launched at the height of the pandemic.
Price Kaki marries "auntie spirit" and "kampung spirit" in a single app that crowdsources and compares the retail prices of groceries, household items, and hawker food. You can filter and sort listings by price, distance, supermarket and product categories, or earn rewards by contributing "intel" of your own.
The best part? It updates you on price changes, so you'll never make another fruitless grocery run in our unforgiving weather.
9. BREEZE
Driving in Singapore isn't exactly a breeze, but local tech firm NCS wants to change that with Breeze Drive & Park. The app's six-month pilot launch in Tiong Bahru was just announced earlier this month, but it is set to help drivers in Singapore find the fastest, shortest and cheapest route available.
It scours your vicinity for free parking, and lets you compare rates across facilities, locations, and destinations to make an informed choice every time. Besides parking, Breeze is also integrated with LTA's data to tip drivers off on ERP fees in real time and scheduled trips so they can be preemptive about their routes.