Remember Elvin Ng's 'bandung' suit? We tried to find out what he'll wear next at Star Awards 2022
Can Elvin Ng top last year's infamous pink Alexander McQueen suit? CNA Lifestyle's Serene Seow hung out with the actor and his dapper stylist Daryll Alexius Yeo for a fashion show-and-tell.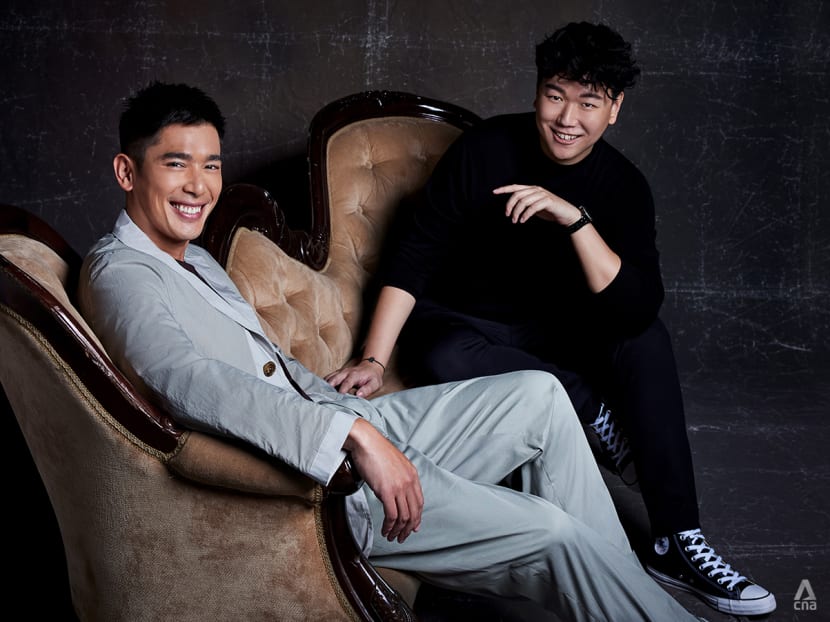 At last year's Star Awards, actor Elvin Ng's now infamous "bandung" suit was undeniably the most hotly debated outfit. So when the buzz for this year's edition began, I instinctively wondered: What will Elvin wear to Star Awards 2022?
And I knew just who to ask: The actor's fashion stylist Daryll Alexius Yeo. Yes, the one who put Elvin in that suit. 
Yeo has been one of CNA Lifestyle's frequent collaborators and, in fact, it was at one of our fashion shoots where the actor met Daryll for the first time. 
The backstory was that Elvin was on the lookout for a stylist to replace his longtime collaborator, who had relocated to the US. A week after the shoot, Elvin took Daryll out for lunch to see if he would fit the bill. Ideas were tossed, ideals were shared, and at the end of the nine-hour chat, a partnership was born.
"So what will Elvin be wearing this year?" I texted Daryll.
"I can't tell you, lah," Daryll shot back. "When it comes to red carpet dressing, I feel that it should always be a surprise. What I can tell you though, is that I won't put him in something safe."
"Maybe Elvin will tell me?" I enquired with faux innocence.
"He's holidaying in Switzerland but if you can wait, he might," Daryll answered, with a smiley emoji.
My patience eventually paid off. Two weeks later, I was invited to be a fly on the wall at Elvin's fashion fitting for the upcoming Star Awards on Apr 24.
That morning, Elvin came through the vaulted doors of the studio where Daryll and I had been waiting, spotting a crisp tan, courtesy of the glorious Swiss sunshine. "Hello, everybody," he beamed, with his unmistakable Systema grin.
There was something palpably different about Elvin that morning that I couldn't put a finger on and it wasn't just the tan.
Like clockwork, Daryll rolled out several racks of clothes with a ta-da flourish that made Elvin's eyes shine. "Yellow is a colour that Elvin hardly wears but actually, he looks really great in it," Daryll said as he singled out an Hermes ensemble from a sea of outfits. And he was right on the dollar – if casual was the vibe Elvin was going for, the canary yellow knit perfectly complemented his newly acquired golden glow.
"Fashion or trends used to feel very deliberate to me. For a long time, I thought I was too boy-next-door and way too grounded to follow trends," Elvin said as he did up the buttons on the knit top.
"I came into the industry 15 years ago with low confidence. I was scared of change, afraid to step out of my comfort zone, and before anything even happens, I would be the first to tell myself that I can't do it. I used to beat myself up over everything to the point that I was quite irritated with myself."
The actor admitted candidly: "I would always take a step back – in my head, I would tell myself that I can't wear baggy clothes, I can't wear those colours, I can't do this, I can't do that but now I'm like, 'let's do this', even if I may look silly. I used to be quite stubborn and I want to change that."
I want to see change, I want to be different.
And change was exactly what he got after hiring Daryll, who had just left his fashion editor position at an international magazine. Brimming with fresh ideas and 13 years of experience dressing celebrities and models, Daryll knew just how to reinvent Elvin.
"I wanted (us) to go in with a bang," he said, referring to that pink Alexander McQueen suit that many have come to affectionally compare to that colourful coffeeshop drink. "I knew that we were going to blow up on social media but the kind of viral sensation was next level." 
It takes two to tango. "This whole fashion thing is not a one-sided thing though," Daryll shared. "Elvin has been very open to trying new things and he always has his own input, so I'm not losing who he really is but I'm just making him a better version of himself. As a stylist, I tell stories through clothing but it really is up to Elvin to bring that story to life."
And just like that, the 41-year-old star landed the exact role he asked for. "So the funny thing is I don't trust people easily but with Daryll, I trusted him instinctively and immediately. I realise now that fashion is not pretentious, it is a process to finding the different sides of me."
Because fashion isn't just skin deep, Elvin's newfound appreciation didn't just stop at dressing the part. It extended even to his performance in front of the camera.
"In the past, I didn't know how to stand, where to place my hands. It just didn't feel natural, you know? But on hindsight, it was really just me being resistant because I didn't understand the logic behind poses. Now that I have someone I trust, I opened myself up. I told Daryll to educate me, I want to see change, I want to be different, I want you to help me."
Elvin's fashion transformation might have been a long time coming, but he is definitely worth the wait. After 15 years of sartorial trial and error, the actor has finally come into his own. Mentally appraising his newfangled image, he said, "I would say this is actually more 'me'. Deep inside, I'm a rebel who doesn't like to play by the rules. So this change is definitely good."
This switch was precisely the perceptible difference I couldn't put my finger on earlier. Tangibly more confident both on and off camera, the personable actor professed to be "a lot happier now, definitely more at ease" in his own skin.
And finally, that million-dollar question: Which of these looks will Elvin be wearing to Star Awards 2022?
"Some more looks are flying in from Paris and Milan," Daryll chimed, with a cheeky glint in his eye.
"Stay tuned," Elvin added with a chuckle.
Intent on saving the best for last, it's anyone's guess what the tight-lipped duo will be serving up this year. A sparkly flute of Dom Perignon perhaps? Or maybe even good ol' Milo peng? Whatever they decide on, there's no doubt it's going to be worth sitting up for.  
The Star Awards 2022 main awards show airs on Apr 24 at 7pm on meWATCH, Channel 8, Channel U and Mediacorp Entertainment's YouTube channel. The Backstage Live portion of the show starts at 3.30pm on meWATCH and YouTube. Check here for more information.
Editor: Serene Seow. Art direction: Jasper Loh and Chern Ling. Photography: Aik Chen. Photography assistance: Alvin Teo. Styling: Daryll Alexius Yeo. Fashion assistant: Phua Yue En. Make-up: Lolent Lee using MAC Cosmetics. Hair: Sylin Yer/Shunji Matsuo.