Fitted or flared? One woman's search for the perfect pair of yoga pants
Lululemon's discontinued flared yoga pants, widely credited with kickstarting the athleisure trend, is back. But does it still hold the same allure or have people moved on?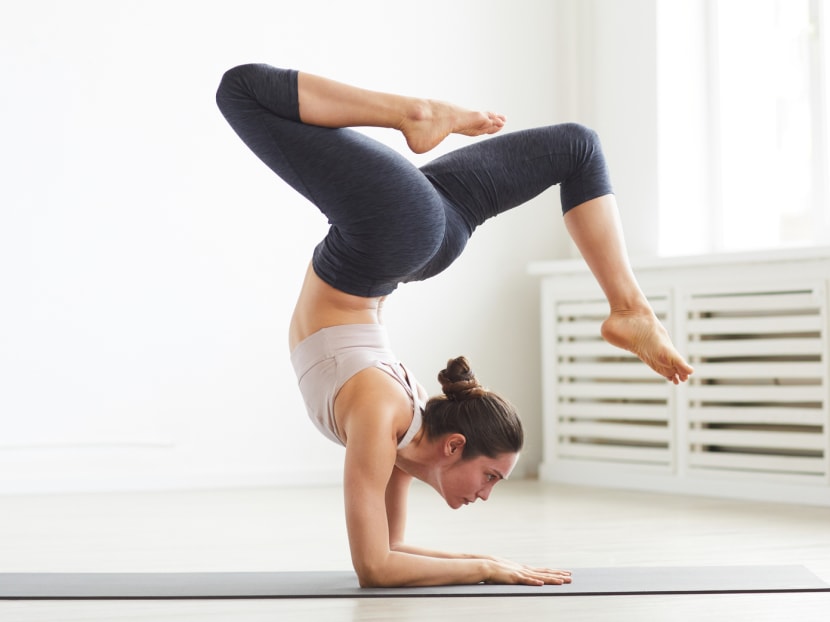 Not unlike women looking for Mr Right, the search for the perfect pair of yoga pants can sometimes be an elusive, even futile, search.
I'm speaking from experience, after a trial class at a now-defunct yoga centre in the leafy depths of Serangoon Gardens eventually led to me becoming a daily disciple of hatha yoga for several years after.
At that time, Lululemon's high-waisted, flared Groove were the yoga pants to wear. Everyone who was serious about her practice got on her mat in a pair. So naturally, I wore one.
The pants' relaxed silhouette was even widely credited to have sparked the athleisure movement that gripped yoginis and non-yoginis alike. But the Groove pant was abruptly discontinued in 2016, which, incidentally, was roughly around that same time I put my yoga practice on extended savasana (the final resting pose in yoga).
That would have spelled the end of my relationship with yoga (and yoga pants). But thanks to COVID-19, I recently started to crave getting back on that mat again. The hefty burden of many extra pandemic pounds finally broke the sleep spell.
Despite not practising for some time, I fervently remembered yoga to be a ritual that involves being "present". Unfortunately, my yoga wardrobe of yore no longer served my present body. 
Getting new yoga wear became paramount. So, several clicks of the mouse later, I quickly got up to date with the latest togs and found something curious.
The second-skin yoga pants in a spectrum of colours that has been dominating the yoga scene for the past couple of years are still omnipresent. What was interesting though was the return of the once-discontinued flared Groove. Except this time, it wasn't a solo effort by Lululemon. Other yoga wear heavyweights such as Alo, Sweaty Betty and Lorna Jane have also jumped on the bandwagon.
Another interesting thing I observed: Only Lululemon peddles the revived Groove pant (S$152) specifically as yoga wear.
The rest market themselves as something else. Sweaty Betty's Power Kick Flare Gym Trousers (S$170) is designed as multi-sport workout pants for women who prefer non-form-fitting togs. Alo's High-Waist Zip it Flare Legging (US$128/S$173) is a pair of athleisure pants that comes with a hidden zipper that allows the wearer to decide on how big a flare she wants. Lorna Jane's Hendrix Flared Leggings' (S$130) proprietary LJ Cloud material combines casualwear with sporting specs like a patented Active Core Stability feature and four-way stretch.
To me, they're all the same: Flared yoga pants. And they're back. Just like me.
But what was behind the resurgence of this trend?
Presenter-entrepreneur Jade Seah, who's behind the newly launched line of sportswear JUUJAA, explained to me: "Yoga pants, activewear and athleisure wear in general take cues from fashion trends. This [trend] coincides with the trend in denim. These [pants] come with a higher waistband for 2021. Higher-waisted cuts have been trending and do not look like they are on a decline anytime soon, and with these have come variations on the straight-legged trend – bootcuts and flares, which are also a little more forgiving on those not blessed with height."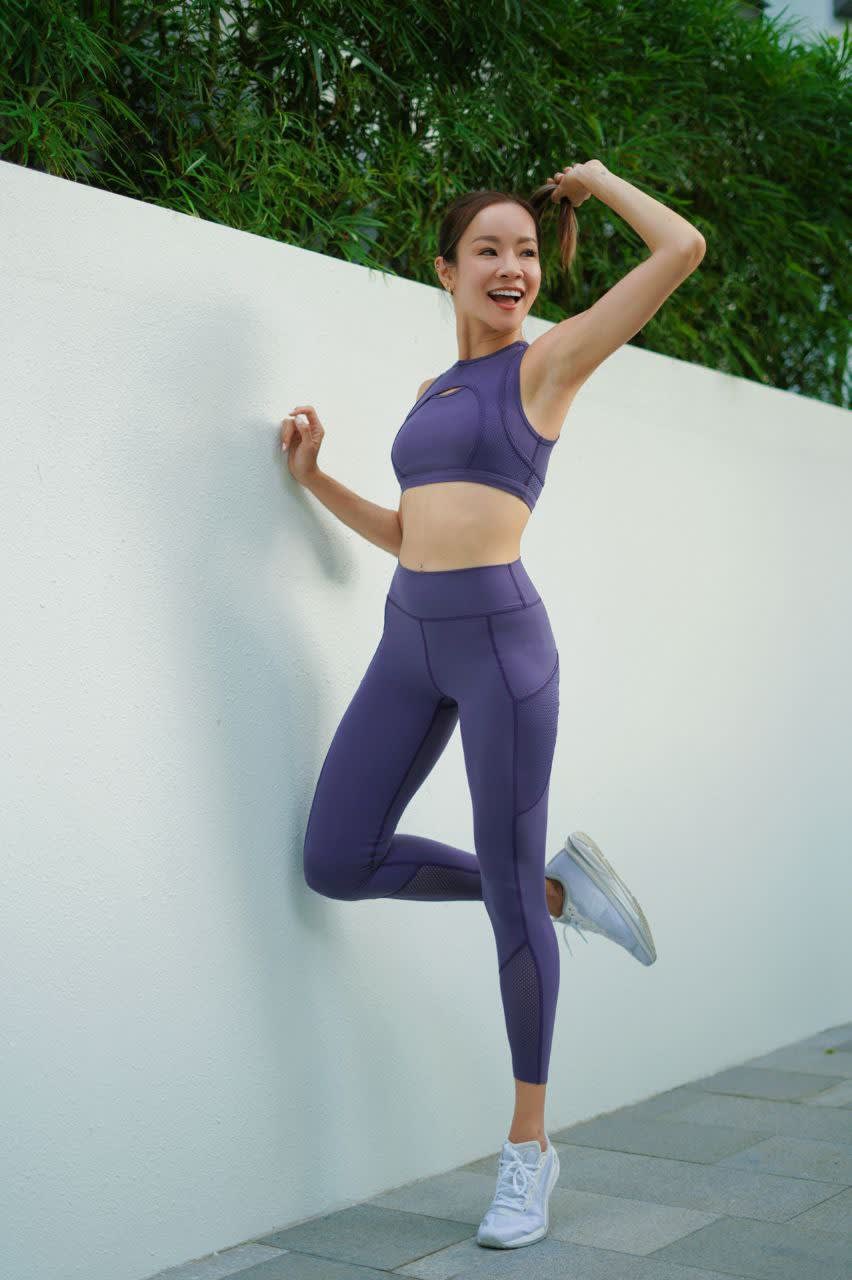 But while I was pleasantly surprised to see flared yoga pants back on the shelves, a quick survey around yoga centres showed that other yoginis aren't tripping over themselves to embrace this new-again trend.
Presenter and celebrity yoga instructor Denise Keller for one is not buying into it. "I think the flared pants won't make any sense in a strong Ashtanga practice where binds are common especially around the ankles," she told me.
"Flared yoga pants belong in the same category as yoga skorts, which epically failed for functionality and as a result, discontinued in the world of yoga. Flared yoga pants feel the same," added an ambassador for yoga apparel and equipment Manduka. "I don't need anything flapping around when I'm on the mat. it's just too distracting and there is no ankle support."
Seah agreed, "I can see how a very large flare might not work for certain poses such as inversions. I would say, be sensible about it, and pick pieces that flatter and will work for the activity in question."
Fitted or flared, a yoga pant that fits your body and your choice of activity is the best pant.
So what are women looking for in a good pair of yoga pants? While every yogini may have a different answer that spans form to fit, at its core, it is how the pants cater to the well-being of the wearer, offering solutions to movement.
From a designer's point of view, Seah believes that a good pair of yoga pants should not restrict movement in any way.
"When designing, comfort and practicality are as important to me as fashion and style," Seah said. "They need to be lightweight yet be able to hold in any wobbly bits. The material should be soft and comfortable; almost feel like second skin."
Speaking from a practitioner's point of view, the 39-year-old Keller shared, "Choice of material is very important in a pair of yoga leggings. I need them soft to the skin, but supportive enough to practice".
Many of my yoga peers shared Keller's mindset. In fact, they have a specific "uniform" they wear to class. The said uniform generally consists of a body-skimming top and a favourite pair of tights – among them are Lululemon's Align tights, Alo's Airbrush tights and Lorna Jane's Lotus tights. Whenever those styles of yoga pants drop a new colour, they have to own it. 
Keller summed up the mindset. "I'm a minimalist yogi – once I like the material and design, I stick with it for life."
Sizing also matters. While small, medium, large may work for some, many others are overlooked. Asians in particular get the shorter end of the stick when shopping with international labels, making do with the closest measurement available on the sizing chart. Some sportswear retailers are finally coming round to this gap on the size chart though.
This May, the Canadian retailer Lululemon went the extra mile to launch a completely new range of sizing for styles that are particularly popular in Asia – Asian Fit was introduced for selected items in order to create a more customised fit for Asian customers who have been overlooked by the regular size chart.  
Fitted or flared, yoga pants that fit your body and your choice of activity is the best pair.
And in case you're wondering how my search for new yoga pants went, I'm happy to report that I've locked in on my targets: Lululemon's Instill high-rise pants for its patented SmoothCover fabric hugs like a pair of Luxtreme but feels like Align's Nulu material; and Sweaty Betty's Power 7/8 Gym legging for its bum-sculpting seams that help me look the part of an active person even before I start breaking a sweat.
If being on-trend is your thing, you can save the flared yoga pant for low-impact activities like a stretch class or a trip to the supermarket. For fashion inspiration, the uber chic Keller has a style nugget to share: "You could wear them like any other pair of yoga leggings, with a simple white t-shirt or a boyfriend shirt. Just don't stand too close to the sides of escalators…".