Meet the new Michelle Chia, the ageless host-turned-livestream seller living her best life in her 40s
CNA Lifestyle caught up with the former actress, who talks about everything from making boatloads of cash in her latest gig to going makeup-free and staying positive.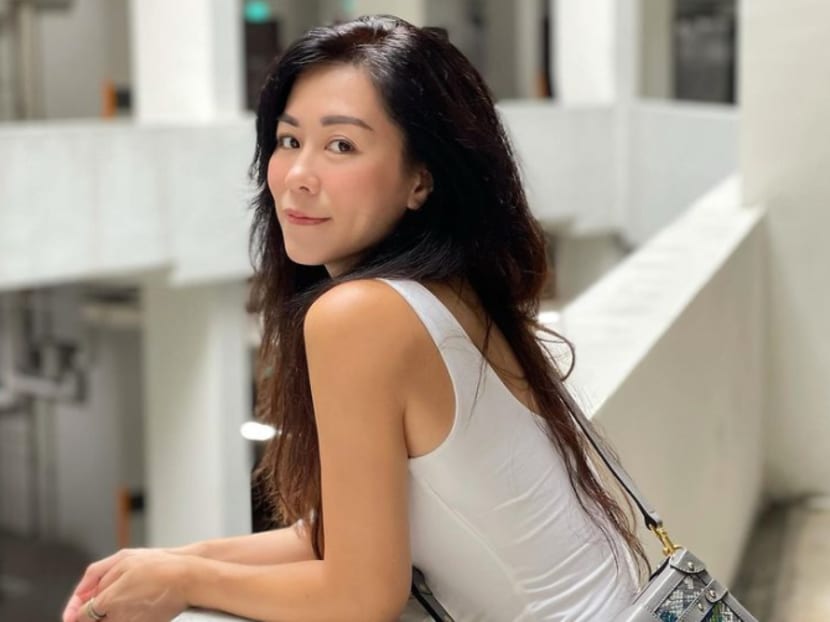 When we grow up, we want to be like Michelle Chia. The 46-year-old former actress and TV host skips into our lunch interview, her goddess glow unfettered by her face mask, easy charm and happy vibes radiating far beyond the 1m safe distance. Much ink (real and digital) has been expended on how she looks amazing, despite all the years that have gone by, so we won't waste any time on that.
She has a lot to feel joyous about these days. After enduring years of crazy schedules as an in-demand actress and host, Chia quit full-time showbiz in 2012 to live a more relaxed life as a freelance host. She travelled up a storm and enjoyed the fruits of her labour, which is the result of decades of hard work and savvy financial investments. And now, in the middle of a global pandemic, she's found an incredible new avenue for, well, incredible revenue.
As it turns out, Michelle Chia, TV host extraordinaire, is also exceptionally good at hosting livestreams hawking all kinds of products. Her company Mdada, which she set up in 2020 with her longtime pals, celebrity hairstylist Addy Lee and host Pornsak, did so well in its first year that even they are stunned. How well? A reported "S$15 million in revenue in its first year" kind of well. Whoa.
"I know… it's crazy," she said with a laugh. "We didn't expect it to be like that! I've never run a business. I've always been just an investor. So this is a first for me. I'm like a baby thrown into the deep end and I'm struggling with how to manage things like finance, HR, logistics – it's all new. Actually, I was already in a very comfortable phase of my life. Every day, I do yoga and meditate, and meet my friends. I was doing things like learning how to ride a motorbike, pottery, standup paddleboarding, a bit of hosting here and there, and now I'm like, what did I get myself into?"
The livestream biz isn't always smooth-sailing, though. Even though Mdada has done tremendously well, they were hit with a roadblock late last year, when some customers complained that the goods they had ordered from the company, especially goods from their livestream selling stint in Europe, had yet to arrive, even after waiting for months.
"We've been trying our very best to settle all deliveries as much and as quickly as we can," Chia told CNA Lifestyle. "Due to unforeseen circumstances, a lot of it is not under our control, which is unfortunate. But our team is working on it relentlessly." 
Meanwhile, she shared her tips for good skin, happy vibes and gave us a peek into how the livestream business works. FYI: She paid for lunch. And we don't feel bad about it at all.
SHE DOESN'T WEAR MAKEUP BECAUSE SHE'S A SWEATY PERSON (BUT STILL A BIG FAN OF LIPSTICK)
"Yeah, I don't wear makeup. I'm a very sweaty person! I'll sweat at my nose, hairline, my eyelids and under the eyes, and once I start sweating, it's as good as having no makeup, and I'll look horrible. Even when I'm shooting in a studio, I don't use foundation either, just a little more concealer. I usually only use sunblock and a bit of concealer, but I believe in doing my eyebrows and lips. When you have some colour on your lips, it just pops. Since I was young, my mother would tell me, 'You can't not wear lipstick.' It really makes you look fresh, energetic and awake."
SHE'S LIVING HER BEST LIFE IN HER 40S
"When you're in your 40s, you feel very comfortable with yourself. You've seen and gone through so much, so you owe it to yourself to be okay with yourself. You know who you are, and you don't give a shit about other people giving you shit. In the past, I'd try to please everybody, but now I can say no. But I'm still a nice person lah – I like everyone to be happy!"
SHE THINKS SHE'S NEVER LOOKED BETTER THAN RIGHT NOW
"When I was younger, I had all this baby fat. I've done photo shoots where my face was so chubby! I really think I look my best now. My face is more chiselled and angular. I'm losing all the baby fat, although it took me forever! I stopped becoming a baby at 40! Seriously, there were no nasolabial lines, no wrinkles, and no signs of ageing… until I was like in my early 40s."
A LITTLE OUTSIDE HELP IS GOOD, BUT NOT TOO MUCH...
"I've tried HIFU, Thermage and Ultherapy – I'm a true believer in aesthetic treatments. But I won't alter or try to go against what's natural, because I believe in ageing gracefully. I don't mind having signs of ageing on my face, but I still want to look good, like people would say, 'She's not young, but she looks fantastic.'" 
BUT ADDS THAT TRUE BEAUTY COMES FROM WITHIN
"I think a lot of what shows on your face comes from inside. If you are someone who worries a lot or gets angry easily, or complains a lot and sees things negatively, naturally your facial expression will look angry and negative. Gravity is already pulling your face down. If you're going to be grouchy and complaining all the time, you're training your muscles to be a certain way, And over the years, you will look that way. So your attitude towards life is important.
"Of course, I have to say I'm very lucky and I have a great family. Since I was young, I've had nothing much to worry about. And I feel I am built in such a way that even if I were facing challenges, I can get past them quite quickly. I'd be upset for a while, but I'd bounce back fast. It boils down to my character. Naturally, I will look at the positive side of things, whether it's about work or my personal life."

YOUR SKIN IS WHAT YOU EAT
"When I was younger I had pimples and all, but things improved because I made sacrifices. I love my bread and my carbs, but my skin would react if I ate too much, with eczema flare-ups and pimples. So I cut down on cheese, bread and sugar, and all the problems went away. My skin really became so much better. I mean, bread is my favourite food, and I do eat it – I just don't have it daily. But if I were to go out and have some bread, I wouldn't stress about it."
ON FACIAL MASSAGE, SUITABLE SKINCARE AND SUNSHINE
"I only started using proper skincare in my 30s, but not very religiously. But four years ago, I started a face massage regimen. I'd put on my facial mask, then take it off and slowly massage my face. And since I have sensitive skin, I only use doctor's products – I can't really use over-the-counter products. I think keeping yourself active is also important. I'm out in the sun a lot, and I wakeboard and swim. Of course, don't forget the sunblock."
SHE DIDN'T THINK SHE COULD DO THE LIVESTREAM SELLING THING...
"I mean, at the start, I thought it was so not me to sell things. But strangely, my friends have always told me that I'm such a convincing person. They're like, 'Everything you tell us about, we want!' They say I always make something sound so good, whether it's food or products or even a lifestyle, like yoga. They'd be sold. I think it's because I always share with a lot of passion. But if you asked me if I could ever be a salesperson, I'd say no, because I didn't think I could sell stuff to people.
"Did I feel live selling was beneath me? No, I thought it was above me, a skill I didn't have. When I'm hosting, I don't have to convince people, as I'm just sharing. It's not selling. When I was watching everyone doing their livestreams, I was like, 'I cannot!'"
BUT SHE SAW IT AS A CHALLENGE AND A NEW OPPORTUNITY
"Addy and I were chatting about livestreaming, which he had been doing in China for some years, but which he stopped when he come back to Singapore because of the pandemic. He's a natural. So being practical, I asked him, 'Is it lucrative?' I don't want to do something that's not a good use of my time. I like exploring new opportunities and challenges, and I saw it from a business point of view more than anything else.
"I trust Addy when it comes to business, so I said, 'Let's do it.' The thing he said to me which made me make up my mind was when I told him that I cannot be like him when he does his livestreams, the way he sells. He said, 'You don't need to be like me, you just need to share. You use the products and just share. Let me be the one to sell.' I'm like, okay! I can do that."
LIVESTREAM SELLING TIPS: BE GENUINE, BE HONEST AND DON'T BE SHY
"In the beginning, I'd say people trusted us because we are known faces. But in the end, it boils down to how you're able to deliver and share, that makes people want to buy from you. It's really not easy. Pornsak, Addy and myself, we are just somehow very suitable. That's why the whole thing became so explosive.
"When we started hiring people, we realised not everyone can do it. Some may be celebrities or have a lot of followers on social media, but they can't sell. I think you need to be genuine. While convincing others, you have to be truly genuine in what you say and also what you share about yourself.
"There are many, many different tricks, like the momentum, the prices, what and when to sell – these are things that we slowly picked up. It's about being honest and not shy. I'm doing the main channel at Mdada, and I sell things related to beauty, like products for face, hair and body. We also have MGalleria, which sells art and sculptures, MCrystals, which sells crystals, and other channels selling luxury items and food. We used to sell only on Fridays, Saturdays and Sundays, but now I'm doing five days a week, and we'd livestream for six to eight hours at one go, from 7pm to late."
LIVESTREAMING ALLOWS HER TO DO ONE OF HER FAVOURITE THINGS – TRAVEL
"We travelled to Germany in October to livestream and sell things from Europe, like branded items and high-end products. People want that, because they haven't been travelling. Germany was the first VTL to open up, and 15 us went – it was a big team. We sold a collagen drink called Elastin – it sold really well. Also a hyaluronic drink called Hyaluron – also sold really well. Also a lot of German brands – people really like and trust German R&D and technology.
"We also sold designer brands like Bottega Veneta, Chloe, Fendi, Saint Laurent, Karl Lagerfeld, Swarovski, Armani Exchange, all the big brands. There's this Italian bag brand called Buti – Addy sold 5,000 of their bags in one live session to Singaporeans. One session! And they're not cheap. Each bag is in the thousands. We went to a mall called Galeria in Germany, where we had an agreement with them to set up our livestream in their space and sell anything we wanted. So we picked the things we wanted to sell, and our admin people created all the links to buy and calculated prices including shipping. It's still cheaper than buying online or going overseas to buy them yourself, as you save on lodgings and air tickets.
"Even though there were challenges with deliveries after that, we are taking it positively. It was meant to be an experience, to broaden our footprint and to give our customers more choices. We believe we can improve and be better. After refunding certain items from Germany (for unfulfilled orders), we managed to break even on our Germany sales, and suffered no losses."
SHE'S SO GOOD AT SELLING, HER ITEMS SELL OUT ALMOST INSTANTLY
"I was selling accessories, and I was showing this necklace and telling the audience about it. But before I could put it on, they were like, 'Boss, it's sold out.' It's really killer. You have to be fast, or you won't get it.
"So basically you put in the code of the item you want to buy, and you get sent the link to pay, and you have to quickly go and pay. We sold sunglasses, and it's mad. I just put on my face, and it sold out. And these are not cheap, like a few hundred dollars. Though I think it's not so much about whether the stuff is cheaper or not, it's about not having to step out of the house, and having a personal shopper telling you about this thing, answering your questions, and telling you how it works. Like for necklaces, people may not know what to pair them with, but when I wear something, they see what it can go with, and they want it. It's fun, I enjoy it!
"Mdada now has a 13,000 sq ft office space, which has a studio where we livestream from, and about 40 full-timers working for us. In November 2021, we made more than S$3 million in revenue. The cut we take with the products we sell? It's a secret! We're doing well but we can't be complacent because there're so many people doing this, and many others trying to follow suit. But I can confidently say that we are the most established proper company, not just a few people running a livestream."
NEVER STOP TRYING NEW THINGS – YOU NEVER KNOW WHERE YOUR BIG BREAK WILL COME FROM
"At the age of, like, almost 50, I picked up something new and I learned new skills. It's about living life to the fullest. So the day I leave this world, I can tell myself I had an exciting life."