Celebrity beauty files: 987 DJ Sonia Chew on living her best life and how to always look camera-ready
The TV-radio personality let slip that a pop of blush right under the eyes is how she brings on a youthful touch to her face.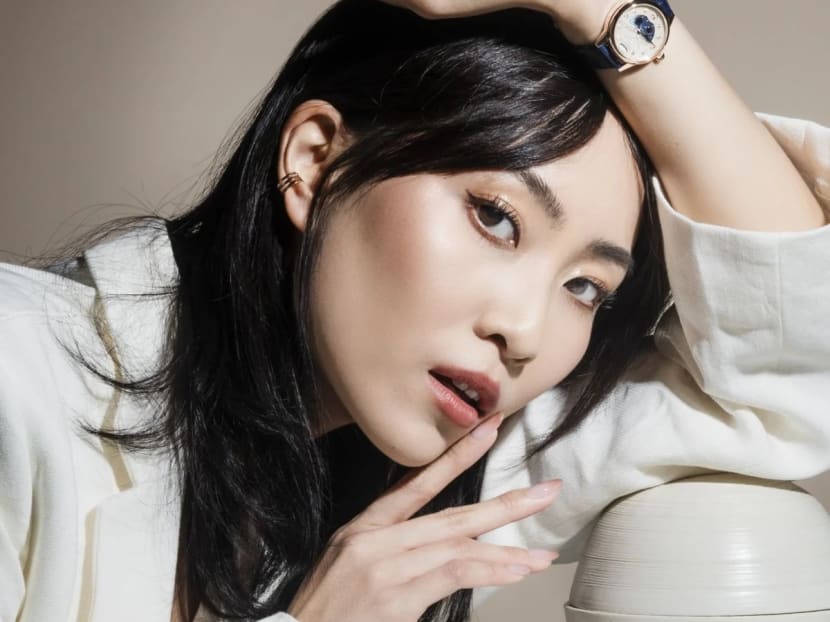 Sonia Chew gives good face. And her buddy singer Tabitha Nauser can attest to that. In fact, Nauser affirmed it on Instagram. "You have the best skin of anyone I know!!!" she wrote.
To begin with, the 31-year-old TV and radio personality is born with it. But that's not to say that Chew doesn't make an effort. "Believe it or not, if I have a long day of shoots and events after my morning show on radio, I will get up at about 4.30am to do a sheet mask and use a quartz roller to reduce any bloat!" she told CNA Lifestyle.
Chew helms The Shock Circuit on 987 from 6am to 10am with fellow DJ Joakim Gomez and therefore is used to rising before the crack of dawn. Her diligence and natural born beauty come together flawlessly to ensure that she doesn't have any bad angles.
"I love to work, but I also wanna live my best life," she shared on Instagram. "I made a promise to eat well as much as possible (not eat less!), take better care of my complexion cos I'm constantly in makeup for work, and make time for myself even though that can be scarce."
She added: "My days can get really long especially now that I'm on the 6am breakfast show, so I need products that have the same stamina as me!"
Wait a minute, are elixirs now bottled in jars and are up for grabs? We'll be needing loads of that, thank you very much. CNA Lifestyle caught up with Chew for a tete-a-tete on her beauty secrets.
NOW THAT WEARING A MASK IS OPTIONAL, HAS YOUR MAKEUP HABIT CHANGED?
I have to be less lazy! I admit, the mask was a great way to hide a bare face (and my feelings haha), but when I don't have makeup on for shoots and work, I try to wear concealer and lip balm at the very least. 
HOW DO YOU PREP YOUR SKIN FOR MAKEUP? 
Due to the nature of my job and hectic schedule, I have a full face of makeup on quite often. Believe it or not, if I have a long day of shoots and events after my morning show on radio, I will get up at about 4.30am to do a sheet mask and use a quartz roller to reduce any bloat!
WHAT DO YOU HAVE IN YOUR MAKEUP BAG RIGHT NOW? 
Chanel tinted lip balm, NARS soft matte foundation, Heroine Make brown gel liner, Charlotte Tilbury wonderglow face primer and MAC fix+ stay over setting spray. 
WHAT MAKEUP CAN'T YOU LIVE WITHOUT?
Concealer for the under-eyes! 
WHAT IS THAT ONE MAKEUP ITEM THAT YOU BUY ON REPEAT?
Chanel Rouge Coco Baume in natural charm.
HOW MUCH MAKEUP DO YOU OWN?
I've lost count! Haha. 
WHAT'S YOUR GO-TO MAKEUP LOOK?
Fresh, clean skin with a dark brown eyeliner (it's most subtle for daily wear), and tinted lip balm for an effortless look. This takes less than 15 mins!
WHAT IS THAT ONE GAME-CHANGING MAKEUP TIP YOU PICKED UP? 
Mixing a drop of serum with my foundation. It makes your skin glow from within and keeps your complexion fresh. 
WHAT'S YOUR MAKEUP TIP TO LOOK CAMERA-READY?
The under-eyes are always a dead giveaway to how tired we look, so I never leave the house without a touch of concealer.
WHAT TIPS AND TRICKS DO YOU HAVE TO ENSURE THAT YOUR MAKEUP IS SMUDGE-FREE?
Always use a loose setting powder once you're done with your makeup, and instead of piling on the powder throughout the day too often, just use a tissue to blot and a portable brush to smoothen out your foundation smile lines. 
WHAT IS THE ONE MAKEUP TREND YOU JUST CAN'T GET ENOUGH OF? 
A pop of blush right under the eyes! It brings a youthful touch.
WHAT'S YOUR HACK FOR PICKING THE BEST RED LIPSTICK FOR YOUR SKIN TONE?
If the red lippie is making you look too mature or dull, that's not the one for you! A good red should brighten up your look instantly. 
DO YOU HAVE A LUCKY LIPSTICK COLOUR?
A good dusty rose nude. It's an approachable look since I meet quite a lot of people in a day.
BESIDES ON THE LIPS, HOW ELSE DO YOU USE YOUR LIPSTICK?
As an emergency blush!
WHAT EYE MAKEUP STYLES DO YOU TEND TO FAVOUR? 
Doe eyeliner and great lashes that aren't too overwhelming!
ANY TIPS TO SCORING ENDLESS LASHES?
My makeup artist heats up the lash curler with a hair dryer before application, that keeps your lashes up better and mascara goes on perfectly.
HOW HAS YOUR MAKEUP HABITS CHANGED THROUGH THE YEARS?
Less is more! I think makeup habits also change with trends, and not every trend works for all of us. I'm also more particular about precision now – clean lines for the eyes, no clumps in my mascara, a good lip, solid base that doesn't run. It's all about looking effortlessly alive now despite the crazy hours.