9 Korean celebrity-owned restaurants and cafes to visit on your next trip to South Korea
Who knows? You might be lucky enough to catch a glimpse of your favourite K-celeb as you chow down on your meal.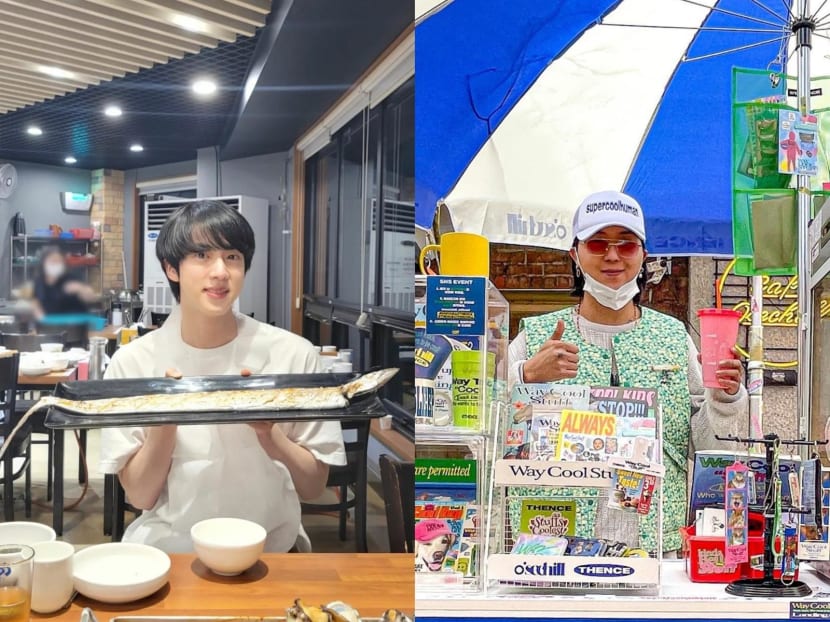 Korean celebrities by day, F&B owners by night – these artistes are running cafes and restaurants as their side hustle, and they sure are killing it.
From artsy coffee spots to fancy chain restaurants, here are nine Korean celebrity-owned – or at least by their family – F&B places to visit while you're in South Korea on vacay.
1. SUPER JUNIOR'S YESUNG: CAFE MOUSE RABBIT
Cafe Mouse Rabbit, located near Konkuk University in Seoul, is run by Super Junior's Yesung and his barista brother Kim Jongjin.
The basement is a dark underground space that resembles a bar – perfect if you're feeling a tad moody but prefer a good iced americano over alcohol. If you're just looking for some sunlight and respite, Cafe Mouse Rabbit offers that as well on levels 1 and 2.
Plus, it's Choi Siwon-approved.
Cafe Mouse Rabbit is located at 1 Neungdong-ro 11-gil, Gwangjin-gu, Seoul, South Korea.
2. SUPER JUNIOR'S DONGHAE: CAFÉ HARU & ONE DAY
Another Super Junior member makes the list as a cafe owner, and it's none other than Donghae.
For ELFs, aka fans of the K-pop group, Donghae's consistent association with the word "Haru" has likely not gone unnoticed – both in the name of his cafe and as his Instagram username.
The cafe wows with its aesthetic menu items, from mozzarella scones to mangosteen-coconut refreshers that will no doubt satisfy both your eyes and taste buds.
Cafe Haru & One Day is located at 92, Achasan-ro, Seongdong-gu, Seoul, South Korea.
3. WINNER'S SONG MINO: OSECHILL CAFE
If there's anything Winner's Song Mino is known for besides his music, it's his eye for art. That's all reflected in the interior of Osechill Cafe, with art pieces that just scream personality.
Drop by to grab a cup of coffee just like Mino does at times – knowing the artist he is, the place is probably going to be as much of a museum experience in itself as it is a cafe.
Osechill Cafe is located at 77 Seongsui-ro, Seongdong-gu, Seoul, South Korea.
4. BTS' JIN: OTSU SEIROMUSHI RESTAURANT
For those heading to Lotte World Tower to check out the skyscraper, remember to include Otsu Seiromushi on your list of dinner spots. Just 13 minutes away from Lotte World Tower by bus, this restaurant's speciality is pyeonbaek jjim, a dish made of sliced meat and vegetables, beautifully laid out and steamed in a cypress wood box.
The restaurant was opened by BTS member Jin and his brother back in 2018, and is currently operated by his brother, Kim Seok Joong.
Otsu Seiromushi is located at 30 Baekjegobun-ro 45-gil, Songpa-gu, Seoul, South Korea.
5. BAE SUZY'S PARENTS: CAFFE SOO
Located out of Seoul in the city of Gwangju, Caffe Soo is run by Suzy's parents. The idol-turned-actress gifted this cafe to her parents in 2013, when her popularity skyrocketed after starring in Dream High (2011), Invincible Youth 2 (2011), and Architecture 101 (2012).
Caffe Soo is located at 14-25 Usan-dong, Buk-gu, Gwangju, South Korea.
6. NOH HONG-CHUL'S GARDEN OF DREAMS AND ADVENTURE
One thing's for sure when it comes to Noh Hong-chul, whom Netflix viewers will know for The Hungry & The Hairy with Rain and Zombie Verse – if anything belongs to him, you'll know. The loud and brash entertainer-slash-entrepreneur's ice cream shop is plastered with murals and standees of his face.
The shop also doubles as a meet-and-greet location at times. He usually announces a time and date on his Instagram page, so keep your eyes peeled as you prepare for your next trip to Korea.
Hong Chul Garden of Dreams and Adventure is located at 549 Sinsa-dong, Gangnam-gu, Seoul, South Korea.
7. ZO IN-SUNG'S BROTHER: EVERYTHING BUT THE HERO CAFE
We find it somewhat amusing and ironic that Zo In-sung, who plays a flying hero in the current hit K-drama Moving (2023), has ties with a cafe with such a name.
Everything But The Hero is owned by Zo's brother, and could be a pit stop for you if you find yourself in the Itaewon area and want to feel a tad bit closer to your oppa.
Everything but the Hero is located at 62 Hoenamu-ro, Yongsan-gu, Seoul, South Korea.
8. EXO'S KAI'S SISTER: KAMONG CAFE
The K-pop star's
sister owns Kamong, a cafe that's well known among his fans. It specialises in waffles of all kinds, from fruit-topped waffles to sinful tiramisu and chocolate flavoured waffles – a guilty pleasure for those with a sweet tooth.
Kamong Cafe is located at 1552-2 Seocho-dong, Seocho-gu, Seoul, South Korea.
9. CHEF BAEK JONG-WON: ALL HIS RESTAURANTS AND CAFES
Celebrity chef Baek Jong-won can be said to be the tycoon of the F&B business in South Korea, with his franchises lining popular districts in Seoul. Sure he's already got food spots here in Singapore but where's the fun in that?
If you catch a glimpse of his face or a sign that says Paik's Coffee, then you know you're at the right spot for gastronomic excellence or a refreshing drink.
Another trendy restaurant franchise of his is Rolling Pasta, offering affordably-priced pasta and pizza on its menu. Rolling Pasta has many locations across South Korea, one of which is located at:
392 Samil-daero, Gwancheol-dong, Jongno-gu, Seoul, South Korea.