How muralist Belinda Low, 65, is preserving Singapore's past: Kampung life, old playgrounds, min jiang kueh sellers
Sun beaten and rain soaked, murals may fade and peel, but these public galleries hold a special magic for 65-year old artist Belinda Low. In CNA Women's National Day series, she says she hopes to breathe life into Singapore's collective memories and bring back the kampung spirit with her murals.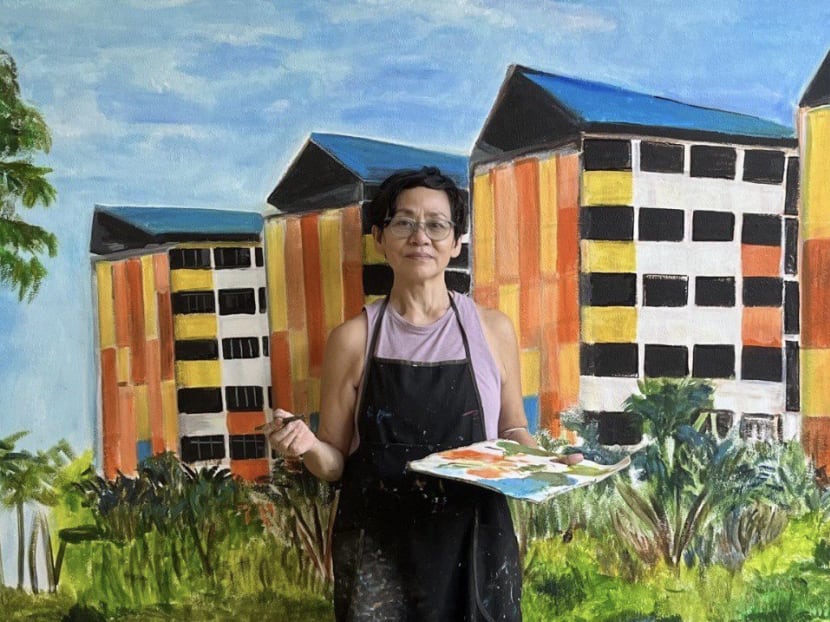 If you walk past Block 89, 90 or 91 of Tanglin Halt on a weekend, you may notice a woman painting the walls throughout the hottest hours of the day.
Working quietly in her artist's smock on her latest mural project, the 65-year-old captures the most cherished memories of the neighbourhood on 12 walls: The couple behind Tanglin Halt Market's famous peanut pancakes that usually sell out by morning, an old-school Malay barber, a Setron TV room in the 70s.
The full-time administrator at a multinational company paints part-time, on weekends. She started her art journey 12 years ago at the age of 53. Her sons, who are now 35 and 33 years old, were then in their 20s and she was experiencing empty nest syndrome.
She filled the sense of void with vivid colours and memories by painting on canvas every weekend. Two years later, in 2013, she painted her first mural – a lion in a tunnel at Clarke Quay MRT station. This was part of a series depicting Singapore's history from the days of Sang Nila Utama.
One thing I feel nostalgic about is moving out of the kampung into flats … So when I paint on walls, I try to create the neighbourliness and the kampung spirit again.
"Painting my first mural was euphoric. It was just a giant canvas and I just 'free flowed'," she said.
"I thought to myself, Singapore has so many HDB blocks, how nice it'd be if we were to paint every block," she mused. "And I didn't know I'd be doing so many over the years."
Indeed, since then, Low has painted slightly over 100 murals all around Singapore, bringing Singapore's collective memories to life with each brushstroke.
BREATHING LIFE INTO MEMORIES
You may have seen a "Belinda Low" without even knowing it. Low's art dresses the walls of enclaves such as Clarke Quay, Chinatown and Holland Village. She has also enlivened the walls and void decks of heartland estates such as Bishan, Punggol and Yishun.
One of her favourite people to paint is her late grandmother, who died 40 years ago. "I came from a divorced family. My mother left me with my grandmother during the week and only spent the weekend with me so it was my grandma who took care of me," she said.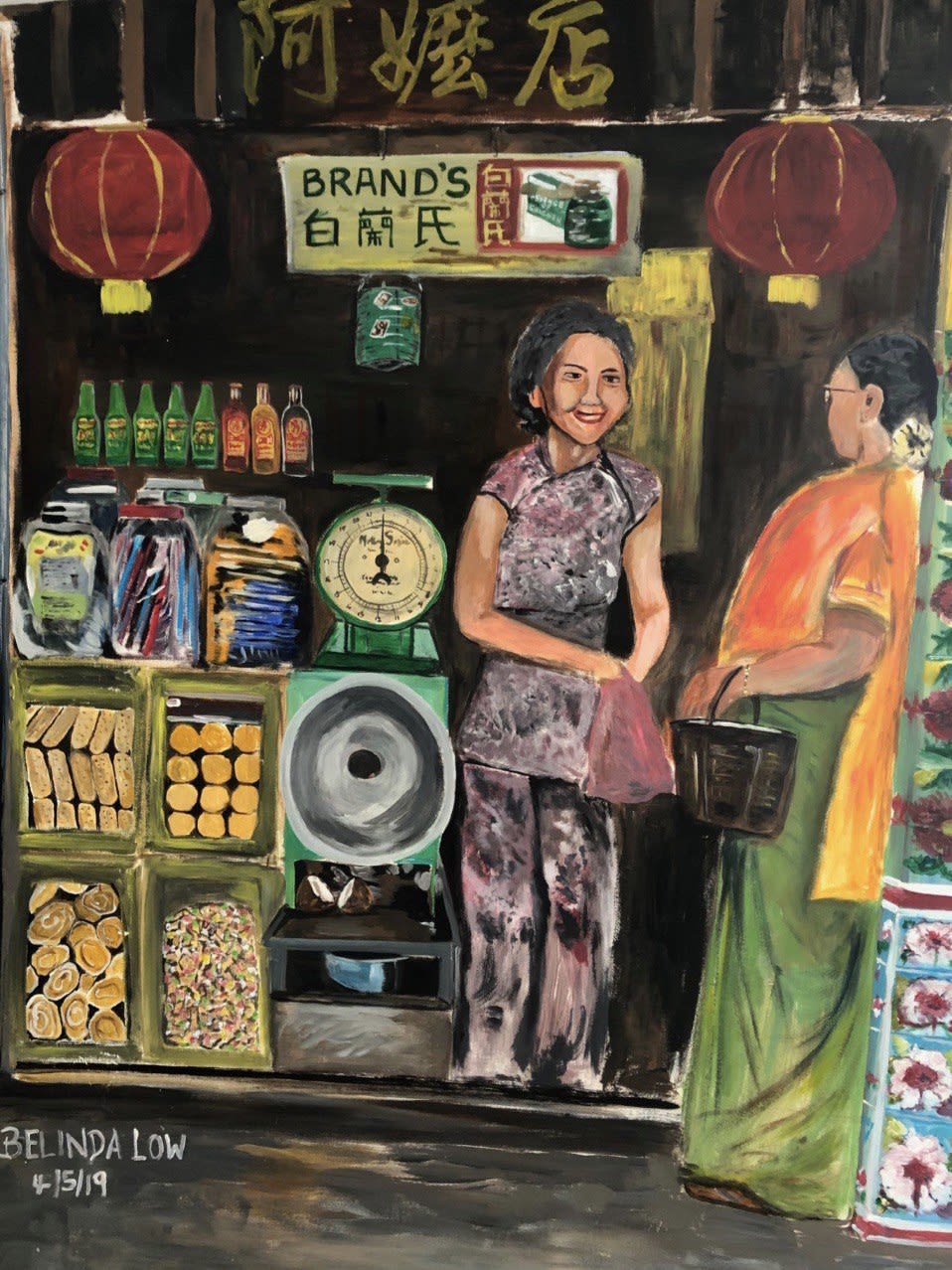 "I spent my childhood running free in the kampung, unlike the children nowadays. My grandma would come looking for me and scream 'Litta! Litta!' because she couldn't pronounce my name.
"She was so loud her voice would ring through the kampung," she laughed, sharing that this childhood memory inspired her to paint children running free as well.
"One thing I feel nostalgic about is moving out of the kampung into flats. We had to change our ways and lost touch with our neighbours. It's kind of sad. So when I paint on walls, I try to create the neighbourliness and the kampung spirit again."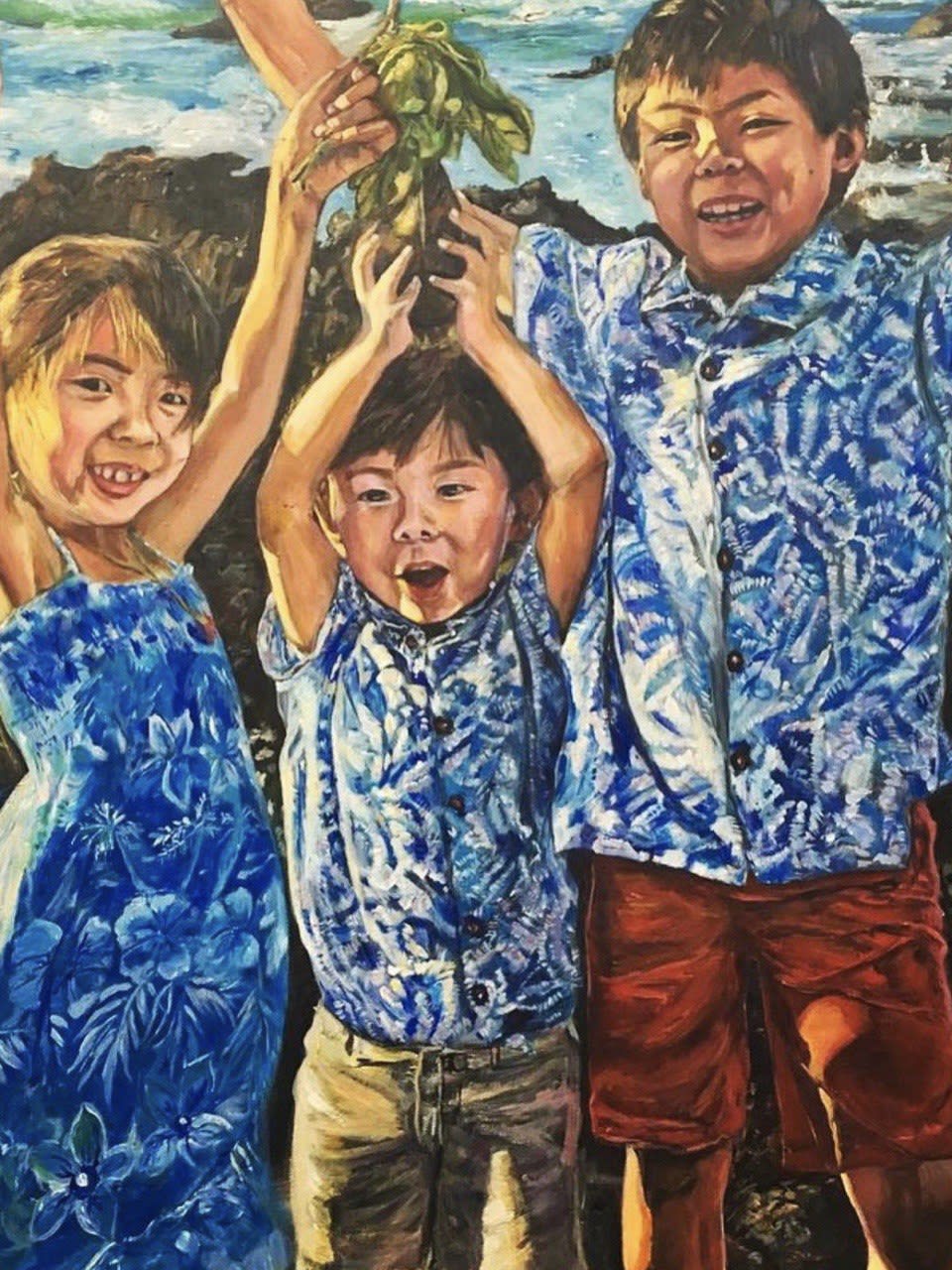 Low does not just paint from personal memory, but also taps into the memories of residents from each district, painting people she befriends.
"When I was painting in Holland Village, I talked to many of the residents, mainly retirees," she said.
"There was an old man who was single and lived in the blocks upstairs. He came down to watch me paint every day. The people who knew him said he kept to himself. One day, he started talking and joking with me, and even bought me teh C," she recalled.
"He was practically there the whole time I was painting, so I asked him if I could paint him on the wall. He agreed and posed for me, but asked me not to paint his face so I painted his back.
"A few years later, I found out that he had passed on. I felt sad, but also glad that I painted him," she said.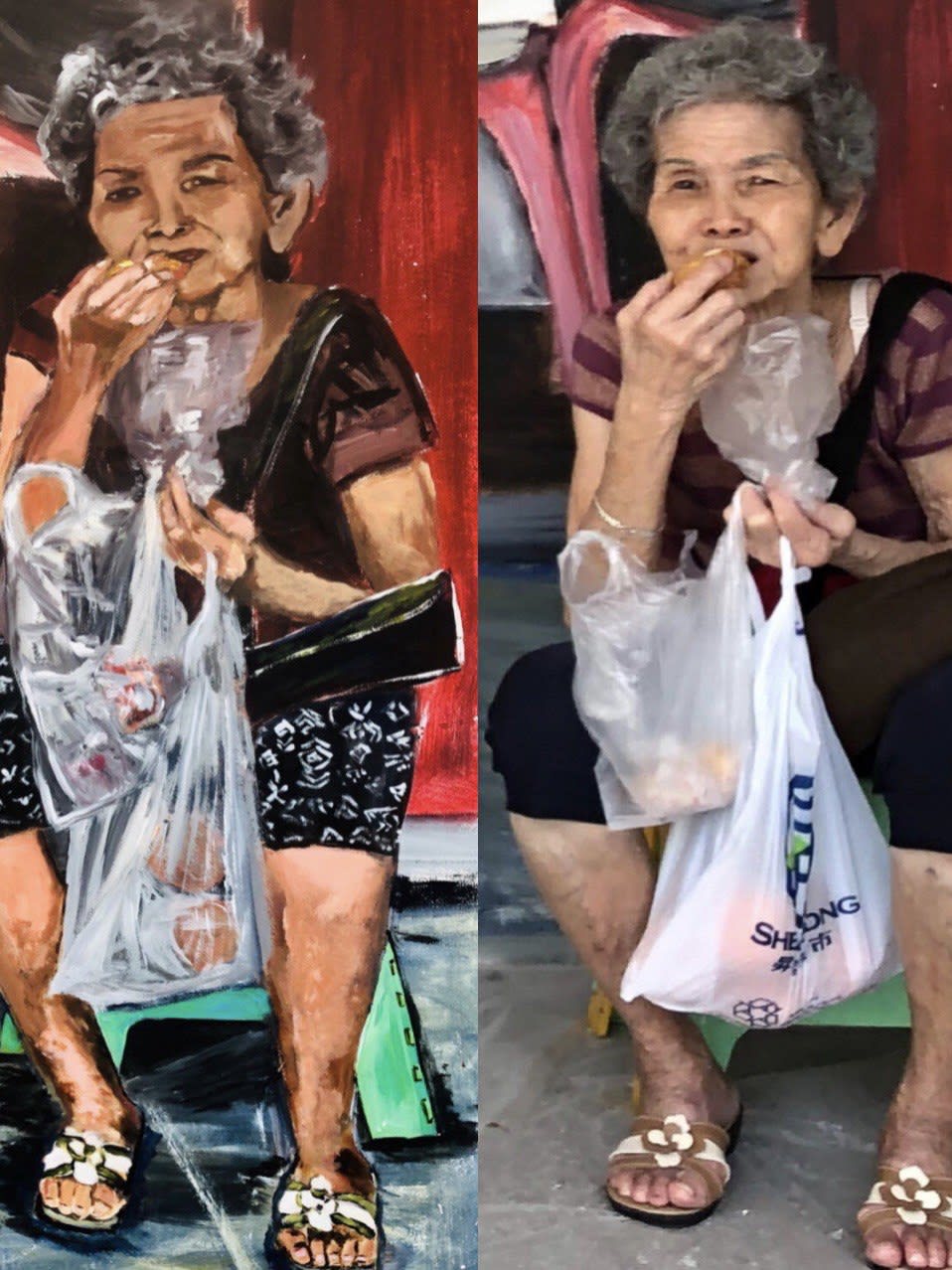 At one mural Low was working on, a woman came up to her and hinted that she would like to be painted on the wall – Low obliged.
Sometimes, the residents inspire her in other ways. "A woman at Holland Village came to tell me about a playground that used to be in the area and showed me pictures of it, so I painted it as well.
"While I was painting it, a father saw it and told his child that he used to play in the playground I was painting. I felt happy to be bringing back such memories," she said.
PAINTING IN RAIN OR SHINE
Low said that she is one of the oldest female muralists in Singapore because painting murals takes a lot of endurance.
"Now that I'm working at Tanglin Halt, I will have my Yakun toast and eggs for breakfast, and work for six hours straight from 9am plus to close to 4pm without breaking for lunch. When you're in the zone, you just want to finish the painting," she reflected.  
Low works through the rainy season as well, running in and out of shelter to complete her murals. She expects to complete the Tanglin Halt project in a few months.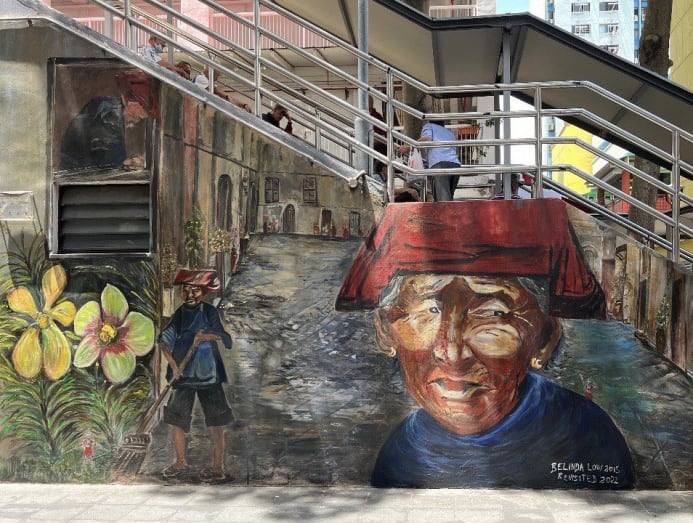 When painting external walls, she also often works directly under the scorching sun with little more than a black boat hat and a long-sleeved shirt or golf sleeves for protection.
"When I was painting one of my walls, an old man came up to me and said, 'Can you please sit down now? It's very hot'," she laughed.
A woman at Holland Village came to tell me about a playground that used to be in the area and showed me pictures of it, so I painted it as well.
"A lot of my friends my age who come and visit are not comfortable with the sun and rain, and complain of leg pain. But I am looking for challenges," Low said.
Though Low is planning to retire from her full-time job in the near future, she intends to continue painting. "A lot of people say I should retire (from painting murals) at my age because it is so tiring, but I won't listen. I'm the restless type and I don't want to sit down and just watch the latest K-dramas all day," she said.
"My advice to young people: Listen to your own inner voice. Don't worry so much about the future or make your decisions from fear," said the artist.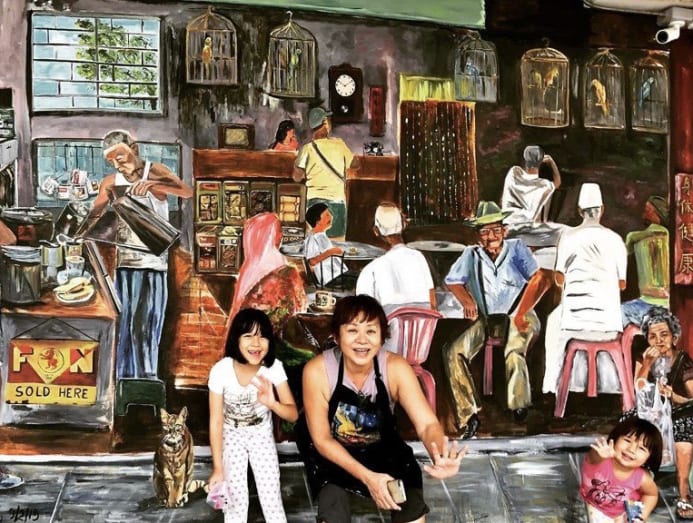 This did not change when Low was diagnosed with stage one breast cancer three years ago. "I was scared at first and went through denial. But I had a very strong girlfriend who encouraged me to fight it," she said, sharing that she went for 10 sessions of radiation, and is currently on medication.
"My breast cancer diagnosis made me feel very mortal. I just want to seize the moment. So if there is a wall job, and if I'm still alive, I'll do it," she said. 
CNA Women is a section on CNA Lifestyle that seeks to inform, empower and inspire the modern woman. If you have women-related news, issues and ideas to share with us, email CNAWomen [at] mediacorp.com.sg.