Perfectly balanced popiah in Bukit Timah that's simple but far from basic
Mediacorp Gold 905 DJ Denise Tan checks out Low Ah Hee Popiah at Bukit Timah Market & Food Centre with a new-gen cabbie-slash-professional chef who blends his passion for service through driving and cooking.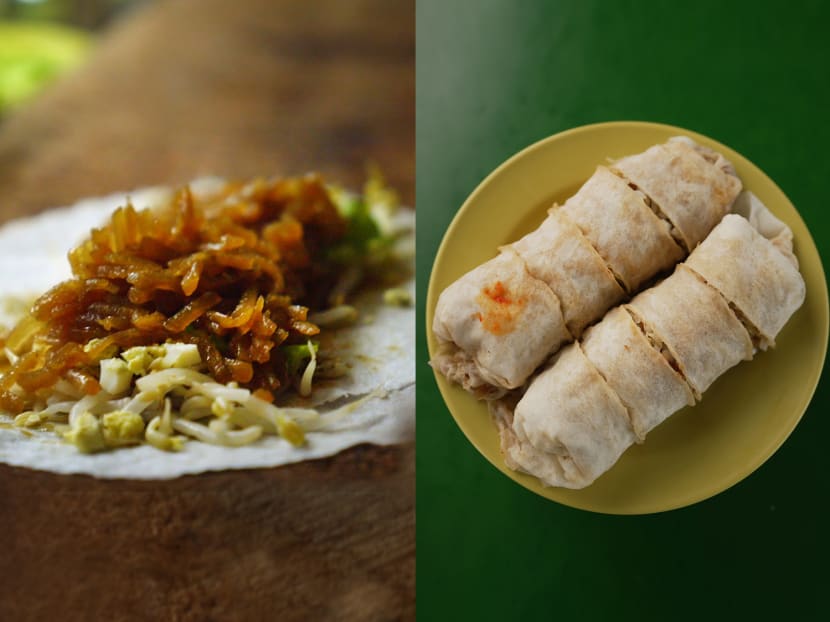 Through this food series, I've discovered that drivers certainly are a knowledgeable lot when it comes to the best eats in Singapore. My next Makan Kaki, taxi driver Delon Tuan, 38, is especially in the know because he's also professional chef with an intriguing story.
Delon has an engineering diploma but ended up in culinary school to fulfill a lifelong wish. After stints in local hotels and eateries, he left Singapore for Finland where he honed his skills at a two Michelin-starred restaurant in Helsinki before moving on to menu development at a farm. He next helped his brother with a vegan, organic, raw food venture in Hong Kong, then continued his culinary adventures back at the Finnish farm and later at a ski resort "far North near Santa Claus's village."
It was a holiday back home in Singapore that diverted Delon's path in 2020. "Everything happens for a reason. The (COVID-19) pandemic hit and it started to get worse in Europe so I couldn't go back," he explained.
After dabbling in a variety of jobs including teaching, he finally decided to get his taxi licence. Choosing to be a cabbie in his thirties might come as a surprise to many, but Delon is unfazed.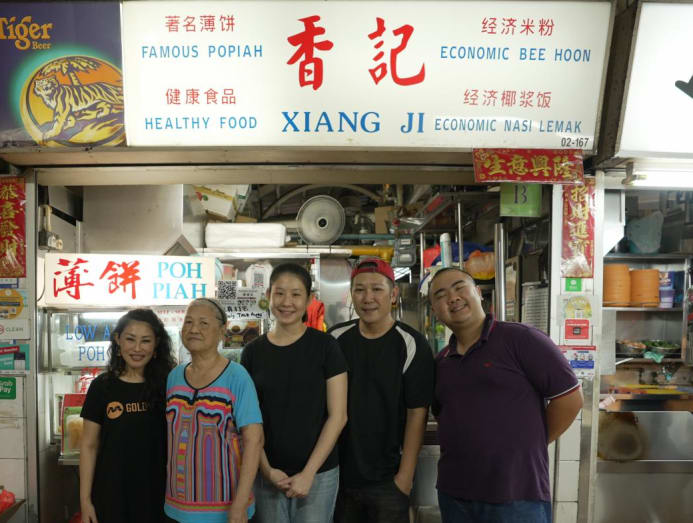 "There have been comments – 'Why be a taxi driver, what is the career progression?' Sometimes it's really not about that. It's a job, it provides, it gives a lot of flexibility and it solves a very crucial real-world problem. People need transport." he said.
"I've always been very open with opportunities, like going off to Finland to work or driving a cab. Be it transporting people or cooking for someone, I'm in the service of that person and I want to do the best for them," he continued, agreeing that he was a "people person".
Breaking the "taxi uncle" stereotype, Delon combines driving and his culinary passions with the goal of setting up a private dining business when he has enough capital. Ironically, he doesn't do much cooking at home for now because the kitchen is very much his mother's domain. However, his future offerings will reflect her influence on his diverse experiences as a chef.
"My mum used to bake all our birthday cakes and make Chinese New Year goodies – pineapple tarts, love letters – herself. And she has invented this one secret dish I want to recreate," he said fondly.
Delon's attraction to the flavours of childhood was also reflected in his recommendation. For someone with a chef's sophisticated palate, his choice of popiah was unexpected.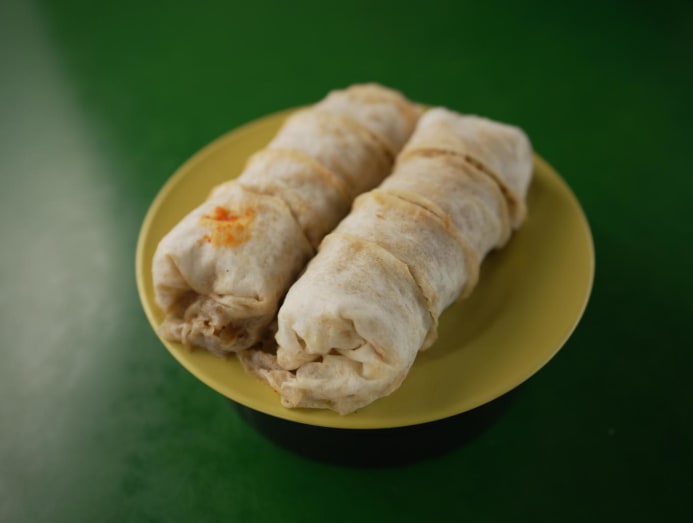 "Foods I grew up with give me joy, so I like it simple. It's like Philip Starck the designer - simple designs, but so hard to achieve. It's the same with food. Also, I don't like to complicate stuff because as chefs, we do that on a day-to-day basis," he explained.
At Low Ah Hee, a stall that Delon personally frequents at least once a month for their popiah, they certainly keep things unadulterated and straightforward. Bangkuang (Chinese turnip or jicama), lettuce, diced hardboiled egg, bean sprouts, fresh garlic paste, sweet sauce, optional chilli sauce and crispy batter bits for garnish are rolled in a wheat flour wrapper.
"There are a lot of different variations, you can dress popiah up all you want but this one is really as simple as it gets. No prawns, no extras, no frills," said Delon.
According to second generation hawker Ace Foo, 47, whose parents opened their stall 20 years ago at Bukit Timah Food Centre and Market, their popiah has that "gu zao wei" (Mandarin for nostalgic taste from the past) and is named for his 76-year-old mother. Low Ah Hee is also a pun as it sounds like "old auntie" in Chinese, adding to the traditional feel. Keeping it all in the family, Ace's wife Tarryn also helps out at the stall.
The folks at Low Ah Hee keep their popiah unadulterated and straightforward – bangkuang, lettuce, diced hardboiled egg, bean sprouts, fresh garlic paste, sweet sauce, optional chilli sauce and crispy batter bits for garnish are rolled in a wheat flour wrapper. And it's perfect.
Delon ordered a spicy and a non-spicy popiah (S$2.10 each, or S$6 for three) for us to try. When they arrived warm and freshly made, the garlicky aroma made my mouth water. Each hefty roll was cut into four neat pieces that showcased their generously stuffed cross-sections. I was impressed that the popiah skins stayed intact, not a split in sight – testament to Ace's expertise.
"When I first started out, a lot of customers said it's not nice. The ingredients are all prepped by me, so I wondered what was wrong. Then my mum told me it's the way I wrap. Every popiah skin is different. You have to know the skin to know how to layer the ingredients and how much to use. So I took quite a while to learn how to roll the perfect popiah," he revealed.
The thin, translucent popiah skin, which Ace sources from a supplier friend who produces them according to his family's recipe, allowed the fresh ingredients within to shine. The balance of proportions was flawless – egg adding creaminess to the juiciness of the bangkuang and the crunch of crispy batter bits. Ace referred to the latter as golden flakes, "basically deep-fried flour, made in-house to our own recipe". They were the tasty, textural contrast the dish needed.
Delon was impressed by the flavourful bangkuang, which he described as "stewed dark and rich, a bit like chyepoh, but not". The essence of simplicity, Ace disclosed that it consisted of "pure turnip, a special kind from Malaysia, no carrot, braised in its own sauce". Even the plump bean sprouts were personally selected to ensure the best quality. His gentle application of sweet sauce, which I usually avoid, was a revelation. Its sweet whisper actually enhanced the popiah's deeply savoury notes.
"It's layered. A burst of flavours in your mouth, not overpowered by the sauce," Delon concurred, joking that the popiah's garlicky redolence made it an excellent vampire repellent, but also why he only indulged at the end of a day's drive, when he had no passengers to odiferously offend.
Taste buds intrigued, we moved on to the spicy version, albeit cautiously on Delon's part due to the intensity of the chilli sauce. The spice was subtle at first but gradually intensified, adding an extra dimension of flavour to the popiah.
Do take note though, Low Ah Hee popiah is "takeaway only" and has been since the pandemic. Ace explained: "It's for our customers health and safety. But if they want to eat here, they can just roll down the packaging and bite into it straightaway. It's more authentic, like olden times."
For a fun, interactive element, six-roll DIY party sets (S$17) DIY sets are available to cater for events or house parties. If you prefer, they also have a house-made kueh pie tee version with the same fillings, all packed separately to prevent sogginess.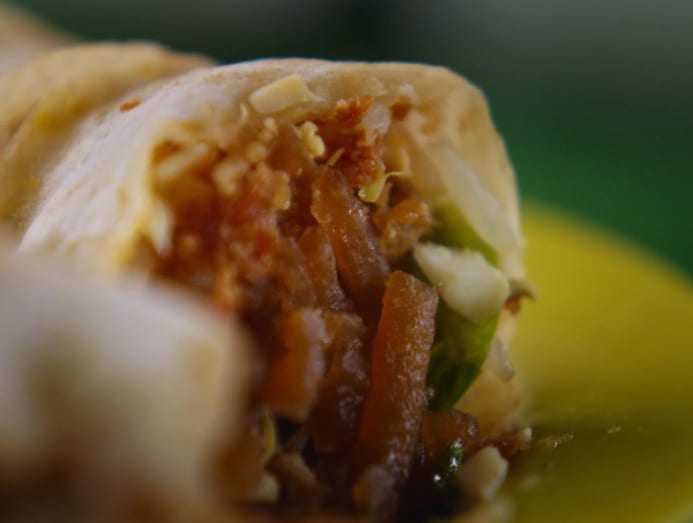 Ace and Delon have been friends for almost a decade, staying in contact since meeting through their culinary school internship at a hotel. When I remarked that it was nice to see fellow chefs supporting each other, he replied: "We definitely do that. It's quite similar to driving where it's about making a connection with passengers. I hope I help them too. But here, it's the food that speaks for itself."
It certainly did. Simple was how Delon described Low Ah Hee popiah, but even the simplest dishes can have nuances and complexity when prepared with care. With nothing to hide behind, every component had to be outstanding. Hearty and wholesome, beautifully balanced in taste and texture, it was easily one of the best I'd ever had.
I thanked Delon for our popiah connection, inspired by his unique perspective on food, driving, finding joy in simplicity and meeting the needs of others. True to form, he credited the people in his life.
"A lot of things I learnt from mum, family, friends. My American mentor in culinary school had the best advice: 'when you're in school, make all the mistakes you want. Have fun, fail, but once you're out there working, do it good, do it right.' So when I drive or cook for someone, I like to give them service from the bottom of my heart."
Delon's story is testament to how taking roads less travelled makes for a far more interesting and fulfilling journey, which bodes well for his next adventure in private dining. His customers, diners and passengers alike, are in for quite a ride!
Low Ah Hee Popiah is located at Bukit Timah Market & Food Centre, 51 Upper Bukit Timah Rd, #02-167, Singapore 588172. It's open Wednesday to Sunday, 11am till 8pm or sold out. Catch Makan Kakis with Denise Tan every Thursday from 11am on Mediacorp GOLD 905.