Vegetarian kway chap that tastes like the real thing? We tried it at this pay-it-forward stall in Ang Mo Kio
Follow this new Makan Kakis series for the best eats in Singapore, as recommended by cabbies and private hire drivers. This week, Mediacorp Gold 905 DJ Denise Tan meets a driver who introduces her to Zhen Xin Vegetarian for a unique version of a meaty classic.
As a radio presenter, host of food guide Makan Kakis and resident glutton of GOLD 905, I often get recommendations on where and what to eat from listeners. Of which, a particularly vocal bunch is made up of cabbies and private hire drivers.
So I figured, why not invite them to help me hunt down affordable meals that are worth the journey and most importantly, delicious. And just to spice things up, I'd give them a little break from work and drive them around instead.
My first victim, er, passenger was private hire driver Ben Looi, 49, from Ang Mo Kio. As a father of three teenagers, his day usually starts early with a school run before making a quick stop for breakfast at hawker centres or kopitiams in the area. After loading up his flask with coffee, he hits the roads for seven hours before an afternoon break, and resumes in the evening for another five hours or so.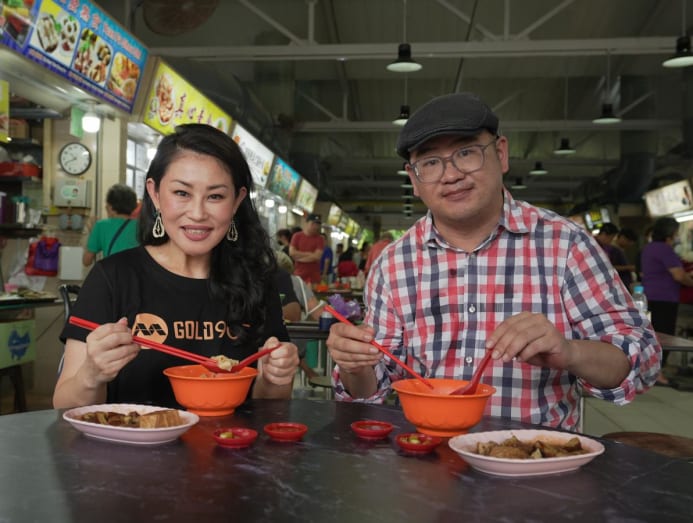 Ben has been driving for 5 years and said the best thing about it was "no boss, no deadlines, start anytime you want, stop anytime. Freedom and flexibility!"
Driving allows him to pursue his other passions, one of which is cooking. His signature dishes are roast pork (siew yoke) and Christmas turkey with all the trimmings. For his children, it's their favourite fried bee hoon, the kind you can get in restaurants like Qi Ji, but with a special request. "No tau gay!" he said, laughing at their aversion to bean sprouts.
Ben certainly knows his way around a kitchen. In fact, the day we met, he had brought along a pint of his homemade durian ice cream in a cooler bag for me to try. We decided to save it later for dessert.
By definition, kway chap, with its pork cuts and offal, is the very antithesis of vegetarian – could this dish really measure up to the real thing?
VEGETARIAN STALL POPULAR WITH TAXI DRIVERS
As I drove to our destination, Ben shared that one of the biggest challenges to being a private hire driver is when fatigue or sleepiness hits. But he explained: "I would be tempted to keep going but I tell myself go take a break. No point pushing through. It's dangerous."
On those sleepy night shifts, Ben might use food as motivation. Usually prata or yong tau foo, since there's a 24-hour coffee shop near his home. For him, availability and convenience are key. Perhaps why he was directing me towards a regular early morning spot.
Prior to our meet-up, Ben had already shared with me quite a few notable places in Ang Mo Kio for good hawker fare, but I knew we'd hit on a unique recommendation when he mentioned vegetarian kway chap.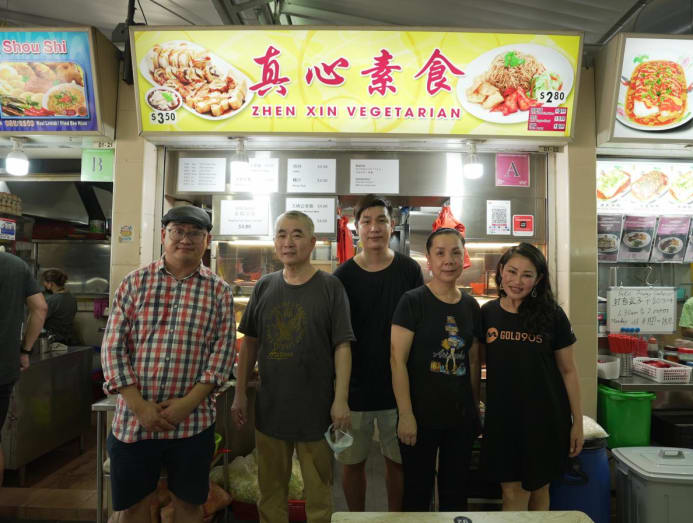 By definition, kway chap, with its proliferation of pork cuts and offal, is the very antithesis of vegetarian, so I was intrigued. Could a completely meat-free version really measure up to the real thing?
Zhen Xin Vegetarian was previously located at Block 630 Ang Mo Kio Avenue 4 for over 20 years before it relocated to Mayflower Market & Food Centre just a year and a half ago.
According to Jet Weng, who runs the stall with his parents, it's very popular with taxi drivers because it used to operate 24 hours a day. Since the move though, they now open from 4am to 1pm, to suit the more elderly, early risers in the area.
I'm neither, at least not yet, but anything for good food! Whilst waiting for our vegetarian kway chap, we perused the rest of Zhen Xin's extensive menu – chicken rice, duck rice, nasi lemak, laksa, char siew wanton mee, fried bee hoon and more, all vegetarian and all S$4 or under per portion.
"INTESTINES" WITH BLACK FUNGUS AND A CONDIMENT HACK
When the vegetarian kway chap was served, I did a double take because it looked like the genuine article. A bowl of the kway (flat rice noodle sheets) in broth came with a separate platter of protein smothered in the requisite starchy brown sauce. Both smelled mouth-wateringly savoury but upon closer inspection, I realised my eyes were playing tricks on me.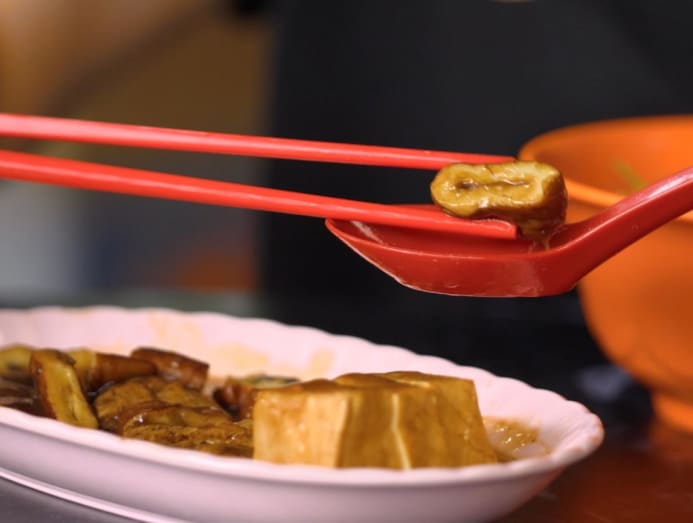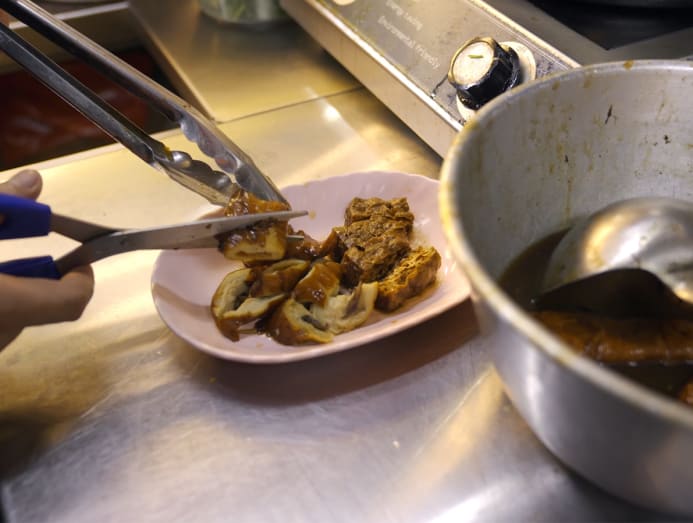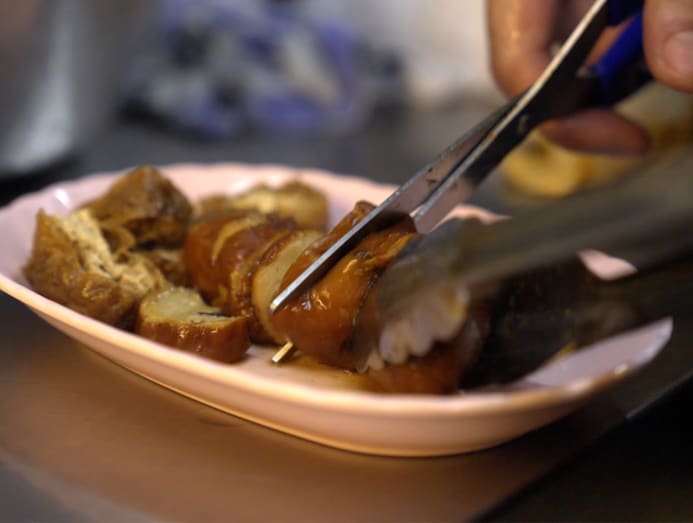 What looked like large intestines was actually a staple found at vegetarian bee hoon stalls – layers of bean curd pressed into rolls, then sliced up and arranged to look just like porcine coils.
"But these 'intestines' come with black fungus in the centre to give it crunch!", Ben said enthusiastically.
I shared his enthusiasm. This vegetarian kway chap ticked most of the boxes for texture, taste and looks, with none of the porky pungency and heaviness that Ben described as "funky".
Delicate herbal notes came through in the fragrant kway broth, echoed in the thicker sauce blanketing the neat slices of firm tofu, taupok (dried tofu puffs) and mock intestines. I liked that the soy-based brew was silky, not goopy, and carried a satisfying umami flavour.
Ben encouraged me to keep eating, saying, "It's good right? It has body. And the kway doesn't break up."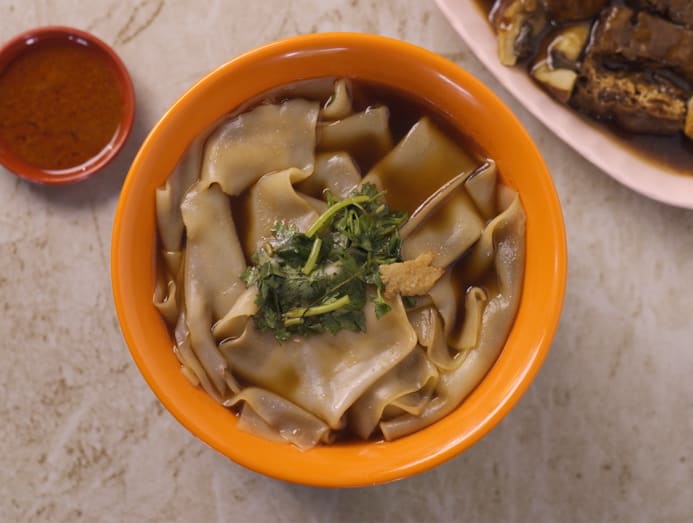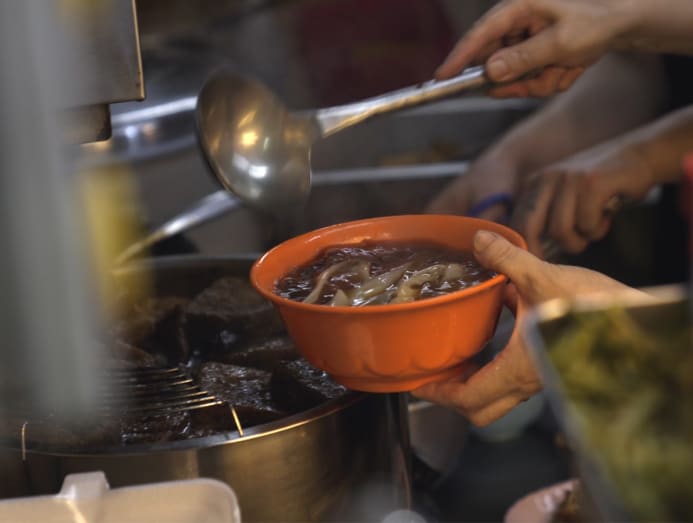 Indeed, the thin noodle sheets were not overcooked, yet meltingly tender and absorbed loads of the well-seasoned broth. But the best bit was Ben's little condiment hack to elevate the entire experience.
"For vegetarian food, they have a limited range, like they can't use garlic. So I use the vinegar from the green chilli," he said.
It seemed almost too simple, really. Sliced pickled green chilli is more commonly served with the stall's wanton mee, but he suggested that we mix the acidic pickling liquid into the usual chilli dipping sauce. The result was magic. Combined with the salty-sweet chilli sauce, the spicy vinegar added the right amount of heat and mouth-puckering zing to really brighten up the earthier soy flavours of the vegetarian kway chap.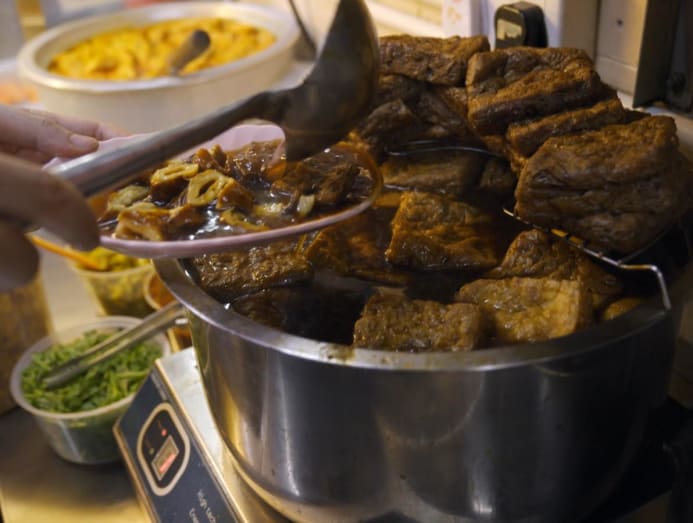 BONUS DISH: "FISHBALL" NOODLES
All in all, it wasn't the real thing, but a really good dupe for those who want the feel of kwap chap, without the fattiness or calories. For Ben, it's a good choice for those days when he feels "a bit guilty about eating too much the night before. This is healthy and guilt-free".
Zhen Xin' vegetarian kway chap might be healthier, lighter and not cloying, but it certainly was hearty. It was also value-for-money at S$3.50 for such a big portion. Just the kind of comfort meal you'd like on a rainy morning.
"It's like a warm hug from Grandma," Ben agreed.
Buoyed by the success of this vegetarian take on hawker food, I was eager to try more and Ben happily obliged with another recommendation.
Zhen Xin's vegetarian fishball noodles (S$4) is also worth a try, especially the mock fishballs which had the firm yet bouncy crunch of the real thing. Of course, they didn't taste of fish, but the seasonings and texture almost made my brain believe they did! Together with al dente mee pok and a tasty sauce that included chilli sauce and ketchup, this was another winner for Zhen Xin.
The stall has a variety of affordable and generously portioned dishes, ample parking and is conveniently located near his home. However, Ben's appreciation extends beyond these things.
BEN'S TOP TIPS FOR MAKAN KAKI DRIVERS
Bring your passport – for those impromptu food trips across the Causeway. In fact, the furthest he's driven to satisfy a craving is to Permas Jaya in JB for char siew wanton mee.

Takeaway containers are always good. Bring your reusable carriers, use fewer plastics and save the environment.

A full flask of your hot caffeinated beverage of choice. It's a good perk-you-up if you're driving around at night or for long hours.
A STALL THAT PAYS IT FORWARD
True to its name, which means heartfelt and sincere in Mandarin, Zhen Xin is trying to help those in need from the neighbourhood.
Like several other stalls at Mayflower Food Centre, they have a casual Pay-It-Forward programme, where customers can donate cash towards free meals or buy a meal and leave it for others to take, no questions asked.
Jet explained: "We were encouraged by the previous stall owner here to join in. We usually prepare 10 packets of food before 10.30am. Old folks come and take for themselves, or their neighbours who may be less mobile."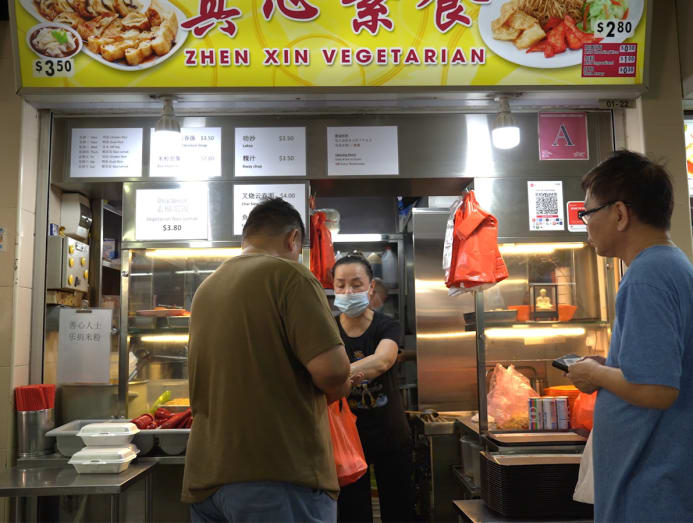 That certainly makes for another incentive to pay Zhen Xin a visit. But you'll have to get there early – Ben said they usually sell out quite quickly, sometimes by 11am. "They close by 1pm but it's still pretty crazy hours. I guess it's really tiring to be a hawker, ready at 4am. They just do it out of passion, getting the food to people."
I noted that Ben seemed to take a similar approach with his driving and cooking, but he modestly insisted he's not that hardworking. I also found it interesting that for someone who crisscrosses the island on the job, Ben chose to not to stray too far for our meal together.
For him, food means the comfort, convenience and closeness to home. It's starting and ending the day with the familiarity of his neighbourhood. It's feeding his family what they like from nearby places or replicating their favourites in his kitchen. While he claimed he's not that hardworking, by admission, he usually puts in long hours – a gruelling 12 hours daily.
"Okay, long hours but I wouldn't actually call it hard work." he quipped.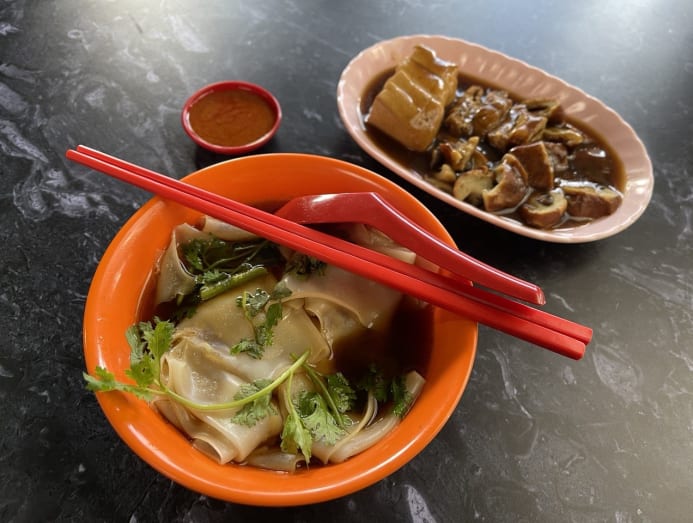 And with that we got back to the real hard work – finishing off our large servings of kway chap and fishball noodles. By the way, Ben's homemade durian ice was the perfect indulgence to cap off our virtuous vegetarian meal. Made from pure durian fruit, it was rich, creamy yet not too sweet. Impressive!
Zhen Xin Vegetarian is located at Mayflower Market & Food Centre, Blk 62 Ang Mo Kio Ave 4, #01-22, Singapore 560162. It's open 4am to 1pm, closed on Wednesdays.
Catch Makan Kakis with Denise Tan every Thursday from 11am on Mediacorp GOLD 905.