Local desserts served hot and cold, with a side of nostalgia at Adam Food Centre
We're seeking out some of the best eats to spend your CDC vouchers on in our latest Makan Kakis series. This week, Gold 905 DJ Denise Tan revisits Teck Kee Hot & Cold Dessert, a Bukit Timah stalwart for sweet treats and old-school childhood comfort – tau suan, ice jelly and ice kacang.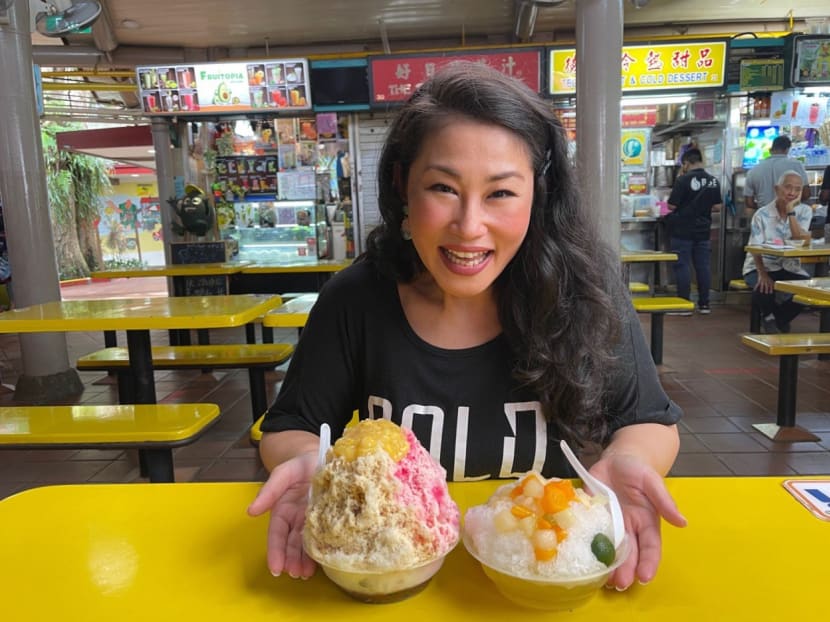 Singaporeans love a food fad. We've witnessed the proliferation of Insta-worthy cafes offering rainbow-coloured, glitter-sprinkled, unicorn-inspired confections. We've gone gaga over artisanal gelato, made in small batches and rising in rabid popularity.
We've queued for hours for all manner of baked goods, from cinnamon rolls to cream puffs to donuts to cruffins. We've been enthralled by Taiwanese bubble tea, Korean bingsu and Japanese souffle pancakes.
But sometimes, all you want is the sweet relief of something familiar, comforting and local. And when it comes to desserts, I'm in agreement with my Makan Kaki, co-owner of Diamond Kitchen & iKO, Lambert Chen.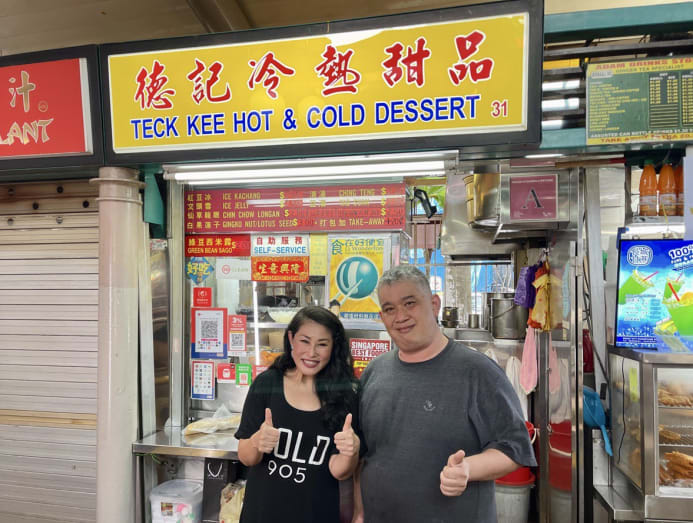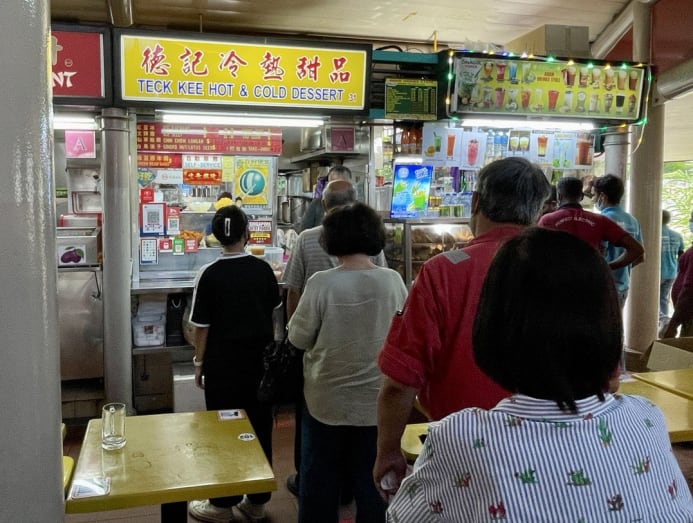 He's a big fan of the ice jelly at Teck Kee Hot & Cold Dessert, which has been serving residents in the Bukit Timah area for almost 30 years, myself included. I remember it for treats from Grandpa, quick after-school stopovers and late-night supper sessions with university friends. I hadn't been there in a while, so when I was reminded of its charms, I made a beeline for the stalwart stall of my youth.
Teck Kee Hot & Cold Dessert at Adam Food Centre is the kind of endearingly old-school establishment that hasn't changed for as long as I can remember. But according to Alex Lim, their family-run stall didn't always sell desserts. Initially, his parents started Teck Kee as a chicken rice stall in 1974, the same year Adam Food Centre opened. After two decades, Lim's father decided a change was in order.
"My father was old already and wanted to cut down, do less heavy stuff," Lim explained. They made the switch in 1994 and retaining its original name, Teck Kee Hot & Cold Dessert was born.
Ironically, the sheer number of desserts they make doesn't seem to make for lighter work, but the insouciant Lim laughed and said: "It's very easy." Local favourites like chin chow and longan, ginko nut and lotus seed, green bean sago, ice jelly, cheng tng, tau suan, and ice kacang attract long queues especially at lunch time.
Lim informed me that the latter three were his bestsellers and, much as I would have liked to enjoy them all, I had to swap out cheng tng for my childhood favourite of ice jelly.
I began my trio of desserts with a hot bowl of tau suan (S$2). The traditional sweet soup was made from mung beans that had been soaked and steamed before being cooked with water, sugar, pandan leaf and potato starch to thicken. "Actually, last time, we didn't know how to make it. We had to slowly learn," Lim confessed.
Twenty-eight years certainly has been time enough to perfect their recipe – the bowl glowed a deep golden-yellow from the mung beans, which were soft on the inside yet firm to the bite. The viscous soup was silky, not gloopy and thankfully not too sweet. "We use more beans and less starch," Lim revealed.
The entire dish carried the earthy aroma of the beans, enhanced by the familiar screw pine scent and you tiao topping. The stall is known for their generosity with the slices of deep-fried dough that crown their tau suan. I counted at least 10 pieces piled on top of my serving, ensuring each sweet spoonful of bean soup had the savoury balance and crisp, yet chewy texture of the chopped cruller pieces. On a cold, rainy day, Teck Kee's tau suan would make for a belly-warming treat.
In Singapore's hot and humid weather though, icier alternatives might be a more likely choice. Ice kacang, basically a heap of syrup-soaked ice shaved over cooked red beans, is possibly the most delightfully varied and layered heat-buster. The dessert calls to mind memories of childhood competitions to see who could tunnel through the base to get to the hidden goodies underneath without collapsing the ice "mountain". It's hard not to feel like a big kid with a dessert that's such fun to eat.
For S$2.50 at Teck Kee, sweetened red beans, longan, cubes of yellow jelly, little black blocks of chin chow and attap seed were capped with shaved ice dressed with lashings of gula melaka sauce, red sugar syrup, evaporated milk and canned sweet corn.
Other countries have similar icy confections, but what makes it unique to Singapore are the tropical ingredients like the attap seed (translucent ovals of nipa palm "seeds" that are actually immature fruits of the mangrove-dwelling trees) and slippery-smooth chin chow (grass jelly made from leaves of the Chinese mesona, a member of the mint family) which gives off a herbal, slightly bitter taste.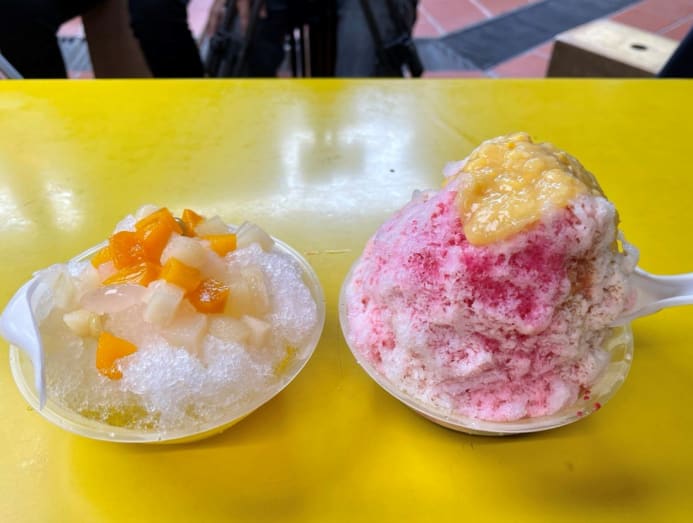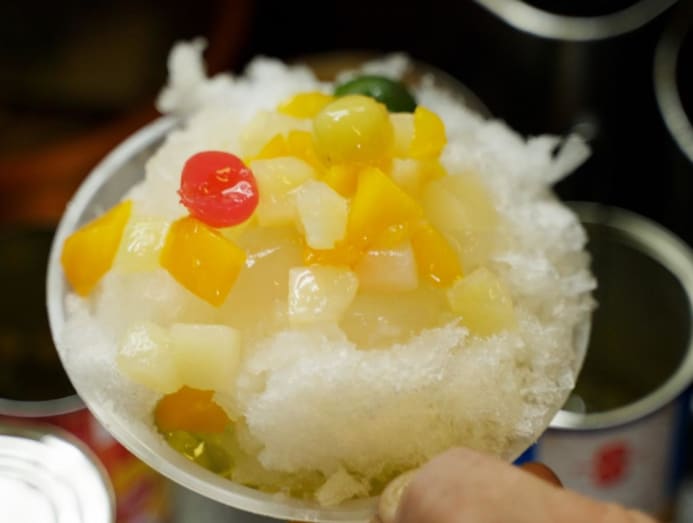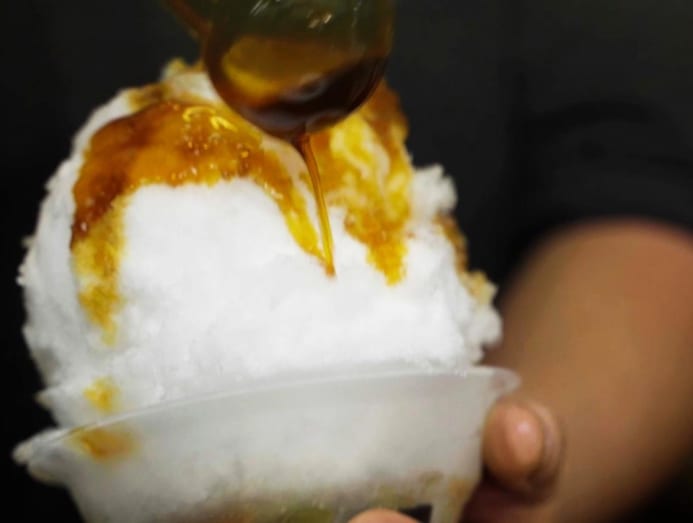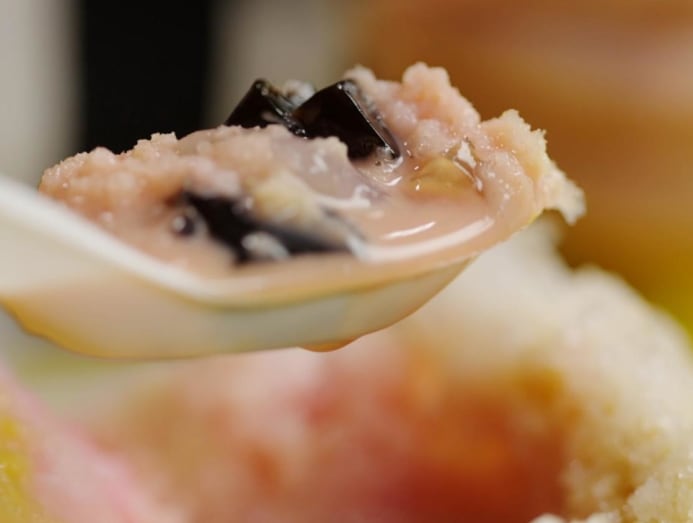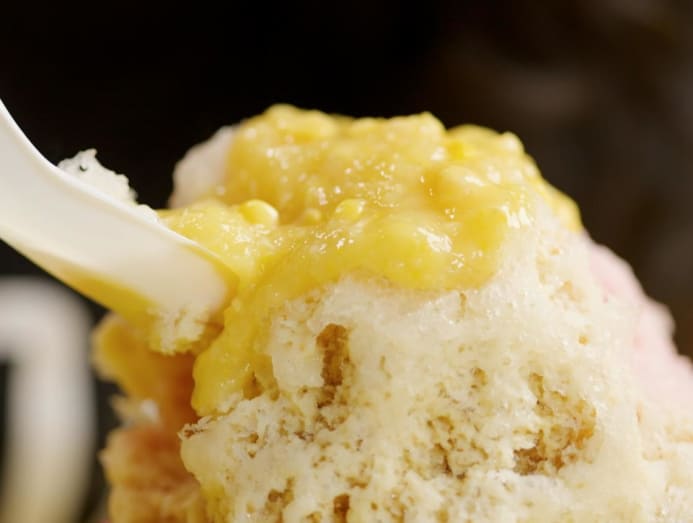 Ice crystals melted on my tongue into a sweet, creamy elixir, enhanced by the savoury undertones of evaporated milk, canned corn and gula melaka. The experience was a complex combination of textures and flavours – bouncy jellies, chewy attap seeds, juicy longans and the lush mush of red beans, their earthy sweetness picking up the same notes from the gula melaka.
As a child, the sheer size of ice kacang meant it had to be a shared treat, but ice jelly was an indulgence that could be savoured solo. Ice jelly is named for the dessert's star ingredient and at Teck Kee, they make it themselves. To create the smooth, melt-in-the mouth tenderness of their jelly, ayu powder (derived from seeds of the creeping fig plant) is dissolved in boiling water then left to cool. Overnight, the pectin in the ayu sets the liquid to its unique, jelly-like texture.
Who's up for dessert? Gold 905 DJ Denise Tan revisits a familiar stall from her childhood – Teck Kee Hot & Cold Dessert at Adam Food Centre.
Two large scoops of ayu jelly first went into a bowl. Next, ice was shaved over, fluffy and pristine. A simple syrup was ladled on followed by attap seeds and canned fruit cocktail. Lim gamely showed me his jumbo 820g cans of South African Statue brand fruit cocktail – a syrupy harvest of peach, pear, pineapple, cherry and grape pieces. A few zesty squeezes of calamansi lime provided the perfect acidic finish.
Eaten all together, the ice jelly delivered tasty harmony. Sweet and tangy flavours played with the light, neutral jelly and fresh crunch of the rapidly melting ice. Truth be told, it's just jelly covered in ice and straight-from-the-can fruit cocktail. Yet combined, it's a crowd pleaser.
As with all of Teck Kee's desserts, its appeal lies not in anything superlative, but in simplicity and consistency. And that's what childhood is all about – taking pleasure in the simple things. Pointing to the ever-present queue of customers, I remarked to Lim that their stall was very popular. Humble and unassuming, just like the desserts he makes, he replied: "No lah, okay lah. We've been here for so long."
Indeed, their desserts, served without frills or fanfare, have been a decades-long mainstay at Adam Food Centre and you can't argue with memories. Teck Kee Hot & Cold Dessert was such an integral part of my growing up years. Others may have their favourites, but for me, nothing tastes better than nostalgia.
CDC vouchers are accepted at Teck Kee Hot & Cold Dessert, located at 2 Adam Road, Stall 31, Adam Food Centre, Singapore 289876. It's open Tuesdays to Sundays 12pm to 11.30pm, closed on Mondays. Catch Makan Kakis with Denise Tan every Thursday from 11am on GOLD 905.