Prata with a stir-fried twist and served 'chop chop' in Taman Jurong
Follow this Makan Kakis series for the best eats to spend your CDC vouchers on. This week, Gold 905 DJ Denise Tan checked out a stall that serves a popular South Asian street food dish – the lesser known kothu prata.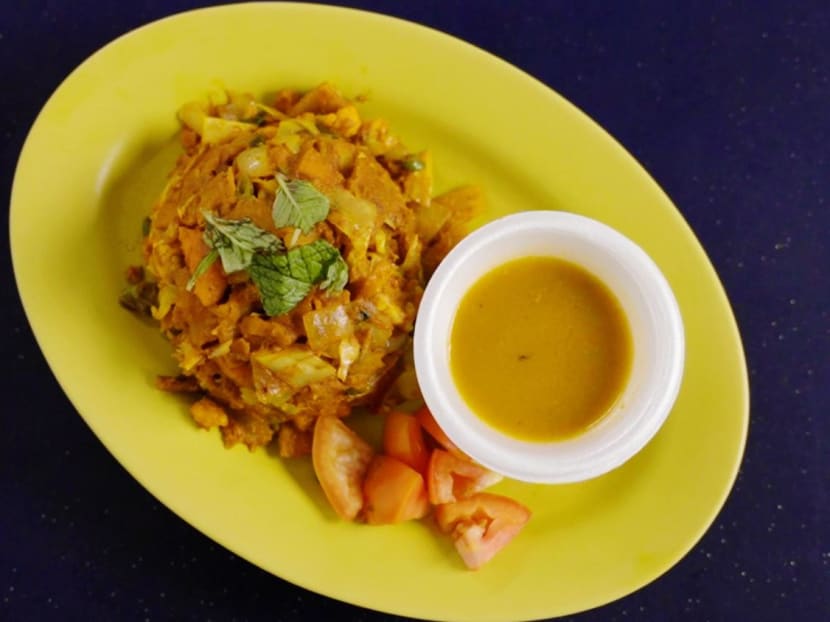 You might be familiar with roti prata, thosai and chapati, but have you tried kothu prata? Having had a taste of it once before, I was delighted to discover that a stall at Taman Jurong Food Centre has brought the stir-fried snack straight from the streets of Tamil Nadu to us here in Singapore.
Indian Tiffin Centre has been operating for more than 12 years and is known for their traditional Indian vegetarian dishes like idly, thosai and uthapam. However, kothu prata is one of the more unique items to try on their menu.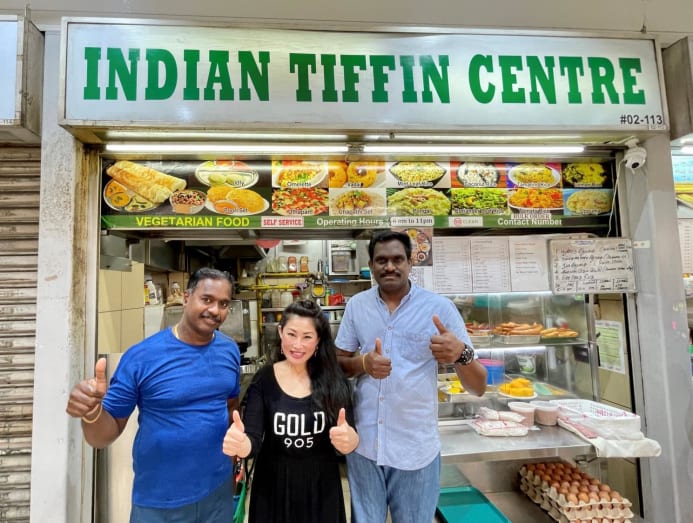 The word "kothu" means "to chop" in Tamil, and that is exactly how the dish is prepared. Prata, the flaky, ghee-griddled bread we know so well, is chopped into pieces and fried with other ingredients for a one-dish meal. There's also a similar Sri Lankan street food – the famous kothu roti – in which godamba roti (a wheat flour flatbread) is treated much the same way.
In both Sri Lanka and Tamil Nadu, meats like chicken and mutton, or even cheese might be added, but a vegetarian version is served at Indian Tiffin Centre.
At the second-floor stall, tucked away in a corner, I met Paandi and Murugan who help to run it for the owner. "Our kothu prata is different to suit Singapore tastes. We cater to customer preference," Paandi said. And if you prefer a protein boost in your kothu prata (S$3.50), ask for an egg to be added for an extra dollar.
I asked for both to get a good comparison going and settled down to watch Murugan prepare my order. Green chilli, onion, cabbage, tomato, carrot and cauliflower were chopped into bite-sized pieces and sizzled in vegetable oil till tender, along with aromatic herbs like curry and mint leaves.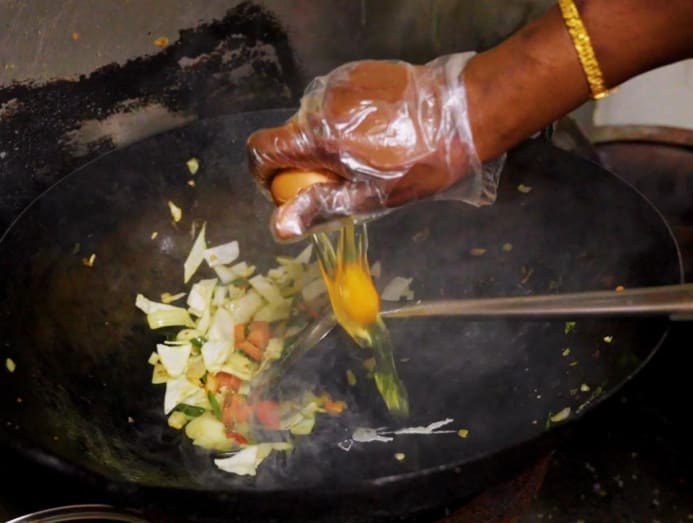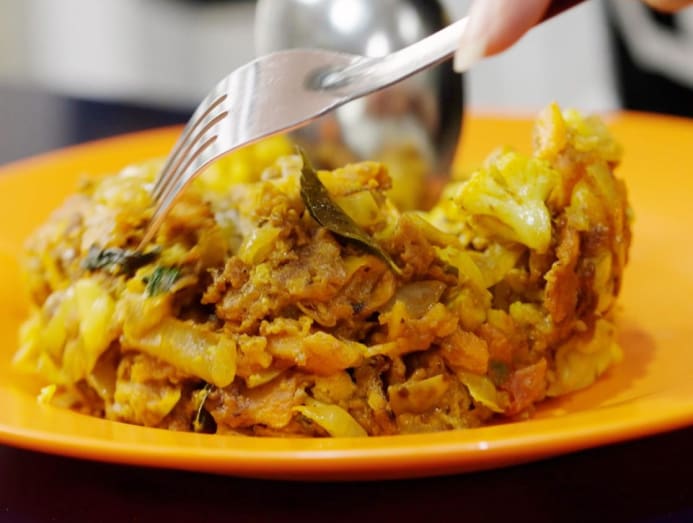 An egg was cracked in, then a generous spoonful of their own masala – a blend of spices including curry powder and cumin – was sprinkled over, giving the dish an attractive yellow-orange hue. A lot goes into seasoning the dish, but Paandi was quick to point out that MSG is never used.
Next, pratas were stacked and chopped into strips, then added to the large cast iron kadai. The wok-like pan had a well-worn, well-seasoned look, born from years of usage, which could only mean one thing – extra impartation of flavour.
Using a large metal ladle, Murugan deftly tossed all the ingredients together, occasionally using the sharp, straight edge of the utensil to vigorously chop the prata into smaller pieces. Part of the enjoyment came from the clanging ladle, the mouthwatering aromas and the sight of the colourful ingredients coming together in the pan. It was an awakening of the senses and a welcome prelude to the tasting.
In mere minutes, kothu prata with and without egg were ready. The latter was moulded and served in the shape of an upside-down bowl, a mini mountain begging to be demolished. Murugan's ladle-chopping had tenderised and amalgamated all the ingredients into one harmonious, tasty mess. The mishmash of prata and vegetables had a very comforting, homely appeal, reminiscent of something I could whip up myself in my own kitchen (minus industrial-strength stove fire and expert spice blend, that is).
I usually prefer my prata crispy, but in its "kothu" form, I didn't mind its softer, slighty chewy texture. The prata pieces had drawn in flavour and moisture from the vegetables and aromatic spice seasonings. Here and there, charred edges of prata that had caught a little more heat from the kadai (wok) provided a toasty, smoky flavour and crisper texture, while the vegetables retained their fresh crunch and juiciness.
The egg version of Indian Tiffin Centre's kothu prata was a little drier and crispier, the added protein imbuing the dish with its distinctive rich, savoury and slightly sulphuric taste.
For a saucier experience, a side serving of kurma was the perfect pairing. Each little bowl of vegetable curry contained a surprising amount of onion, carrot and chickpeas, floating in a pale-yellow liquid that looked mild and, to be honest, insipid.
What a joy to be proven wrong – the kurma actually packed an exciting punch. Its spicy kick and veggie ingredients echoing the flavours of the kothu prata for a double-take of tastiness.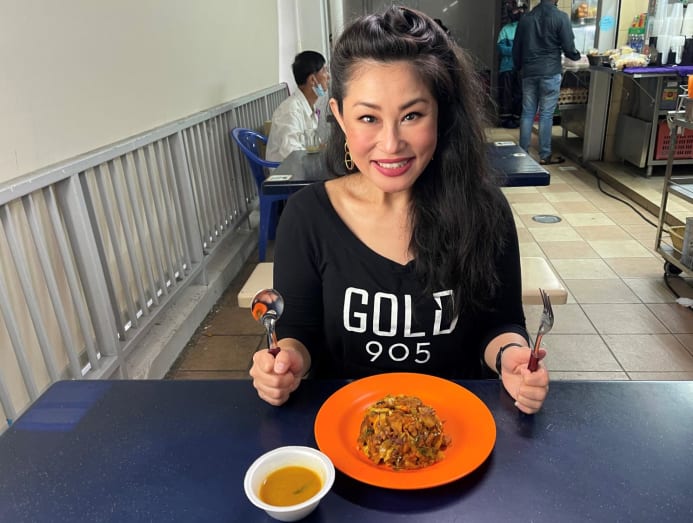 Interestingly, the base ingredient of prata is not made fresh at Indian Tiffin Centre because, quite simply, it's not even on their usual menu. Kothu prata is a special only available three times a week on Tuesdays, Thursdays and Saturdays. "We bring prata in and transform it," Paandi informed me. 
And therein lies the beauty and familiarity of kothu prata. Other cultures have mee goreng, fried rice or even bubble and squeak, but they all share the same relatable quality. It's the instantly recognisable transformation of basic ingredients into something delicious, yet economical and inexpensive. It's the practical use of kitchen finds to create a fast, wholesome meal.
Indeed, every day in households around the world, leftover vegetables and protein are being seasoned, spiced and thrown together with whatever carb is on hand (rice, noodles, potatoes, or in this case, prata) for the ultimate dollar-stretching, belly-filling comfort food.
We know roti prata, thosai and chapati – but have you tried kothu prata? GOLD 905 DJ Denise Tan visits Indian Tiffin Centre at Taman Jurong Food Centre to try out this stir-fried snack straight out of Tamil Nadu.
Indian Tiffin Centre operates from six in the morning till 11 at night for good reason. According to Paandi, it caters to many residents and shift workers from the nearby Jurong Industrial Estate – all-day dining made available for tired, hungry workers who might be yearning for a taste of home.
Kothu prata's name makes sense in more ways than one. The spicy prata stir-fry is a chopped dish served "chop chop" – quick, convenient and satisfying.
CDC Vouchers accepted at Indian Tiffin Centre, located at 3 Yung Sheng Rd, #02-113, Taman Jurong Market and Food Centre, Singapore 618499. It's open daily, 6am to 11pm. Catch Makan Kakis with Denise Tan every Thursday from 11am on GOLD 905.