Best eats: Abang Batman's pomfret penyet, oxtail soup and other Surabaya specialties
In this week's Makan Kakis, GOLD 905 DJ Denise Tan gets enchanted by Indonesian street food favourites served up by a superhero and his wife at Impian Wahyu in Kelantan Road.
At its previous location, this stall was affectionately nicknamed Batman Ayam Penyet by regular customers – but Impian Wahyu serves up so much more than just their popular Indonesian-style smashed chicken.
Intrigued by the superhero moniker and promises of killer sambal and mouthwatering soup, I followed the recommendation of my Makan Kaki Juwanda Hassim of The Fabulous Baker Boy and paid the stall a visit at its current location in Kelantan Road.
In this week's Makan Kakis, GOLD 905 DJ Denise Tan gets enchanted by Indonesian street food favourites served up by a superhero and his wife at Impian Wahyu right here in Singapore.
There, I was greeted by a vision in Batman logos. From his songkok to his crisp shirt to even his facemask, Abang Batman was fully adorned with the familiar stylised design, as was his storefront and signage.
"I'm dressed specially for Friday prayers," he told me with a smile, explaining that he earned his nickname because he grew up watching Batman on TV and before he got married, he loved dressing all in black, just like his favourite superhero.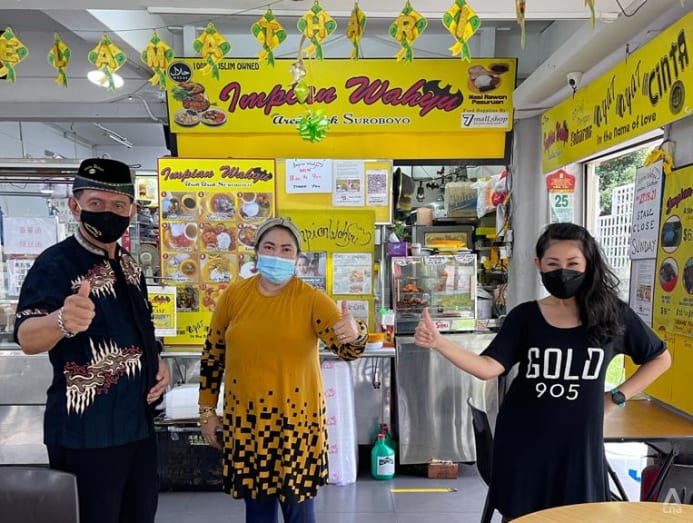 Pointing to the Batman paraphernalia hanging above his epok-epok display, he added: "Those are souvenirs given by my customers. I still have a whole box I haven't put up yet."
Perhaps he hasn't had the time, as it's been a tumultuous few years for the affable owner of Impian Wahyu, which means Wahyu's Dream.
Together with his wife Madam Wahyu Ning, Abang Batman (whose real name is Abdul Rahman bin Mahadi) has been in the food business for over 20 years. Regulars might recall their previous location along Jalan Besar, where they were for almost eight years, until business was badly affected by MRT construction works. What started as a dream had turned into a nightmare.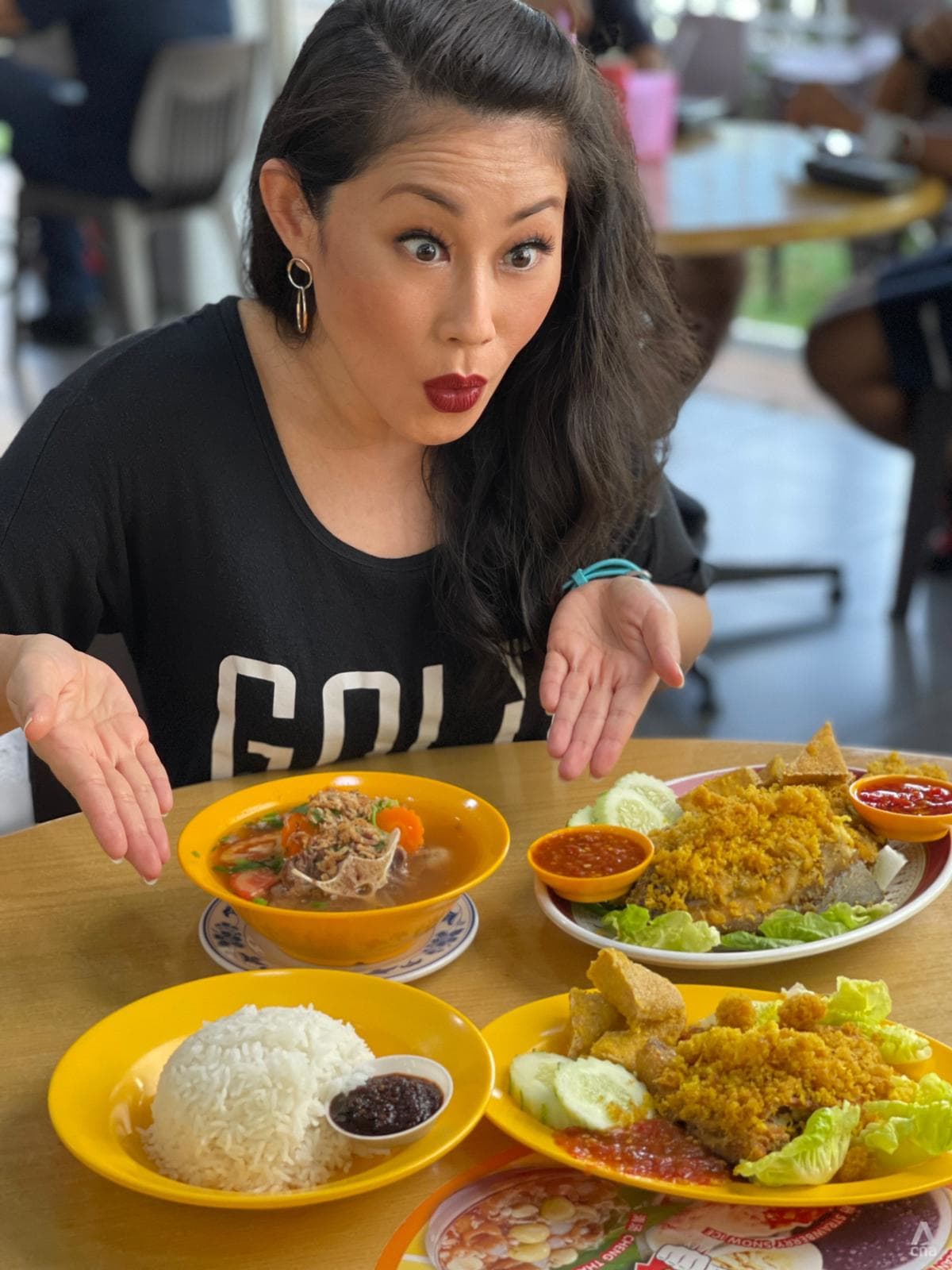 Holding back tears, Abang Batman said it was thanks to food reviewers who helped get word out that business eventually picked up. He's now happy to have moved just a stone's throw away, so his old customers don't have to travel too far. At this cosy corner of Kelantan Road, he also has four HDB blocks of new customers to cater to.
Almost every sign at Impian Wahyu is emblazoned with whimsical statements that tell their story, like "Arek-arek Suroboyo" which, according to Abang Batman, means "Children of Surabaya", a reference to where his wife is from and where their three daughters are based, running the bigger Indonesian branch of Impian Wahyu.
Then there's "Diiringi dengan taburan ayat-ayat cinta", an Indonesian movie reference that also means "accompanied by a scattering of love verses". I assumed that main chef Madam Wahyu Ning wants customers to know that she cooks everything on their extensive menu with love, so I hurried to put this to the taste test.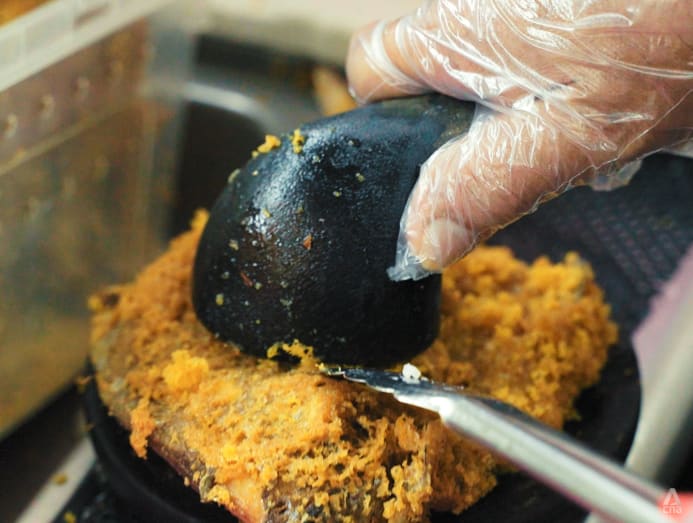 I started with their bestselling ayam penyet (S$6) and added an extra order of bawal penyet (battered, deep-fried and smashed black pomfret for S$10). Abang Batman proudly revealed that while most of their ingredients come from suppliers, he personally goes to the market every morning for quality seafood. "The fish and prawns for the penyet, I must choose myself," he insisted.
As expected, the ayam penyet was delicious. The chicken had been boiled in broth for three hours to soften the bones, before being battered and deep-fried. The result was well-seasoned, crispy yet tender meat.
But the bawal penyet was even more delightful for this pomfret lover. A whole fish had been lavished with batter, then immersed in a jacuzzi of bubbling-hot oil till golden and crisp, without compromising its moistness or fresh taste. It was then served on bed of lettuce and sliced cucumber, along with two triangles of fried tau kwa (firm tofu).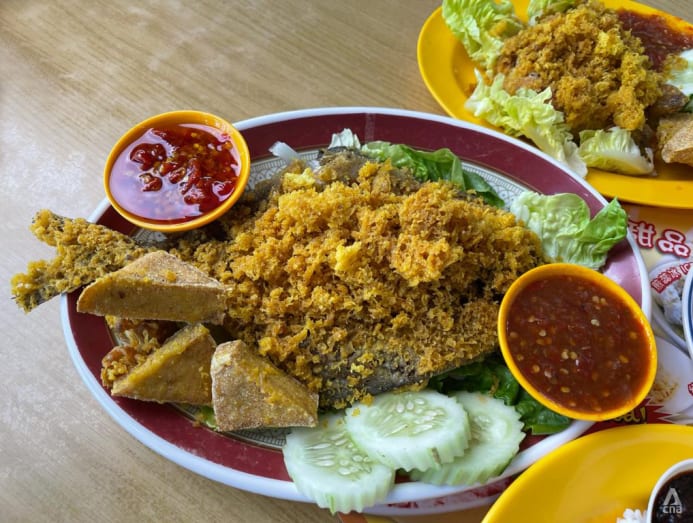 "And now for the ayat-ayat cinta," proclaimed Abang Batman, festooning the fish with the penyet prerequisite – fluffy, fried batter topping. With one dramatic expression, he had transformed the crunchy-crumb garnish into a sprinkling of love.
But the best expression of love came through the accompanying sambal, made-to-order from scratch by Madam Wahyu in her large batu ulek (pestle and mortar).
Living up to its reputation, this freshly-ground sambal was indeed killer – its spicy, red chilli warmth mellowed by sugar and the natural tangy sweetness of tomatoes. Garlic, salt and fried belacan (fermented shrimp paste) added savoury, fragrant depth to the heady, deep-orange paste. It was mesmerising to watch Madam Wahyu slowly work her wooden pestle through the ingredients for the perfect chunky consistency.
Eating the fiery, seed-dotted sambal was sheer masochistic delight. It had to be slathered over everything and enjoyed with copious amounts of rice. Fellow "hotheads", be sure to also ask for their other sambal, made from red chilli, salt and oil. It had a fresher flavour and the oil added smooth richness to whatever it was drizzled on.
Another bestseller not to be missed is Impian Wahyu's sup buntut. Also known as sup ekor in Malaysia, at S$9 per portion it was a deceptively simple oxtail soup that surprised the palate with every sip.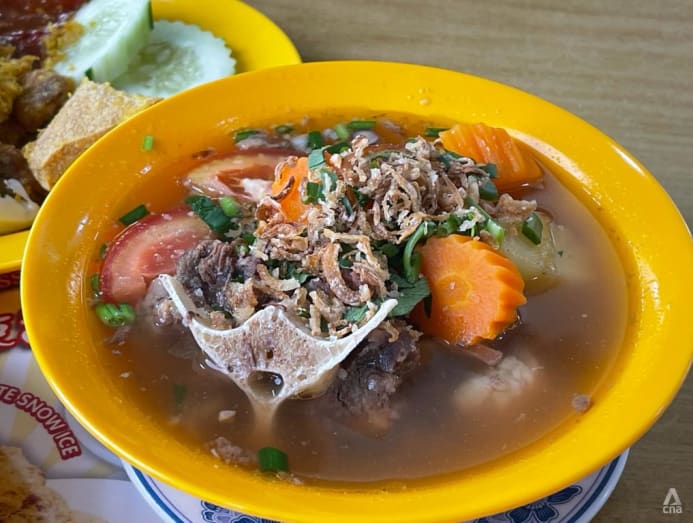 The broth appeared plain and clear, but packed spicy heat and pure beefy flavour. Potatoes floated in the broth, thickening it along with sweet carrots and sliced fresh tomatoes that had been added in at the last moment. A scattering of fried shallots added more natural sweetness and crisp texture.
As for the oxtail, chunks of meat-ringed bone yielded meltingly tender beef and gelatinous tendon that added a luxurious mouth-feel to the dish. Taking things over the top was the fatty, unctuous marrow, which I happily and messily sucked straight out of the bones.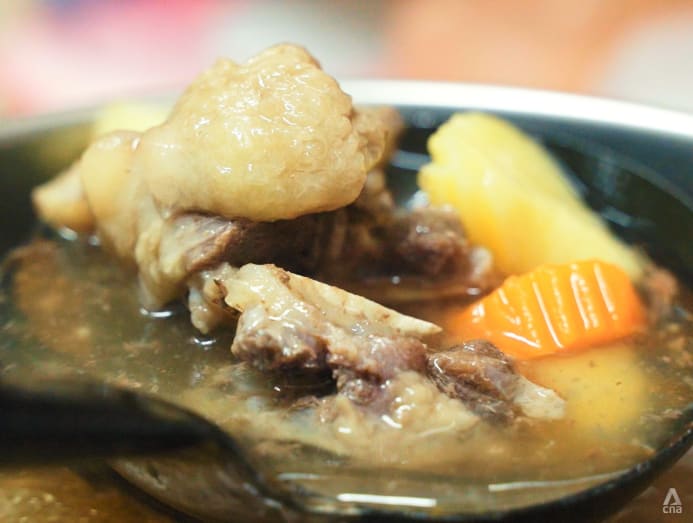 Eaten with rice and their spicy-sweet kicap manis and chilli padi sambal, the humble-looking dish astonished with its carousel of intense flavours.
The warm comfort of the sup buntut, paired with the crispy, crunchy naughtiness of the deep-fried fish and chicken made for a wonderfully varied and satisfying meal. Abang Batman disclosed that they previously only managed to sell 5kg of oxtail per day, but now they're up to 15kg daily and business has improved threefold.
"Customers keep coming back and they say it tastes different from other stalls. My wife has the magic fingers from Surabaya! You know the Malay saying 'air tangan'?" he asked.
Literally meaning "hand water", it took a little research on my part to decipher Abang Batman's quirky assertion. Air tangan refers to the water from a mother's hands, which is why that homecooked touch always tastes best.
If Abang Batman is the face and personality of the stall, surely its namesake Madam Wahyu is the heart, soul and hands behind its scrumptious success. And together with that Surabaya magic, they are making culinary dreams come true. So even if travel isn't possible during these pandemic times, there's always Impian Wahyu for a taste of authentic Indonesia.
Impian Wahyu is located at Block 28 Kelantan Road, Singapore 200028. It's open 11am to 9pm, closed on alternate Sundays. Catch Makan Kakis with Denise Tan every Thursday from 11am on GOLD 905.