Rebecca Lim is married: The actress ties the knot in laid-back solemnisation and 600-guest wedding dinner
Rebecca Lim, who married Matthew Webster on Sunday (Nov 27), was so chill that she even found herself short of outfits just two weeks before the big day.
If there's a term for the opposite of a high-strung celebrity bride, Rebecca Lim would be it. One of Singapore's most popular actresses, Lim quietly married her fiance, 36-year-old Matthew Webster, on Sunday (Nov 27) in a ceremony involving only family and friends.
How chill was she? Suffice it to say that she told CNA Lifestyle she chose her main wedding dress, from designer label Viktor&Rolf, based on the fact that it "has pockets" and was "loose-fitting". What was in the pockets during the wedding? Not her phone, which she gave her sister to hold on to for the day, because she didn't want any distractions. Instead, she had "a lot of tissues", "mints and Skittles".
Lim chose to hold the traditional tea ceremony, solemnisation and wedding dinner all in one location – the Ritz-Carlton Millenia Singapore – because "I wanted it to be one-stop", she said.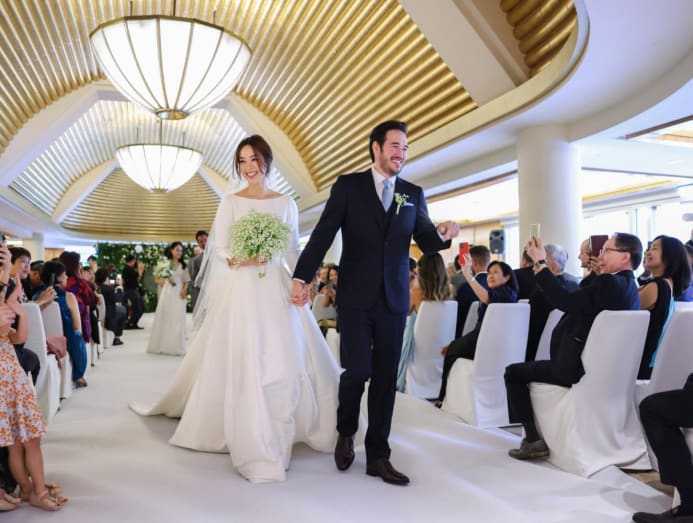 Recounting her big day, she told us: "It started at three in the afternoon, so we only started to only get ready at around 11am, because I didn't want it to feel like another work day. We took family photos in the bridal suite."
Then there was an intimate solemnisation attended by family and close friends. In the evening, there was a dinner for 600 guests, including many of Lim's celebrity colleagues like Fann Wong and husband Christopher Lee, Elvin Ng, Romeo Tan, Priscelia Chan, and Pan Ling Ling and husband Huang Shi Nan. The Chinese menu was selected by Lim and her family.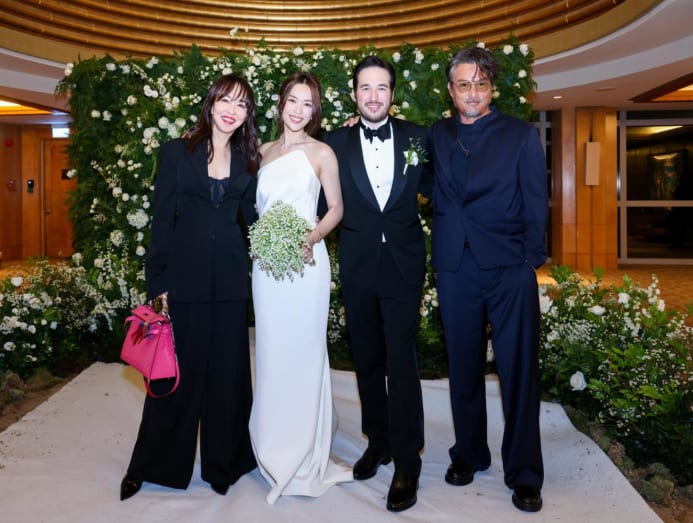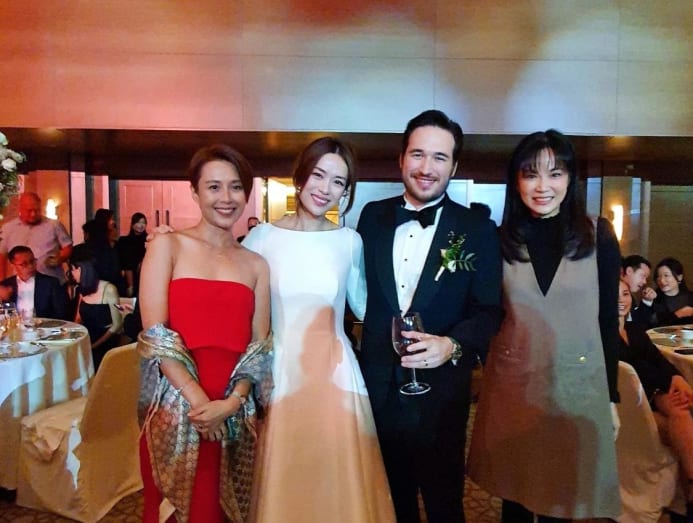 Most of the planning, though, was done by wedding planner Lelian Chua of The Wedding Atelier. "I can plan, but I'm not A, B, C, D – I'm A, B, Z, H. I'm all over the place," Lim said with a laugh. "No one can understand my excel sheets."
She was even "too chill for my wedding planner", she quipped.
And so it came to be that just two weeks before the wedding, the actress, who can currently be seen in the thriller The Third Rail, found herself short on gowns.
The sleeved Viktor&Rolf dress she wore for the solemnisation had been picked out "very early on", she said. "It just felt so right when I put it on for the first time." And her styling team, who was with her, unanimously said, "'This is the one.'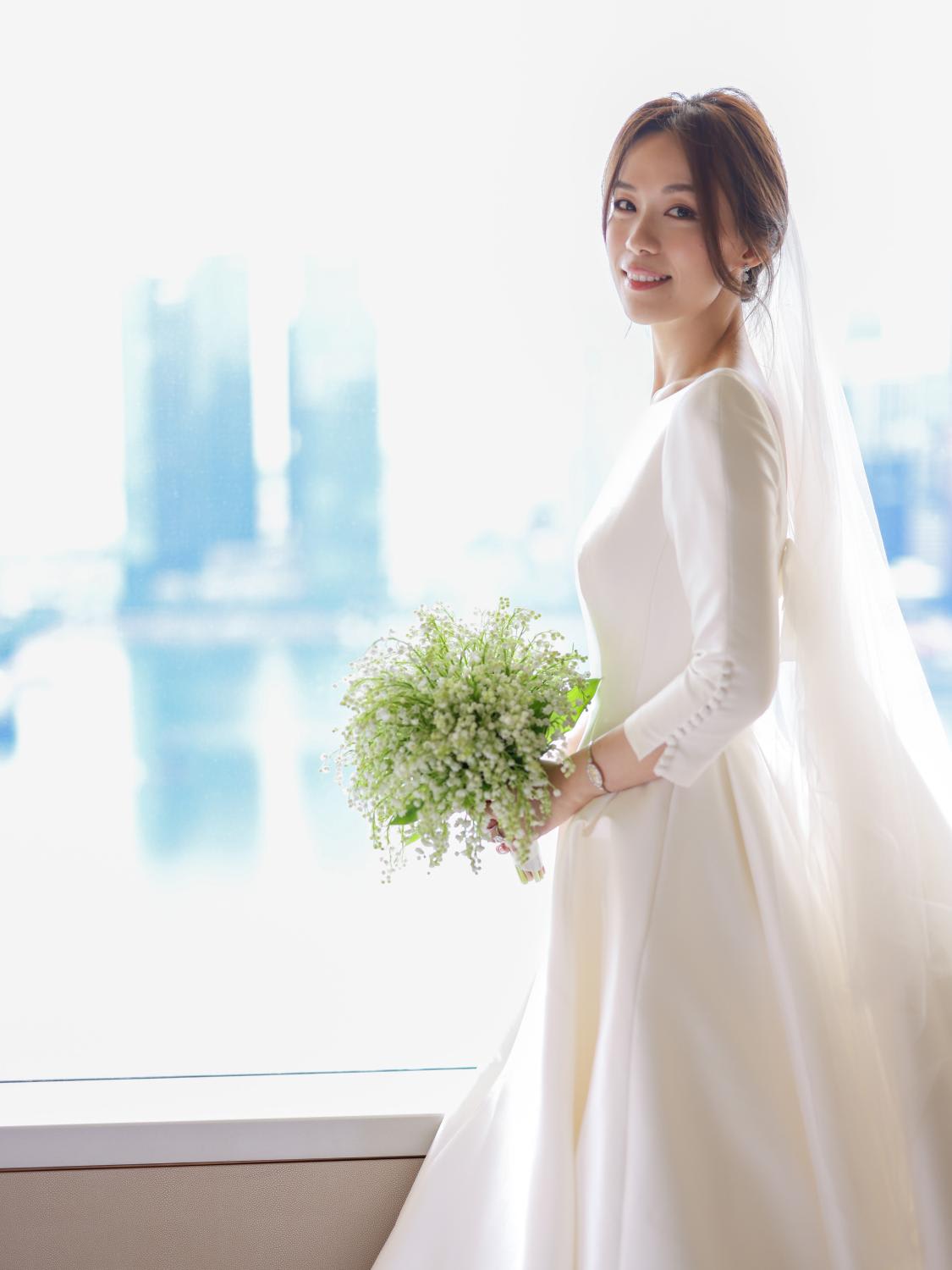 "Two weeks before, they were like, 'What about your reception gown? What about your second march-in?' I was like, 'Oh, dear.'"
In the end, it all turned out okay, because she found a Romona Keveza dress for the reception, and another Viktor&Rolf gown to wear while she was giving her thank-you speeches on stage.
The dresses were "also very forgiving", because "I didn't want additional pressure. Once a year for Star Awards is enough", she quipped.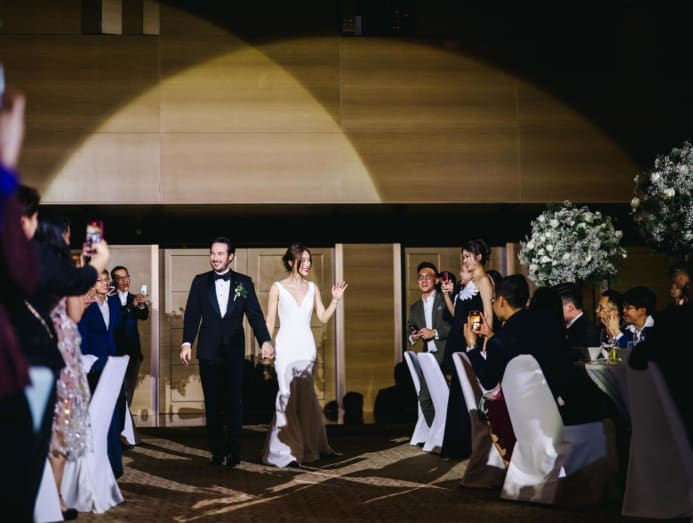 She'd thought about going on a wedding diet, she said, "but I think it came very naturally because I was so busy leading up to the wedding day".
"I only had one full day off to really relax, and even then, I was just running errands. Naturally, I didn't really have time to eat that much, which was not very healthy."
The main aim, though, was to have a comfortably stress-free wedding, she said.
"The wedding planner kept encouraging us to write our own vows because it would be more romantic, but there's so much to say, I'd rather we say it to each other privately. So, I stuck to traditional vows," she said.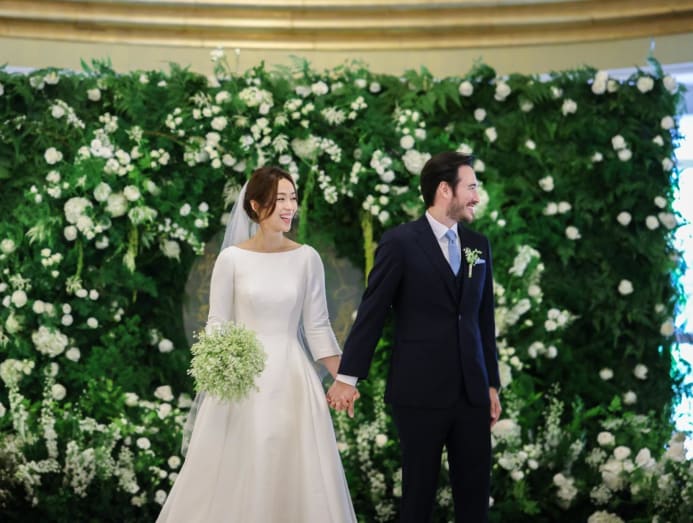 She also told her fiance in no uncertain terms not to surprise her on stage. "I said no surprises. No guitar performances," she laughed. "I mean, I'm fine when it's just the two of us, but not when so many people are around."
That's not to say it wasn't an emotional affair. "I teared during the solemnisation when I was giving my vow – and it was a traditional vow, not a vow I wrote myself! That surprised me."
She also teared while making her speech during dinner, in which she thanked her parents "for going through so much to raise my siblings and myself, for always giving us the best even though they were always given the shorter end of the stick, and for filling the house with laughter when they were suffering inside. There wasn't a dry eye in the room", she recalled.
When the celebrations were all over, she and her new husband turned to each other and marvelled at how smoothly everything had gone. All 600 dinner guests "were super punctual, so we started on time".
And, "I've not been to a wedding where there were so many guests and everyone was quietly listening. Things like that make me so touched. Everyone was really present and in the moment with us, celebrating with us. That added to the emotional level of things. Everything went better than planned. So, it was just perfect."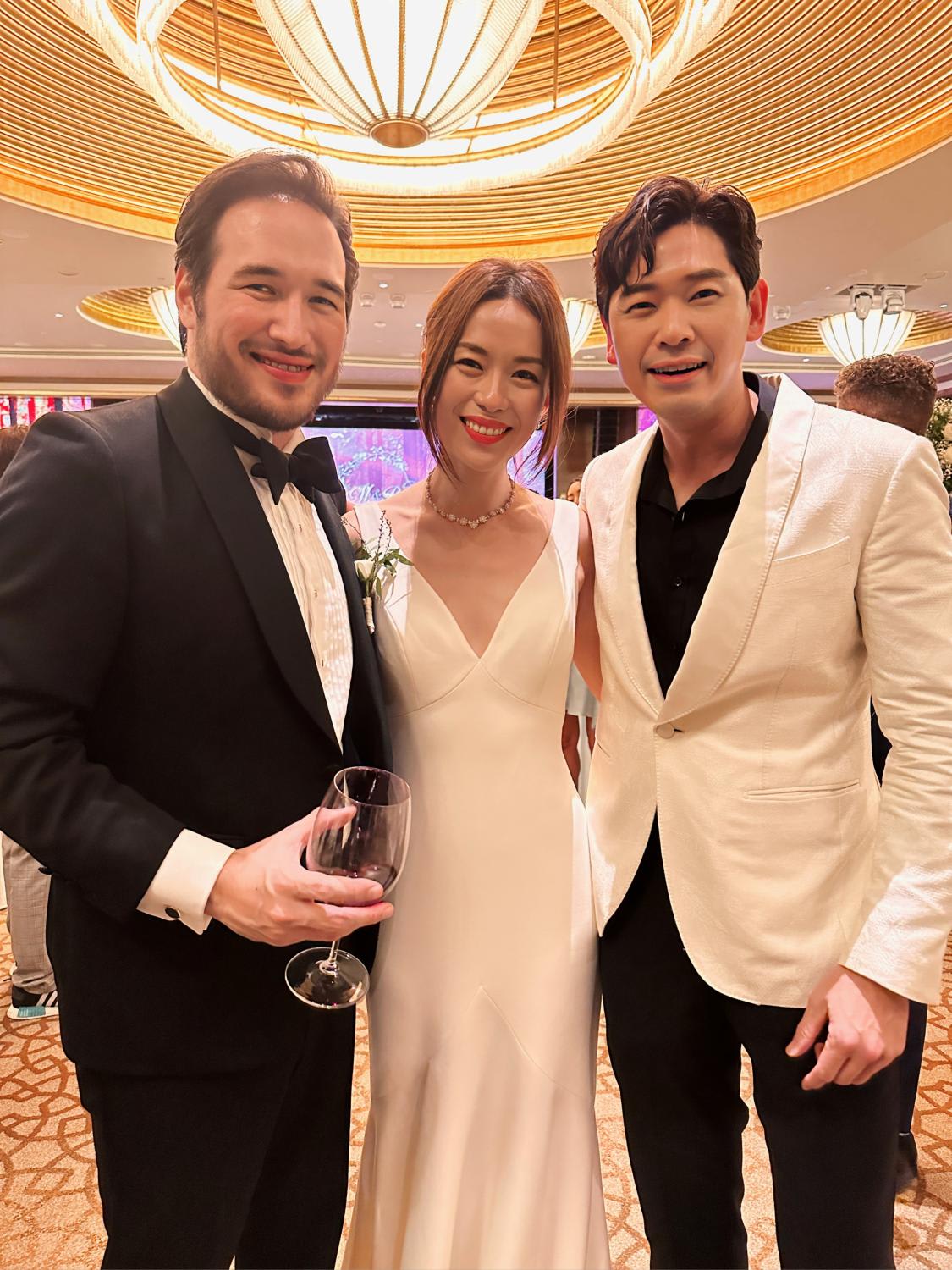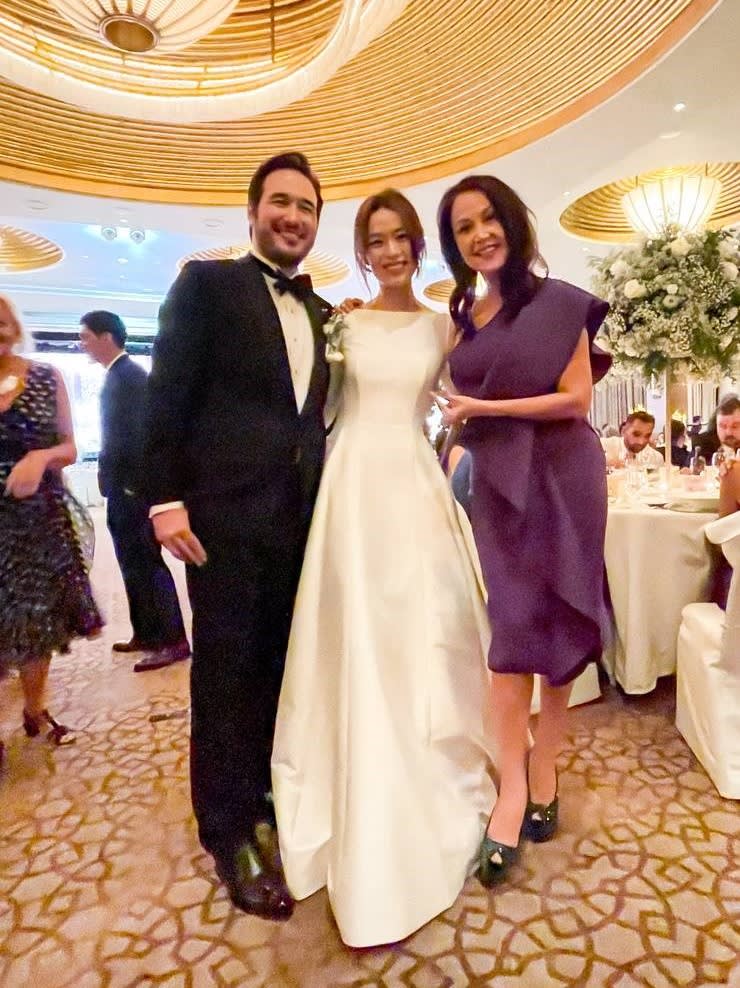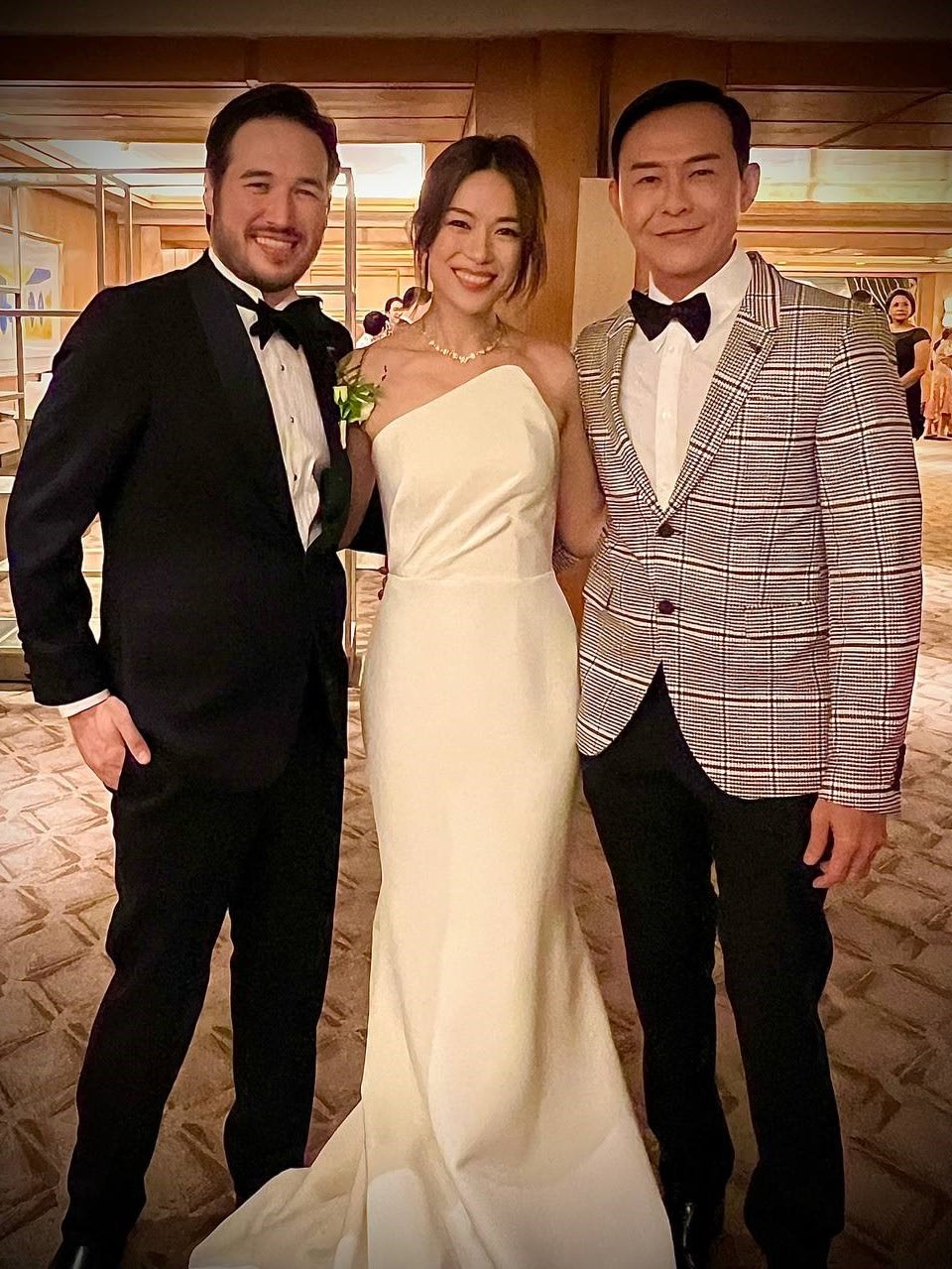 And then, when all the guests had gone home and the happy couple kicked their shoes off in their bridal suite with their close friends and family, "the first thing I thought about was what we should have for supper".
They ate the food they didn't have the time to eat at the wedding dinner, and "whatever was on the supper room service menu – burgers, fried chicken, fries, mee goreng, fried rice".
There won't be a honeymoon any time soon because of work – "I have work commitments until February for Chinese New Year and a new production coming up" – but Switzerland and the UK are potentially on the bucket list. Her husband spent his childhood in Leeds and his grandparents still live there, so it might be nice to visit them, she mused.
For now, the day after the wedding, the happy bride is enjoying the new feeling of being a Mrs. "It feels great," she said. "Yesterday was really perfect, I must say."