Here's why Singapore's brides-to-be are going to Rebecca Lim's makeup artist for their special day
Meet the man behind #shaunleebrides, a hashtag that is trending with brides. Even his BFF Rebecca Lim who plans to marry later this year has to check his availability before locking in her wedding date.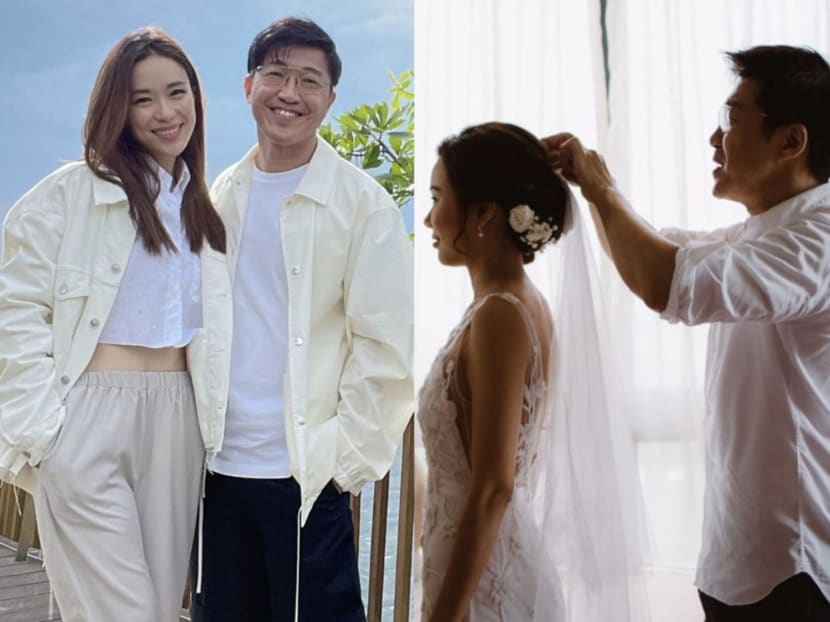 Makeup artist Shaun Lee's client list reads like an awards show nominee list. He's worked his makeup magic on the likes of host and TV presenter Diana Ser, actresses Chen Yixin, Belinda Lee, Jesseca Liu and Rebecca Lim.
With 25 years of bridal makeup experience under his belt, Lee is one of Singapore's most sought-after bridal makeup artist, and possibly, one of the hardest to book. 
"I only want to take one (bridal assignment) a day for quality," shared Lee. Little wonder then that it is so difficult to secure his time.
Even his BFF Rebecca Lim has to check his availability before locking in her wedding date. "When I am planning dates with the wedding planner, I have to check in with Shaun first. He is more important or I can't get married to my fiance," said Lim in an earlier interview with CNA Lifestyle.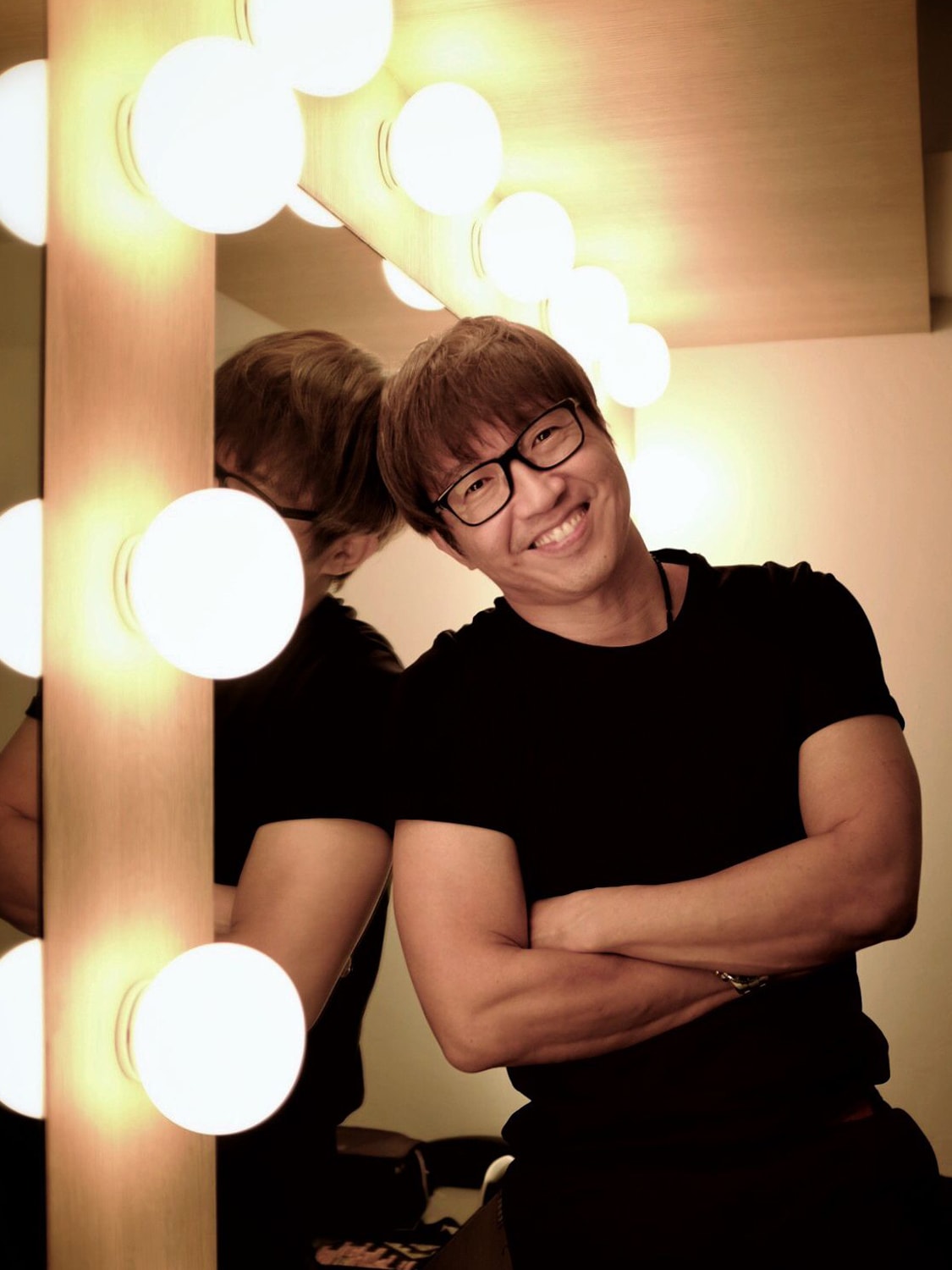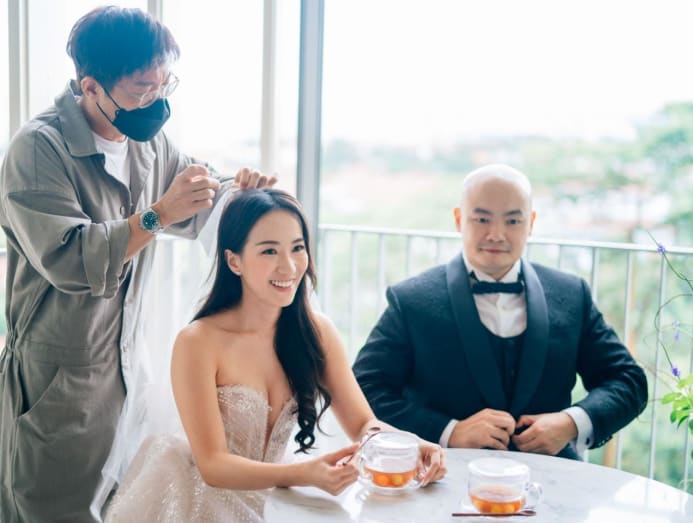 "When I first started my makeup career, I did everything from editorial work for magazines, commercial events and shows, and brides," said Lee. "It was only with the social media boom that more people started seeing my bridal makeup works more. In fact, a lot of people assumed that I only worked with models and celebs."
Since then, the bridal makeup requests have been pouring in.
In fact, #shaunleebrides is now a thing on social media.
As for the reason for his popularity, Lee believed that it could be because of his ability to "make every bride look different yet still look like themselves".
To us, we'd say it's because every face he's worked on looks oh-so-natural and immaculately radiant. They look like better versions of themselves, and we mean it in the most positive way.
We shared our thoughts with Lee, and he chuckled. "Before the K-beauty wave and its popular glass skin trend, many women believed that bridal makeup needed to look like you were wearing makeup. I've had mothers-of-the-bride or even bridesmaids asking me 'Is that it?' or 'Will you be adding more colour?' after seeing the finished look. Thankfully, they now finally understand that bridal makeup doesn't have to be over-the-top."
EVERY BRIDE LOOKS BEAUTIFUL IN HER OWN WAY
But truth be told, Lee didn't start his social media account to showcase his work. "It didn't cross my mind to use it as a platform for my work. My intention was, and still remains, very simple: To share beautiful pictures."
In fact, he also said that he doesn't make his brides deliberately pose for the photos either. "When I'm working on a bride, I snap a picture because I just think it's so beautiful in that moment."
And if you look carefully at the captions that accompanies his photos, you'd realise that Lee doesn't write much. "I usually keep my captions short and sharp, like 'Keeping it classy' or 'Make your own magic', because I would rather let the pictures do the talking."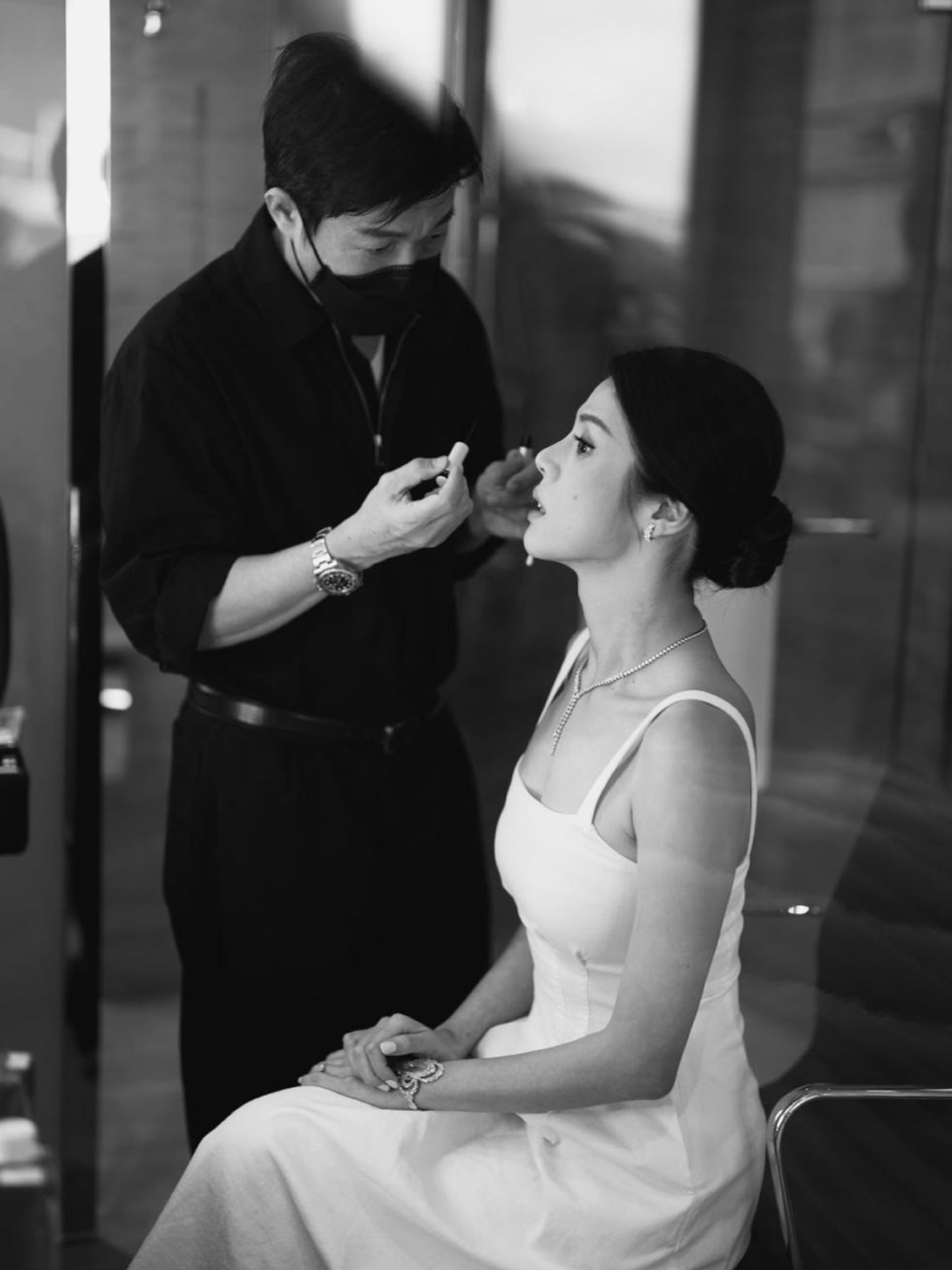 But that's not the only reason for his pearls of wisdom captions. "I also use the images and words to educate our Singapore brides that you don't need to do a lot to look beautiful. Every bride is beautiful in her own way; the makeup is there to enhance your look, not overwhelm you," he said.
WORKING ON CELEBS VS BRIDES
Even though Lee is used to working on both celebs and brides, he admitted that working with brides can be somewhat trickier.
Lee explained that unlike celebrities who are used to wearing makeup regularly or trying different beauty looks for various acting or modelling roles, many Singapore women don't wear makeup often.
"Most of the time, my brides tell me that all they wear is sunscreen and a bit of lipstick."
But that's not all. Lee also shared that celebs often pay more attention to their daily skincare routine, something which not all brides-to-be do. This often means that he has to spend more time and care in prepping a bride's skin to not only ensure that the makeup will last throughout the entire ceremony, but also that it'll look good in person and in photos.
Lee revealed that he spends at least three and a half hours working on a bride to get her ready, with most of the time focused on skin prep. In contrast, he spends just half the time working on a celebrity.
Throughout our conversation, the word "classy" pops up countless of times. According to Lee, it's the look he aims to achieve with every bride, or celeb, he works with.
But that doesn't mean the look is simple and boring, he clarified. "It can even be trendy, though it should never come across as trying too hard. The eye makeup can be heavier, the lips can be more alluring, but it should still have a clean finish that looks classy and elegant. I want my brides to be able to look back on their wedding day through their photos and not cringe at the makeup they wore."
At the same time, Lee also emphasised that creating a look that is suitable to a bride's skin type is equally essential. He wouldn't give someone with an oilier complexion an overtly radiant finish because she could end up looking too shiny. Though he does share that a trick he often uses is to start with a matte finish for brides with oilier skin types, and let their natural oil help them achieve a dewy look after a couple of hours.
"For any look, it's also important to create something that would suit their different skin types and features, as well as the time and venue of the celebration," he added. For instance, for a day-time event, Lee would opt to use more neutral colours such as beige, soft orange and brick, for a softer look. For the night, he would go with colours that are a little deeper, using shades of brown, mauve and grey to build the intensity, but never going over-the-top.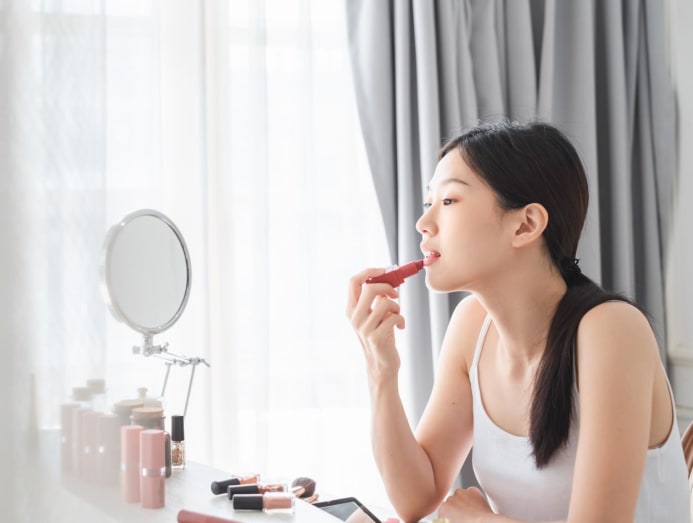 As much as you may want to minimise cost for your big day, Lee really doesn't recommend DIY-ing your own makeup for your wedding day.
"Bridal makeup is not the same as the makeup you would do daily or even for a party," he explained. "Your makeup needs to last and it needs to photograph well, which means you need to ensure that it's good for whatever lighting your ceremony is going to be taking place in. And of course, you'll also have to keep in mind the weather as well. There are so many things to focus on, and ensuring that your makeup looks flawless is really the last thing you should be worrying about on your special day." Instead, Lee suggested getting a friend who has taken a makeup course to help you if you're really looking to save costs.
But if you really insist on doing your own bridal makeup, Lee shared that ensuring that skin is well-prepped prior to the big day is crucial. And it's not just with skincare products. He recommended going for regular facials – do give yourself a few months' lead time because change is not going to happen overnight. You can also start on supplements, like vitamin C to give the skin that extra boost of health and to get that lit-from-within glow. "Your overall health is important because how well you feel on the inside will show on the outside," he added.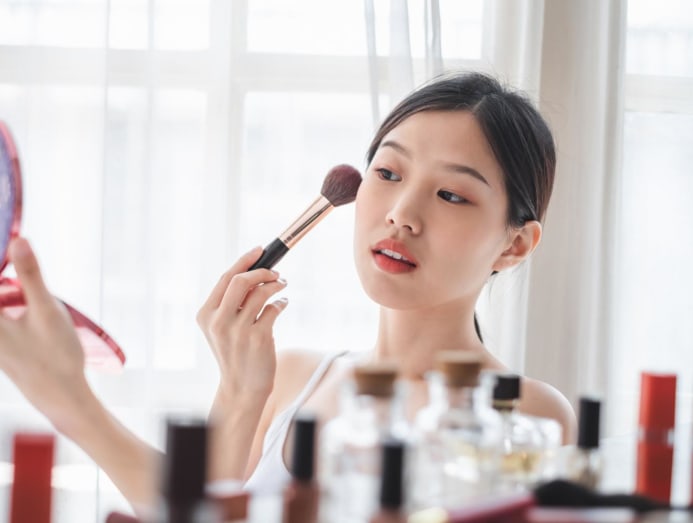 And when it comes to the actual makeup application, Lee advised doing a practise session before. It's something that even the makeup pros do.
"It's why I always insist on doing a makeup trial with a bride even if she says that she doesn't need one. It's to minimise any miscommunication and misalignment in expectations," he added.
"While I'm very flattered that they're confident in my makeup skills, I would still want to show them the look beforehand. This is because a bride might come in wanting a certain look but after it's done, she might realise that the result isn't what she wanted after all."
Lee also explained that if you're DIY-ing your bridal makeup, practising the look in advance will allow you to see if the final result will go well your overall look, which should include your gown and even the venue. "You'll need to check to see the intensity of the colours you're using – does it make you look washed out or is it too intense?"
WHAT EVERY BRIDE NEEDS FOR EMERGENCY TOUCH-UPS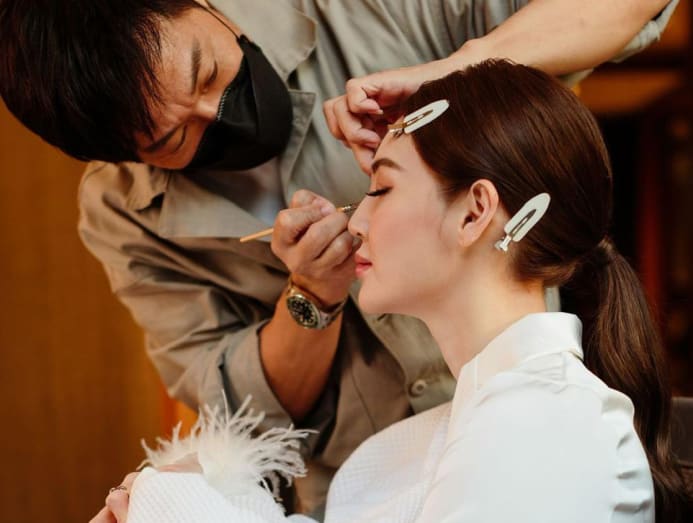 When it comes to most weddings in Singapore, it often doesn't just take place in one location. For many, it starts at the bride's home then moves to the groom's home and eventually moving to the church or solemnisation venue. That's a lot of running around for one morning or afternoon.
And while we would all like to have a makeup artist by our side, more often than not, we're on our own. Fortunately, Lee has some bridal makeup essentials that he leaves his brides with for quick and easy touch-ups on-the-go.
Lee's mini beauty kit includes:
Foundation sponge with a bit of foundation. "To reduce the excess shine on the face, use the sponge to gently dab over the areas. I won't recommend using powder over as the more powder you add, you can end up looking cakey."
Cotton buds. "To wipe away any mascara or lipstick smudges."
Lip oil and lipstick. "Many women have very dry and chapped lips, so the lip oil will come in handier for touch-ups as just adding that bit of moisture to the lips can make your pout look more beautiful. The lipstick is a 'just in case' the lip colour fades completely."
THE BRIDAL LOOK WE'RE ALL WAITING FOR
When it comes to celebrity brides, there is no other wedding that we're waiting for as eagerly as the one between Rebecca Lim and her fiance Matthew Webster.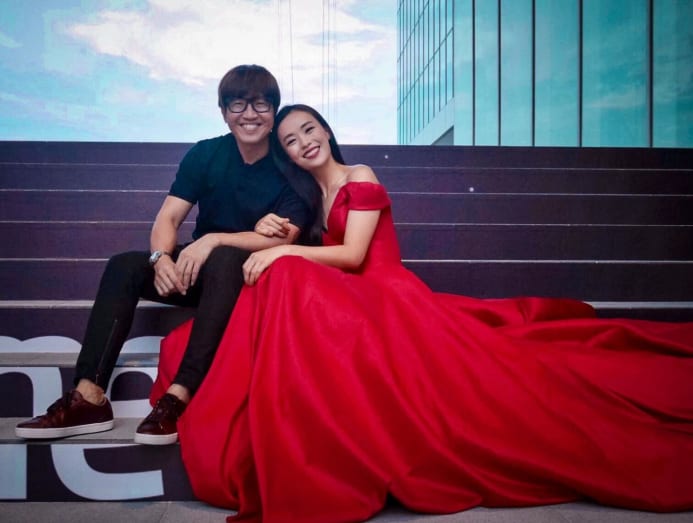 With Lee being Lim's go-to makeup artist, we couldn't help but ask for a sneak peek into what he's got planned for her. Sadly, Lee remained quite tight-lipped about the details. Though he shared that the gowns have been selected and that Lim's glam squad, which consists of himself and hairstylist Dexter Ng, have been discussing different look options for her.
While we won't know exactly what look Lim will spot as she walks down the aisle, we do know this – it'll be classy, no less.