How to do fake hair right with wigs and extensions to change up your look during the year-end festivities
Here's what you need to know about changing your look for the year-end festivities without doing something drastic to your own hair.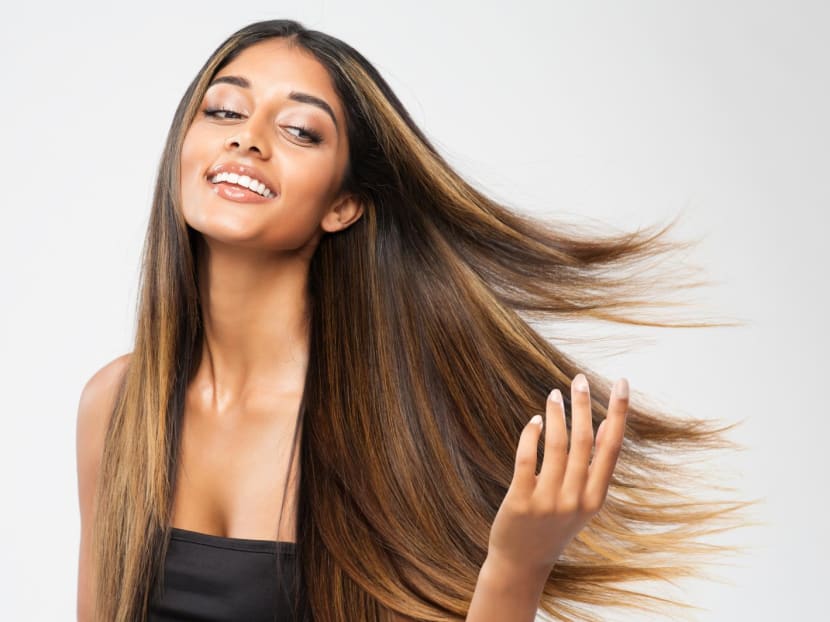 Want to change up your look fast? Try hair extensions and wigs for a quick transformation. After all, these hair pieces give you instant versatility, from changing the length of your hair, colour and even add volume whenever you like, said hairstylist and makeup artist Marc Teng.
Plus, hair pieces are low commitment too, as you "won't need to cut your hair or subject it to risks of colouring or styling damages", he added.
Whether you're lusting after luscious balayage waves or a voluminous ponytail, here are five things you need to know about using faux hair pieces.
1. NOT ALL HAIR PIECES ARE CREATED EQUAL
Before you take the plunge, it's important to understand what types of hair pieces are available. According to Teng, there are some of the more popular types of hair extensions: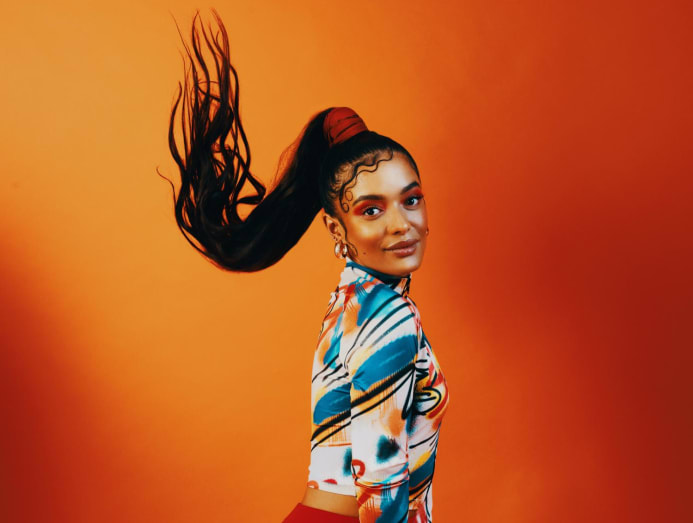 Clip-in extensions look like sections of hair with clips attached to the top, which allows you to place them in or take them out whenever you want. This also means that they require the least commitment, making them suitable for hair extension newbies. However, this type of hair extensions tends to be heavier, so they're not ideal for those with fine hair.
These look similar to clip-ins. The main difference is that the hair pieces are fitted with double or single-sided tape tabs at the top, which are then attached to your hair. To make the hair look like you're born with it, the pieces are sandwiched between layers of your own hair.
As its name states, sewn-in extensions include sewing in hair extensions onto your natural hair, literally. Before attaching the hair pieces, your natural hair is first braided down into cornrows. The extensions are then sewn using a needle and thread onto the braids. But do note that sewn-in extensions tend to weigh a bit, making them unsuitable if you've got thin, fine hair.
Also known as keratin extensions, these are individual, wispy strands of hair that are attached, or bonded, using an adhesive or micro beads that contain a keratin bond (hence the name). Heat is used to melt this keratin bead, which bonds the hair extension to your own hair. And as the extensions are placed strategically in rows across your head, this option is often said to give you one of the most natural looking finish, blending seamlessly with your locks.
Great for creating instant length and volume fuss-free, halo extensions involve hair that's attached to a ring of clear fish wire, which sits behind the hairline on the crown of your head. And unlike the more traditional types of hair extensions like clip-in or sewn-in, halo extensions are not only easier to attach, but easily removed as well.
For wigs, Teng explained that besides regular classic wigs, there are also lace front wigs that mimic a natural looking hairline for the most realistic finish. He also added that among wig options, you can also choose from machine-produced wigs or custom-made options – think of them as "ready-to-wear versus haute couture in fashion", he elaborated.
2. HUMAN VS SYNTHETIC HAIR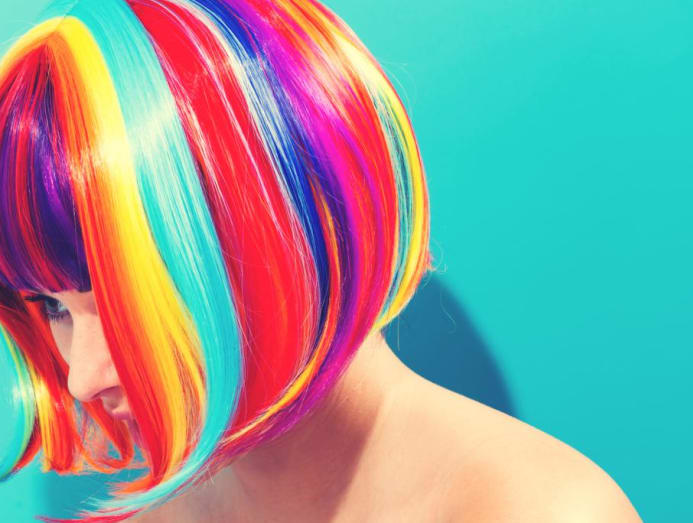 Besides different types, hair extensions and wigs also come in different materials – synthetic or human hair, too.
Sure, the thought of another's hair on your head might be a little iffy. But according to Teng, hair pieces made from human hair are definitely more natural looking. But perhaps the biggest difference between the two options is that hair pieces made with human hair can withstand heat styling, which means you can add curls and waves, or even colour, to them if you want to.
In addition, he also advised when it comes to choosing the hair pieces to use, try to opt for colours and shades that are similar to what you already have. And also get a layered hairstyle as this will help blend the pieces, especially for extensions, better.
3. EXTENSIONS OR WIGS – WHICH SHOULD YOU PICK?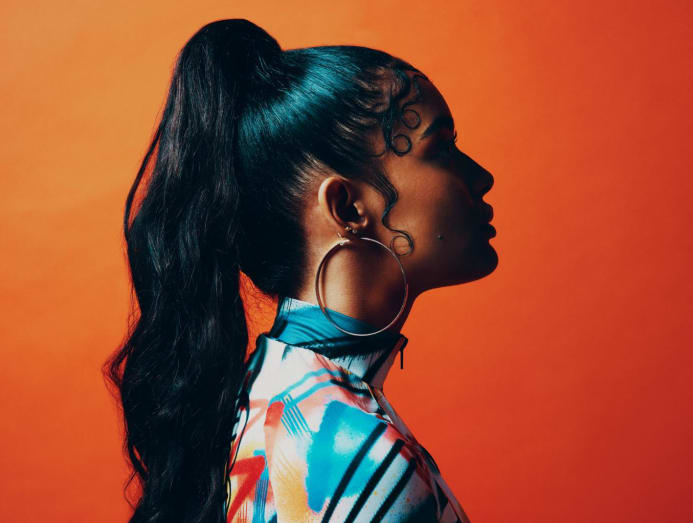 It really depends on the look you're going for. If you fancy yourself somewhat of a chameleon and love changing your look and style often, then wigs could be a better option. This is because wigs are the most versatile when it comes to getting a new look, fuss-free. You can go from long to short and vice-versa, or switch up colours in a jiffy.
Wigs are also low-maintenance, making them ideal if you don't want a long-term commitment, something you would need to keep in mind if you opt for hair extensions.
Using a wig is also ideal if you have very little hair, said Teng. This is because hair extensions need to be attached to the roots of your hair, and with very fine or little hair, this might not be as easy, or worse still, cause damage to your already thin locks.
But if you're looking to get luscious and full locks fast, then hair extensions might be better. Though Teng shared that the hairstyle you choose will also make a difference.
For clip-in, tape-in or sewn-in extensions, he advised choosing hairstyles that will allow you to keep your hair down, as well as to avoid styles that show off too much scalp as the extensions are attached at the hair roots.
And while hair extensions might feel more natural and offer a slightly more permanent solution, downsides to using them include "not being able to vigorously rub your scalp when shampooing your hair, ensuring that you have enough hair or hair that is long enough to hide the part where the extensions are attached to, and being able to sleep with them in place", said Teng.
4. VISIT YOUR HAIRSTYLIST TO CUSTOMISE YOUR HAIR PIECES
Sure, choosing the right hair extension or wig is crucial in ensuring that it doesn't look unnatural. But to make the faux hair piece really look like you were born with it, here's a pro tip: Visit your regular hairstylist with your wig or when you've got your hair extensions in for that seamless blend. Get him or her to trim the hair to fit with your very own cut and style.
5. CARING FOR YOUR HAIR PIECES IS EASIER THAN YOU THINK
Essentially, how you care for your hair pieces is very similar to how you would care for your own natural hair.
According to Teng, when you've got hair extensions in, start shampooing from your hair ends to the roots. At the roots and scalp, reduce the strength used and only gently shampoo the hair at that area. You can also try to pat the shampoo in, instead of massaging it in as you would normally do, he advised.
And if you use hair conditioner, avoid applying it at the hair roots or the areas where the extensions are clipped or sewn in. "The oil in the conditioner may cause the extensions to easily dislodge themselves," explained Teng. He also added that for this same reason, you should stay clear from using too much styling products as well.
Wigs, on the other hand, are much easier to upkeep. Just as you would wash your hair, gently shampoo your wig after use. Once it's clean, Teng recommended placing it on a wig stand to air-dry, then style as desired. For storage, he advised keeping your wig in an area with low humidity and away from direct sunlight.
Ultimately, there is no option that is better than the other, because it really is dependent on your hair type and texture, the final look and the occasion it's for. Teng shared that he loves using wigs and hair extensions, and sometimes he even uses both together in one hairstyle to achieve the desired look needed.