This young woman quit her hotel job to sell Hainanese kueh: 'When my grandmother passed away, it changed me'
In this instalment of CNA Women's series on people who made extreme job switches, All Things Hainanese's Jocelyn Loi shares how her grandmother's sudden death prompted her to leave her senior managerial hotel job to become a third-generation Hainanese kueh maker.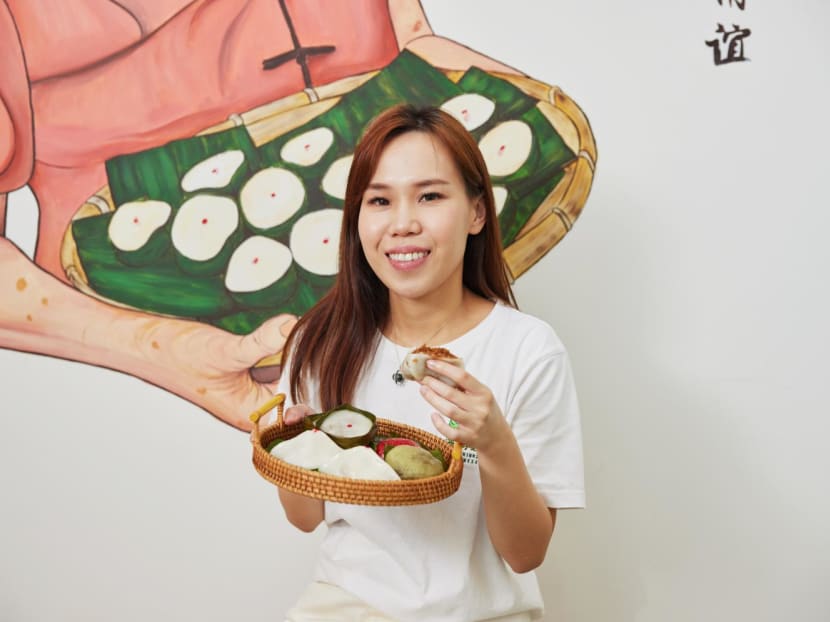 At the crack of dawn each day, Jocelyn Loi starts making yi bua kueh. She prepares the "skin" with glutinous rice flour and hand-kneads it to perfection.
Then, she adds a special filling of peanut, sesame, ginger, shredded coconut, brown sugar, gula melaka and two secret ingredients, wraps the kueh in banana leaves, and steams it until it is soft and fragrant. She sells this traditional Hainanese kueh at her shop, All Things Hainanese.
It is a labour-intensive process, but one that she has seen her own grandmother and mother do every single day of their lives as first and second-generation Hainanese kueh-makers.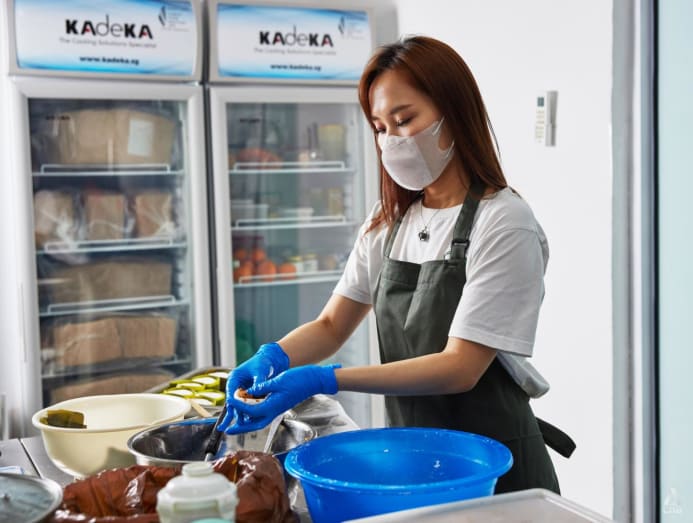 Loi is a former hotelier who spent a decade climbing the corporate ladder to a senior managerial role at InterContinental Singapore. She did not expect to be making kueh for a living.
However, when her grandmother suddenly passed away in her sleep one day, she wanted to keep the connection with her grandmother alive and decided to follow in her footsteps as a kueh-maker. "When my grandmother passed away, it changed me," she said.
A GRANDMOTHER STORY
Hainanese kueh was more than a family business for Loi's family. Her grandmother single-handedly raised her five children by making and selling it.
"My grandfather passed away in 1977, when my uncles and aunties were still young. My youngest uncle was only five years old, and my mum was 12 then," said the 30-year-old.
At that time, Loi's grandmother Yeoh Min Lin was doing odd jobs washing dishes and doing laundry. She knew the money was not enough to raise her family on her own and appealed to Singapore's late president Mr Ong Teng Cheong for help. He was then a Member of Parliament for Kim Keat. Moved by her plight, he helped her to find a small shop space with affordable rental in Toa Payoh.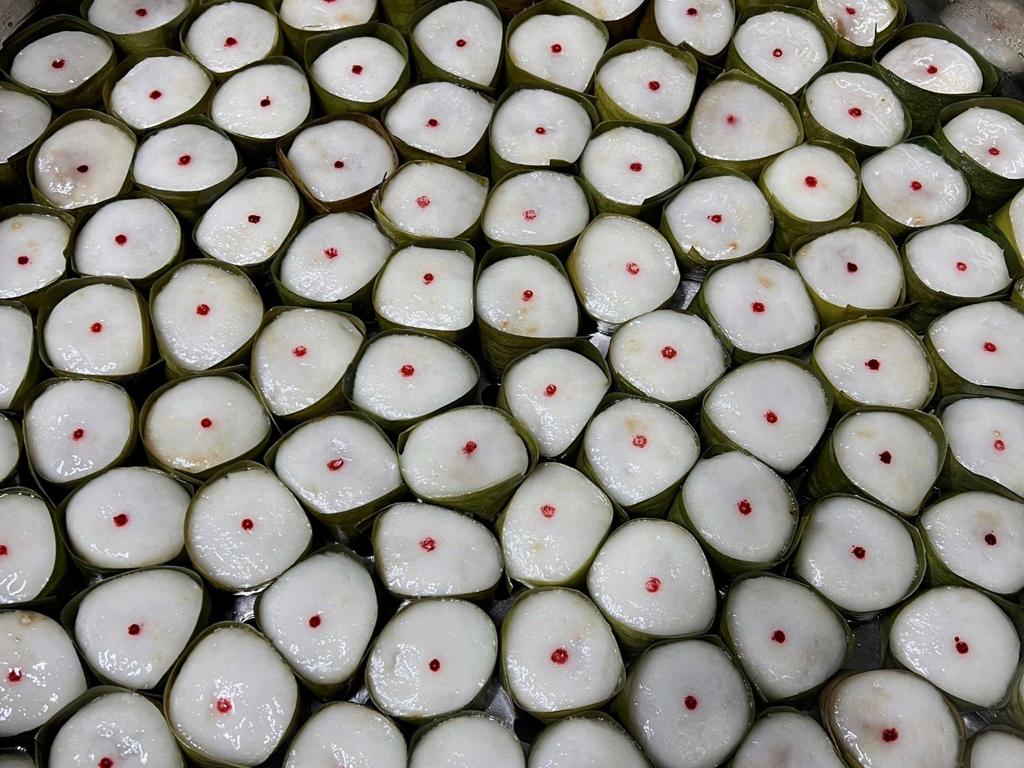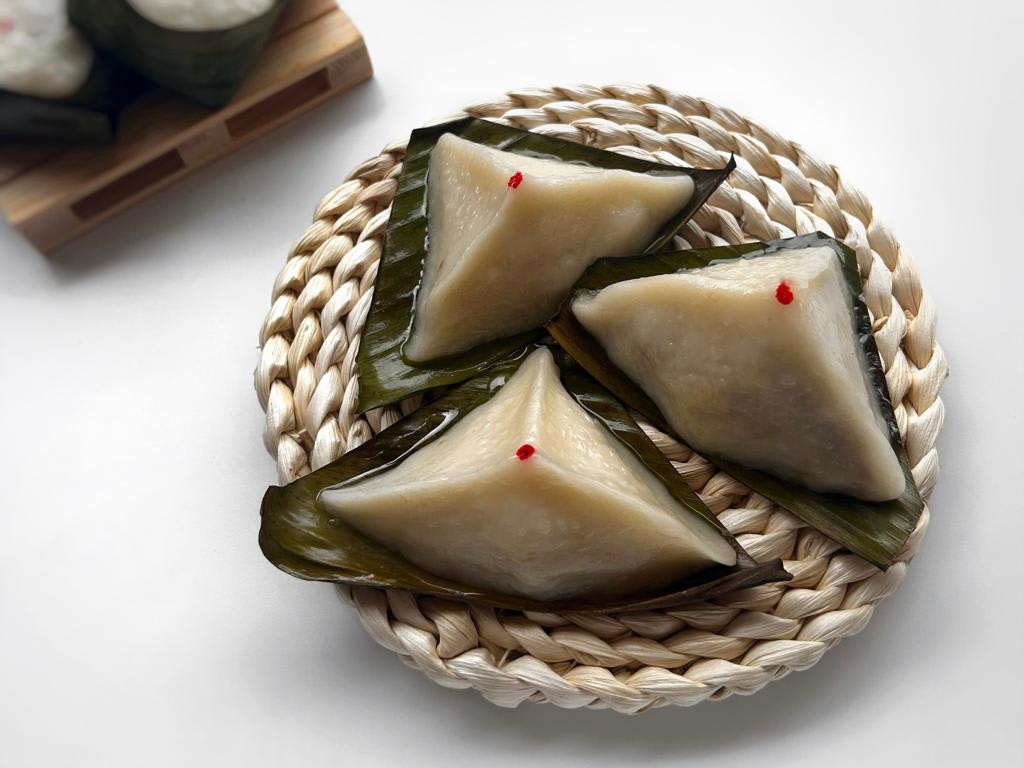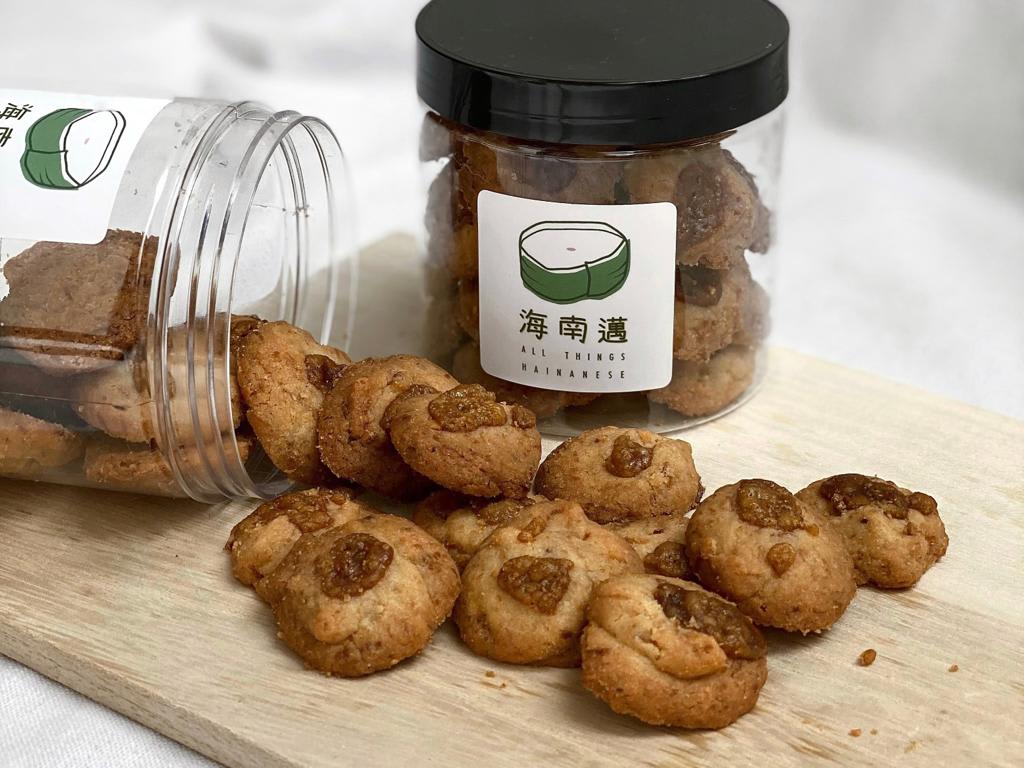 With this shop space, Yeoh did what she knew best. In 1978, she opened Hainan Cuisine & Snacks, selling yi bua, a Hainanese glutinuous rice flour kueh filled with grated coconut, peanut, sesame and ginger; ang ku kueh, a Hokkien glutinous rice flour snack filled with mung beans or peanuts; as well as buns filled with kaya and butter.
Working tirelessly, she single-handedly supported her entire family.
GROWING UP IN A KUEH FAMILY
The eldest grandchild of the family, Loi's entire childhood was intertwined with kueh-making.
"My grandmother used to wake up at 2am to fulfil orders, prepare for walk-in purchases and open the kueh store. My mum would reach the store around 7am and take over from her. Then, my grandmother would spend the rest of the day at her home with me," she recalled.
Because Loi's grandmother and mother prepared the kueh at home, their house was always filled with the enticing aroma of food.
"As a child, I thought they were playing in the kitchen every day. They were always preparing the dough and ingredients, cutting up and blending ginger, and roasting sesame. The kitchen was always bustling," she said.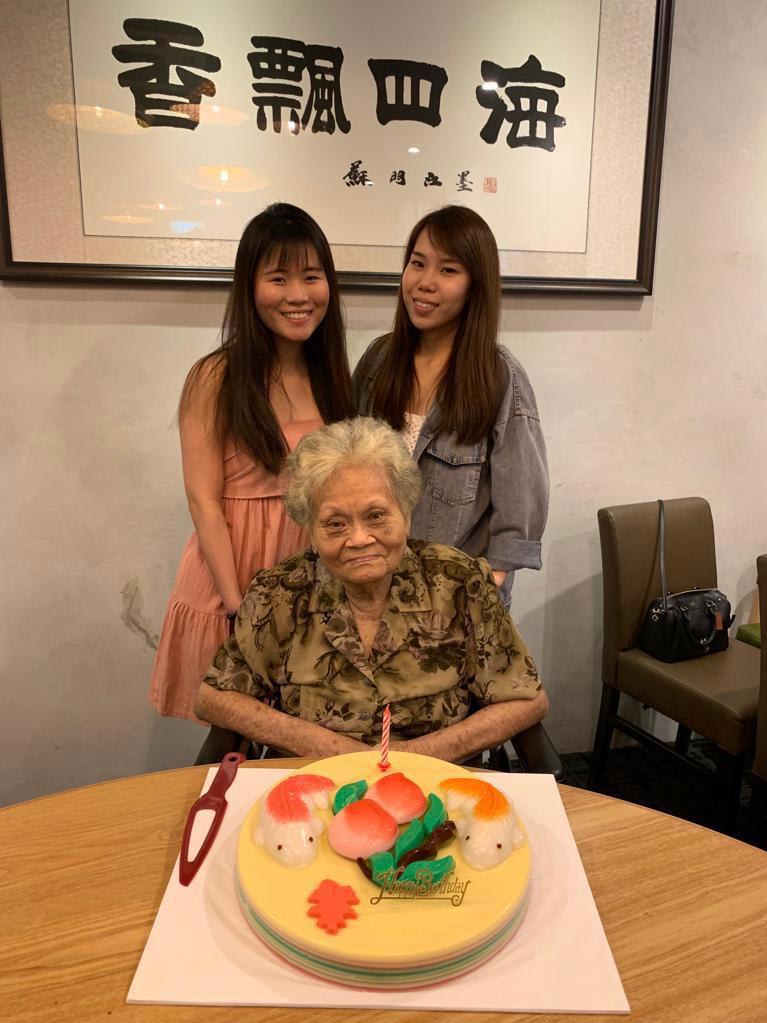 Loi also spent a lot of time at her grandmother's shop, especially during the Chinese New Year period.
"My extended family of about 12 would gather at my grandmother's store to help out. Because there was not enough space in the store to contain everything, we would set up a makeshift shop outside the store," she said.
"I was only four or five when we started doing this, but I would tag along to set up the makeshift store with one of my uncles. But because of this, I got to stay up past midnight. And for a kid, that's always a bonus," she laughed.
AN UNEXPECTED NEW CHAPTER
At that time, Loi did not think her childhood was special. But when her grandmother unexpectedly passed away while taking an afternoon nap in April 2019 at the age of 82, it put everything in perspective.
"I was on a two-week break in between jobs and had just landed in Thailand for less than an hour … when my family group chat became flooded with messages," she said.
"Our helper had discovered that there was something wrong with my grandmother and my mum quickly called for medics and an ambulance, but she had passed on," she recalled.
"It was so sudden … she was otherwise okay and has never been admitted into hospital. I was in shock at her passing," she explained.
Loi booked the next available flight back to Singapore and arrived at 10pm the same night. "By the time I reached home, she was already in her coffin. I was devastated," she said.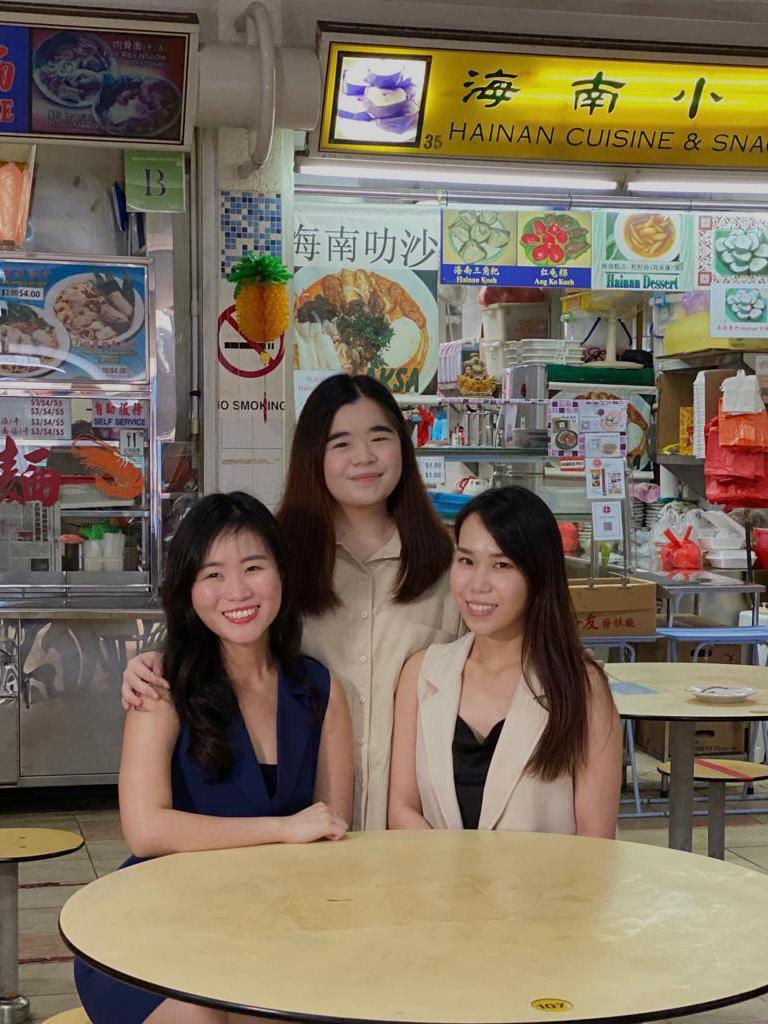 It took the family a while to come to terms with this sudden loss. In September 2020, Loi decided to set up an online kueh shop with her sister Josephine Loi, 25, and her cousin, Charmaine Goh, 20, to continue her grandmother's life's work.
Back then, both Loi and her sister had full-time jobs and her cousin was still in school, so the trio decided to start a home-based weekend business to sell their grandmother's kueh online, under a younger branding, All Things Hainanese.
Up until then, the third-generation kueh-makers had never made a single kueh though they knew the process and recipe by heart. Like a true artisan, her grandmother had insisted on making the kueh herself.
"We were only allowed to help with the small stuff. We were not allowed to make the kueh because my grandmother did not trust other people's skills. Even my mother was only allowed to fully take over the kueh-making process around 10 years before her passing," Loi said.
In 2020, under the watchful eyes of Loi's mother, who had taken over their grandmother's original shop at Toa Payoh, the trio finally made their first kueh.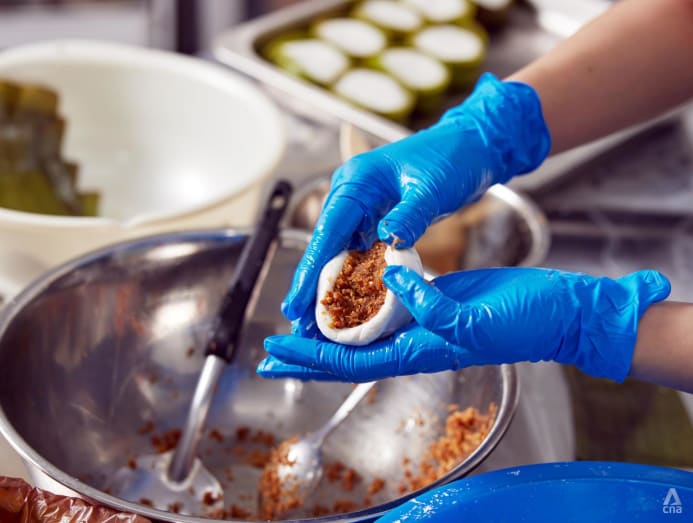 "Of course, my first kueh didn't pass my mother's standards – she said the skin was too thick and that I was not doing it right. But after practising and practising for a long time, I can finally get the same skin texture and thickness, and the same kueh shape as my grandmother. So my mother finally 'passed' me," she laughed.
Loi resigned from her job in April 2021. She then joined a food delivery company for a year while planning and saving up for a physical store. In December 2022, she opened All Things Hainanese at #02-19 Bras Basah Complex.
"From not being allowed to make kueh all my life to holding the fort at my own shop now, it really feels like an achievement unlocked," she confessed.
A THIRD-GENERATION KUEH-MAKER
Today, Loi runs the shop full-time with her cousin. Her sister works full-time in a corporate job and helps out whenever she can.
The two-women team has seen profits grow by 50 to 60 per cent from the days when they were a home-based business. Yi bua remains their all-time best-seller, and the duo takes great pride in making it exactly the same way their grandmother did.
"The ingredient prep alone takes about two days because we prepare a very big batch with 100 to 120 coconuts. There is a saying on Hainan island that without coconut, it is not a kueh," Loi laughed.
"The other unique thing about Hainanese kueh is that it contains ginger. We cut and blend the ginger to extract the juice," she added.
"We roast the sesame ourselves, and cook the filling in a huge wok that is one metre wide. The 'skin' of the kueh is also handmade. We knead the glutinous rice flour dough in a big pail until it is the right softness and texture."
Many of Loi's customers are Hainanese so it is not uncommon for a customer to speak Hainanese to her. But Loi also gets a lot of non-Hainanese customers.
"The reason I chose to work in hospitality in the past was because I enjoy meeting people and finding out more about their culture," she said. So it is interesting that she is now in the business of preserving her own culture.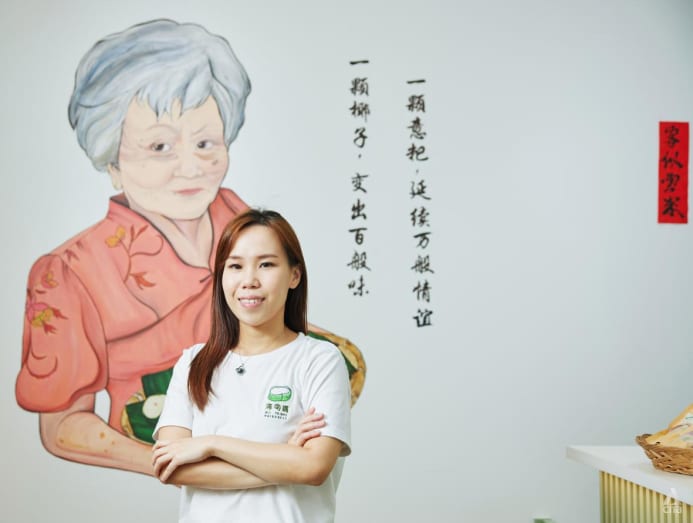 "A lot of Hainanese families in Singapore used to know how to make yi bua. But because it's a lot of work, generation after generation, fewer people know how to make it or want to make it," she said.
This is why Loi finds great meaning in continuing her grandmother's kueh business. "Food brings people together. When you want to understand a culture, the easiest way is to try their food. That gets the conversation started," she said.
"My grandmother's kueh are really unique and should be passed down from generation to generation. If I have a kid one day, I hope he or she will take over the business and continue the tradition," she said.
CNA Women is a section on CNA Lifestyle that seeks to inform, empower and inspire the modern woman. If you have women-related news, issues and ideas to share with us, email CNAWomen [at] mediacorp.com.sg.