This male A&E nurse says it's a meaningful job even if he's called 'Missy': 'Taking care of others is important'
His mother is a nurse, and as a child, he used to spend his weekends in hospital with her while she worked. Today, after being a nurse for more than a decade himself, Ahmad Fashilin Mohammed Salihin believes men can play an equally important role in caregiving as women, in this instalment of men who champion women's issues.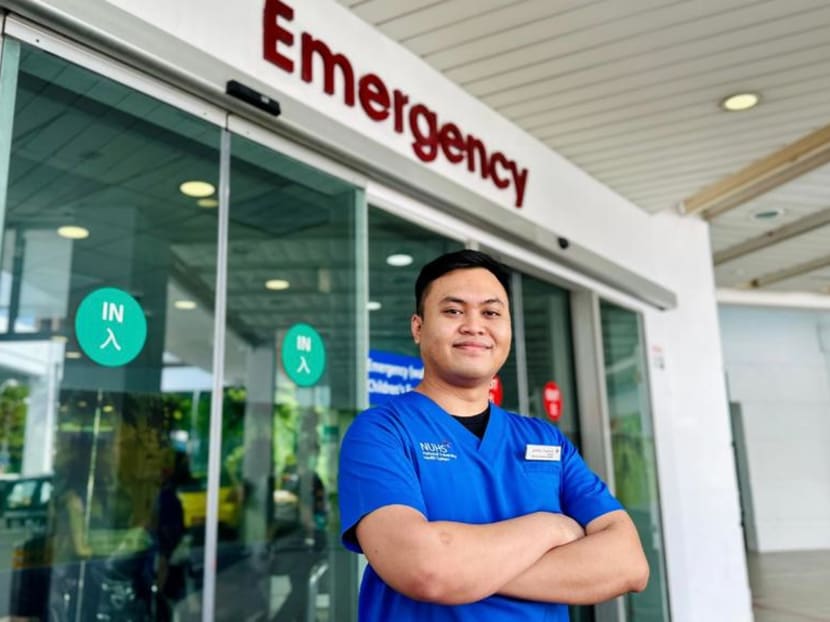 Is nursing a woman's job? When I asked nurse Ahmad Fashilin Mohammed Salihin this question, he looked genuinely thrown off for a moment.
You can't blame him.
It is 2023. Why should gender hold us back from any occupation or aspiration?
Yet, in Singapore, only around one in 10 nurses are men, according to 2021 figures from the Singapore Nursing Board.
The 31-year-old nurse paused for a moment and then said plainly: "I think it is still a misconception that nursing is a woman's role. Anyone can join the profession."
Those who know Ahmad will not be surprised by his matter-of-fact response. Ahmad is not overtly expressive or verbose. In fact, he tends to downplay things.
Having worked as a senior enrolled nurse at the National University Hospital's (NUH) emergency department for more than a decade, he won't tell you about the heart-stopping moments – road traffic accidents, sudden deaths or critical illnesses.
He won't tell you about the fatigue and stress of being on the frontline during the COVID-19 pandemic either.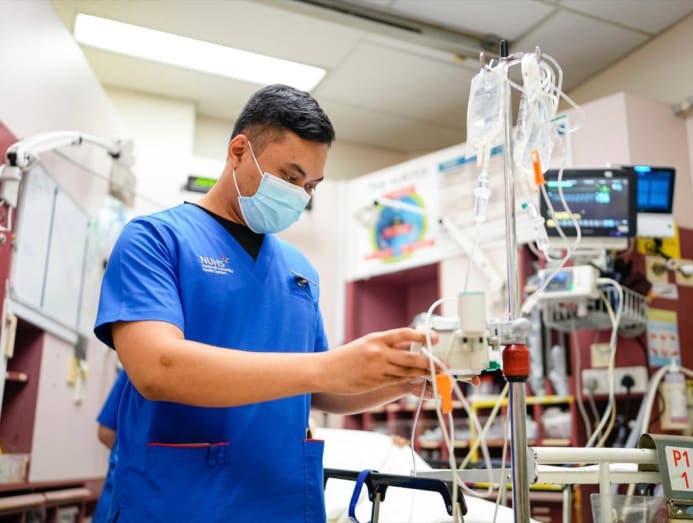 Every day for 10 years, Ahmad simply shows up for patients, whether they require major trauma assistance or basic caregiving. He has never once stopped to question whether such caregiving work is a man's or woman's role. After all, what has gender got to do with taking care of others in our community?
A GUY'S GUY IN A FEMALE-DOMINATED WORLD
Yet, traditional gender stereotypes still exist. Ahmad admitted that some among the older generation still call nurses "Missy", including male nurses such as himself.
If you were to see the 1.71m-tall nurse, you would find it hard to imagine anyone calling him "Missy".  
In fact, working as a nurse at the emergency department requires a lot of strength. And it is not just because Ahmad sometimes has to carry 100kg patients from wheelchair to trolley bed with his colleagues.
Working at the frontline of healthcare takes great emotional resilience because it constantly puts one face-to-face with life's most harrowing moments. "I've seen so many cases such as road traffic accidents. I see blood and amputated limbs," Ahmad said.
In such cases, he retains his composure. "I assess patients and mark out any external injuries such as bleeding, laceration or ablation. Then, I do whatever is necessary to sustain the patient and call on specialists and the trauma team to assist the patient," he said.
In severe emergency cases, it is often a high-pressure battle against time – one that the healthcare team sometimes loses despite their best efforts.
Ahmad recalled one such case a few years ago when a Malay family brought their father to the emergency department.
"It was during the holy month when Muslim families were fasting, and the family had just had breakfast together. After breakfast, the patient had tummy pain and became unconscious," he recalled.
"They carried him to their car and brought him to our emergency department where I assessed him immediately. There were no signs of life.
"I performed CPR (cardiopulmonary resuscitation) for him in the car while waiting for my colleague to come and help me extricate him to a trolley bed. Then we tried to resuscitate him for two hours, but were unsuccessful," he said.
Due to the nature of the emergency department, tensions can run high, even for non-emergency cases, such as cough, flu, fever, diarrhoea and vomiting
"Some people have the perception that if they come to the emergency department, they can be seen by the doctor faster (than at a regular clinic). But there is often a long waiting time here," Ahmad pointed out, adding that for this reason, nurses at the emergency department encounter verbally abusive patients every other day.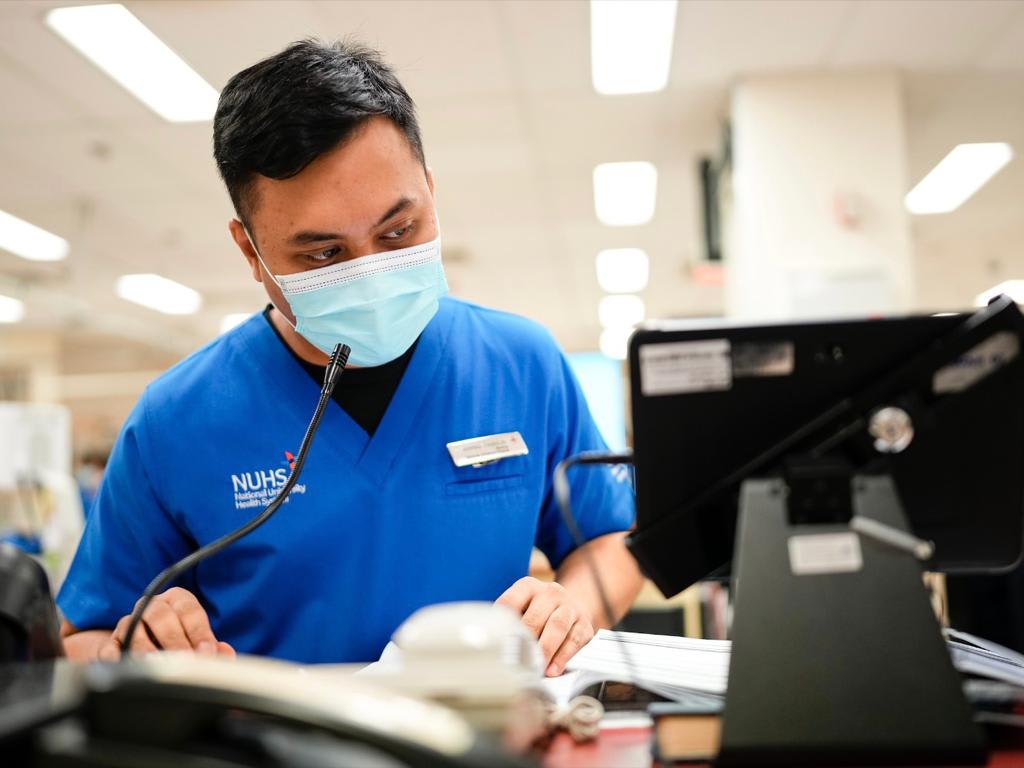 "Sometimes, it is because they want to see the doctor very promptly and think their injuries are of a higher priority than other people's. Sometimes, it is because their demands are not met," he said.
In some cases, verbal abuse may escalate to physical violence.
"We had a patient who demanded to be prescribed a certain medication because he had a leg injury. Because our doctors declined to prescribe that particular medication, he became verbally abusive.
"Along with other nurses and security officers, I tried to de-escalate the situation by talking to him but none of us could make him calm down," he recounted.
"When he tried to throw his crutches at a senior doctor, a security officer and I tried to stop him. He put the security officer in a headlock and punched his head. Because he was a very buff guy, it took four of us to subdue him, break the headlock and put him in handcuffs.
"When he was in handcuffs, he tried to charge towards the doctor. I blocked him and he kicked me four to five times before we eventually managed to put him on a chair and calm him down," he said.
CAREGIVING IS NOT JUST WOMEN'S WORK
You could say there are few jobs as fast-paced, adrenaline-filled and dynamic as that of an emergency department nurse. In fact, that is what drew Ahmad to the role in the first place.
However, Ahmad said a large part of being a nurse still involves caregiving – cleaning up after patients, helping them with medication and supporting them on the road to recovery, a role traditionally associated with women.
But why is there a gender ascribed to caregiving? Ahmad believes it all boils down to upbringing.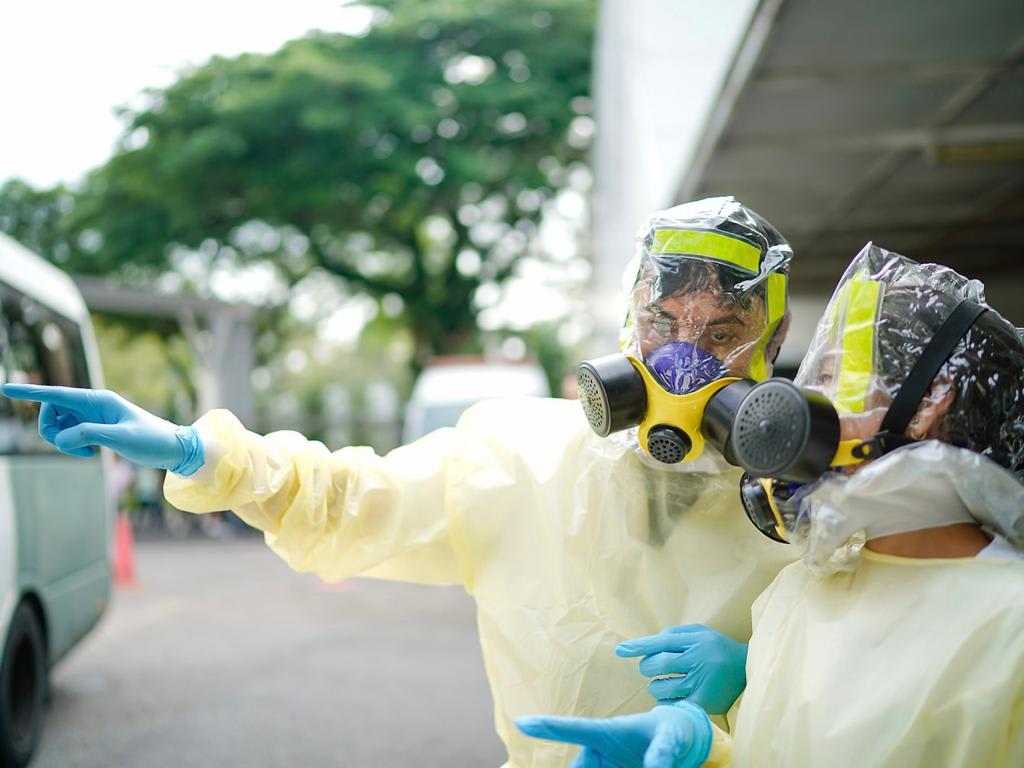 "People tend to look towards women for jobs that require a human touch and compassion. They think women are more compassionate than men. But men can also be compassionate. I think it depends on how we are brought up," he said.
"For example, if you are brought up in a male-dominated society, you may think that nursing is less important than a traditional male profession. But taking care of others is important and I don't think such work is beneath anybody," he added. 
Ahmad speaks from personal experience. The eldest of four children, he was brought up by a strong and loving mother who has been a nurse herself for 35 years.
Being particularly close to his mother, Ahmad used to follow her to work as a child, when there were weekend events such as fairs and open houses. He would explore the hospital and befriend other children at the hospital playground.
He recalls seeing his mother's former patients coming up to thank her. "As I grew older, I understood that my mum is helping people and taking care of sick patients, and appreciated that my mum is working for a good cause," he said.
With Mum as a role model, he was inspired to apply for nursing after his N-Levels. "Everyone, including my mother, was surprised. They expected me to join automotive engineering or aeronautical engineering, a more 'traditional male' profession, because that was my passion and hobby," he laughed.
But Ahmad is not the only nurse in his family. Two of his younger sisters were also inspired to follow in their mother's footsteps. His wife, whom he met while on attachment in nursing school, is also a nurse.
The family has become a go-to source for medical support and advice among their extended family and friends. When Ahmad's late father had kidney failure and cardiovascular disease, his family took turns to take care of him over 10 years. "It is like a mini hospital at home," he joked.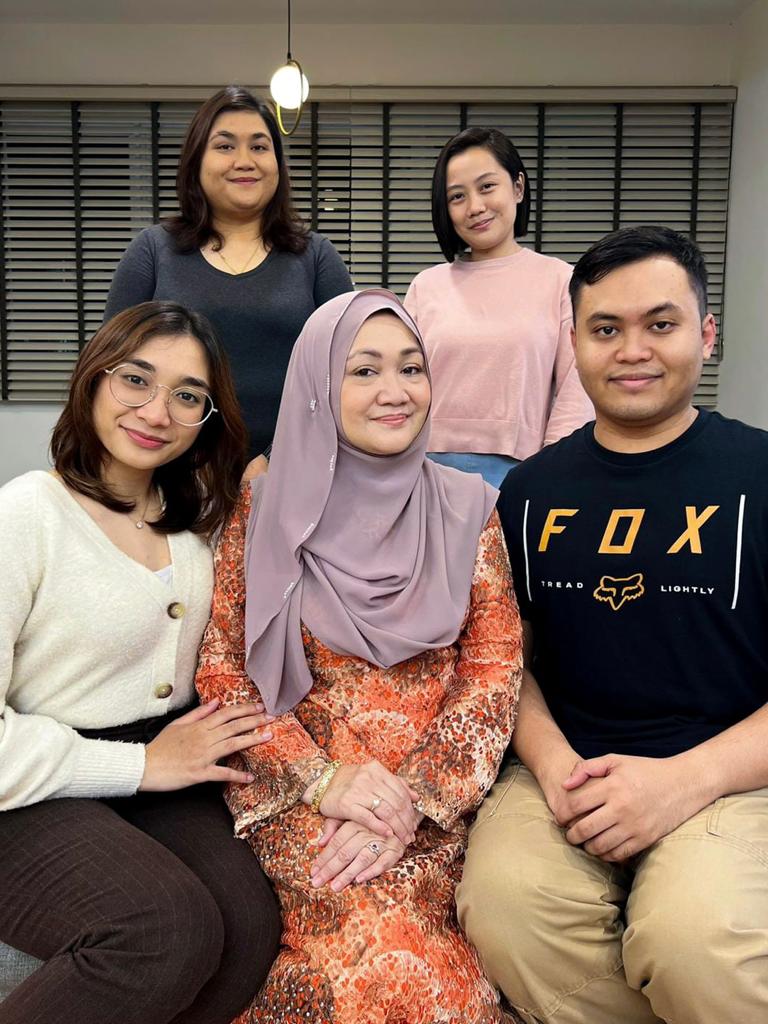 As a family man, Ahmad believes that it is not only important to take care of his own family, but also the family members of others.
"As a nurse, you are taking care of someone's family member and loved ones when they are unable to take care of them at home because they can't always be around. So nurses are always around to take care of their loved ones 24/7," he said.
"Sometimes, because of their pain and illness, patients might not be themselves. So you have to take it all in," he added.
"That requires a lot of strength, patience and compassion. Because of that, I don't think nursing is a woman's job or a man's job. It is a very meaningful job for anyone."
CNA Women is a section on CNA Lifestyle that seeks to inform, empower and inspire the modern woman. If you have women-related news, issues and ideas to share with us, email CNAWomen [at] mediacorp.com.sg.