La Porpo: Ayam goreng in Jalan Besar inspired by P Ramlee, served with scorching sambal
In this instalment of Makan Kakis, GOLD 905 DJ Denise Tan checked out La Porpo's spicy fried chicken with a colourful cinematic backstory. Ayam penyet, ayam geprek, take your pick – MasterChef Singapore judge Bjorn Shen calls it "the most amazing ayam goreng in Singapore".
What do legendary actor-director P Ramlee and fried chicken have in common? They are the passions of one man – Haswandi Hashim – deliciously converging at his stall in Jalan Besar.
After my Makan Kaki Chef Bjorn Shen, judge of MasterChef Singapore and Middle Eastern restaurant Artichoke proclaimed it "the most amazing ayam goreng in Singapore", I hurried down to try it for myself.
Haswandi and his wife Nur Hafizah Ahmad launched La Porpo just two years ago with little fanfare, but have quickly gained a still-growing fan base.
GOLD 905 DJ Denise Tan went to this stall in Jalan Besar to try out one of its famous sambal-drenched fried chicken dishes (the lesser known "cousin" of ayam penyet). Fun fact: MasterChef Singapore judge Bjorn Shen says they serve "the most amazing ayam goreng in Singapore". Yummy fact: It's true.
As a massive fan of film legend P Ramlee, Haswandi decided to name his stall after a catchphrase from his idol's 1972 movie Laksamana Do Re Mi.
"It was a hilarious comedy and there's one part where P Ramlee was sitting on a flying carpet when he said 'la porpo', which sounded Spanish to me," he explained.
"La porpo is a phrase used often between me and my childhood friends. We all watched the same movie, so that's our connection and appreciation of P Ramlee. To us, it means something friendly, warm, creative."
Like a secret password or magic code within his social circle, it brings together their shared love for movies and makan that Haswandi hopes will extend to his customers. "I want them to come and get crazy about our flavours," he said with a smile.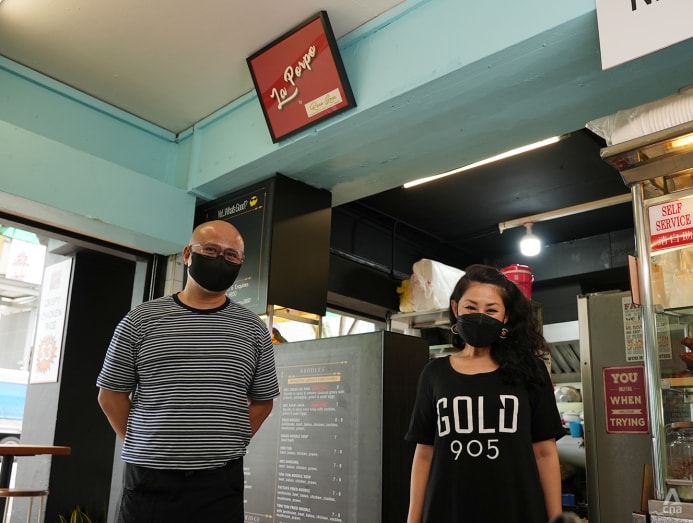 That's why he even named his F&B company Rasa Loca (an amalgamation of Malay and Spanish words that means "crazy taste") and one of his spicy chilli pastes sambal loca.
Haswandi is also pleased he has his son's seal of approval for a greeting he often uses (almost like the stall's tagline) and can be seen in signage on the storefront, "Yo… What's good?"
So what is good at La Porpo? Hands down, their ayam goreng or fried chicken, of course.
Haswandi's recipe, "legendary in the family since my grandparents' time", has been passed down orally through generations. Combined with Nur Hafizah's own family recipe, husband and wife have created the ultimate fried chicken, after much trial and error.
"When testing, we even used sesame seeds, Horlicks, on the chicken. We liked it but decided to focus on something more basic, a recipe versatile enough to use in all our dishes," he explained. "We also serve prawns, fish and bakso (Indonesian-style beef balls), but nothing beats our chicken."
Having settled on their fundamental fried chicken recipe, they were able to concentrate on creating different dishes just by switching up the sambals. Dishes like their bestselling Kelantan-style nasi kerabu, ayam penyet and ayam geprek, all started off with the same fried chicken foundation.
Contrary to the hours of marination I imagined, the chicken sat coated in seasoned batter for just five minutes before being fried in a kuali (wok) of sizzling-hot oil. Once golden-brown and crispy, the chicken pieces were lifted out, then left to drain and keep warm in their glass display.
Even unadulterated by the sambal, the chicken was surprisingly tasty, which left me wondering aloud how they managed to coax so much flavour out of it.
Haswandi gamely shared their ayam goreng recipe with me, saying they kept the ingredients "very simple". Salt, pepper, turmeric powder, cornstarch, egg and water were combined and thoroughly mixed for a batter that was simple, yet "not easy to execute".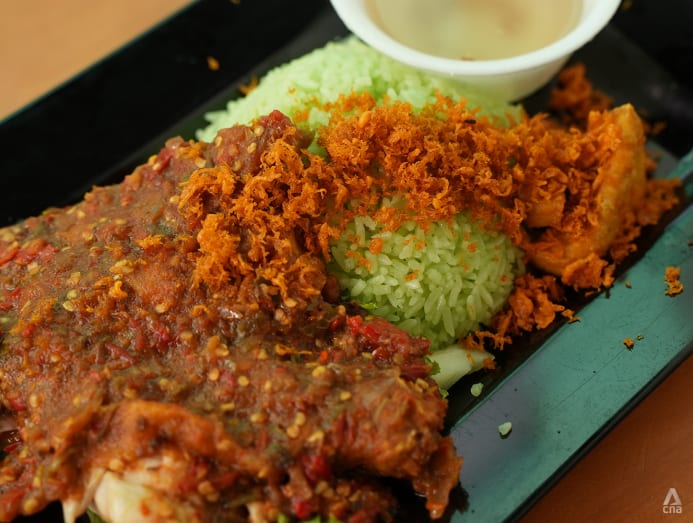 He claimed to have no qualms about revealing all the ingredients, saying, "Honestly, I'm not hiding anything. No secrets. If friends ask, I share. But you need to cook from the heart. We do it like how we like to eat. My mum, my grandmother, all say it's the magic touch."
Something his wife, who does most of the cooking these days, certainly has. While Haswandi has the final say in the operations, flavours and menu, he was quick to praise Nur Hafizah.
"She has the same passion deep inside her. She's a superwoman who works much faster than me. I cannot keep up with her!" he proclaimed proudly.
With that, they presented a selection of their different nasi ayam (chicken with rice, S$6 to S$10) for me to taste. Fried chicken, two types of rice (green and blue) and three sambal choices (the aforementioned Sambal Loca, penyet and geprek) made for a mouth-watering festival of fowl. Already acquainted with ayam penyet (smashed chicken served with sambal on the side), I set my sights on its lesser-known cousin, ayam geprek.
This version of fried chicken was not just smashed, but pulverised by cleaver and slathered rigorously to the bone with a potent sambal. According to Haswandi, geprek is a Javanese word meaning beat, squeeze or press. I could only conclude that such violent treatment resulted in a dish with the most extreme flavour.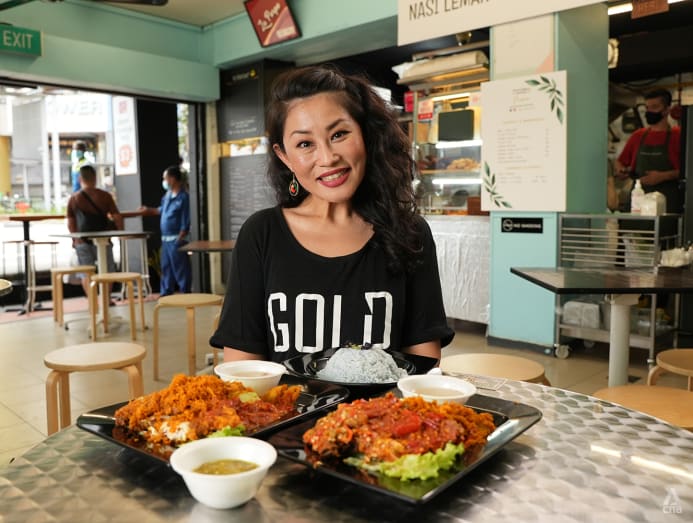 Compared to the fresh and mild sambal loca (made from green chillies, onion and garlic, fried in oil, cooked down and blended) and the sweeter, gentler heat of the sambal penyet (made from fresh red chilli padi cooked down with onion, garlic, ginger and belacan), the sambal geprek brought together the best of both worlds in a spicy surge of chunky, crushed green and red chillies.
Flavoured again with garlic, ginger and belacan, the fiery mix set off charges of umami along with hints of sweetness. The seed-studded sambal ignited my tongue with intense blasts of spiciness, but the burn was addictive, thanks to its perfect balance of seasonings.
Plastered on poultry, the sambal made the already juicy chicken extra moist, so tender that meat fell away from bone with just a little lift of the spoon. Topped with an avalanche of crispy batter bits, their ayam geprek was transformed into an explosion of taste and texture. Haswandi disclosed that they go through at least 18 kg of chillies in a week to create their signature scorching sambals.
To temper the blistering heat, a side serving of clear soup, packed with intense chicken flavour, aromatic spices and fried shallots, was most welcome. The blue and green rice further soothed my seared senses. Certainly eye-catching, Haswandi explained they decided to serve coloured carbs "to have fun and break tradition".
Of the two, I recommend the flavourful green rice, which was cooked in pandan-infused chicken stock. It was like a cross between Hainanese chicken rice and nasi lemak – fragrant, nutty and went very well with the ayam geprek.
Just like P Ramlee in the movie that inspired the stall, La Porpo's chicken, rice, sambal and soup united to send my senses flying on a magic carpet ride of flavour.
For a more neutral pairing, go with the other rice, steamed and tinted with blue pea flowers. While they didn't have much by way of flavour, said flowers are traditionally believed to be good for the skin and hair. "But for me it's a bit too late," joked the smooth-headed Hawandi.
The same can't be said for their F&B venture, which Haswandi explained was 15 years of planning and experience in the making.
To start, husband and wife both come from similar food-related backgrounds. "That was a funny thing to discover when we first met. Her relatives – mum, uncles, aunts – all sold food like nasi padang. When I was a kid, I helped out at my late grandpa's warung (small family-owned eatery in Bahasa Indonesia) in Andrews Avenue near Sembawang Park after school and during holidays. My late mum was also a hawker and they sold mee bandung, mee goreng and mee Hong Kong back in the day," Haswandi said.
His stepmother, with whom he also enjoys a close relationship, was also a hawker and Haswandi often followed her to the market to shop for ingredients.
"She sold all the favourites like mee ayam and chicken rice. I grew up watching her cook, sitting on the kitchen cabinet asking her questions. Train from young. It's the best way!" Attributing his culinary passion to that early start in life, he continued: "I like being in the kitchen especially when I'm stressed. Cooking is the best. To get someone to eat your food is a joy."
Combining his passion with customer service skills picked up through part-time work as a hotel waiter in his youth, as well as varied jobs later in F&B operations, managing a boutique hotel in Jarkarta, and stints in China, Switzerland and France, Haswandi has managed to make La Porpo a success, but he made clear it has been all about learning and timing.
Nur Hafizah also brought her own experience in hospitality to the table, having previously been a flight attendant with Finnair. In fact, La Porpo isn't the husband-and-wife team's first foray into the food business. Whilst they were still engaged, they opened a stall selling chicken rice in Bedok South.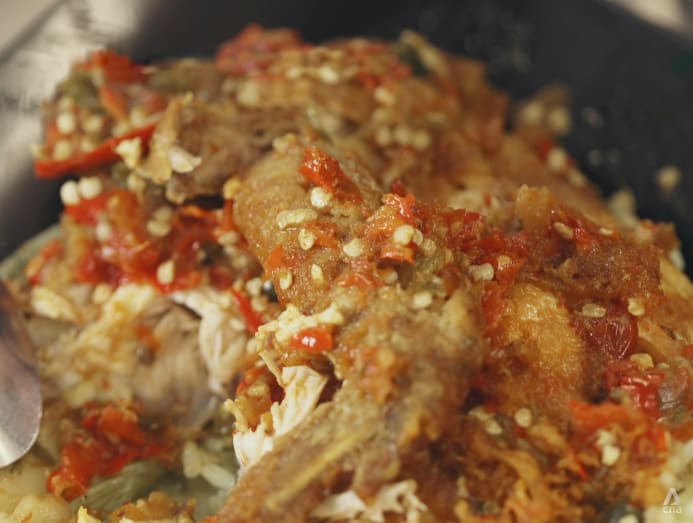 "It didn't do so well. We called it a day after about ten months. It was not destined to be. We were just not ready," Haswandi revealed candidly. That's when the family moved to Indonesia for his work managing a small travellers club. After other business ventures in retail and the spa industry, the couple's culinary dreams started to fall back into place.
A space opened up in the Jalan Besar coffee shop and they jumped at the opportunity to try again. This time, they were ready. "We've had to ride through tough times with the pandemic, but business is still okay. I'm happy," he said earnestly. "I'm not doing this to be a millionaire, but because it's my passion. Start small, end small, it's okay."
But for the couple whose dream was just to open a small food shop when their children were grown, things seem to be evolving and growing. In the two years since starting La Porpo, they've moved on from solely operating their stall to running the entire corner coffee shop and its two other tenant stalls.
"The landlord offered us the chance to manage the whole place and after discussing with my wife, we decided to just go for it," Haswandi explained. However, he is still adamant about keeping things simple and not over-extending themselves. "We didn't set any targets from the beginning. As long as I can pay my helper, the overheads, I can put food on the table, we take things step by step."
Yet, Haswandi's dedication and pride in their business is obvious. "We've received numerous compliments on the food, but we don't stop there. We work to make it better. There's still room to improve. The learning process never ends," he said earnestly.
From sprucing up the premises with new paint, to staying open on Sunday at the request of customers who want to come with their families, to constantly refining their menu with new dishes for diners to try, he has been doing what it takes to make all the necessary improvements.
And if necessity is the mother of invention, just call Haswandi the father of fried chicken. "My friends say to me, 'Bapak Ayam, you pimp your chicken very well'," he laughed. Lavishly enhanced by piquant sambals, theirs is most certainly a special ayam goreng that delivers a little bit more. And that, in an eggshell, sums up the La Porpo experience.
La Porpo is located at 29/31 Jalan Besar, Singapore 208798. It's open from noon to 10pm, Tuesdays to Sundays, closed on Mondays. Catch Makan Kakis with Denise Tan every Thursday from 11am on GOLD 905.