Best eats: A special Malaysian-style rojak that's found in Joo Chiat
For a super fruit salad that delivers on double crunchiness and flavour, Gold 905 DJ Denise Tan tried out Lim Bo Fresh Fruits Rojak, which has an interesting cross-border story from Singapore to Kuala Lumpur, by way of Perak and Penang.
I'm always game for an unusual eating experience, so when my Makan Kaki Gayle Leong of Ice Ke Lim Specialty Asian Gelato invited me to try their rojak ice cream experiment, I was ready with a big spoon and an even bigger appetite.
Made in collaboration with Lim Bo Fresh Fruits Rojak, a scoop of their Mean Vanilla Bean gelato was drizzled with mild rojak sauce and topped with crushed peanuts and crispy you tiao (deep fried dough fritters).
The combination sounded weird but turned out to be quite wonderful. So wonderful that I decided to return to the Joo Chiat Place stall for a taste of their unique Malaysian-style fruit rojak. I wanted to find out just who Lim Bo is and what sets his rojak apart from our local version.
I discovered that while the gentleman who prepared my rojak is the owner of the Joo Chiat stall, but he's not Lim Bo (Uncle Lim in Chinese). Leong Gwo Wei is the Singaporean disciple of Malaysian Uncle Lim and theirs is a cross-border story that takes us from Singapore to Kuala Lumpur, by way of Perak and Penang, and back again. 
In this episode of Makan Kakis, Gold 905 DJ Denise Tan tried out Lim Bo Fresh Fruits Rojak, which has an interesting cross-border story involving a famous rojak stall in Kuala Lumpur and the Singaporean owner's desire to bring that yummy dish across the Causeway.
After a varied career in banking, wedding photography and insurance, Leong finally decided to pursue a dream he had been incubating for the last 15 years – to start his own F&B venture. He just needed the right product.
Enter Lim Tong Lai, or Lim Bo, who moved to KL at the age of 20, from Teluk Intan in Perak, to become a fruit seller. But because the work was only seasonal, he switched to street hawking. Tweaking the recipe from a rojak seller friend, Lim started his own street food business about 40 years ago.
Now in his mid-sixties, his Atria Rojak mobile stall has become quite famous in Damansara Jaya, Kuala Lumpur. It was there, on a family driving trip up to the Malaysian capital almost three years ago, that Leong stumbled across a long line of people waiting to buy Uncle Lim's rojak. Like any Singaporean faced with a queue, he just had to join it to try.
"My father-in-law is quite the foodie, so he had also bought to try. When we went back to the hostel to eat, even my mother-in-law, who's a notoriously picky eater, found it nice," said Leong.
The pleasure of this shared experience started the spark of an idea and he returned to Uncle Lim's stall to buy 20 packets for friends and neighbours back in Singapore to try. Unsure of how to broach the topic, he casually blurted to Lim, "Eh, why don't you teach me?"
The rest was Lim Bo Fresh Fruits Rojak history.
Lim was initially stunned but, after a brief moment, he agreed for a price. "He quoted me an amount that isn't big – 8,800 ringgit!" Leong revealed, adding that it was a very good deal.
The next step was gathering feedback on the rojak. Leong explained, "I did a survey and about 60 per cent of my friends and neighbours found it very good, 100 per cent found that it's unlike anything they've tasted in Singapore but about 30 per cent found it only okay. But like with all food, taste is subjective."
Undeterred and sure about its potential, Leong texted Lim and told him he was serious about learning how to make his rojak. He was invited back to KL to begin his training.
After three trips and a total of three days on the third trip, Leong's rojak training was complete. He elaborated, "Basically, I was his helper, prepping all the stuff before his stall opened. And I went back a fourth time to recap what I had learnt. In between there were small trips back just to visit and chat with Uncle Lim."
Leong learned two main things about Lim's rojak: Firstly, the all-important sauce is concocted from a recipe that has to be followed step-by-step, then painstakingly cooked in a large wok over a slow fire for about an hour per batch to achieve a thick consistency.
According to Leong, "Singapore-style, they don't cook their sauce, it's mixed on the spot and adjusted then and there – less sugar, more chilli, etc. Some people tell us, 'Your rojak is missing something. Where's the prawn paste taste? Where's the torch ginger flower?' But all those flavours are too overpowering for our style of rojak. We do add prawn paste, just not too much."
Said prawn paste is specially imported from Penang, just like Lim does. Brown sugar and assam paste are added to balance out the flavours, resulting in a sweet, mellow sauce that is mild and not pungent like some local versions can be.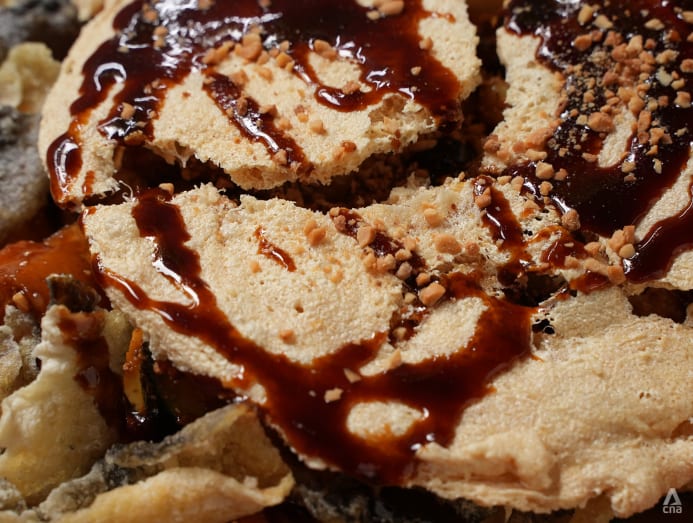 Secondly, Lim serves his rojak with homemade prawn crackers that he deep-fries and leaves for two weeks to drain the oil, in a complicated and time-consuming process. Leong admitted, "I tried to do it but we don't have the space here. The crackers kept becoming soggy so eventually I switched to my own crispy prawn fritters instead."
Interestingly, Leong started his hawker career by helping the owners of the kopitiam he's at to run their ngoh hiang stall. "They offered to let me do it for two months so I could learn the F&B ropes," he explained.
Leong is now topping his rojak with the same prawn fritters he used to make at the ngoh hiang stall, because he ended up liking their taste and texture so much. Indeed, the fritters were crispy, crumbly and light as air, with a subtle shrimp flavour. Paired with the prawn paste sauce, it was a match made in heaven.
Cooked sauce and prawn fritters are not the only things that set Malaysian-style Lim Bo Fruits Rojak apart from our local version. Say goodbye to the usual bunga kantan (torch ginger flower), beansprouts and taupok (tofu puffs) and say hello to carefully curated fruits, all deftly sliced and stored neatly in a display chiller. "Have you ever seen a rojak stall with this kind of chiller before?" Leong asked with pride.
He spends up to two hours at different markets every morning, personally selecting seasonal fruits that go best together. His pineapples have to be just on the brink of ripeness, while his mangoes have to be green and unripe. His fresh mainstays also include bang kwang (jicama turnip) and Japanese cucumber. When in season, he also includes jambu air (rose apple) and guava, which I got in my order that day.
"The fruits can't be too sweet, because our rojak sauce is already sweet," Leong explained. "You want them to be fragrant, but not so ripe that they're too juicy, otherwise the sauce becomes watery. Everything needs to have a crunch to it, the texture needs to be there."
More layers of crunchy texture, of the crispy deep-fried kind, were added as toppings once the fruits had been thoroughly coated in sauce. For my S$10 order, I went with all three – prawn fritter, you tiao and fish skins. In a large bowl, the fruits were mixed with a ladleful of his slow-cooked prawn paste sauce, a dash of lime juice, a spoonful of crushed peanuts and chilli sauce made from red chillies and cili padi.
You tiao (dough crullers), procured from a reliable supplier and deep-fried to order, were then sliced and tossed in with the rest of the bowl with another ladleful of prawn paste sauce. These had been fried till lightly crisp on one side and contrastingly chewy on the other according to customers' preference.
But for this customer, Leong acceded to a secret off-menu request and added slices of double-fried you tiao on the side. These golden coins of dough took on an almost nutty, biscuit-like crunch that I really enjoyed. Once piled high on a serving plate, the saucy concoction got another shower of crushed peanuts, a scatter of freshly-fried fish skins and the crowning glory, a large prawn fritter decorated with a final drizzle of sauce and crushed peanuts.
It felt almost ceremonial taking spoon to fritter and cracking through the shatteringly crisp disc. From then out, it was a texture and flavour free-for-all. Fruity freshness mingled with seafood umami. Juicy, extra-cold fruits contrasted with the crispy, hot-out-of-the-wok toppings.
I made sure to get everything in one spoon for the right blend of flavours, as per Leong's recommendation, who added, "My sauce is sweet by Singapore standards, but it complements the fruits because some are sour".
"The difference is my rojak is not too savoury or heavy. Even people who are not rojak fans like it because it's mild and refreshing and I have lots of customers from KL who say it reminds them of home."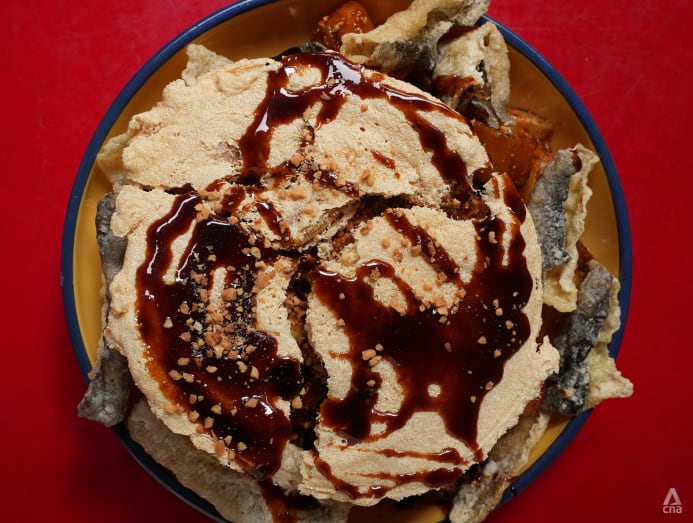 That said, this rojak is not everyone, especially if you're more used to the punchier flavours of Singapore-style rojak. But for an entry-level rojak-eater like myself, this was perfect. Lim Bo Fresh Fruits Rojak had none of the prawn paste pungency or extreme herbaceousness that tends to overwhelm. This was a sweeter, lighter rojak that was gentle to the senses.
Unlike his rojak, Leong's foray into F&B has been hard, particularly on the family front. He doesn't get to see his three- and five-year-olds often and though he has the full support of his wife Michelle, who's a staff nurse at Sengkang General Hospital, the sacrifices are really hitting home. Literally.
"Initially, I pasted pictures of my kids all over the stall and each time I took a look, I'd tear. I miss them a lot because when I was a photographer, I had a lot of time with them. I was there for every milestone. Then suddenly I'm just not there. Now I realise it's really not easy being a hawker," he lamented.
Also, a common complaint he receives is about his prices. "Some people say our rojak is so expensive, but if you check elsewhere, fruit rojak is usually sold at S$5.50 or S$6. I start with the base price of S$5 and then you can add-on (prawn fritter and fish skins) if you wish." To be fair, while my S$10 order seemed pricey, it was a portion hearty enough to be shared by two.
I was surprised to learn that Leong only opened Lim Bo Fresh Fruits Rojak earlier this year in April, after his apprenticeship at the ngoh hiang stall. The learning curve has been steep, but he's still experimenting and dreaming big for the future. He tested out the group buy market and realised it provided a decent revenue stream "because response was actually quite good during (Singapore's COVID-19 Phase 2) Heightened Alert and the rojak travelled well to our customers."
He learned that first-hand bringing Lim's rojak on the four-hour drive back to Singapore from KL. "Uncle packed everything separately and it stayed fresh and crunchy. You just reassemble the fruits with the sauce yourself at home," he told me. "I even ate it two days later and it was still fine!"
Leong has also taken Uncle Lim's original recipe in some "crazy" directions, like adding durian to his list of fruits and using Fruit Loops breakfast cereal as an additional topping. "Believe it or not, it's great! Fun, sweet, colourful, crunchy and fruity," he said enthusiastically. I also already knew how well it works with vanilla ice cream.
However, he knows these ideas may be too far-fetched for the average consumer, so for now he's concentrating on stabilising the business and dreams one day of creating jobs for people in need through growing the number of Lim Bo Fresh Fruits Rojak stalls.
Noble aspirations for a humble, well-travelled dish. Keep in mind that it is a very different style of rojak, so leave your expectations at the door and give this refreshingly unique rojak a try. You won't even have to take a trip to Malaysia for it!
Lim Bo Fresh Fruits Rojak is located at 64 Joo Chiat Place, Singapore 427786. It's open Tuesdays to Sundays, 10am – 8pm, closed on Mondays. Catch Makan Kakis with Denise Tan every Thursday from 11am on GOLD 905.