Best eats: Delicious lontong from a family-run stall worth cheering about
It's called Ole Ole Bumbu and it's found in Marine Terrace. In this instalment of Makan Kakis, GOLD 905 DJ Denise Tan discovers friendliness and full-on flavour are the winning combination.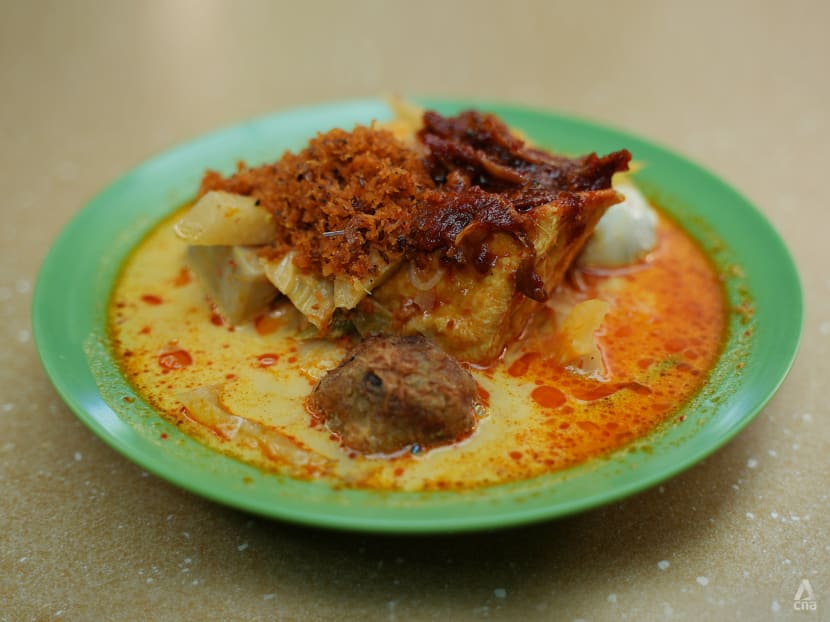 Early one Wednesday morning, I found myself at Marine Terrace Market and Food Centre to try a dish that came highly recommended by my Makan Kaki, Gayle Leong of Asian specialty gelato store Ice Ke Lim.
She told me the lontong at Ole Ole Bumbu was her favourite, but I had to be there before 9am or risk missing out on the bestseller.
At this family-run nasi padang stall in the East, I met affable matriarch and chef Eliza Abdul Mutalib, who regaled me with tales of her culinary-crazy upbringing, as well as her love for cooking and for her customers.
Take the name of her stall, which she created herself by combining the Malay word for spices (bumbu) with the world of sports.
In this instalment of Makan Kakis, GOLD 905 DJ Denise Tan visits Ole Ole Bumbu, a family-run nasi padang stall in Marine Terrace – where their popular lontong is proof that friendliness and full-on flavour are a winning combination.
"You know, like the football cheer? Ole, Ole, Ole, let's go! Simple to remember, yet lots of meanings," she said.
Her daughter Emilia agreed: "It's for Singaporeans as a whole, a common phrase everyone knows." Also, in Indonesia, ole ole can mean souvenirs or as Eliza explained, "Tidbits are also called ole ole."
Their stall name certainly had layers of meaning, but would their lontong bring the same in flavour? I was very keen to find out if the spices were indeed worth cheering about.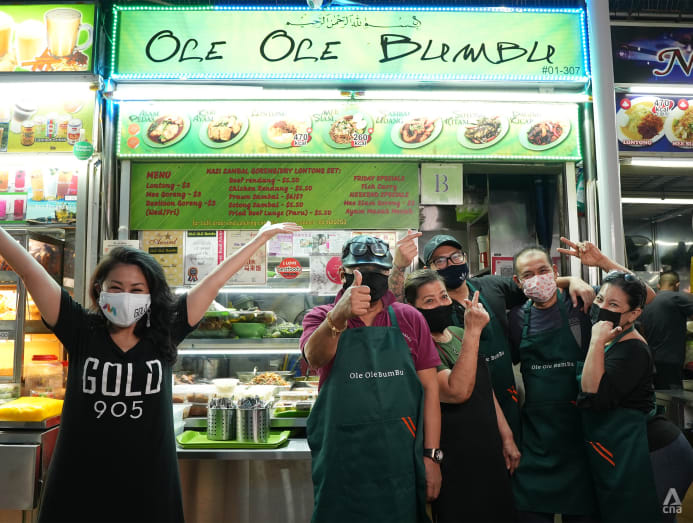 Perfectly confident, Eliza proclaimed that her lontong was a cut above the rest because she grinds all her spices from scratch.
"The gravy is so important. My ingredients are all laid out according to their colours. Yellow ginger. Orange turmeric – fresh, not powdered. Dried red chillies, which I fry, then boil, then grind to a paste. All very vibrant. Nothing is instant, otherwise your food will be dull in colour," she assured me.
Garlic and onion are added along with two other "secret" ingredients that Eliza willingly divulged. "Lemongrass and dried prawns. Not the small ones, not udang grago. Those are S$5 or S$6 per kg. Ours is special and can cost S$18 to S$20 per kg! It makes a lot of difference to the taste. There's more sweetness from the prawn. I saute it for longer so the flavour and fragrance really comes out."
A whole lot of grinding also goes on for Eliza's lontong toppers. First, her sambal, made from dried red chillies and belacan (fermented shrimp paste) is sauteed with ikan billis (dried anchovies) for a flavour boost. Next, her serunding (fried, spiced coconut sambal) gets the same treatment with dried shrimp and dried fish. "I add ikan parang that's dried and ground. One packet costs S$50!" Eliza revealed.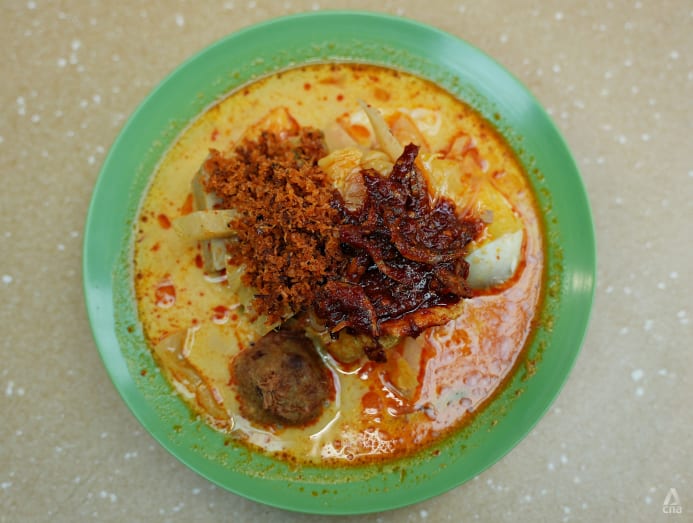 She proudly informed me that even her children and grandchildren have all learned how to grind her special spice mixes from scratch. The resulting lontong base is not too chilli hot, but balanced enough to let the other spices sing.
For that essential richness, coconut milk is the next important ingredient. "Lontong gravy has to be creamy and thick, never watery," Eliza explained. "After it's been boiling for four, five hours, the santan will separate, so I always add in more throughout the morning and mix it properly."
In a unique move that harks back to "the olden days", Eliza also includes chunks of young jackfruit for their meaty yet tender texture, along with cabbage, long bean and turnip. During festive seasons like Hari Raya and Chinese New Year, she also throws in extras like carrots and baby corn.
Glass noodles are also a must to thicken the gravy and for a slippery-smooth, crunchy texture. A hard-boiled egg and fried tau kwa (firm tofu) round off the list, the latter of which has to be cooked with skill for a crisp exterior and soft interior. According to Eliza: "Fry it quick and hot, then it's beautiful."
The final ingredient that gives the dish its name is the compressed rice cakes. Traditionally cooked in banana leaf, Eliza finds the current factory-produced kind too hard, so the lontong served at Ole Ole Bumbu comes from their supplier in packets that they boil themselves for a soft, almost melting texure. Four big pieces go into each S$3 serving – a bargain for all the work that goes into one lovingly assembled plate.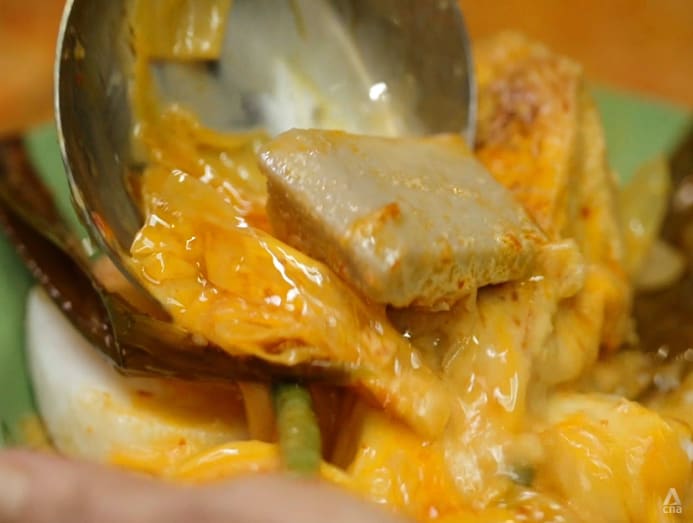 A veritable buffet in one overflowing plate, Eliza's emphasis on premium ingredients and the flavour-filliping extras really did make her lontong special. The gravy was rich and creamy without being too cloying, its gentle spices warming the tongue. The vegetables, especially the young jackfruit, added interesting body and had soaked up all the lovely flavours. The rice cakes were also very tender and velvety from absorbing the gravy.
The toppings of anchovy sambal and serunding gave the entire dish added dimension and depth – savoury, sweet and, above all, deeply umami from the dried fish and dried shrimp.
Ole Ole Bumbu's lontong was Singaporean soul food at its best. Hearty, comforting and dangerously habit-forming, I had to stop myself from drinking the gravy down to the last drop and licking the plate clean.
Another option is the lontong kering, which I vowed to return for a taste after discovering this dry version can be paired with nasi padang classics including my favourite paru (beef lung for S$5.50), prawn sambal (S$6 or S$7) or Eliza's famous beef rendang (S$5.50).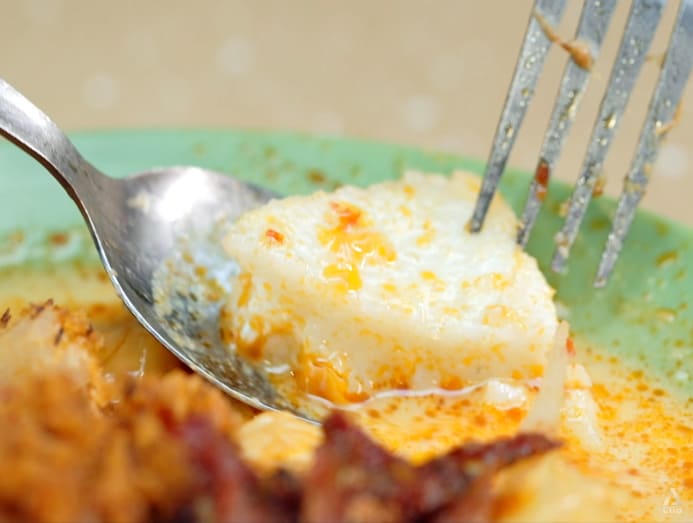 No surprise then when she told me that during Chinese New Year, the lontong orders are "crazy". Tubs and tubs are prepared, ready for customer pick-up. Daughter Emilia joked: "Even I have to call to reserve lontong from my own mother!"
Ole Ole Bumbu has been catering to residents at Marine Terrace food Centre for a decade now, but lontong is just the tip of the iceberg.
Telling me she initially chose to sell nasi padang for its great variety and that she has "one thousand and one menus" in her head, formidable Eliza rattled off a list of her popular dishes, like her daily breakfast mee goreng that sells out within an hour, her old-school dry mee siam for weekends only, white "birthday" fried bee hoon on Wednesdays and Fridays, as well as her Nyonya laksa which is only available twice a year during Chinese New Year and Ramadan.
"At any one time, I'm selling at least 20 dishes. If I'm in the mood, sometimes I make achar (spicy picked veggies)." When asked how she manages her extensive menu, Eliza said breezily, "It's a lot of work, but I'm fast! I'm up at four every morning, by 4.20am I'm at the stall and in two to three hours I'm done. Lucky this space is small otherwise I'll be cooking thirty dishes everyday!"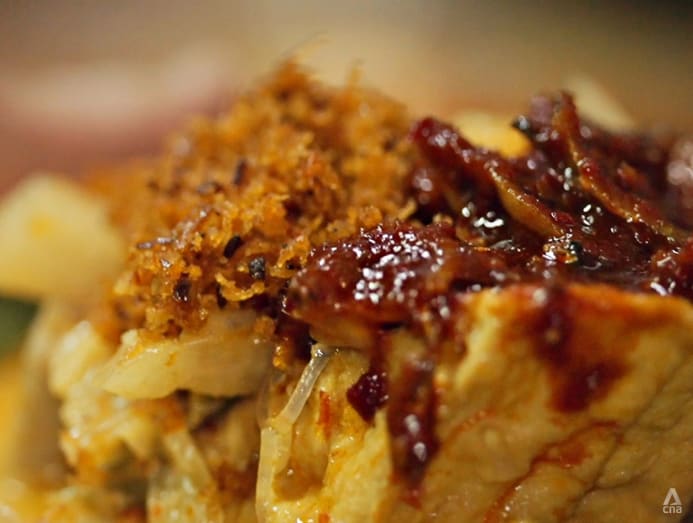 Cooking in bulk comes easily to Eliza because she comes from a large family – "My grandfather was Peranakan-Chinese, my grandmother was Dutch" – and from the age of 10, she was tasked with looking after her siblings by her mother, a chef at the old Cairnhill Hotel.
"She always sent me to do the marketing. That's how I leant to buy ingredients and cook," explained Eliza. "Besides my mum and myself, two of my brothers are also chefs. It's in the blood."
At Ole Ole Bumbu, one could say blood is thicker than lontong, as Eliza insists on keeping everything in the family.
As a former fashion buyer, she cannot help but keep returning to her passion. She confessed: "Every five years I would come back to selling food. I think this way, everyone will have jobs. Everyone in the family gets to work."
The four family members in the permanent Ole Ole Bumbu team are Eliza, her husband, a former singer and guitarist Abdul Razak, her son Fadly and her elder brother Jeffrey Tan. Daughter Emilia sometimes pops by to give them a hand, but she herself is a busy mum and runs her own home business, Redz Kitchen, selling Arab delicacies like lamb shank rice platters.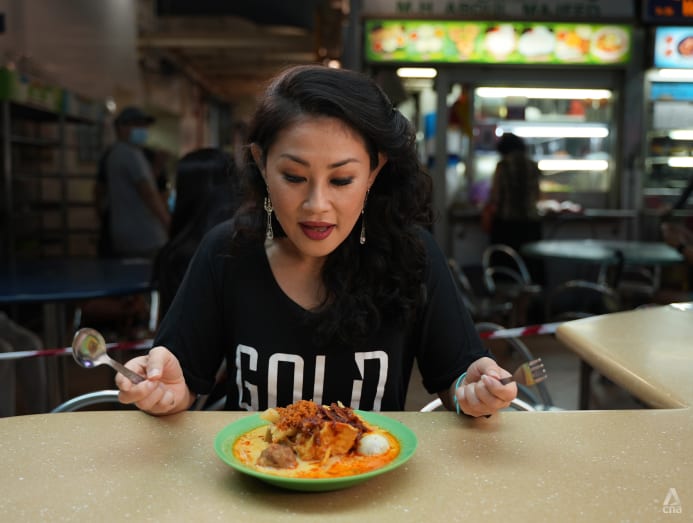 Nasi padang is what unites this family, but Eliza is also proud that Fadly is an excellent baker of cheesecake and Jeffrey's specialty is Thai cuisine.
Her sons-in-law are half-Japanese, half-Chinese, African-American and Singhalese, a veritable United Nations whose backgrounds feed into their family's food.  "Such a mix of cultures, but we are very Singaporean," she laughed. "Rojak lah," Emilia quipped. "That's why Mummy's food is totally different."
Eliza can be quite the one-woman-show, preferring to work alone, prepping, cooking, cleaning and serving customers. But roping in family has been a tremendous help, as she admitted, "We have no problems working hand in hand. I never believe in taking on other staff. All my recipes must stay in the family."
They all agree that she is a wonder woman and as a matter of fact, not pride, Eliza concurred, "I was blessed with a gift, I have the touch with food." As a superhero-chef, Eliza's powers lie not just in her cooking, but also her winning personality. She's a multi-tasking chef and Public Relations Officer rolled into one. As we spoke, she paused every few minutes to call out a greeting to passersby and customers.
"I just cook from my heart and I never look at high or low. I have customers from all walks of life and I remember everyone's name. That's every important, so no matter how long your queue is, if you acknowledge them, they will stay and not go elsewhere. That's my skill and I train my kids too to always acknowledge our customers," Eliza said sincerely. And it works. Her customers keep coming back from as far as Jurong and Punggol for her specialties.
While front-of-house is essential, Eliza added, "Number one, cater to customers' needs. I sell what they like here. Anything you want, you'll get it!" Emilia agreed, "I think this is the only shop that caters to everyone. When they order, they don't want this, don't want that, or they want to use their own container, we oblige." And that's exactly why, when I asked mother and daughter how customers would describe a visit to their stall in one word, they both said in unison, "Friendly!"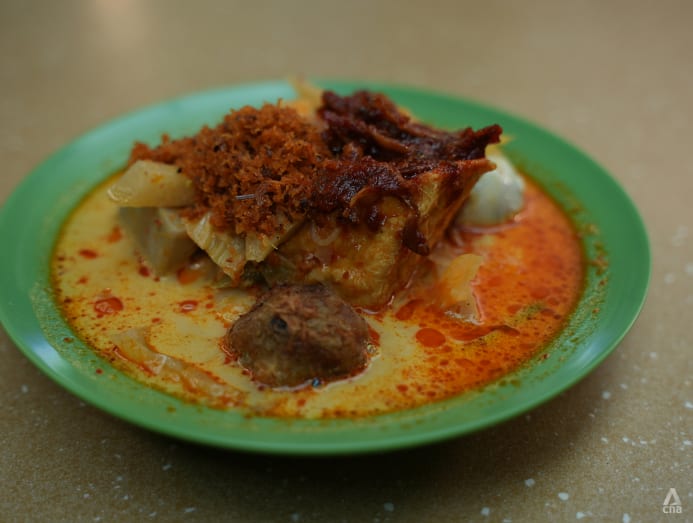 Ole Ole Bumbu is undeniably friendly in service, friendly on the wallet and their lontong is most definitely friendly to the tastebuds. True to their name, every time you eat there, you're likely to take with you good memories as a souvenir of your experience. Eating Eliza's lontong was like winning the Euro, Premier League and World Cup all at once – definitely worth cheering about.
Ole Ole Bumbu is located at Marine Terrace Market & Food Centre, 50A Marine Terrace, #01-307, Singapore 441050. It's open Tuesdays to Sundays, 6am -1pm, closed on Mondays. Catch Makan Kakis with Denise Tan every Thursday from 11am on GOLD 905.