We discover a secret off-menu mee hoon kueh in Joo Chiat Place that's served only for dinner
In this instalment of Makan Kakis, GOLD 905 DJ Denise Tan finds out that her favourite mee pok place Ah Lim (Jalan Tua Kong) Mee Pok Kway Teow Soup also serves a dry version of mee hoon kueh that's not on the list.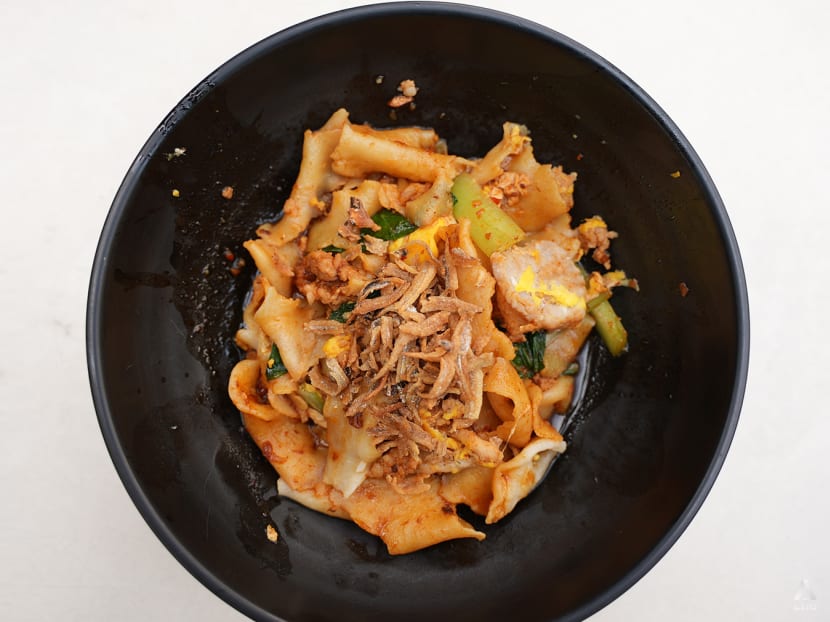 It's not often I'm up early, nor is it often I'm in the east side of the island, but if I am, it's usually for just one thing: Breakfast after a workout at East Coast Park.
One of the go-to places for my all-time favourite noodle dish is Ah Lim (Jalan Tua Kong) Mee Pok Kway Teow Soup in Joo Chiat Place, where I've breakfasted on mee pok tah (dry) on many a sweaty occasion.
I believed I was familiar with all the stall had to offer, until some foodie friends from Ice Ke Lim Asian Specialty Gelato (they used to occupy the same coffee shop, along with the previously mentioned Lim Bo Fresh Fruits Rojak) whispered three little words to me – off-menu item.
Intrigued, but too full from ice cream and rojak, I vowed to return for said secret dish – dry mee hoon kueh (hand-torn noodles in a sauce, not soup), served only at dinnertime.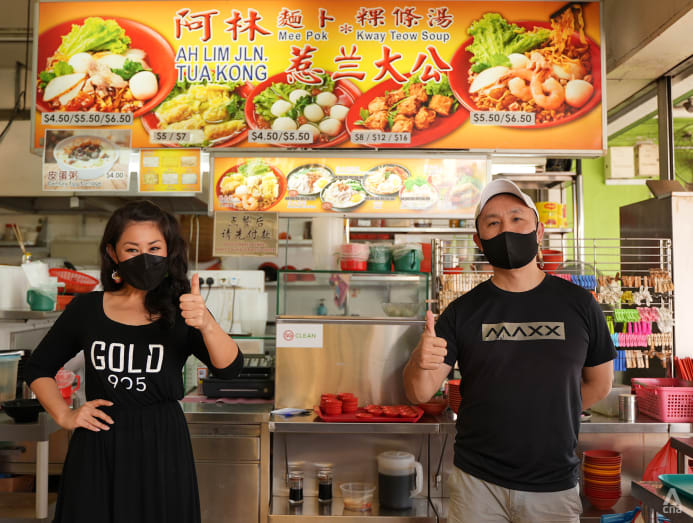 If the name of the stall rings some bells, it's because they have seven outlets in various locations across Singapore, including Bugis, Tampines, Simpang Bedok and the one that started it all over 20 years ago in Siglap, at the corner of East Coast Road and Jalan Tua Kong.
According to Bronson Lim, the noodle business is all in the family – his uncle runs the stall in Siglap and his father, Lim Teck Seng, operates the one at Joo Chiat Place.
I considered it quite the culinary coup when the younger Lim informed me that of all the six outlets, the dry mee hoon kueh could only be found at their Joo Chiat branch.
To clarify, mee hoon kueh is on the menu, but only the soup version. The dry version is off-menu.
"Only regulars know we make it after 5.30pm. At first my dad didn't want to do it because it's very troublesome. There are extra steps because of the sauce," Bronson Lim explained, gesturing to the layout of the stall.
The sauces are mixed in a different area from where the mee hoon kueh is cooked, which tends to slow down the entire process during peak periods, especially earlier in the day and on weekends.
Reason for the dinner-only caveat sorted, we got down to the nitty gritty of their secret dish. While they are known for bak chor mee, their skill in mee hoon kueh is just as well-honed.
"Somehow we never emphasised this, but we used to sell mee hoon kueh in the Bendemeer area more than 30 years ago. We hand-make and roll it ourselves," Lim revealed.
Prepared fresh daily, the mee hoon kueh starts off as a ball of dough comprising just four simple ingredients – plain flour, egg, salt and water. The first batch is prepared first thing in the morning and replenished when needed, usually three times a day.
Lim elaborated, "The mee hoon kueh dough needs to have that QQ texture", meaning a springy chew. "It has to be rested for at least 15 minutes so it's easier to manipulate, otherwise it's very sticky. It can at most last half a day, not the whole day because it spoils easily in our weather. That's why it's made in smaller batches. Once one batch is used up, we make another."
GOLD 905 DJ Denise Tan finds out that her favourite mee pok place Ah Lim (Jalan Tua Kong) Mee Pok Kway Teow Soup also serves a dry version of mee hoon kueh. There's no secret handshake, but you'll have to be there after 5.30pm – and hope they have it that day!
Each bowl of mee hoon kueh is made to order, little pieces of dough pinched off and quickly dropped into a boiling pot of hot soup to cook in a flash. "Once you're experienced, it's quite fast – maybe just 10 seconds," Lim said.
He is also quick to correct my assumption that the dry mee hoon kueh would be prepared the same way as their signature dry mee pok, or bak chor mee.
"The recipes are different. In our dry mee hoon kueh, we use two different types of chilli sauce and the vinegar taste is stronger than our bak chor mee," he clarified.
Where their signature bak chor mee comes with minced pork, sliced pork, prawn, fishcake, fishballs and meatballs, their dry mee hoon kueh is served with minced and sliced pork, as well as egg and ikan bilis (dried anchovies).
"Unless you don't eat meat, then we'll substitute with fish balls and fishcake," Lim added.
What can't be substituted in their mee hoon kueh sauce are the same ingredients shared with the bak chor mee: Lard, sambal chilli and black vinegar. "But we add a watery chilli sauce for a more sour taste," he continued.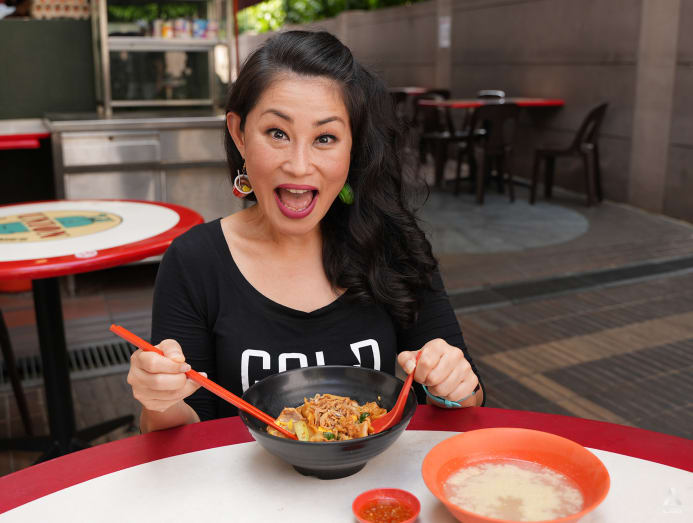 Indeed, it was the extra acidity that distinguished between the two noodle dishes. The "watery chilli", as Lim described, was made from fresh red chillies, white vinegar and sugar, for a sharp, yet sweet heat.
Blended and fried into a thick, fragrant paste, the sambal chilli was all about big, bold flavour – red chillies and chilli padi brought the burn, belacan (fermented shrimp paste) and hae bee (dried shrimps) upped the umami factor.
The making of the mee hoon kueh was a delectable sideshow. In a big, black serving bowl, the sauce was assembled meticulously – lard, garlic oil, black vinegar, the "watery chilli" and sambal chilli were all loosened with a little pork bone broth – ready for the mee hoon kueh.
Pinches of pliable dough bubbled away on the stove in a pot of pork bone broth, along with minced pork and sliced pork. A raw egg was cracked in and cai xin (Chinese flowering cabbage) added to complete the quick cooking process. The pot's contents were then drained, tossed in the waiting bowl of sauce, then finished with a garnish of fried ikan bilis.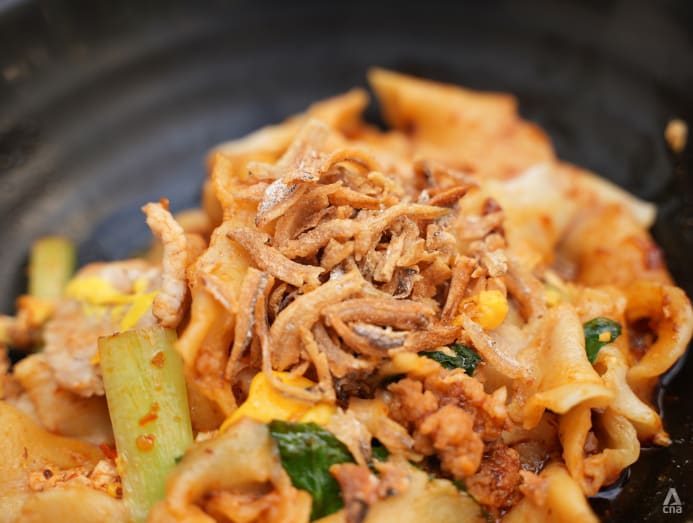 Priced at S$4.50, S$5.50 or S$6.50 and easily one of the best bowls of mee hoon kueh I've had, the rustic noodle pieces had a delightful texture. Not too thick or doughy, they were surprisingly light and tender with the springy chew, or "QQ" factor Lim had previously mentioned. Even better, each glossy piece had lots of jagged little edges for more tasty sauce to cling to.
The saucy tang of vinegar really asserted itself – earthy notes of black vinegar mingled perfectly with brighter, zingier notes of white vinegar in the "watery chilli", which also brought a fresher, sweeter dimension of spiciness that complemented the more potent sambal chilli.
The intensely savoury flavour of the entire dish hinged solely on the deeply umami sambal – no other seasoning sauces were needed. However, they do use soy sauce to season if a "no chilli" order comes in.
Building on its foundation of pork broth, the meaty taste was amplified by the generous portions of fatty mince and lean pork slices. More textures popped from the juicy crunch of cai xin, crispy, sea-salty ikan billis and satiny ribbons of egg.
The egg also helped to enrich and thicken the pork bone broth – cloudy bursts of albumen suspended attractively in the side bowl of soup. According to Lim, it was that and the flour from the mee hoon kueh which made the broth taste different from that of their bak chor mee.
Even as a die-hard mee pok fan, I found myself wavering in my allegiance after trying their off-menu dish. Mouth-wateringly tangy and spicy, packed full of umami and textures, the silky mee hoon kueh made for a very satisfying, yet not-too-heavy alternative to bak chor mee.
But don't just take it from me, take it from their customers and Lim's initially reluctant father. "When people eat (our dry mee hoon kueh), then they know and they always come back. My dad saw the response, that's why he gave in," Lim disclosed.
And I suggest you do the same. Surrender to the temptation and thrill of discovering Ah Lim (Jalan Tua Kong)'s tasty hidden treasure. Just remember – it's subject to availability and only for dinner.
Ah Lim (Jalan Tua Kong) Mee Pok Kway Teow Soup is located at 64 Joo Chiat Place, Singapore 427786. It's open daily from 6.30am to 10.45pm. Catch Makan Kakis with Denise Tan every Thursday from 11am on GOLD 905.