Prawn noodles at a Loyang industrial estate that's big in size and flavour
In this week's Makan Kakis, GOLD 905 DJ Denise Tan discovers that when you crave rich, robust prawn noodles, you can't go wrong with the recommendation of a MasterChef – even if you have to travel to a far-flung stall.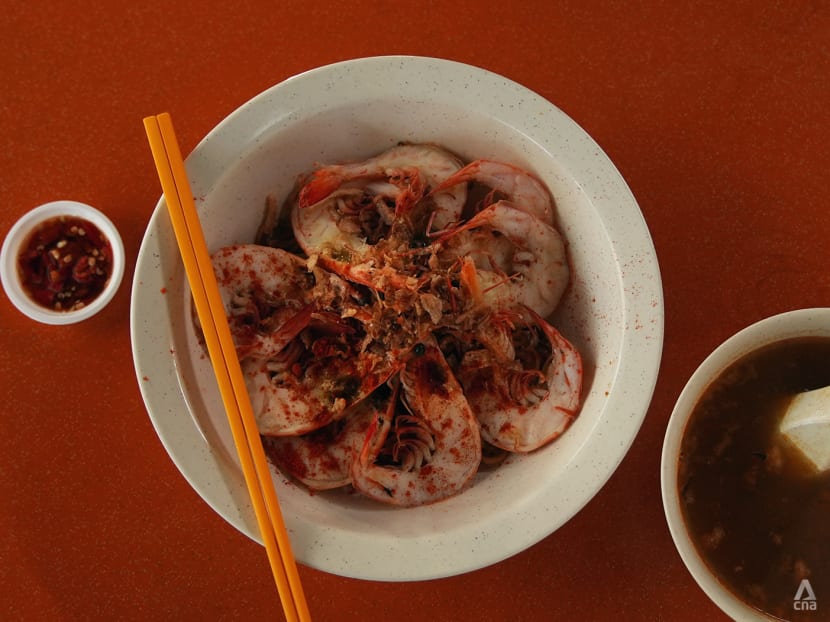 When it comes to meeting new Makan Kakis, my first question is always: "Where do you get your favourite hawker food fix from?"
For MasterChef Singapore's winner for season two, Derek Cheong, it was Loyang Way Big Prawn Noodles.
I immediately sat up and paid attention – hey, if it was good enough for a certified MasterChef, it was certainly worth the meandering 40-minute drive from West to East to locate this far-flung stall.
In this episode of Makan Kakis, GOLD 905 DJ Denise Tan found herself in an industrial estate all the way in the east of Singapore and discovers Loyang Way Big Prawn Noodles' rich, robust dish with a prawny punch is worth the trip.
Everything one needs to know about the stall is in its name. Found deep in a Loyang industrial estate, they specialise in dry and soup noodles, featuring prawns of a certain size. After getting slightly lost, I finally arrived at a nondescript canteen, sitting solo among factories and offices. Hardly an auspicious start to my foodie adventure, but one look at the prawn noodle stall confirmed my taste buds were about to get lucky.
Even at 8am, Loyang Way Big Prawn Noodles' menu board was brightly lit, tempting customers with its variety: Big prawn noodles (S$5, S$7, S$9), pork ribs prawn noodles (S$5, S$7, S$9), abalone prawn noodles (S$8, S$10) and "XL" big prawn noodles (S$13.80).
Add-on ingredients were also available, everything from prawn (S$2 each) and abalone (S$3), to pork ribs and other piggy parts like skin and intestines (S$1 to S$3) and the intriguing sha dan (literally "sand egg" in Mandarin, but described as a runny-centred egg, so-named for dim sum restaurant molten salted egg bun, liu sha bao, at S$1).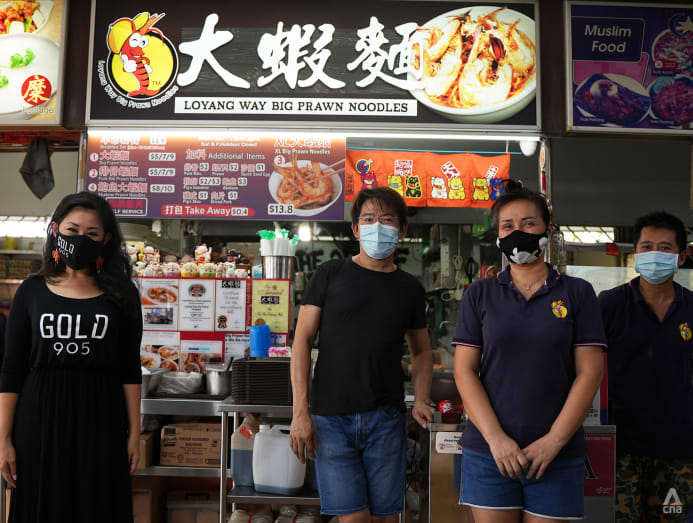 If I had had my way, I would have blown the budget and my belly by including them all in my order. But I was a woman on a mission to recreate a big prawn noodle experience worthy of a MasterChef – and Cheong had recommended that I go for the biggest portion of unadulterated dry prawn noodles with soup on the side, promising flavours both intense and umami.
The back wall of the stall had been painted with "The Art of Xia (Prawn) Mee" in big, bold letters. Three people were working towards that goal – manager Kelvin, cook Meng and cashier/server Eva, who told me that they had been there since 4am to start preparing the broth.
A large-lidded cauldron of prawn stock stood testament, bubbling away enticingly in a corner, potent prawn aroma wafting steamily in our direction.
MasterChef winner Cheong believes the broth is the most important element in an excellent bowl of prawn noodles and a lot of skill is needed to produce the best flavour and fragrance. Prawn heads contain the most flavour, so they need to be fried "real hard" to release all their goodness into the broth.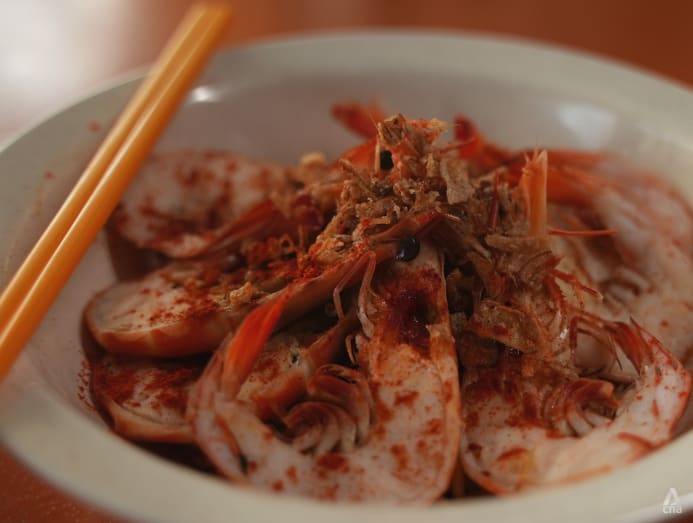 The stall's manager, Kevin, confirmed this, saying they fry prawn heads for a long time, before pork bones are added, along with water, then boiled for about two hours to create their prawn soup.
"Customers love it because it tastes different from others. The prawn taste is pronounced. There's a freshness and natural sweetness that comes though," he told me in Mandarin.
According to him, the owner of Loyang Way Big Prawn Noodles tweaked a recipe he got from a friend in the business, making sure to use only the freshest of ingredients and spices.
Ten years and four other branches later, they now easily sell 300 to 400 bowls of their regular big prawn noodles per day. And that's just at their original Loyang Way location.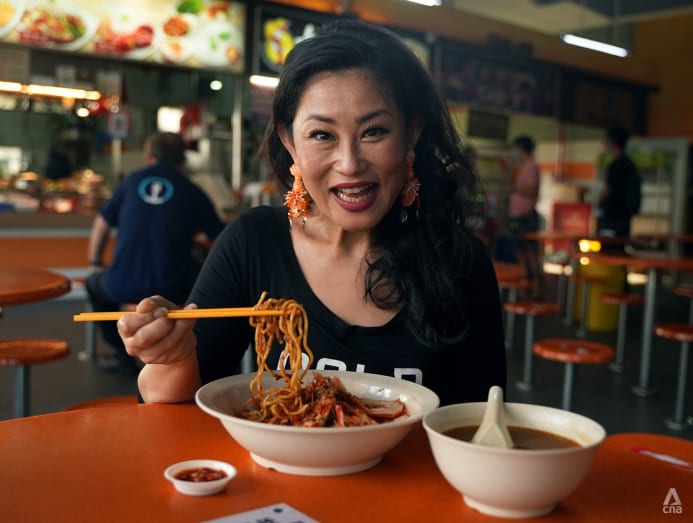 Adding to that daily number with my own order of their bestseller, I went for the dry version just like my Makan Kaki had suggested. As it was being prepared, Eva the friendly cashier told me that their popularity lies in not just their excellent broth and fresh prawns, but also their chilli sauce.
As with most of my experiences with hawkers, I was told it was made from a "secret recipe" which absolutely could not be revealed. Said chilli sauce was so "secret", that even the staff didn't know exactly what was in it because "the boss makes it himself at home then delivers it to the stalls every morning", Eva confided. 
While she didn't deny nor confirm the ingredients, I guessed red chillies (dried and fresh), belacan (fermented prawn paste), hae bee (dried shrimp) and garlic made up at least some of the secret sauce. One try and I knew why the recipe was so closely guarded. The tastiness of the noodles hinged entirely on that shrimpy, spicy sauce and from there, the flavours just built and built.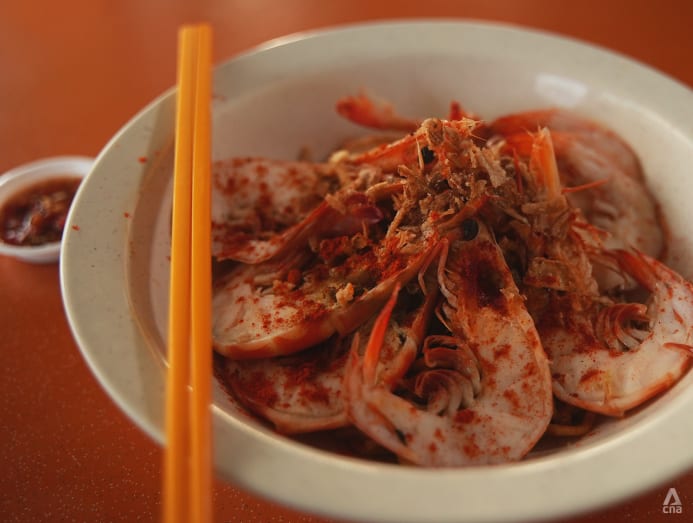 I watched as my order of dry yellow noodles (kway teow is another option) was being made: A dollop of the chilli sauce went into a bowl, followed by a big spoonful of crispy cubed pork fat and liquid lard, all then loosened with a little soup. If a "no chilli" order comes in, a dash of light soya sauce is used instead to season the noodles.
Meanwhile, the noodles were blanched with bean sprouts (eschewed by the MasterChef, loved by me) for mere seconds before being tossed vigorously with the saucy mixture in the bowl. Lightly-boiled fresh sea prawns were halved and fanned out attractively in a circle over the noodles, then given a final garnish of fried shallots and fine chilli powder for extra kick.
Everything smelled and looked amazing – the eight orange prawn halves perched prettily atop yellow noodles, sprinkled with bright vermillion chilli powder, really popped against the white canvas of the large white bowl. The glistening noodles were thoroughly coated by the chilli paste, taking on a fluffy texture from the pulverised hae bee. That and the belacan amplified the umami of the fresh big prawns and the soup. The chilli also had a delayed kick that detonated like delicious dynamite ten seconds later.
In contrast, the clean juiciness of the fresh big prawns helped defuse the spiciness of the chilli. Crunching through the heads to extract the jammy, creamy funk within was sheer pleasure, only to be taken up several notches by the famous soup.
Served in a large bowl on the side, the prawn and pork broth was robust and multi-dimensional. It had a glossy, brown hue that spoke of the depth of its flavour – prawn heads that had been caramelised in oil and their special chilli sauce oozed a thin layer of bright orange oil that floated on the surface – giving a surprising hint of spiciness and overall rich, luxurious mouth-feel.
Fried shallots added fragrance and sweetness to the already naturally sweet prawn broth. Kevin assured me that there was absolutely no sugar added – all the flavour came from prawn heads and pork bones.
Every spoonful brought a thrilling mirroring of flavours – crispy lard in the noodles echoed the gentle pork flavour from the bones in the broth. Even more pronounced were the layers of flavour designed to deliver maximum prawn power. From the prawn heads in the broth, to the large, fresh prawns, to the chilli sauce packed with double belacan and hae bee fermented shrimp flavour, a really intense prawniness permeated the entire dish.
So the next time you crave prawn noodles, soup or dry, get a perfectly balanced bowl from a stall that absolutely lives up to its name and delivers on big prawn flavour. Best of all, while the trip to the original Loyang Way Big Prawn Noodles is totally worth it, you can also enjoy a punchy prawn mee experience at any of their other branches closer to you in Bedok North, Choa Chu Kang, Albert Food Centre or Hong Lim Food Centre.
Loyang Way Big Prawn Noodles is located at 64 Loyang Way, Singapore 508754. It's open 7am – 3pm, Mondays to Saturdays, closed on Sundays and public holidays. Catch Makan Kakis with Denise Tan every Thursday from 11am on GOLD 905.