Pang Pang Western Food is a new Taiwanese-Western hawker stall by ex-Astons cooks
Do the brothers, who worked at the Astons restaurant chain before opening their own Western food stall, agree that their S$7.50 chicken chop tastes superior?
Recently, 8days.sg was alerted to a new Western food stall at Marine Parade Central Market & Food Centre run by a pair of young hawkers. "One of them looks like (late Taiwanese star) Alien Huang," said our friend.
When we went down to investigate, we found out that the fresh-faced hawkers of Pang Pang Western Food, Johor-born brothers Lucas and Bernard Pang, 32 and 31 respectively, used to work as cooks at casual steakhouse chain Astons. Their hawker stall, which opened May 1, serves Western grub with a slight Taiwanese twist. Its name, a play on their last names, also means "great Western food" in Chinese.
Though they are siblings, we find the brothers, now Singapore PRs, look nothing alike. Bernard boasts an honest charm, while Lucas, with his earrings and side-swept hair, exudes a bad-boy vibe.
"Did anyone say that you look like Alien Huang?" we asked Lucas.
"No one has ever said I look like a celebrity," he laughs. "Some aunties call me lang zai (good-looking guy) but customers don't flirt with me. Furthermore, we are always wearing masks, so no one really knows how we look."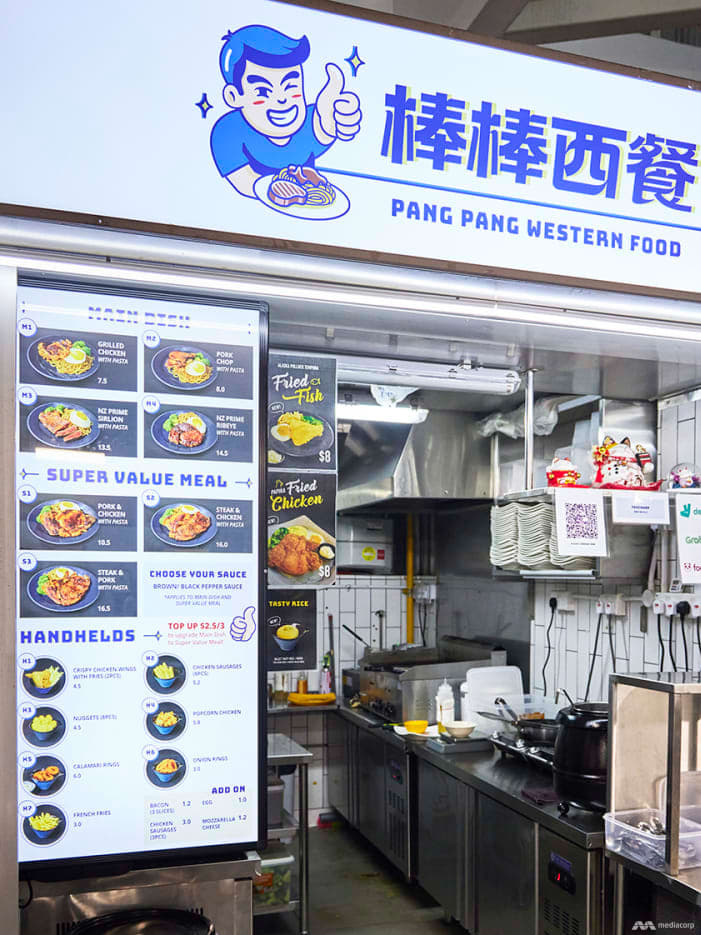 13 YEARS OF EXPERIENCE IN F&B
The brothers came to Singapore in 2010 in search of jobs in F&B. They both spent most of the past 13 years working up the ranks at various establishments, from cooks to restaurant managers. Besides Astons, where they each spent around eight years, they also cut their teeth at another casual Western eatery chain, iSteaks, among others.
It has always been their wish to start their own Western food biz. After prepping for a year, they finally left their full-time jobs, investing S$40,000 to open Pang Pang with two silent partners in May.
"Many friends told us not to quit our jobs and just to employ people to run the stall. But this is our first venture, so we felt we should run it first and set the foundation for the standard and quality. If we leave it to others, they might not do things properly," said Lucas.
R&D FOR STALL'S RECIPES BEGAN IN ASTONS KITCHEN
It helps that they have been experimenting with recipes for years. In fact, their R&D began at Astons. There, they would whip up their own staff meals, and would often zhng the meats to their liking. 
"The meats are marinated in a central kitchen, but the taste isn't what we like so we would enhance them by adding different seasonings. That's how we came up with the recipes for our meats. We would cook for our staff too and they enjoyed it," shared Bernard.
EX-COLLEAGUES SAY THEIR FOOD IS BETTER THAN ASTONS'
"Our ex-colleagues who are still working at Astons also say our chicken chop is better than the restaurant chains'," added Lucas. "I just laughed when they mentioned it."
Does he agree?
"Personally, I also feel it is better than Astons'. Theirs is too heavy-handed on the herbs, overpowering the taste of the meat. But you can't blame them. When your business is so big and food is prepared at the central kitchen, it is inevitable that the standard will drop 'cause you can't focus on the small details of your recipe."
To attract more people to try their food, they have kept prices very affordable, "around 30 to 40 per cent lower than Astons'".
INSPIRED BY TAIWANESE-STYLE WESTERN HOTPLATES
This is not quite your typical kopitiam-style Western fare.
Inspired by their love for Taiwanese cuisine, the brothers decided to give their offerings a slight Taiwanese twist. Instead of the usual fries and coleslaw, Pang Pang's mains are served with "brown sauce spaghetti", boiled broccoli and a sunny-side-up egg, sides commonly found in Taiwanese-style Western hotplates. This is also to offer a "more balanced diet".
They considered serving their mains on hotplates too, but changed their minds due to cost.
"This hawker centre provides dishes and cutlery, as well as dish-cleaning services. If we use hotplates, we would incur extra costs. We hope to open another outlet three or six months later when this stall is stable, and maybe then we can try using hotplates. Our plan is to open a chain of hawker stalls." said Lucas.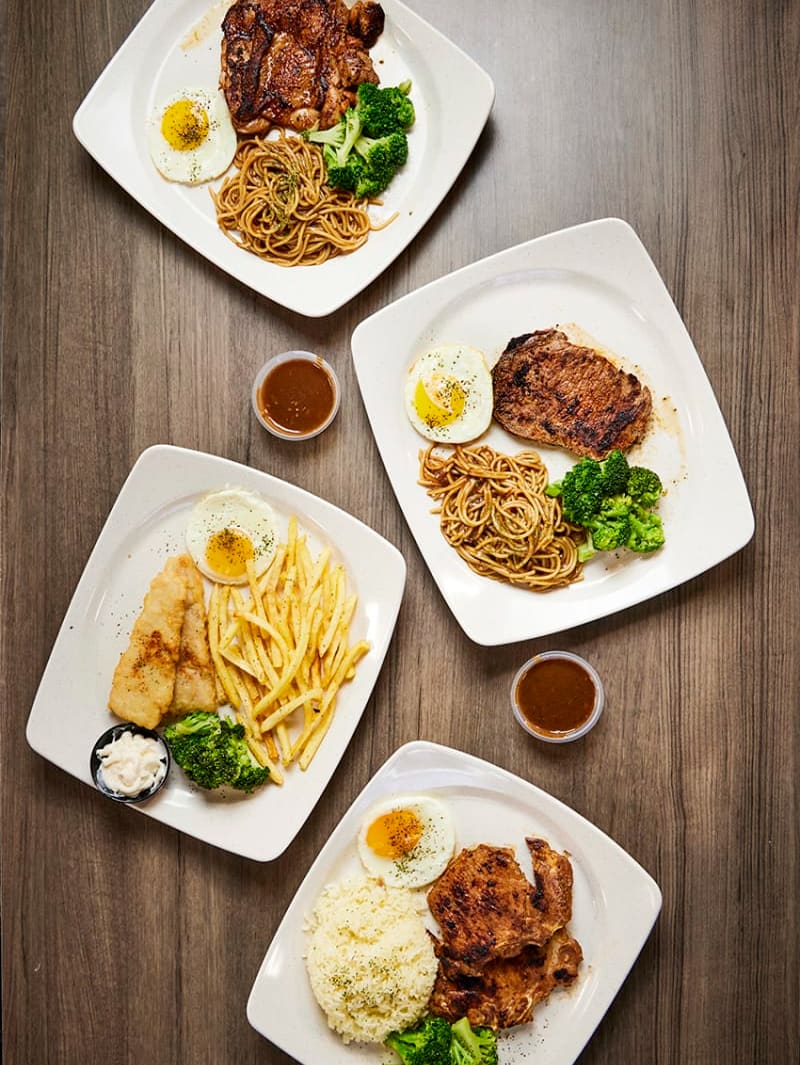 THE MENU
The brothers have kept the offerings small for a start. There are six mains: Chicken chop, pork chop, sirloin steak, rib-eye steak, paprika fried chicken and tempura Alaskan pollock served with steamed broccoli, a sunny-side up and your choice of pasta or "tasty rice". Prices start from a wallet-friendly S$7.50 for the chicken chop to S$14.50 for the rib-eye. 
There are also super value meals featuring a combination of proteins, from S$10.50, while finger food like fried calamari and chicken wings with fries, range from S$3 to S$6. They hope to introduce more offerings like grilled chicken salad and mushroom soup in the coming weeks.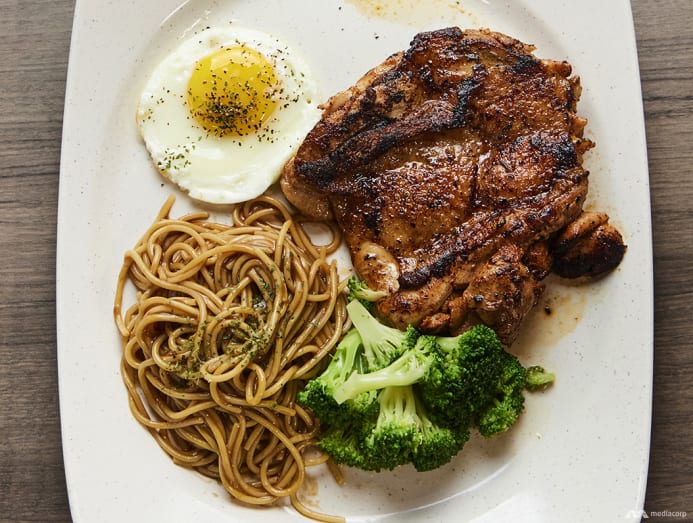 GRILLED CHICKEN, S$7.50 (8DAYS PICK)
The signature grilled chicken chop lives up to the hype. The thick chicken thigh fillet, well-seasoned from a paprika-based dry rub, is succulent, with a nice, crisp skin. While we have not tried Astons' grilled chicken, which costs S$11.90, we are pleased to say Pang Pang's version boasts savoury and smoky flavours, a plus in our book. It doesn't need any sauce, but if you'd like some variation, go for the earthy pepper sauce, made from freshly ground toasted peppercorns, caramelised onions and demi-glace (a rich brown sauce).
It's paired with boiled broccoli, sunny-side-up egg and al dente pasta slicked in house-made umami brown sauce. Tasty stuff. Our friend, who used to live in Taiwan, says the spaghetti is reminiscent of the Taiwanese version and very comforting. Mix with the runny yolk for added richness.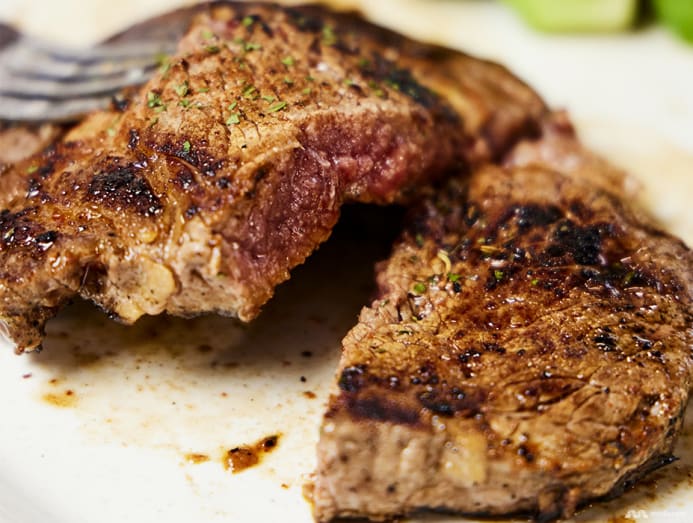 NZ PRIME RIB-EYE, S$14.90
We requested for our steak (around 180g) to be done medium-rare and this was grilled perfectly, with a beautiful pink centre and slightly charred crust. While it's tender and juicy, some parts were a tad chewy due to tendons.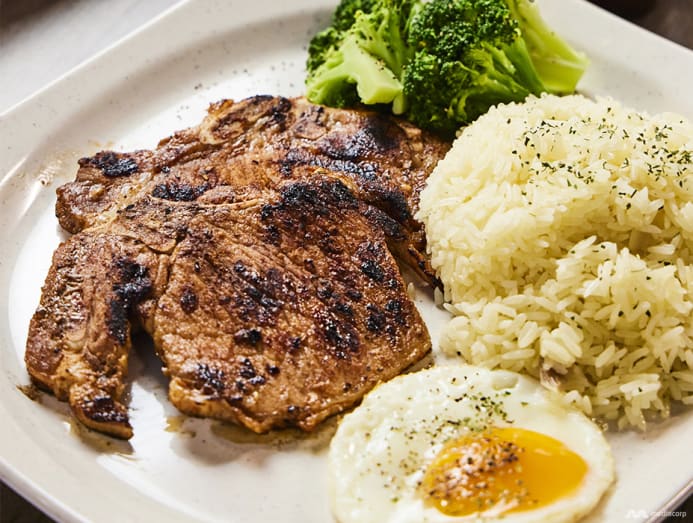 PORK CHOP, S$8 (8DAYS PICK)
Simple, hawker-style pork chop that hits the spot. There is a light smokiness and hint of paprika. The bone-in chops, though very thin, are not dry and very tender. We especially enjoyed gnawing on the bone. The tasty rice, however, didn't quite live up to its name. Cooked in "butter, onion, and seasoning", the flavours are subtle and a little underwhelming. Go for the pasta instead.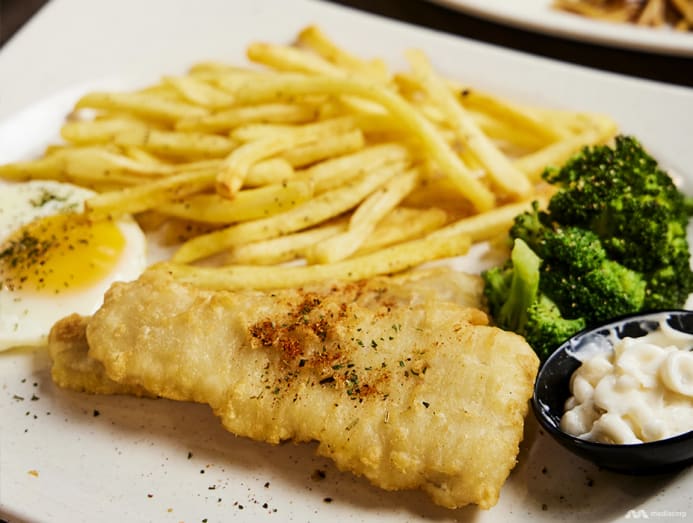 TEMPURA ALASKAN POLLACK, S$8
Two medium-sized pieces of moist, flaky pollack coated in a thin batter made up of tempura flour and baking soda. We are not fans of super crunchy batter, so we like that this is delicately crispy and not greasy. A dusting of paprika gives the fish a little kick of flavour. The accompanying well-seasoned shoestring fries are yummy too.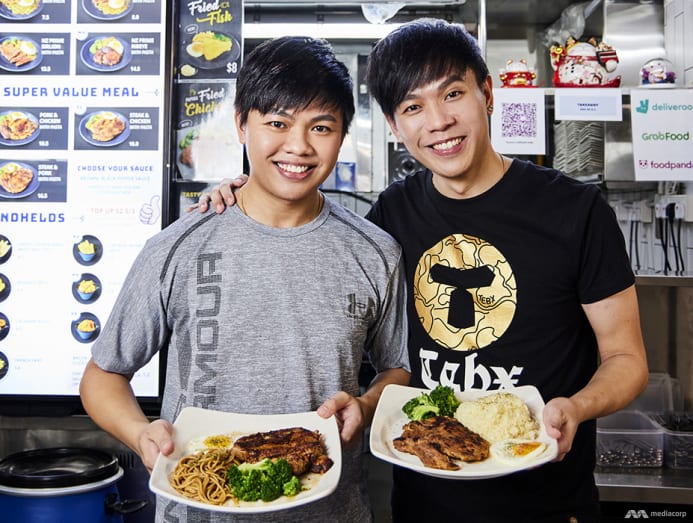 BOTTOM LINE
Pang Pang does a more-than-decent job of delivering hearty plates of Western food. The flavours are spot-on and prices wallet-friendly. Our favourite dish here is the perfectly-grilled chicken chop. Worth a visit if you're in the area.
Pang Pang Western Food is at #01-50, Marine Parade Central Market & Food Centre, 84 Marine Parade Central, Singapore 440084. Open daily 11am to 9pm. 
This story was originally published in 8Days.