Actor Ben Yeo expands his F&B footprint with a new live seafood restaurant in a heritage building
The actor and host, who's opened mod-Chinese restaurant Tan Xiang Yuan, says having a finger in the F&B pie is a way of safeguarding his future because as an actor, "nobody will like you" after a certain age. 
Is Ben Yeo an entertainer who opens restaurants or a foodpreneur who entertains? It's a valid question as in recent years, the 44-year-old actor and host has been launching F&B concepts and regularly posting social media content of himself in the kitchen.
Over the course of the pandemic, Yeo launched online business SG Chee Cheong Fun – you can find the dish not only online but also at The Warehouse Hotel and 51 Tras cafe – and concept stalls SG Umami, Charcoal Fish Head Steamboat Restaurant, Geon Bae Lok Lok and Playground (which he says he considers one venture because they're all in the same location, a canteen in a Kallang industrial estate). Oh, and don't forget his collaboration with McDonald's last year – the Crispy "Hainanese Chicken" Burger.
But his latest project is his biggest yet: Tan Xiang Yuan, a spanking new mod-Chinese restaurant specialising in live seafood.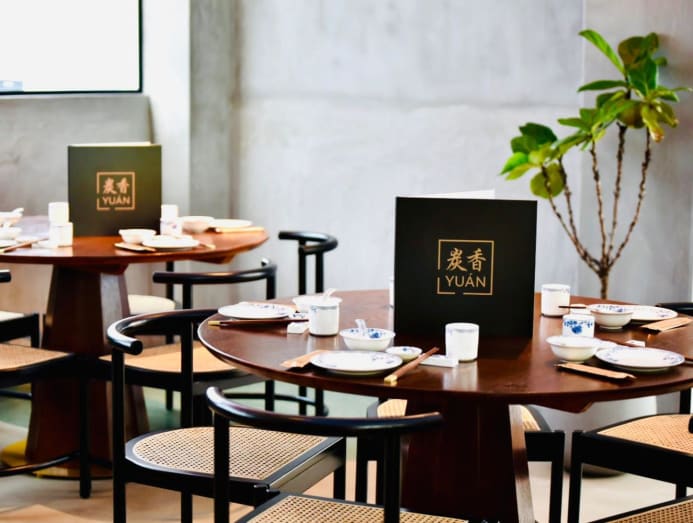 The restaurant, in a standalone heritage house, is at edgy-chic Dickson Road in the Jalan Besar area on the outskirts of Little India, and was a dilapidated coffeeshop for 25 years. The current landlord, Yeo revealed, happens to be the Hotel 81 right next door.
Newly refurbished, the eatery's decor is kitschy Chinoiserie, while keeping heritage elements such as parts of the building's original tiled floor and shuttered doors. It's a large restaurant, although most of the 120 seats are al fresco.
That's okay, because the restaurant's specialty is their Signature Seafood Hotpot served over a charcoal fire, which is only available for outdoor dining. The broth, full of ingredients like scallop, prawn, fish maw and more, is simmered for 12 hours.
The extensive menu's 88 dishes, Yeo shared, were mainly designed by Tan Xiang Yuan's chef Lim You Chai, a protege of Chan Chen Hei of Hai Tien Lo and Chef Chan's Restaurant fame.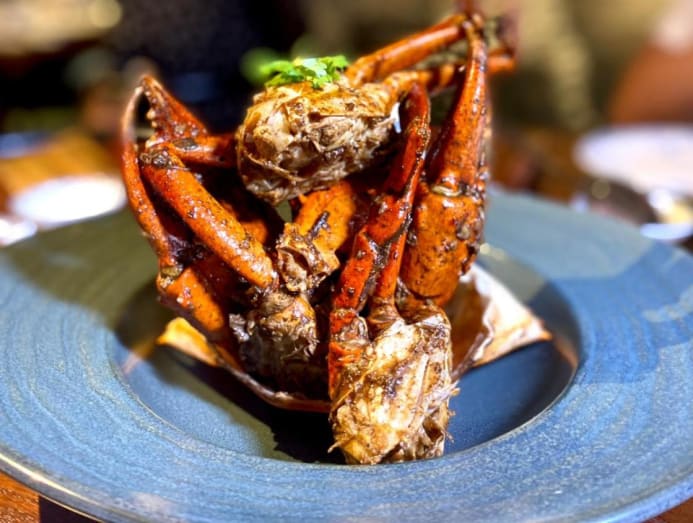 Yeo, who's a SHATEC graduate, shared that incidentally, he and Lim go way back – they first met when Yeo was a 17-year-old intern at Hai Tien Lo.
At Tan Xiang Yuan, Lim does a rendition of roast chicken that those in the know will quickly associate with his shifu, Chan; and also offers guests a taste of his new creations like black pepper crab cooked with the Angelica herb.
Some dishes break with tradition, like Mao Shan Wang Durian Chilli Crab Ball, Braised Foie Gras with Red Wine and Black Truffle Mayo Sauteed Prawns. 
A couple of other dishes, like the black vinegar pork trotter jelly, are by one of Yeo's partners, chef Cao Yong, who has roots in restaurants as well as zi char and has been gaining recognition by appearing on local Mandarin variety shows.
On Yeo's part, he's given ideas about plating in an effort to modernise the presentation, he said.
The restaurant, which houses 14 kinds of live seafood in tanks, is a big project in more ways than one. Yeo and his partners – 10 people in total, half of whom are sleeping partners – invested "one million dollars for the whole setup," he told us.
But it wasn't their initial intention. "At first, we were not looking at a seafood restaurant. We wanted to expand our charcoal steamboat stall" to more locations, Yeo said, adding that that plan is still in the works. "But, when we found this place, we thought… it would be a waste if it were to be a zi char stall."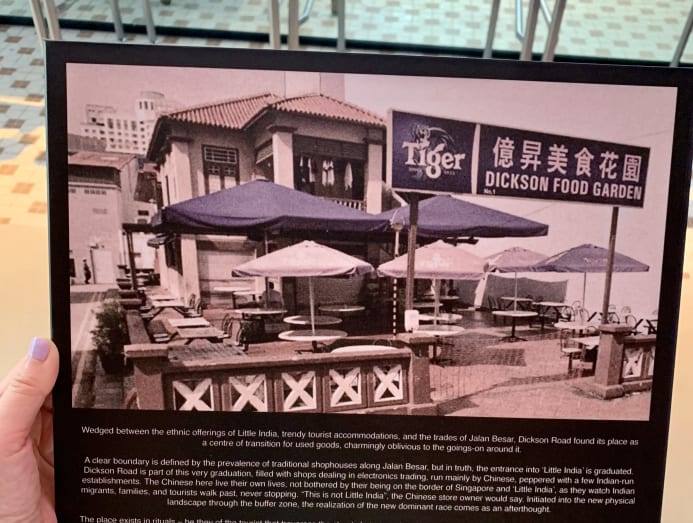 And so, he now has an elegant restaurant to his name – on top of his other gastronomy-related ventures, like his own online video series, Ben Yeo's Kitchen.
Showbiz and F&B give him the same levels of satisfaction, said Yeo, who was last seen acting in the drama Your World In Mine and is currently doing a part-time radio gig on Love 97.2FM.
"I've been in showbiz for 20 years. The satisfaction is when people recognise you. I'm an entertainer – my job is to entertain. It's very satisfying when people come to you and say, 'Hey, you've done a good job. Thanks for your good work'," he said. "As for food, it's when you see people enjoying your food, the thing you created, or that your team created, and people give you good feedback. That's the satisfaction."
He added: "I'd hate having a desk-bound job. I can't do paperwork or stare at the computer. It just happens that these two ventures allow me to meet a lot of people and see new things."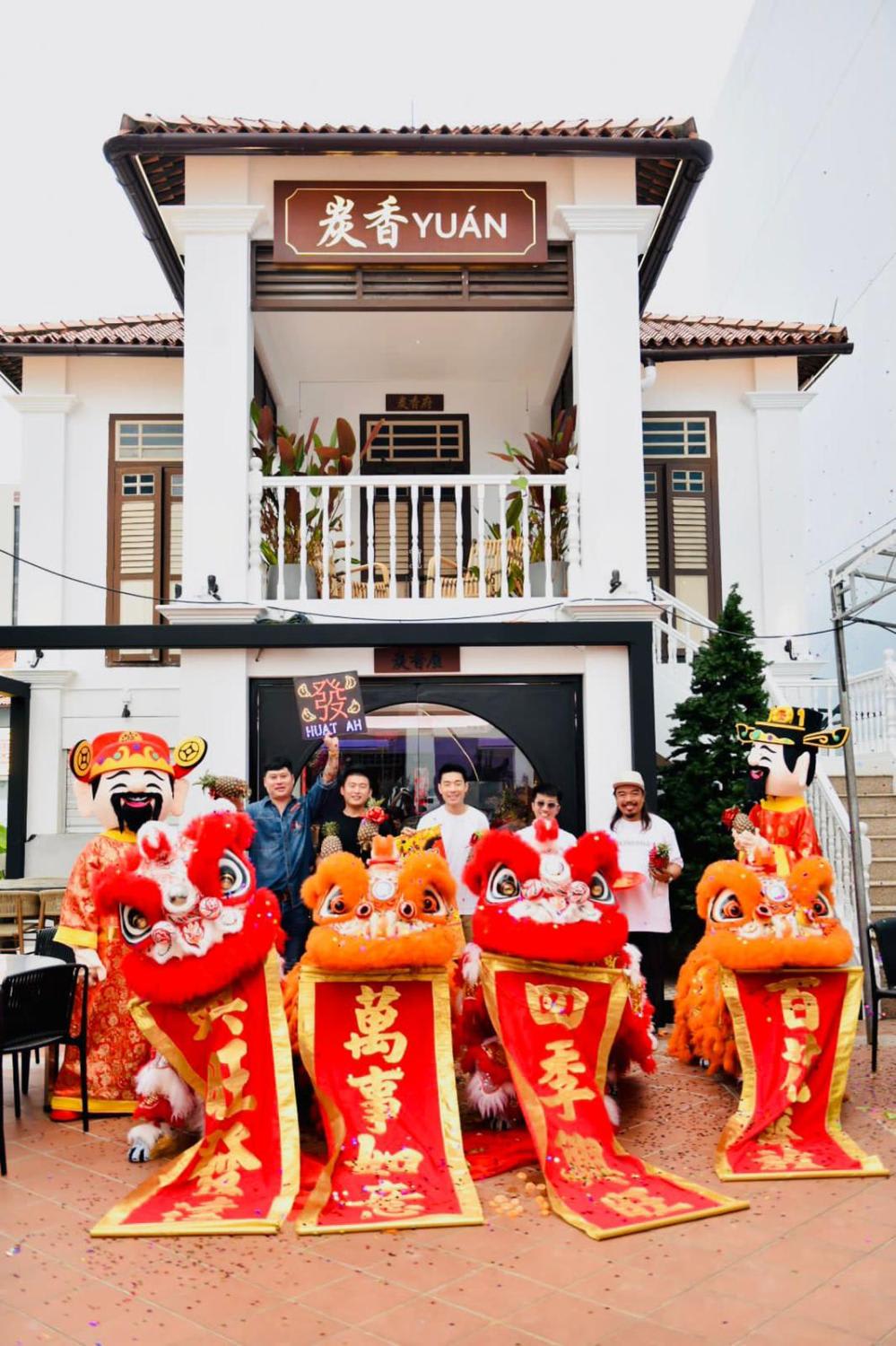 Motivating his forays into F&B is also the knowledge that "I can't act my whole life. In showbiz, we all know, you will age, and one day, nobody will like you any more. That's the fact as an actor – our shelf life is very short, especially in Singapore", he said.
"At the same time, I want to hopefully leave something for my kids, because I don't want them to stress out about my retirement. I want them to do whatever they like." The father of two sons mused: "In my parents' day, people had kids to secure their retirement. Now, in my generation – I have kids, I have to secure their future. It's totally different."
In both lines of work, though, one thing remains constant, he said. "I think the most important thing is how you treat the people whom you meet. I always believe that whatever I do, I put my heart into it."
Tan Xiang Yuan is at 1 Dickson Road. Opens Nov 15.