The Singaporean designer behind a modest fashion label worn by President Halimah Yacob
Sufyaa founder and designer Rina Tahar is changing what we think about traditional Malay cultural dressing one outfit at a time.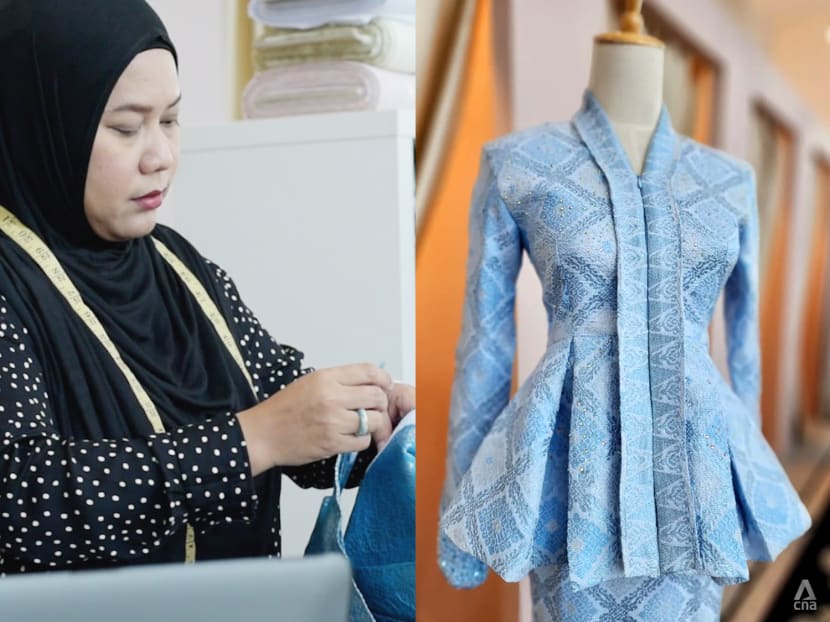 Named after her daughter, Sufyaa founder and designer, Rina Tahar, is steadily changing what we think about traditional Malay cultural outfits. Her designs start from S$250 and can go into the thousands, depending on the material chosen and detailing needed. And her clientele isn't just women of status or brides, she's dressed entire families and even teenagers for prom.
The architecturally-trained designer – she worked in HDB (Housing Development Board of Singapore) for 15 years – started Sufyaa in 2011 after leaving her corporate job and uprooting her family to the Netherlands where her husband was posted for work.
"I had just had my son, so I was on maternity leave then. So let's just say that I went on an extended maternity leave," she chuckled. 
But how did she get into fashion design?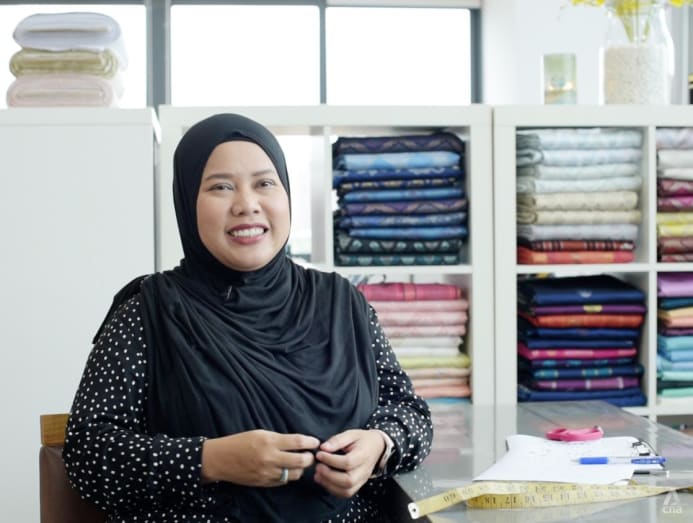 "I actually wanted to pursue fashion because I had a flair for it. But my mother, being a typical Asian parent, wanted more for her daughter. She had better dreams for me than to do fashion, so I went into architecture instead. But I never left my fashion dreams behind," she shared.
FRUSTRATED BY LIMITED OPTIONS
Rina was very honest in sharing that she started her business partly out of necessity. "Being in the Netherlands, with very little resources for a hijabi woman like myself, I had to be creative with layering and putting outfits together. Whenever I bought an outfit, I would have to lengthen it, put in a lining or do something. It was always about trying to make it work for my lifestyle," she explained.
Frustrated with the limited options, and using her struggles and experiences from her time in the corporate world and in the Netherlands, she decided to create her own line of modest wear instead. "I wanted to find a way to incorporate fashion and my lifestyle together."
She sent samples to manufacturers she found in China, and had the finished outfits shipped to Singapore where a close friend helped her run the business back home. 
"I was fortunate back then because the manufacturing industry in China was still quite raw. There were advantages like a lower MOQ (minimum order quantity), which worked very well for me," she said.
In the beginning, Rina shared that she started designing outfits with the different seasons in mind, such as pairing high cut boots with dresses and leggings. "It was a concept that should not have worked for customers in Singapore, but somehow the pieces still sold."
Rina also did the photoshoots for her collections in the Netherlands, giving the brand an edge and a more international vibe to what consumers were used to seeing in Singapore.
She also launched seasonal collections, like Resort by Sufyaa, where the colours were nautical-inspired.
And because she wasn't based in Singapore, Rina launched Sufyaa online after being inspired by the e-commerce landscape in Europe. While online shopping was only in its infancy in Singapore, it was the way of life in the West due to the vast size of the countries. "I thought to myself that it could be a good opportunity as well since I wasn't physically in Singapore." 
Being the proud Singaporean that she is, she wanted to give her label a sense of belonging, and chose to include the ".com.sg" for the website. "I added the 'SG' because I wanted to give my customers an assurance that you're still buying from a Singapore brand."
It was this Singapore connection that led to love calls from local shopping mall Century Square when she returned in 2012, which allowed Rina to open her first physical store. "Well, it wasn't even a store per se, it was a push-cart at Century Square in Tampines. But it was a start."
Business grew and she opened her first flagship store at Tanjong Katong Complex, followed by shops at Arab Street and North Bridge Road.
SUYFAA BESPOKE: FROM READY-TO-WEAR TO HAUTE COUTURE
For the first five years, including the time spent in Europe, Rina worked hard, releasing a new collection every three months.
And while the business did well initially, she noticed that the fashion scene was steadily changing with the boom of e-commerce and the increasing number of fashion labels in the market. Fast fashion became a lot faster, and Rina found it hard to keep up with the ever-evolving demands and trends.
The ultimate decision to wind down her ready-to-wear business came when she found out that the factory she was working with in China was making replicas of her designs for another label.
So in 2016, she decided to pivot to a bespoke service, creating customised one-of-a-kind designs.
"I was into fashion, I knew I could draw, and if it came down to it, I knew I could do all these things from scratch. So I set out to find my own identity again," she said.
But it was not without its obstacles. At the start, Rina shared that she even encouraged her customers to bring in their own fabrics. "I needed the business to be very organic and lean as I was still coping with the debt from my ready-to-wear collections. And the only way to do so was to have people bring in their own fabrics, as it meant that I wouldn't have to buy fabric that would only add to my costs. Instead, I just charged the clients a design fee."
In the hands of fashion designer Rina Tahar, the traditional fabric of songket is transformed into men and women's clothing with a modern touch.
The good news is that if you're looking to get a one-of-a-kind Sufyaa outfit, you don't have to bring your own fabric to her now. Rina's studio is well-stocked with an array of fabric in colours of the rainbow.
And amongst all the fabrics she has, the one that takes a special place in her heart is a beautiful fabric that has gold or silver threads inserted between its base threads called songket. In fact, it's what Sufyaa is known for.
This traditional Malaysian, labour intensive, handwoven fabric – it takes about four days to weave enough fabric to make an outfit – is made in Kelantan and Terengganu.
While songket is often used for outfits special occasions, Rina has found ways to incorporate it into more casual designs, like a cardigan-style that you can wear over jeans.
"It is a fabric that is very close to the Malay community, and there is a status level tagged to this fabric. It was only worn by Royals back in the day. So when you wear songket, it instantly elevates your whole persona," Rina explained.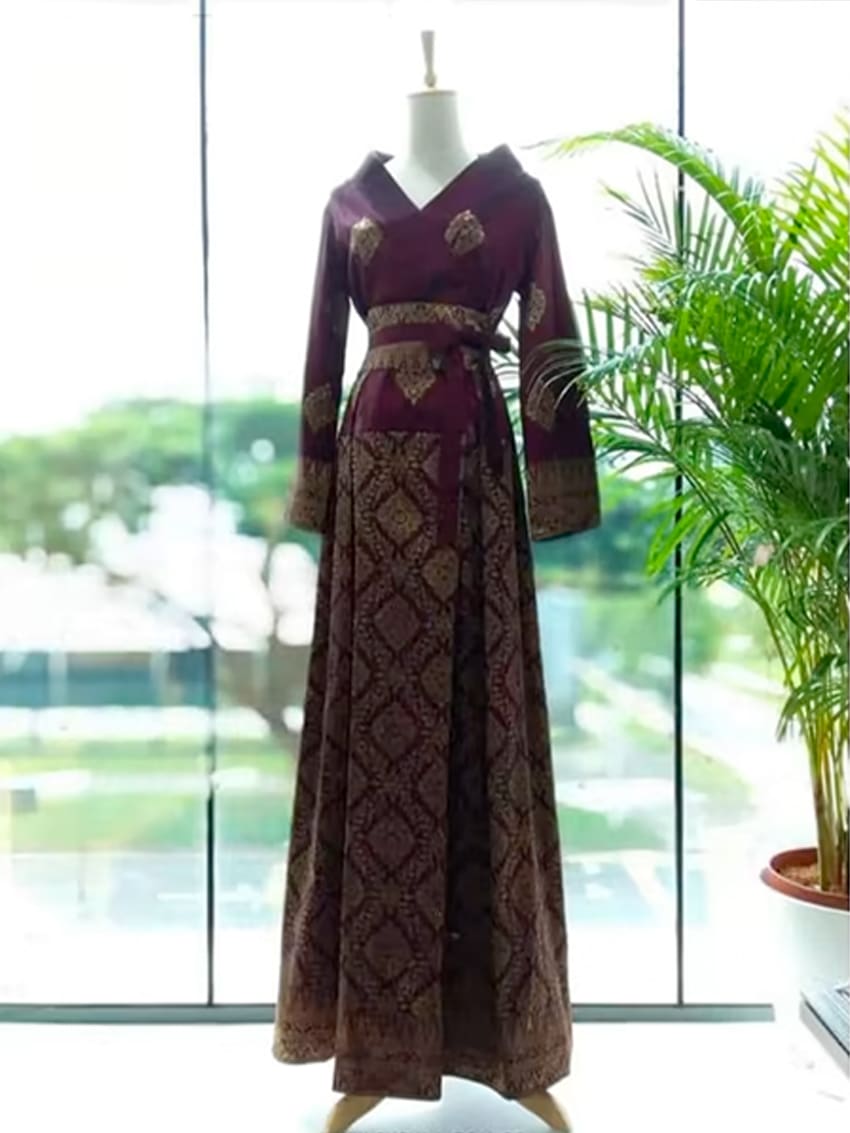 And while songket is often used for special occasions, Rina has found ways to incorporate it into more casual designs, like a cardigan-style that you can wear over jeans. "I had to ask myself how do I make it work for the community, for the everyday people like you and I. Because it's not a fabric that most people would want to wear every single day."
Fortunately, the ways to use songket is limitless, she added. "You can add layers to it, you can put something else above it, there is a lot of room to play with it."
More importantly, "songket is a fabric that manufacturers can't mass produce because it's not printed," she said, citing another reason for her choice of material to work with. And with what she had gone through before, we can't fault her.
Working with this niche fabric has not only given Sufyaa its identity, but it has also set the brand apart from others. "It's how I've upscaled the brand, going from something ordinary to bringing it to a different level."
DESIGNING TO A PERSON'S PESONALITY  
"I take time to listen to everybody and design the outfit to their individual personality," she emphasised when asked what makes Sufyaa different.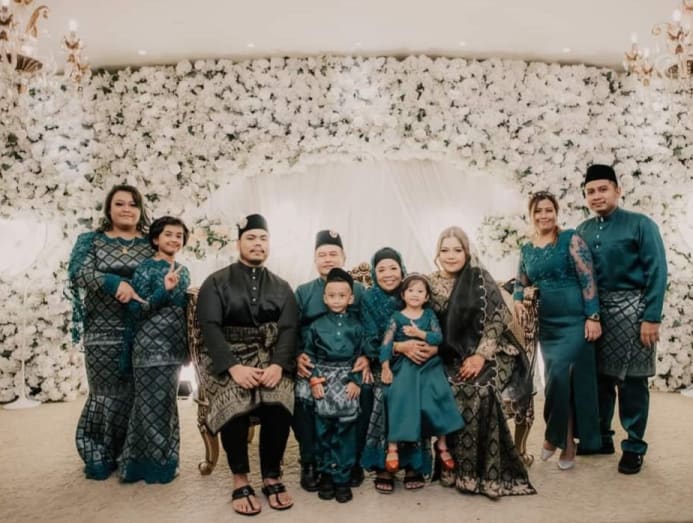 So even if it's a large family who are dressed in the same fabric, I will still find ways to add different details that will embody the person wearing the design, she explained. It also means that Rina has to play mediator at times, trying to find the right balance in a design that will please both young and old. "It's all about balance and how can I make both parties excited about the outfit so it is a win-win situation."
Even if it's a large family who are dressed in the same fabric, I will still find ways to add different details that will embody the person wearing the design.
It's no wonder that Sufyaa is a favourite of not just regular folks, but by celebrities as well.
One of her biggest clients is Singapore President, Madam Halimah Yacob.
"I was fortunate to meet her when she was still the then Speaker of Parliament through AMP (Associate for Muslim Professionals). They were having a gala dinner and Madam Halimah was the guest of honour. And because I've been working with them for a while, I asked if I could dress her, and they said yes."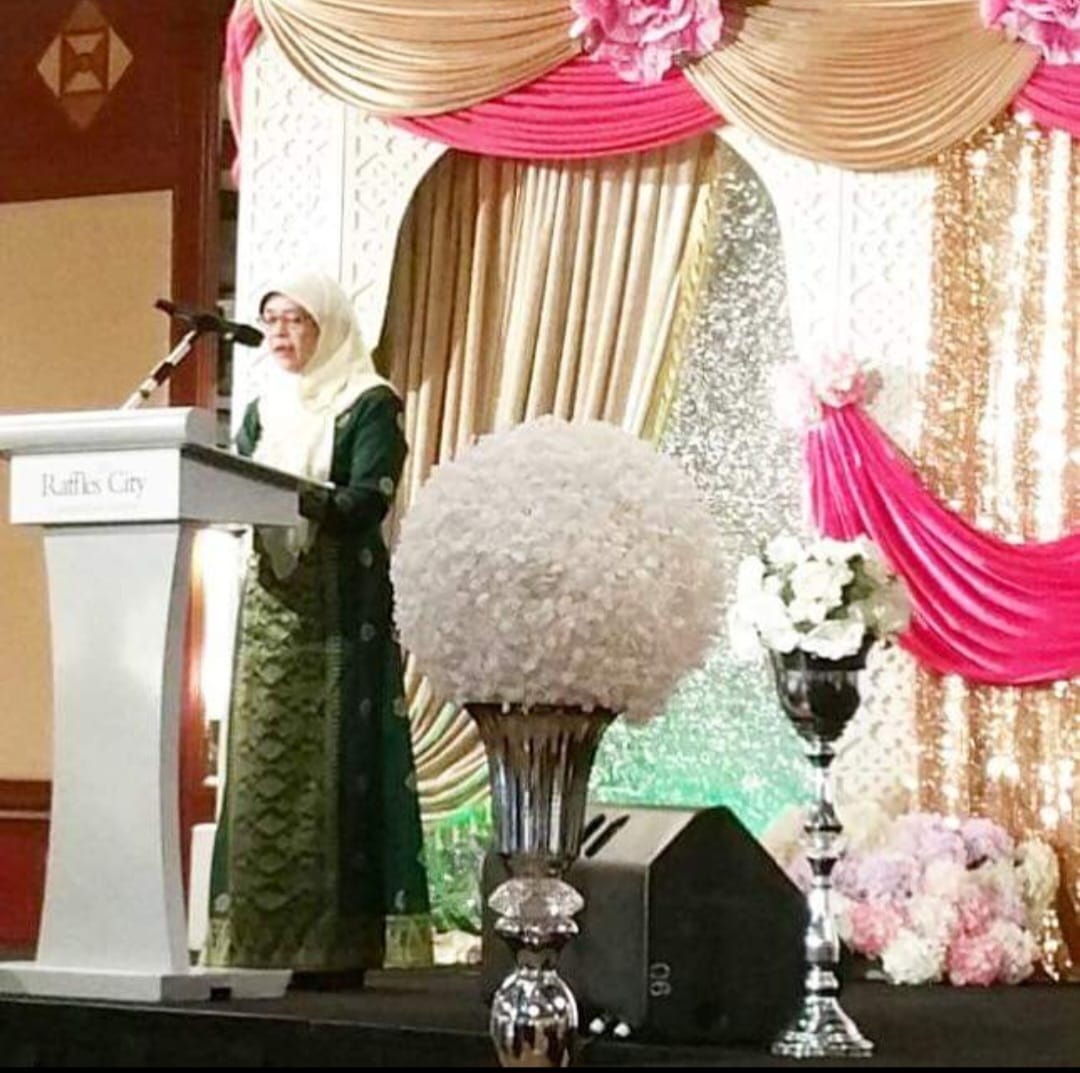 To make an impact, Rina decided to askew the norm and dressed Madam Halimah in emerald green songket dress for that gala dinner. "She rarely wears dresses, so I felt that this was an opportunity for me to bring her out of her comfort zone. I told her 'I'm going to put you in a dress' and she said 'I don't wear dresses'. To which I replied back 'That's exactly why you need to wear a dress'. But it's also because it's Sufyaa, and I wanted to give her a more feminine look. She was still a bit skeptical but she looked really good in it."
So did the President like it? "Well, I've continued to work with her over the years since, so I think I can safely say that she did," Rina replied with a chuckle.
If you thought dressing the President would be nerve racking, think again. She shared that the most challenging outfit she's worked on was for one of Malaysia's biggest celebrities, Seri Vida.
"It was difficult because I couldn't meet her. It was all done remotely. Plus, she's quite extravagant with her styling, while Sufyaa is a little softer and more modest. I had to design the outfit to suit her personality, and she has a big personality. So the fact that I couldn't get to see her was the biggest challenge in itself, as I couldn't do the fitting to see how the outfit looked on her physically."
DEBUTING AT MODEST FASHION WEEK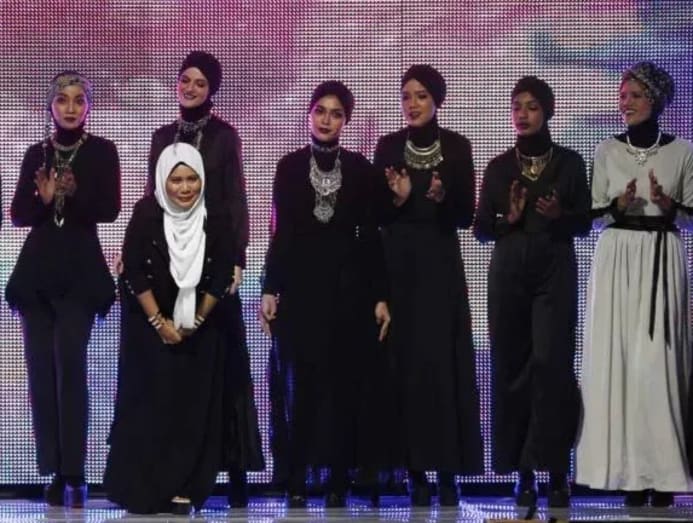 You might have heard of New York, Milan and London Fashion Weeks, but did you know that there's an International Modest Fashion Week too? That's right. And Sufyaa has been the only Singapore modest wear brand to showcase there for three consecutive years.
Modest Fashion Week, according to Rina, is a much more toned down and low-key event where modest wear designers from around the world come together.
Her first fashion week showing was in London, followed by Indonesia and Malaysia.
In 2019, right before COVID-19 put the world on pause, she was also invited to Turkey for yet another modest fashion convention.
She believed that these opportunities have been all thanks to her continued online presence. "Even when I stopped my ready-to-wear outfits, I was still heavily pushing Sufyaa on the website and on social media. And I really think that it has helped the brand gain awareness and traction."
FUSING DIFFERENT CULTURES INTO ONE 
It's clear that Rina's muses are her clients. And there's no better proof that her fusion designs that blend different cultures in what has always been thought to be a traditional take on Malay outfits.
"Through my work on weddings, I've come to meet to more people who are embarking on an inter-racial marriage. So I get requests to incorporate something from either the bride or groom's background into the outfit, which I'm more than happy to do. After all, I'm designing to their individual needs and want to do something that truly represents them."
The result: Outfits that incorporate details of an Indian sari, Chinese cheongsam or even Japanese kimono or Korean hanbok.
Rina also shared that she's even got requests from wedding guests who want something special and unique to remember the occasion by.
And with her keyword search on Google being 'modesty', she also shared that she even gets requests from non-Muslim women who want gowns for their church weddings as well.
KEEPING IT WITHIN THE FAMILY: THE FUTURE OF SUFYAA
Today, Rina has customers from all over the world, including Australia and New Zealand, in addition to Southeast Asia. And she's the only one who sees customers and works on the designs.
She shared that by doing so, she continues to build trust with her customers. But of course, it doesn't mean that she doesn't get a break from things. She has her nieces working with her, who are primed to carry on what she's built up with Sufyaa. "It's a family business, and I would like to think that I'm also keeping the family close together. This family bond is still very much what I look forward to every day."
When asked what she envisions for the future of Sufyaa, the humble designer shared that she is contented and happy as it is. "Success, I think is more than just wanting your brand to bigger. It's also about being happy with what you have and being self-sufficient. I like how the business is very organic. I'm very fortunate that I'm able to serve my clients and my community in the best way that I can," she said.
"I think the proudest moment for me would be to have a brand that stays relevant with the community, with a society and still being able to give back every year. With no investors, no loans, everything is up to you. That in itself, I think, this is an achievement for me."