This famous sup tulang merah at Golden Mile Food Centre is a deliciously messy affair
In this Makan Kakis series on where to spend your CDC vouchers on, Gold 905 DJ Denise Tan gets her first taste of the scarlet-hued mutton marrow bone stew that was invented in Singapore in the 1950s. And at Deen Tiga Rasa, it's triple the flavours stretching back three generations.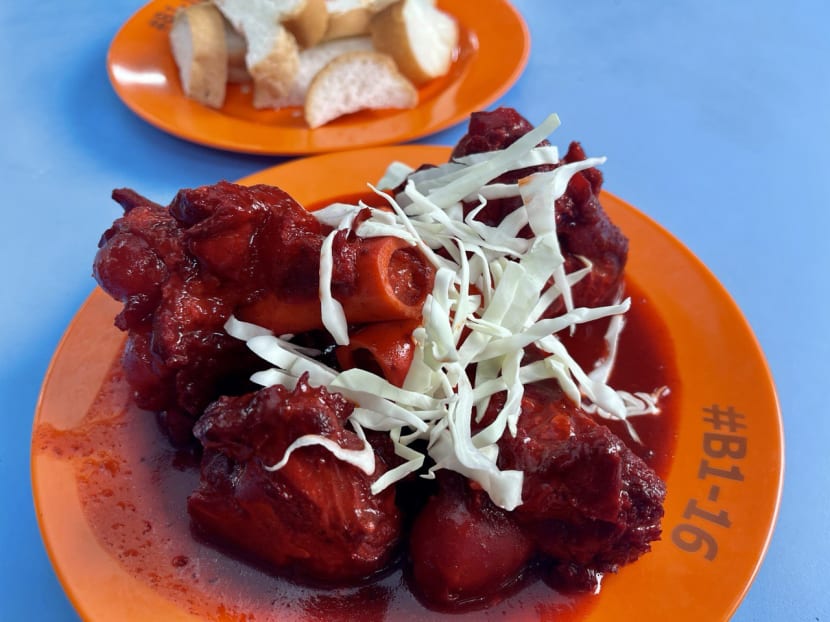 Ever on the hunt for new taste experiences, it shamed me to realise that while I'm a big fan of peppery sup kambing (mutton soup), I've never actually tried its decidedly more flamboyant relative, sup tulang merah.
In Malay, it literally means "red bone soup", in reference to the brightly-coloured mutton shank stew. It's an Indian Muslim dish that can truly be considered 100 per cent local, having been invented right here in Singapore more than 60 years ago.
This is the generally accepted origin story (supported by the National Library Board's Singapore Infopedia e-resource portal): In the 1950s, an Indian Muslim stallholder at Jalan Sultan is believed to have created the dish when a customer asked to be served the soup bones usually discarded after being used to make mutton stock for mee kuah (noodles in sauce).
That one-off request for gravy-drenched mutton bones caught on with other customers and grew into an enduring culinary creation, with other stalls along Jalan Sultan coming up with their own versions to meet demand.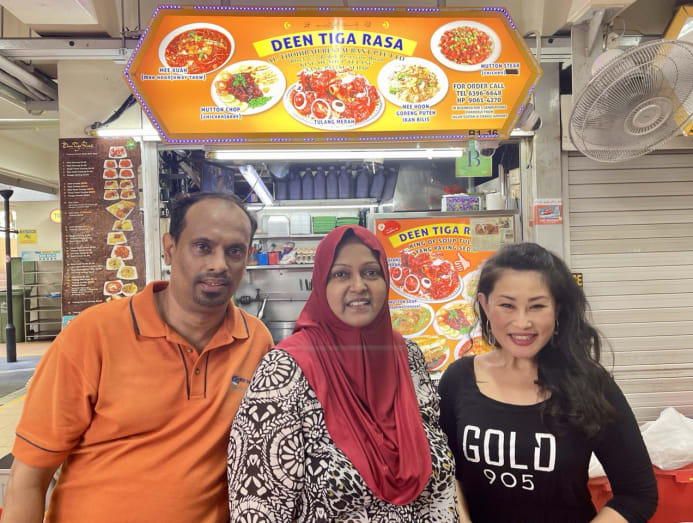 I had heard good things about how the dish was done at Deen Tiga Rasa, so I headed over to Golden Mile Food Centre for my first-ever taste of sup tulang merah. There, stall owner Abdullah Jamal Mohammad and his wife Anisah were ready to give me a crash course in all things tulang as they started prep for the day.
I discovered that the name of their stall has a double meaning. Tiga rasa means "three flavours" (sweet, sour and spicy) in Malay, but it's also a metaphor for the three generations behind the business, something Abdullah is extremely proud of.
His grandfather first started selling sup tulang merah at the birthplace of the dish, in the Jalan Sultan area, before settling at the Changi Airport T1 staff canteen for 20 years. Then in 2009, Abdullah's father relocated the business to Golden Mile Food Centre, but has since retired, leaving the couple to run things.
Abdullah has had lots of experience in the business, having grown up helping his parents at the stall after school. Anisah, who used to be a nurse before joining her husband's trade, told me as a point of pride, "It's all there on our signboard."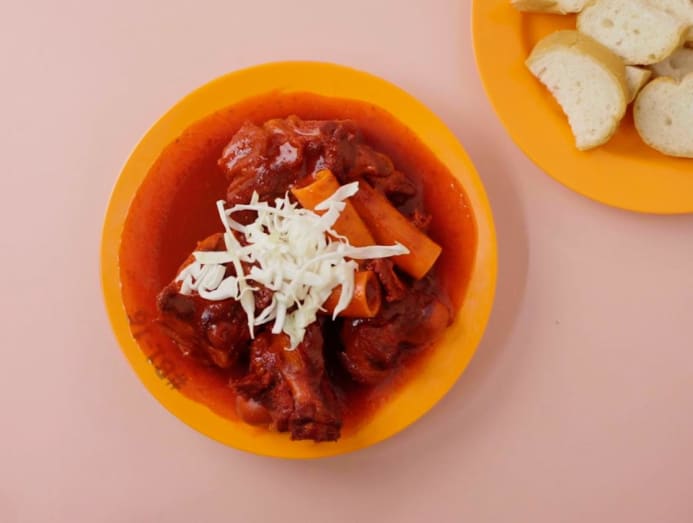 Also on their signboard was the bold statement: "King of Sup Tulang." It's no secret that Golden Mile Food Centre houses several other heavy-hitters renowned for the same delicacy, some even with claims to have invented the dish. So, I had to ask Abdullah what made his so special?
He simply replied: "You cannot get this kind of taste in the whole of Singapore, only at our shop. People come from all over to eat it. From Brunei, Malaysia, I even used to send it to UK customers. You can taste it's the same recipe, no changes. To my knowledge it's over 50 years old because of my grandfather. The history is there."
What Abdullah's grandfather started decades ago and passed to his father, he has continued till today, with hopes that his 22-year-old son Assharuddin (the Deen in the stall's name, according to Anisah) will carry on in future.
"Let him study for the time being first, then after that he can take over. The fourth generation is coming in soon, so this is the new shop that we're going to open," Abdullah revealed, pointing to the stall next door.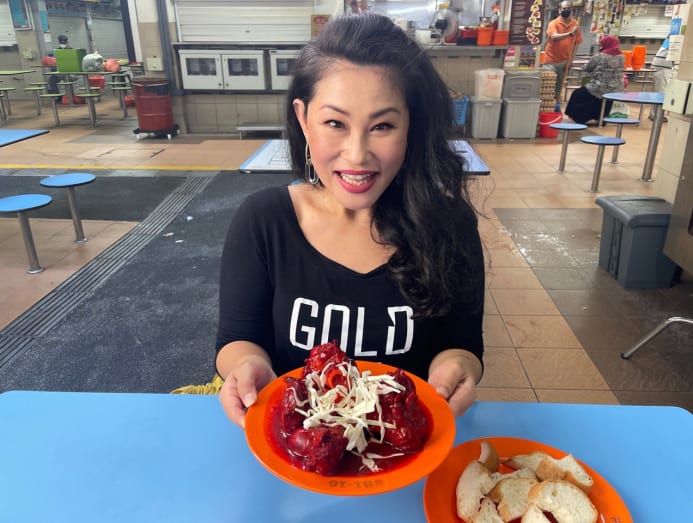 To look ahead one must take stock of the past, or in Abdullah's case, make stock. Deen Tiga Rasa's sup tulang merah began with a broth made by boiling bone-in mutton shanks from Australia in water, along with ginger, garlic, a small amount of secret soup spices, salt and a big bundle of aromatic pandan leaves to really bring out the mutton flavour.
"Last time, mutton bones were very cheap. Now, no need to say lah! We have to cope with the price rise, but cannot increase our price too much," said Abdullah. At S$10 for a regular-sized portion, the price point was on the higher end for hawker food, but understandable for such a hearty, labour-intensive treat.
After two hours of boiling, excess fat floating on the surface of the stock was drained off, then a special sambal was added in. Blended from 20 different ingredients, it was a combination of homemade chilli paste and a dry spice seasoning mix. Both were stored side-by-side in large bins in front of the stall, ready to be dipped into when required.
The earthy chilli paste was prepared the night before and just like the mutton stock, it took almost two hours to bring together all the ingredients including red chillies, chilli flakes, ginger and galangal. "This will last for at least five to six days, at most one week," said Abdullah, gesturing to a bin.
In the second bin was their mouthwatering dry mix that exuded the umami pungency of dried shrimp (hae bee) and dried krill (grago), along with other top secret ground spices and seasonings. Combined with the chilli paste, this formed the fiery heart and hue of the sup tulang merah.
Next in the magical process of turning soup to sauce, a plain flour slurry was added as a thickener, followed by tomato ketchup, sugar, MSG and a little red food colouring. "To make it brighter," he explained, adding that while the sambal and ketchup gave the dish most of its namesake "merah", he had to "just touch up a little bit".
When asked why the food colouring was even necessary, he quipped: "My Malay customers have a saying, 'tak ada merah, tak ada sedap'", meaning if it's not red, it's not tasty.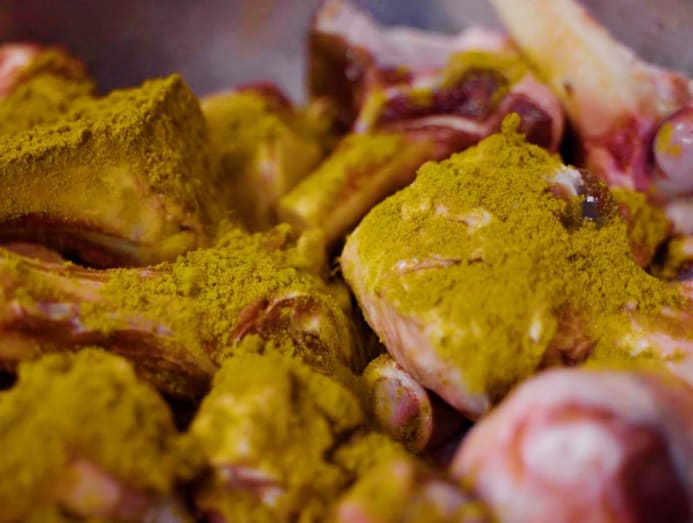 As the soup simmered and reduced, Abdullah mixed and stirred with a huge wooden paddle until it reached a gravy-like consistency. He dished up a portion, garnished with a little chopped cabbage and served it with a side of French loaf slices for mopping up gravy.
"This is the traditional one from Whampoa," he said, referring to the bakery he gets his bread from. "They are also third or fourth generation. They supplied my grandfather. The only shop that makes bread compatible with our sauce."
I took that as my cue to start eating. "Best is with your bare hands", was his recommendation. There is no elegant way of eating saucy sup tulang merah, but there is something thrillingly primal about devouring glistening, bone-in meat sans cutlery. Bracing myself for the mess, I picked up a piece and sank my teeth in.
The mutton was succulent, yet firm enough for a satisfying chew. When I was done with the larger chunks, there were lots of meaty little morsels to nibble on – sinews, tendon and cartilage, all releasing a gentle gaminess that was immediately tempered by the piquant, full-bodied gravy.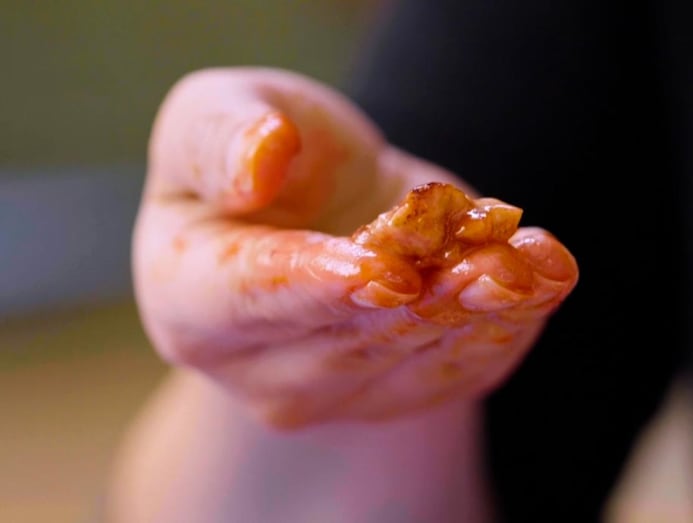 Its sweetness was balanced by the tang of tomato ketchup and hum of heat from the chilli paste. Sweet, sour and spicy, the traditional triumvirate of taste, was prevalent exactly as the stall's name "tiga rasa" had promised. "Must taste these three flavours, then the food is nice!" Anisah told me enthusiastically.
By that point, my face and hands were liberally smeared with the rich, robust and very red sauce. But this carnivore was about to create more carnage with the very essence of tulang merah – the bone marrow. Abdullah said experienced diners had the skill to knock the marrow out in one piece, which was my ultimate goal. I started by grabbing a bone and banging it on the edge of the plate to loosen the marrow within, but that only resulted in covering the table (and myself) in Jackson Pollock-esque splatters.
It took many tries and someone else's pitied advice for smooth, effortless marrow removal. Holding the downturned bone in one hand, I crossed that wrist over the other and tapped firmly. The marrow slid right out in one glorious, tubular piece. I had hit the jackpot of jiggle. The marrow melted on my tongue into a nutty, buttery liquid with a decadent concentration of meaty flavour. The straw on standby came in handy for shameless extraction of every last gelatinous bit from within the bone.
Gold 905 DJ Denise Tan went to Golden Mile Food Centre to try out this Indian Muslim dish that was invented more than 60 years ago in Singapore – at the popular Deen Tiga Rasa stall.
It's said that good things come in threes – especially for the aptly named stall which delivers, triply so, on history, flavour and enjoyment. Noisy slurping, finger licking, sticky red speckles and splotches everywhere – it had been a joyously messy first-time experience for me.
When I was finished, the remnants of my meal looked like a crime scene. A fitting end to my feast since Deen Tiga Rasa makes a killer sup tulang merah!
CDC vouchers are accepted at Deen Tiga Rasa, located at 505 Beach Rd, #B1-16, Golden Mile Food Centre, Singapore 199583. It's open Wednesdays to Mondays 10am to 11pm, closed on Tuesdays. Catch Makan Kakis with Denise Tan every Thursday from 11am on GOLD 905.