Valentine's Day gifts: The best couple watches you can buy for every budget
A timepiece makes a romantic yet sensible gift – why not treat yourself and your other half to a pair that's matching?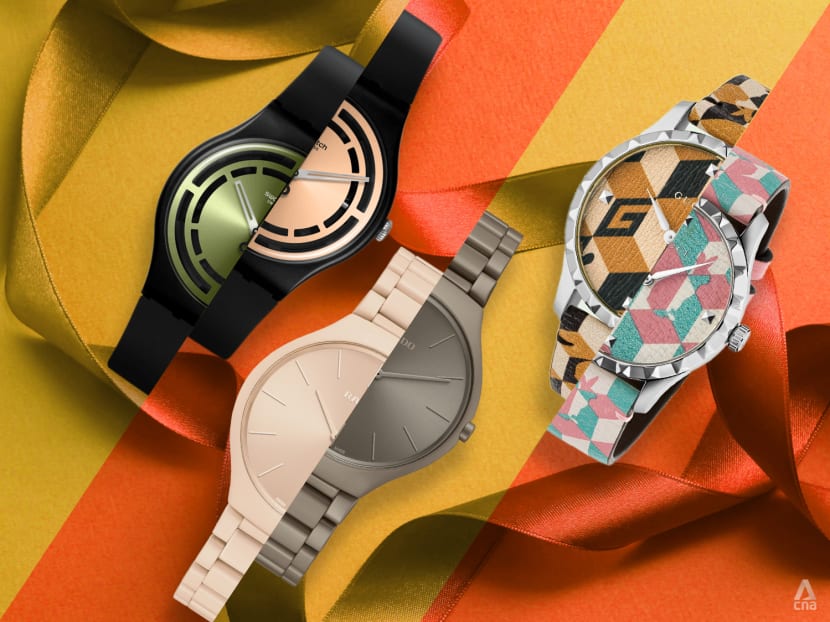 Looking for a meaningful gift this Valentine's Day? Most people will go straight for jewellery, but there's also the option of gifting a timepiece, which is equally symbolic and, on top of that, is practical, lasting and a much more gender-neutral pick (especially since many men don't wear jewellery).
Why not make it extra special by going for a matching pair – one for yourself and another for your significant other? We know what you're thinking, especially if you're the type to curl your lip at the idea of couples who wear matching outfits. But, consider this – matching watches are not at all tacky and definitely much less of a PDA than clothing can be.
Of course, you don't necessarily have to go for a pair that looks completely identical (but in different sizes). There are plenty of interesting and tasteful pairings that can be achieved. For example, go for different variants from the same collection of watches with differing hues, dials or straps. Here are a few ideas that cater to every taste and budget, to help you with gift-shopping.
CLEAR SIGN AND LEAFTY LINE, S$135 EACH, FROM SWATCH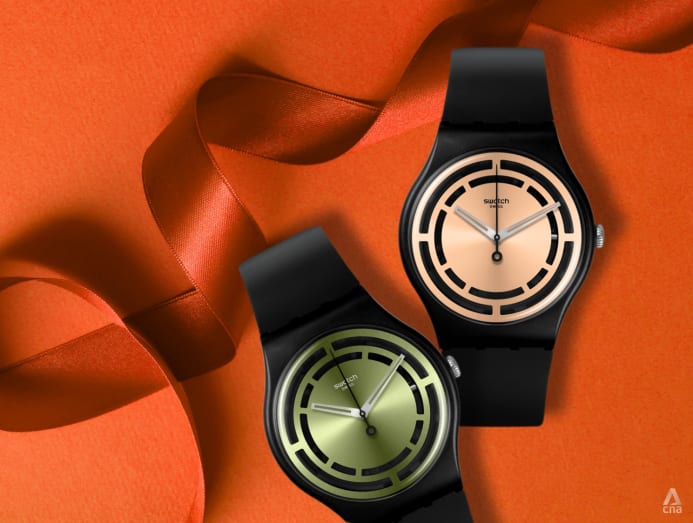 The best thing about getting a pair of couple watches in the same case size is that you can switch with your significant other. This model comes in two different but equally stylish and gender-neutral dial colours that are perfect for gifting him or her.
G PRESENTS LOVER'S COLLECTION LOV-22B-8A, S$359 FOR A SET, FROM CASIO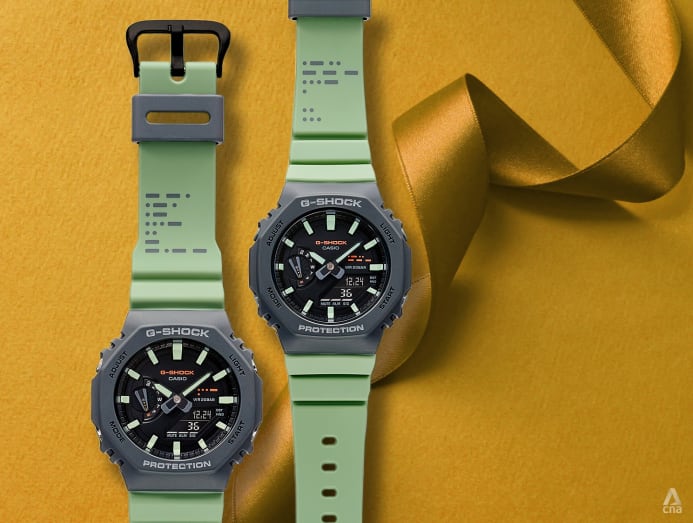 A special edition of the GA-2100 and its smaller mate, GMA-S2100, that is sold as a set of couple watches. These are perfect for those who are looking for a meaningful gift, as there are secret messages of love hidden on the dial and strap of these watches. No worries if you're concerned about these messages being too conspicuous – they are printed in Morse code and can only be read in their entirety when both watches are placed side by side.
URBAN STELLA TIFF BLUE, US$349 (S$470), AND URBAN 34 STELLAR TIFF BLUE, US$259 (S$349), FROM UNDONE
Are both of you fans of that iconic blue reminiscent of a certain luxury jewellery brand? You'll find it splashed across this eye-catching, affordable and yet classy pair of watches that feature a high-gloss enamel dial and vintage-styled case. A bonus: The ladies' version comes with a trendy "double-twirl" grained strap, as well as a regular strap in case one prefers to wear their watch in a simpler fashion.
LA GRANDE CLASSIQUE DE LONGINES, S$1,840, FROM LONGINES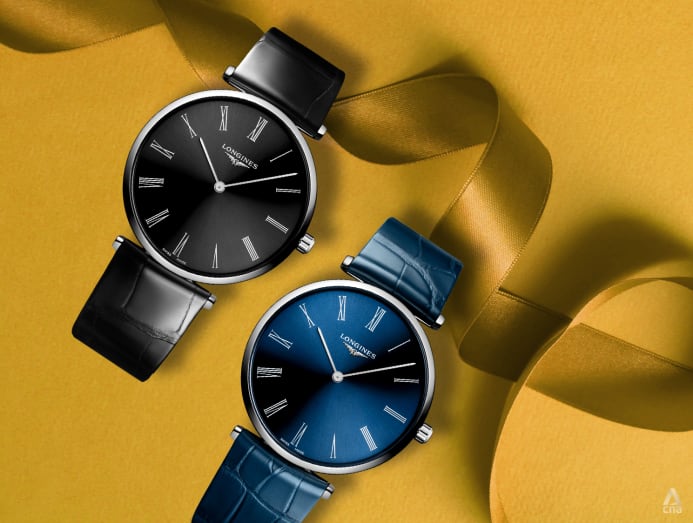 Simplicity, elegance and timelessness are qualities that make this Longines watch model a popular classic. What this essentially means is that you can't go wrong with a choice like this. With a case size of 38mm, this watch will work well for both gents and ladies – go for an identical pair or switch things up by opting for different colour and watch strap combinations.
https://www.longines.com/en-sg/
TIGER EYE GOLD 38MM, S$1,368, AND MALACHITE GOLD 38MM, S$1,609, FROM MYKU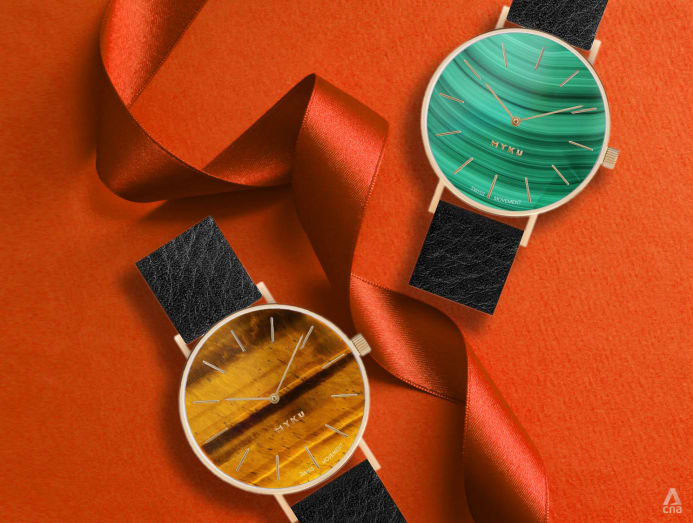 Looking for something out of the ordinary? Myku specialises in making minimalist watches with dials crafted out of gemstone and natural stone, including lapis lazuli, onyx, marble and howlite, apart from the two materials that are seen here.
G-TIMELESS, $1,660 EACH, FROM GUCCI
These are made for the fashion-forward couple with an eclectic sense of style and a taste for accessories that veer to the trendy side of things. Look closer and you'll find a bunny hidden in the geometric print, along with the G symbol, which, of course, stands for the name of the brand. Besides being a token of love, these watches also carry extra significance since 2023 is the Year of the Rabbit.
TRUE THINLINE LES COULEURS LE CORBUSIER (32141), S$3,010, AND TRUE THINLINE LES COULEURS LE CORBUSIER (32123), S$3,010, FROM RADO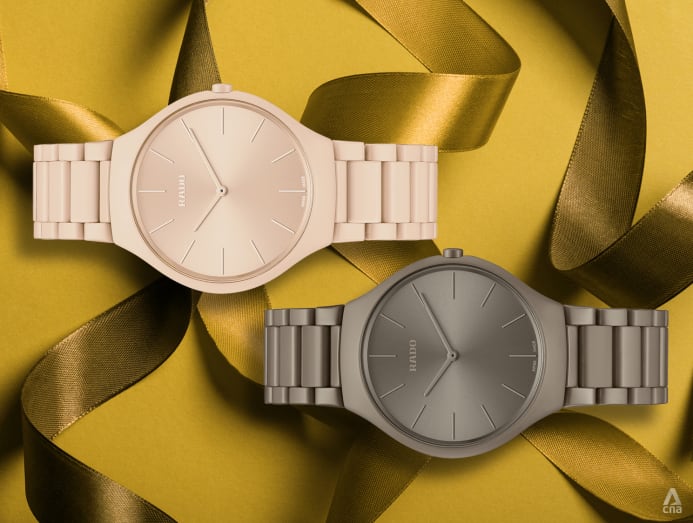 What's special about Rado's True Thinline collection is that the watches are super slim and lightweight, being made from high-tech ceramic and having a case that measures just 5mm thin. Besides that, it also comes in a stunning array of colours.
CARRERA (36MM), S$3,200 AND CARRERA (39MM), S$4,250, FROM TAG HEUER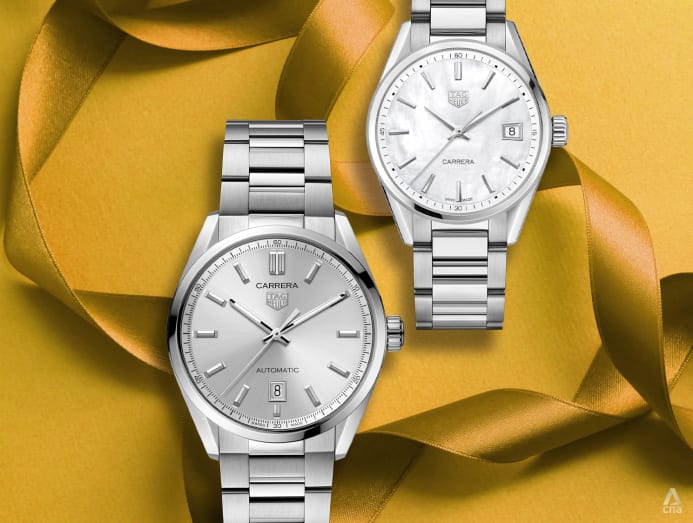 The sporty yet elegant Tag Heuer Carrera is a popular choice for many who are looking to start their foray into luxury watches. Here are two models from the line that allow you to go matchy-matchy in a subtler manner – on top of that, they are also timeless watches that you'll want to wear forever, even as you add other timepieces to your collection.
TANK MUST, S$3,950 (SMALL MODEL), AND S$4,150 (LARGE MODEL), FROM CARTIER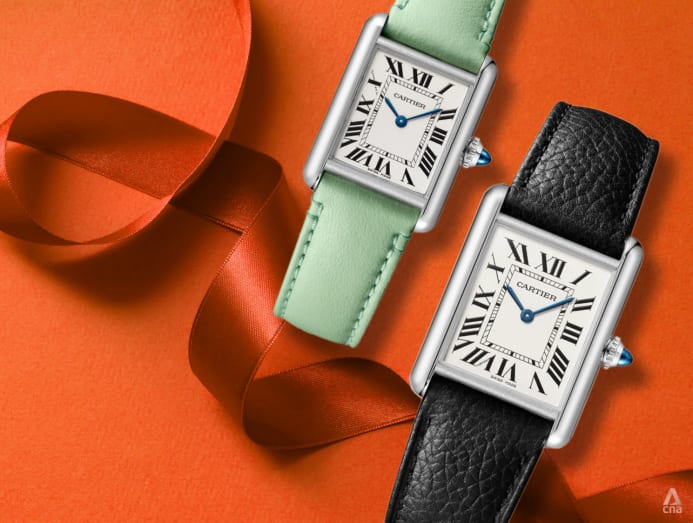 If there's one Cartier watch that everyone – men and women alike – wants in their collection, it's this iconic rectangular timepiece that is as much a classic as it is a modern fashion statement. Versatility is also one of its winning qualities – besides being a watch you can wear with both casual and work wear, it also comes with a convenient interchangeable-strap system.