Kid-friendly activities for the school holidays – based on parenting stress levels
Parents, are you ready to let your kids have some fun? From stay-at-home "camping" to a kids-friendly staycation, from MMA classes to a "kelong" tour, here's a list of options – depending on how much energy and stress you want to deal with. Enjoy!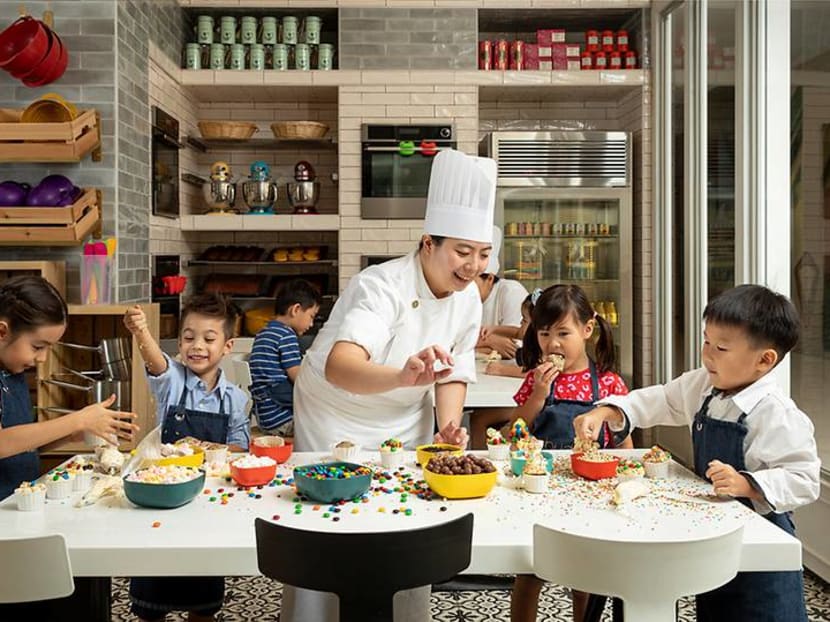 For conscientious and concerned parents, your children's performance in school will definitely be something at the top of your minds. So much so that sometimes, even when the school holidays roll around (which is this coming weekend), you might not have spent much time planning some enjoyable activities for them to unwind.
Don't stress yourself, we've got you covered. Here's a list of enriching experiences that the whole family can enjoy. And we've added a small twist: We've rated them according to how much time and effort parents need to invest in these suggestions, so you'll have the option to fully flex your parenting skill muscles or go for something more low maintenance.
STAY AT BASE CAMP
If you don't want the hassle of heading out of the house but still want to create a memorable experience for your kids, Petite Soiree provides a creative campsite party concept that's set up right in your home.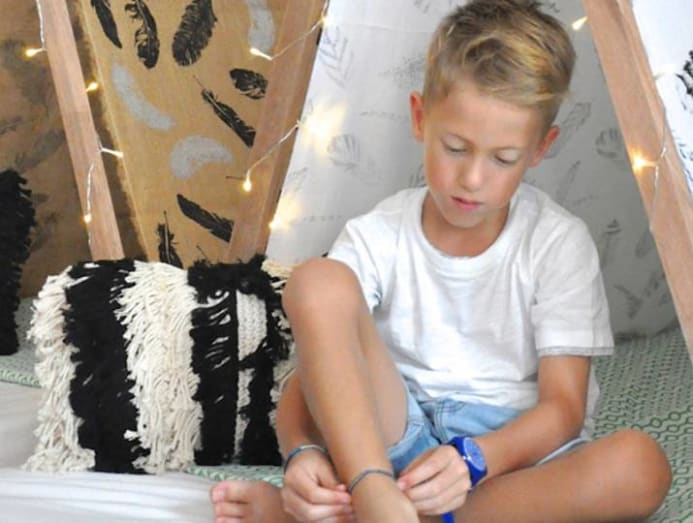 Suitable for children from six to 14 years of age, your kids and their friends can enjoy a unique overnight indoor glamping experience without you having to worry about fiddling with tents or figuring out a wet weather programme. There are various different themes to choose from to set the vibe, and customised invitations and gifts are also available to make it a very special evening for everyone.
Parenting Intensity Level: 1/5
Essentially a sleepover with the works. Though you might need to add 0.5 points for each fussy kid on the invite list.
NO PLANNING NEEDED
Perhaps you're looking for an impromptu day out with the family that won't break your back. What you're looking for is a relaxed, kid-friendly venue that serves up some mid-day refreshments for parents while having enough activities for the little ones to enjoy.
A quaint spot for this is Baker & Cook at Core Collective Dempsey, just off the main hustle and bustle of Orchard Road. Whether you opt for air-conditioned comfort indoors or prefer more of an al fresco vibe to go with your afternoon coffee, tea or sparkling rose, you'll be able to easily keep an eye on your kids as they explore the cosy playground nearby.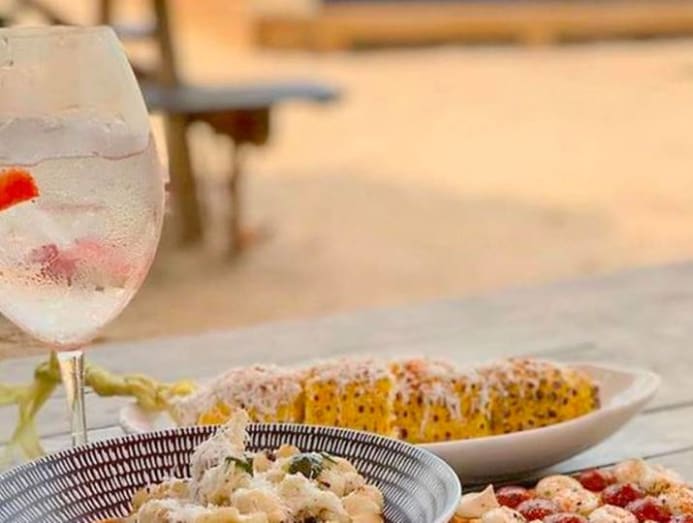 If a tropical island getaway is more up your alley, you'll want to head to FOC Sentosa instead. The kids can enjoy some time out in the sun and sand, while you can nibble on delectable tapas and indulge in a frosty Pina Colada before joining them to cool off in the venue's own dipping pool.
Parenting Intensity Level: 1.5/5
While you still have to look out for your kids, as long as you've properly packed your family go bag, you should be golden.
TOOLING AROUND
The Common Bench was set up in 2016 by a designer-artist husband-and-wife duo who love creating things with their hands and who also want to give children (and young adults) a chance to pick up some DIY skills.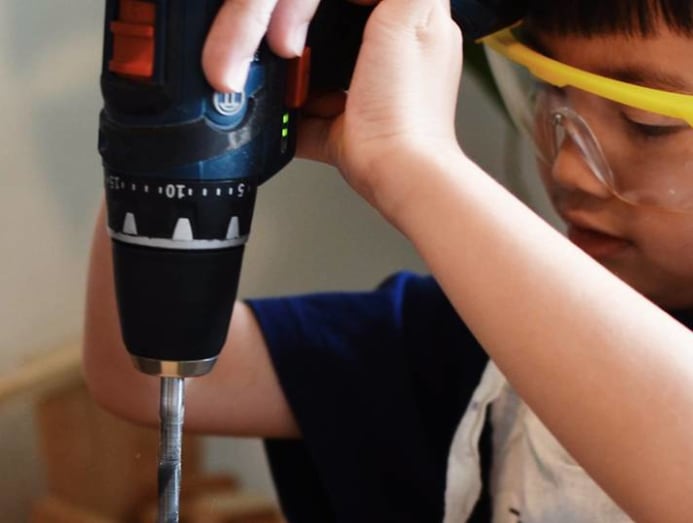 Their two-day holiday camp (three hours each day) gives kids the chance to experience using woodworking tools to make their own wooden table lamp and wooden LEGO travel box, which they can take home. Designed for six- to 12-year-olds, these sessions are a great way for kids to improve their kinaesthetic abilities.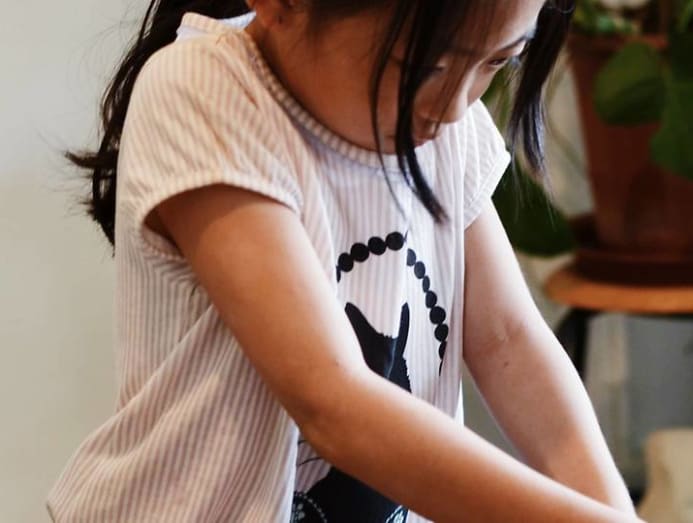 What's convenient is that parental supervision isn't required as their team of professionals will help guide your little ones through the camp in their first steps of personal craftsmanship. That said, if you're also interested to get hands-on together, stay tuned for when their Family Wood Construction workshops reopen for booking again.
Parenting Intensity Level: 1.5/5
Besides the initial concern about your kids handling tools, the only other consideration is where to head for a relatively relaxed brunch or tea while you wait for them.
QUEEN'S GAMBIT OR COBRA KAI
Want to find out if your child might just have what it takes to be a grandmaster? The Chess Academy Singapore has a three-day workshop (three hours each day) for the March holidays, where kids get introduced to chess – including learning endgame strategies and even taking part in mini competitions.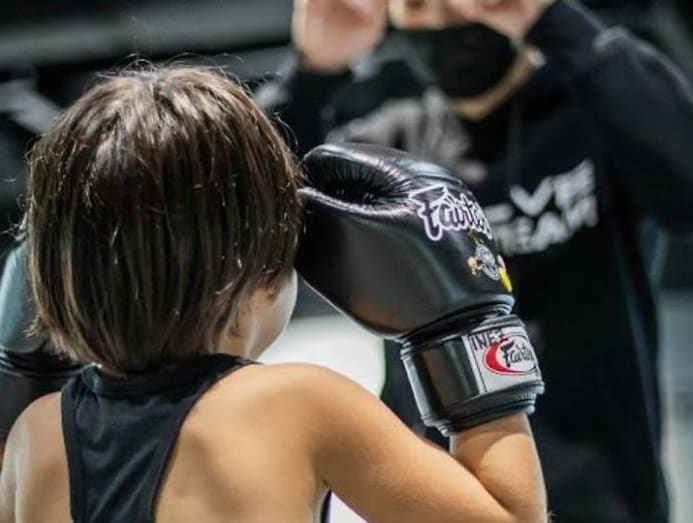 Think your child might be more inclined towards something a smidge more physical? With Evolve MMA's customised kids martial arts curriculum, your little warriors will not only learn self-defence against bullies but also hone their discipline, confidence and focus for overall wellness in their work and play. Complimentary introductory classes are available so your kid can get a feel of the training before deciding if they want to dive in.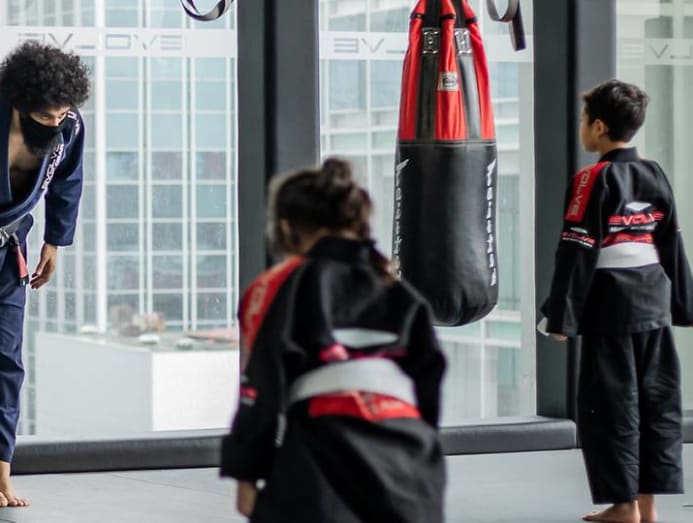 Parenting Intensity Level: 1/5 or 2/5
While learning chess won't pose any apparent issues to worry yourself with, you ought to be sure your kid's comfy for a little rough play before they get into the basics of MMA.
INLINE OR ON-ICE
Have your children ever shown an interest to learn how to skate, but you as a parent aren't entirely sure if it's just a passing fad that will last a single (possibly teary) afternoon?
Here are some ways to avoid having to list some barely-used skate equipment on Carousell in the near future.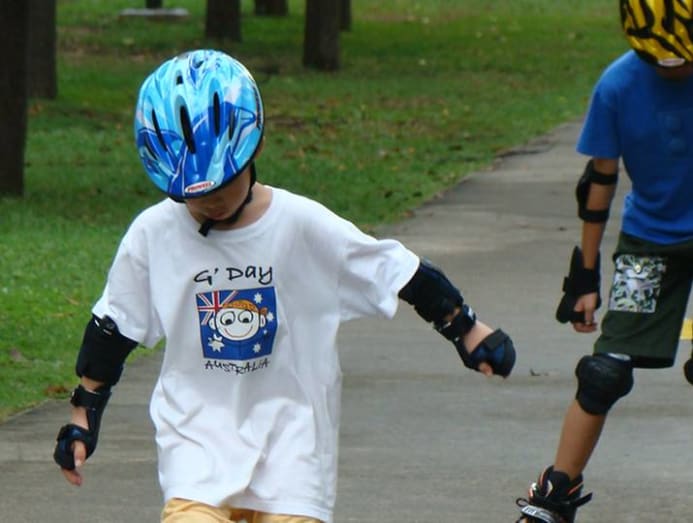 Skate With Us is a dedicated skate school for kids aged three to 12 years old that runs full- and half-day skate classes designed for non-skaters and those looking to improve their skating skills. Classes are conveniently located in various spots around Singapore from Jurong West to East Coast Park, Woodlands to Tiong Bahru, which makes it very convenient to find one near you.
If blades on ice sound more interesting, The Rink has a Learn-To-Skate Holiday Ice Camp. While it may be a touch intensive, it will let your little ones master the basics of ice skating in less than a week.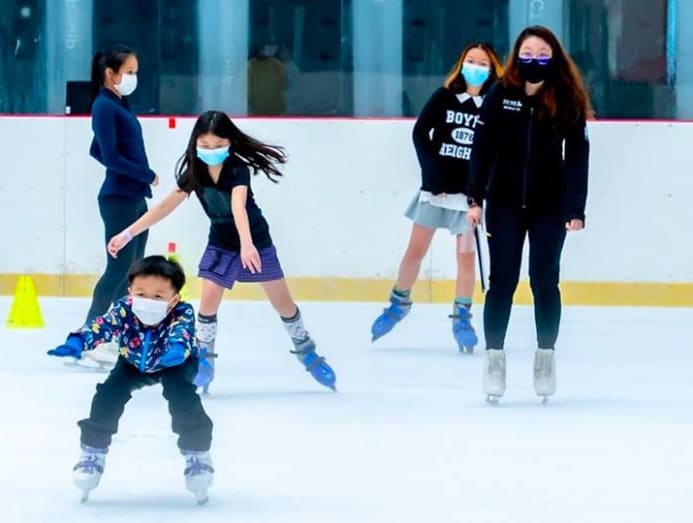 The best part about both of these courses is that all skate and protective gear necessary are provided in the package so no new equipment investments are required before your child really gets the hang of things.
Parenting Intensity Level: 2/5
Not too much to worry about as long as you're clear that your little ones will inevitably fall often if it's their first time on skates, and those scrapes and bruises will only make them stronger.
THE ULTIMATE FAMILY STAYCATION
When it comes to family staycations, nothing's quite as experiential for the kids as spending a few days at the Shangri-La Hotel Singapore. While parents can get a refreshing change of scenery from home, your little ones can look forward to Buds by Shangri-La, a dedicated play space for children spanning over 1,872 sq m, as well as their outdoor water playground, Splash Zone.
While the themed spaces and activities will keep little guests busy for hours, those who sign up for a Buds membership can enjoy curated experiences like the "Plant to Plate" activity where children not only get to try their hand at nurturing their own little herb at the hotel gardens but also learn how to prepare tasty creations from Mac and Cheese to Kueh Pie Tee with harvested herbs. Also, it's worth checking out their Picnic Family Placation package that comes with a complimentary picnic experience for the whole family.
Parenting Intensity Level: 2.5/5
Sure, the hotel staff will be around to help manage the kiddos, but you'll still definitely want to keep an eye out for them just in case any of them go a bit too parkour than they're ready for.
TANKS FOR THE MEMORIES
For an immersive "dive" under the ocean waters, it's hard to beat spending time at SEA Aquarium at Resorts World Sentosa, the world's largest aquarium filled with more than 800 species of marine life. Immersive zones including the Discovery Pool will also let the young and young at heart get an up close and personal feel of a wide array of aquatic animals.
From Mar 13, as part of the Frolic in the Tropics programme, SEA Aquarium will feature The Sea of Tiki, where your family will get the chance to witness the long-awaited return of the dive feed, involving aquarists (donning Tiki warrior outfits, no less) feeding over 40,000 marine inhabitants, including three majestic manta rays, at the Open Ocean Habitat. The aquarium's much-loved manta ray mascots – Mika, Mako and Manja – have also returned for a meet-and-greet with visitors. Those three are always crowd pleasers.
Parenting Intensity Level: 3/5
A big aquarium means a big space to navigate your family through. So as long as you keep the unit close, this should be a cinch.
STILTS AT SEA
If you're looking for a quick step away from the urban jungle, take your family on an eye-opening guided boat tour to explore the North Eastern bank of the island for a different view of our city state. 
Suitable for families with kids aged four and above, Let's Go Kelong tour gives attendees a lesser-seen view of Singapore from the sea and includes a closer look at mangrove forests, modern fish farms as well as a tour of a rustic kelong with the opportunity to do a little fishing (apparently it's a guaranteed catch). While a bit more attention to your little ones is required while out on the waves (and along the outshone kelong platforms), it definitely provides an insightful and educational look at the Singapore of yesteryear for everyone on the trip.
Parenting Intensity Level: 3.5/5
There's a possibility your little one (or even you) might not get their sea legs quick enough so just make sure they don't wander too far off the edge.
LET'S GO TO THE MALL
Kiztopia is a hugely popular kids venue filled with 18 different play areas from AR basketball to a Ninja Warrior course to roleplay rooms and even a mini indoor driving school, just to name a few.
Adult supervision is required for children below the age of 12, but you can always take a quick break at Kith Kiztopia for a spot of all-day brunch (and maybe one responsible glass of vino).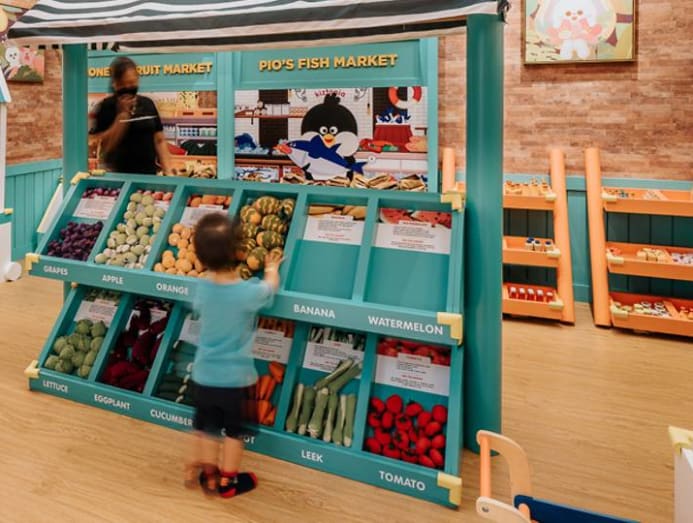 If you're looking to make it an even more enriching affair, check out their two-day March holiday Leaders of Sustainable Environment (10am to 4pm), where your kids will learn about real-world environmental issues and how to apply critical and design thinking skills through an immersive programme filled with treasure hunts, interactive storytelling and hands-on projects.
Parenting Intensity Level: 4/5
You're going to be on your feet for the most part here. But hey, the kids are having fun, there's air conditioning and you'll have other parents to share knowing nods and shrugging shoulders with.
BETTER THAN A BOUNCY CASTLE
If you're a fan of the classic American gameshow Wipeout, make a booking with your family at Hydrodash, Singapore's first floating aqua park at Palawan Beach, Sentosa.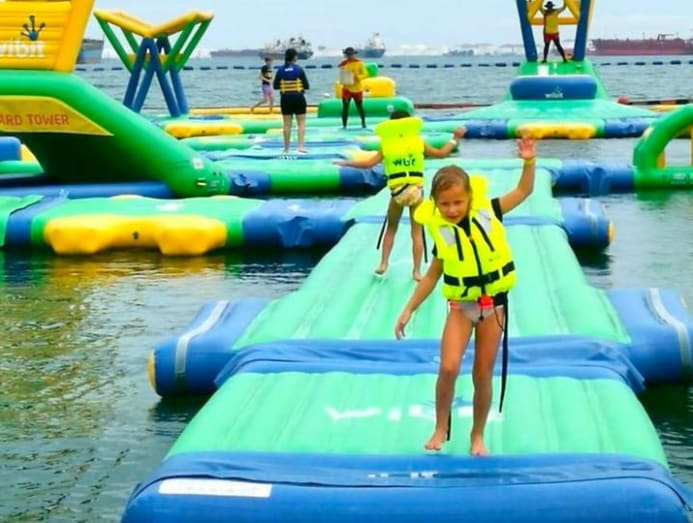 Kids as young as five years of age (and taller than 1m) can spend a wet and wild time out in the sun while racing through a series of buoyant obstacles and precariously bouncy platforms.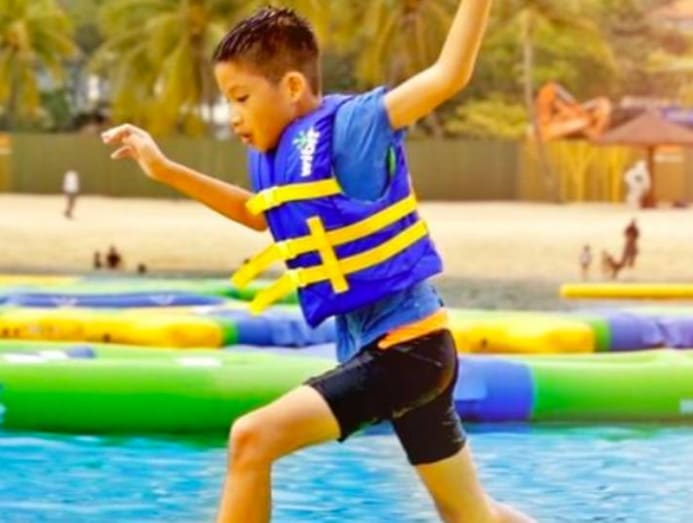 While this experience will require quite a bit of physical exertion on your part, it'll no doubt be a great opportunity for the little ones to gain confidence in the water. Also, we're pretty sure that bronzed tan will look good on your next Zoom call. Just remember to lather on that sunscreen.
Parenting Intensity Level: 4/5
For parents who may not possess as much core strength as they would prefer, add another 0.5 points. Otherwise, it's a pretty awesome way to spend a day out with the kids and get a bit of a workout too.