Loaded, lemak laksa at a bak chor mee stall in Tiong Bahru – with a MasterChef Singapore connection
In this Makan Kakis series on where to spend your CDC vouchers, Gold 905 DJ Denise Tan tries the surprisingly luxuriant laksa at a traditional Teochew bak chor mee stall in Jalan Membina.
Fresh off his triumph in July, MasterChef Singapore Season 3 winner Johnathan Chew, whose grandmother once sold kway chap and braised meats, suggested that I visit a relative's stall for laksa that was "a cut above the rest".
Intrigued by the aspiring chef's deep familial ties to hawker food, I headed for a kopitiam in the Tiong Bahru area to suss things out.
Lau Jiang Fishball Minced Meat Laksa Noodle, Laksa is run by Chew's aunt, Alexandrea Eng, whose her father started their original stall in 1971 at an HDB block along Alexandra Road.
After the building went en bloc 20 years ago, they moved to their current location in Jalan Membina. The stall first established itself selling traditional Teochew-style bak chor mee, but they decided to diversify after the move by adding laksa to their menu.
"I think customers prefer more choices," said Eng, whose typical day begins at an eye-watering hour. "The stall opens at 5am. We start preparing around 2.30am. I have to make soup, fry mushrooms, wrap the dumplings. Actually, there are a lot of things to do," she elaborated.
Indeed, a lot of prep work goes into her noodle dishes and I discovered that her star dish not only had support from a family full of excellent cooks, but also the input.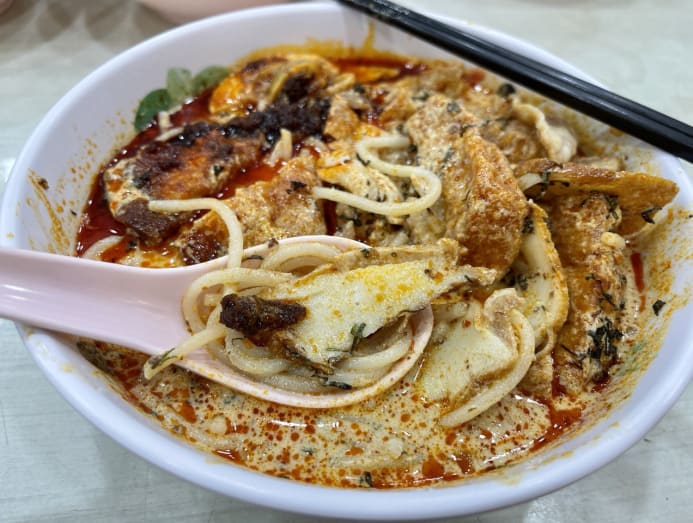 The original laksa recipe came from another relative, her cousin-in-law Ironman Chef Heman Tan, group executive chef of the Xi Yan Group and Western Cuisine Chef of the Year at the World Gourmet Awards 2022.
"At the very beginning, Heman gave the basic laksa recipe to us, then my mum tweaked it," explained Eng, whose pride in her mother, Madam Low Mui Eng, was evident.
"I can say, really, my mum is a very good cook. She's the secret chef in my family." As such, Madam Low has been instrumental in the success of Lau Jiang and has always been part of the process.
But a secret chef must also keep her recipe secret, that's why Ms Eng would reveal precious little about what her mother has done to improve their laksa. She said: "Actually, the laksa paste is very important. Most get it from a factory, ours is made from scratch, but the ingredients are secret."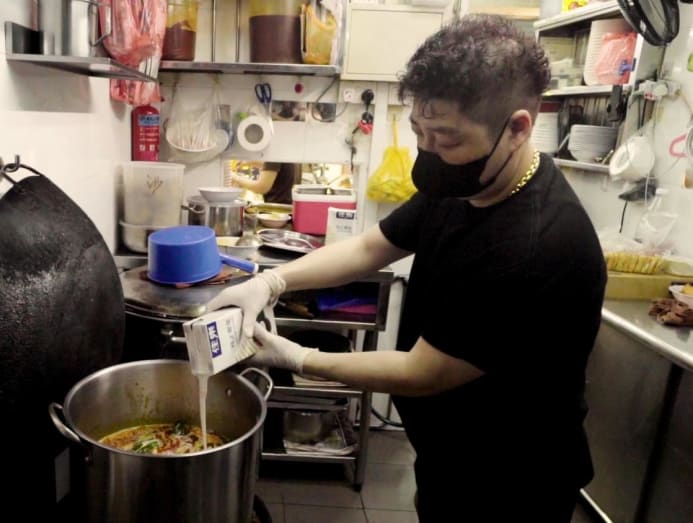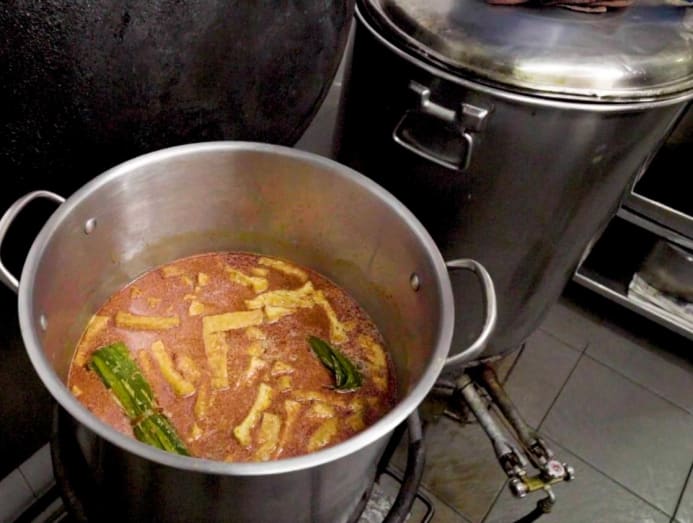 What I managed to find out was that Eng prepares a big batch of laksa paste once a week, blending red chillies, dried shrimp (hae bee), lemongrass, shallots, old ginger, turmeric and other undisclosed herbs and spices. To make the gravy, water, pandan leaf and coconut milk were added and put to boil each morning.
Meanwhile, Chew had highlighted the laksa for its luscious gravy, which he described as having the perfect balance of coconut milk – not too thick, yet not too dilute. I had to agree. The Chinese-style laksa lemak was rich and robust, with a delightful chilli kick from the bright orange globules of oil dispersed throughout the creamy, yellow broth. It was lightly flavoured with shrimp, but heavy on the ingredients.
A large S$6.50 bowl was chock-full of thick vermicelli, bean sprouts, pork and fish dumplings, shredded chicken, hard-boiled egg, fried fishcake slices, cockles and taupok (fried tofu puffs), all smothered in the spicy coconut gravy. To garnish, I helped myself to a sprinkling of finely chopped fresh laksa leaf and a large dollop of their homemade sambal chilli.
"That sambal on top is different. That one is a secret recipe from my mum. I have three types of chillis here – one for laksa paste, one for putting on top of the laksa when we serve and another one is for our bak chor mee," explained Eng.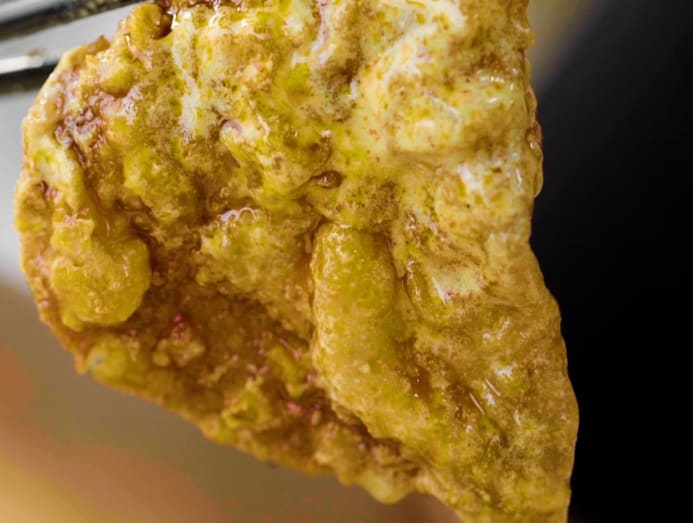 Besides their made-from-scratch laksa paste and secret sambal topping, the crispy dumplings also stood out. They were a unique addition I'd never encountered before in other laksas, but worked well in the dish, retaining their crunch even after a ten-minute soak in the laksa gravy.
"That one we created ourselves! It's not mass-produced from a factory. We freshly make every day without fail," Eng said. Essentially a dumpling wrapper filled with a seasoned pork and fish paste mixture, her experiment turned out to be a success and the deep fried, stuffed triangles have become permanent additions to both the laksa and bak chor mee.
The bouncy fishcake was good too, boasting a frilly, golden-brown edge because according to Eng, "I get high quality, handmade fishcake from my supplier. Every morning, I fry it again." Twice-frying accounted for its crinkly-crisp, chewy texture.
Like it or leave it, fresh cockles were also a must for this see hum lover – Ms Eng was generous with her portion – I counted at least a dozen topping my bowl. After a quick dunk in the hot broth to semi-cook them, the fat little bivalves burst with briny juices that mingled deliciously with the coconutty laksa gravy. Much of said gravy was also absorbed and dispensed in a delightfully explosive way by the taupok.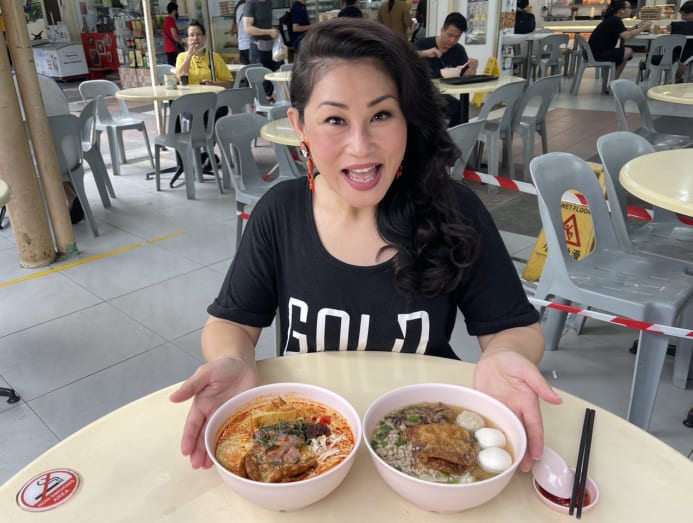 Then there was the chicken and egg situation. I couldn't decide which to eat first, so I piled them all in one poultry-packed spoonful of contrasting textures. The hard-boiled yolk disintegrated into the gravy, enriching it and amplifying the creamy mouth-feel. Despite the current local shortage, generous shreds of chicken bulked up the dish. Meat from the drumstick is currently used, because the chicken cutlets Eng usually uses are in short supply. But no complaints there – the closer to the bone, the tastier and moister the meat!
Ingredients from land and sea well represented in one hearty bowl, my laksa experience was rounded off with fresh crunch from the beansprouts, along with laksa leaf for eponymous flavour and fragrance. The finishing touch was Madam Low's deeply savoury sambal chilli, which really enhanced the already spicy laksa gravy with a hit of heat and a hint of sweetness.
Purists would prefer chu mi fen (thick rice vermicelli) in their laksa, but there was a wide variety of noodles to choose from. Personally, I thought it would be really yummy with mee kia (thin egg noodles), or even mee tai mak.
The latter is always Chew's choice when he's in the mood for something lighter. He recommended Lau Jiang's minced meat mee tai mak soup because the succulent little "rat tails" were slippery smooth, with a light chew and springiness.
A large bowl of the classic noodle soup (S$5.50) came with minced pork, fishballs, a meat ball, sliced shiitake mushroom, fishcake and spring onion. The soup looked clear and clean, yet was very flavourful from pork bones, fishball water and the tee poh (dried flat fish) used in the minced pork marinade. Simple, wholesome and satisfying, it spoke of spoke of childhood comfort in a bowl. I also found the fish balls to be smooth and bouncy. Biting into one yielded a very pleasing snap. Not a soup or mee tai mak fan? The classic dry version with mee pok was decent too. 
Makan Kakis' Gold 905 DJ Denise Tan got a tip from Season 3 winner Johnathan Chew about a laksa she should try out – it's his aunt's and he swears by it.
It's been said too many cooks spoil the broth but, in this case, a proudly Teochew family who have excelled in both high-end culinary arts and local heritage food have contributed to a winning laksa worth spending your CDC Vouchers on. Better yet, get the best of both worlds – the loaded, lemak laksa for an indulgent treat, chased by a palate cleanser of traditional Teochew mee tai mak soup. After all, bak chor mee is how Lau Jiang first made their name more than fifty years ago.
CDC vouchers are accepted at Lau Jiang Fishball Minced Meat Noodle, Laksa, located at Happy Hawkers, 18 Jalan Membina, Singapore 164018. It's open Mondays to Saturdays, 5am to 1pm, closed on Sundays and public holidays (for breakfast and lunch only – a different hawker takes over in the afternoons and evenings). Catch Makan Kakis with Denise Tan every Thursday from 11am on GOLD 905.