Celebrities and their pets: The stories behind 4 famous paw parents and their fur babies
From Jayley Woo's secret pet and He Ying Ying's rehomed cats to Denise Keller's almost zoo at home and Carrie Wong's princess, Singapore's most pawsome celebs share why their darling pets mean the world to them.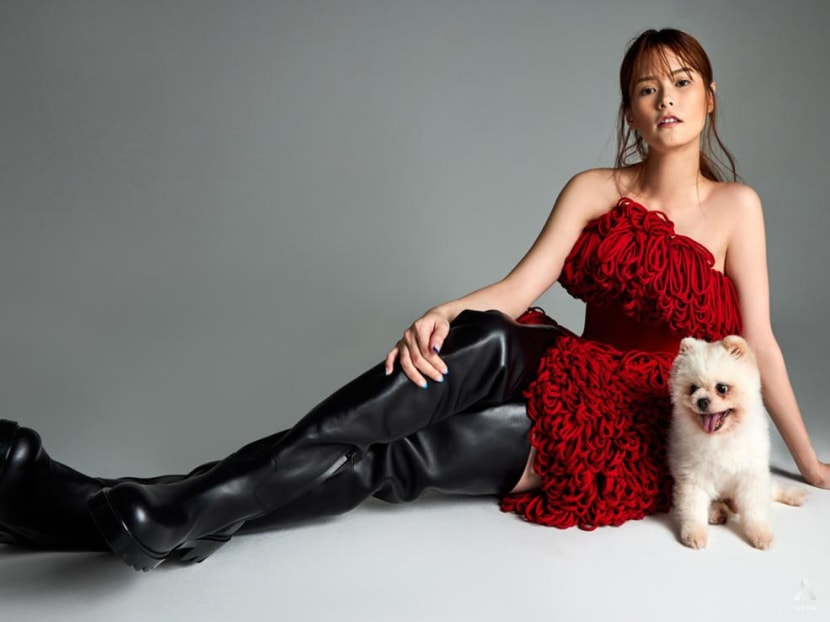 Celebrities, they're just like us. They dote on their furbabies, post about their cute antics on social media and when the going gets tough, they turn to their animal companions for comfort and love.
CNA Lifestyle sat down with four famous pawrents, who spilled the beans on how their pets complete their lives.
JAYLEY WOO: A "SECRET" PET THAT BECAME THE FAMILY DARLING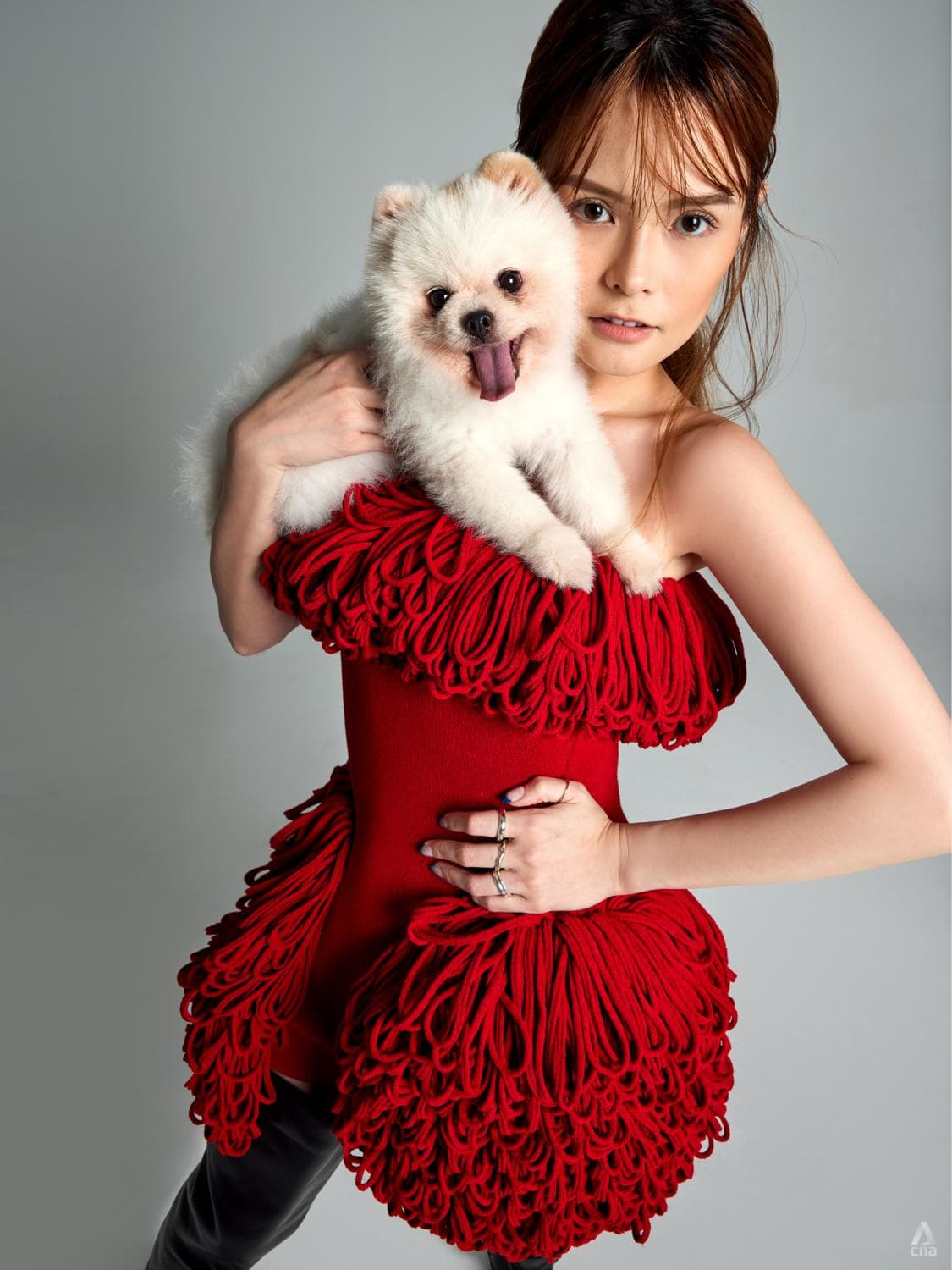 Almost a decade ago, Jayley Woo and her twin Hayley got their first pet, Bui Bui the pomeranian, on the down low. The sisters wanted a pet dog but their mother was afraid of them after she was bitten by one previously. So, the cheeky twins waited until their parents were travelling before they went to choose a pet for the family.
"We chose him because he had a twin sister and since we are twins, we thought that was cool," said the actress on how the tiny puppy came into their lives.
Bui Bui was so tiny he could even fit into an old hamster cage they had, she recalled. "When my parents came home, my mother actually thought he was a huge rat," she said with a laugh. "But Bui Bui grew on her – I mean just look at that cute face – and he became the baby of the family."
We chose him because he had a twin sister and since we are twins, we thought that was cool.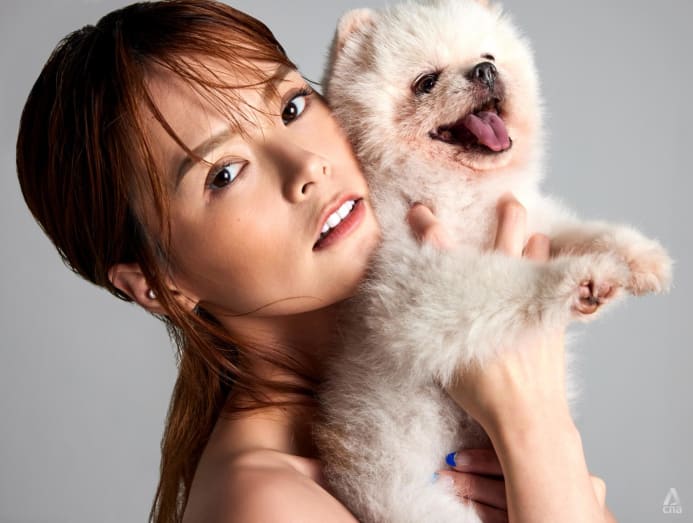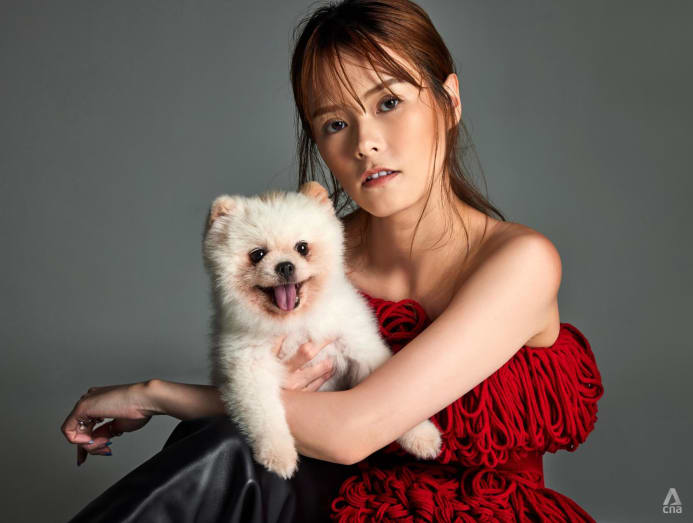 Since then, it has become a family effort to care for Bui Bui's every whim and fancy, with her father in charge of bringing him for walks and her mother cooking food for the pampered pooch, who does not eat dog kibble.
Bui Bui is also somewhat of a fashionista. "He loves wearing clothes and even has a favourite outfit from his 'wardrobe' – a Spider-Man outfit. But he does not like socks and will remove them if we put them on his feet," said Woo, who has appeared in dramas including The Queen, Dream Coder and Jalan Jalan.
The smart dog also has a sassy side to him. He knows how to do tricks such as sit, stay or roll but will only perform them selectively, when he likes the food he is being offered. "If the food is not nice or he thinks we are trying to trick him, he will not do his tricks. So we have to make sure the treats are in front of him where he can see it," said Woo.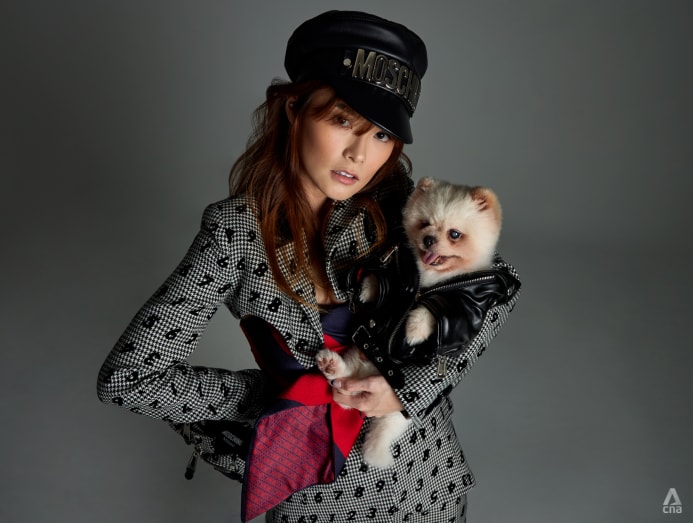 In fact, Bui Bui will do just about anything for the right kind of food, such as durian, which happens to be his ultimate favourite chow. "Anytime anyone in our household puts some food in front of him, he will follow the person wherever the food goes," said Woo.
She added: "I went for an animal communication class once to 'talk' to him and he is actually a very happy dog with not many goals in life except to eat and be happy."
And one of the things he loves is when his owners return home after a long day of work. "He seems to know when we have reached home and will always bark to notify my parents even before we have exited the lift. And when we enter the house, he licks our legs to welcome us home, follows me to my room and gives me puppy eyes," she observed.
This is probably why the last couple of years have been particularly wonderful for the dog, since the entire family has spent most of the pandemic at home together. "He loves it that we are back home all the time now and will just chill with us. He really helped us a lot during the pandemic because his presence helped unify the family even more," she said.
It has also been an invaluable opportunity for her to spend time with the senior dog before the inevitable happens. "He is old, so I treasure every moment with him even more," she said. "He can sense our energy levels and sometimes when we are feeling down or sad, he will sit outside our room to be close to us. For that itself, I am grateful for him coming into our lives."
DENISE KELLER: THE TRUTH ABOUT CATS AND DOGS
If you think dogs and cats are destined to always be at loggerheads, just take a look at Denise Keller's two furkids, Ziggy the dachshund, five, and Neko the bengal cat, nine. The rambunctious duo, said the multi-hyphenate travel host, yoga instructor and entrepreneur, are great buddies.
"They have the same tenacity when they play with each other and chase each other up and down," said Keller, who is also the producer and director of content production house Keller Media which she launched with her husband Robert Gaxiola.
Interestingly, the couple had always thought of themselves as cat people – when they got hitched in 2015, Keller had two Persian cats and Gaxiola had Neko. But Keller, who had always wanted a dachshund, introduced Ziggy to the mix after they were married.
The adorable dachshund turned out to be the ideal companion for Neko as her two Persians were older and less inclined to frolic with the younger cat.
She said, "Ziggy is a very sweet natured dog and is very sensitive and I think that is why he gets along with cats. Also, he was a puppy when he arrived so he learnt to adapt to them."
And over the past two years of pandemic living, their shenanigans have brought much needed lightheartedness to their lives, said the effervescent former MTV VJ.
"They have a strange brotherly love. Neko is always the champion because he gets to climb and Ziggy does this kind of soft sigh when he loses. He sits there deflated and we get lots of giggles out of their antics," she said with a laugh.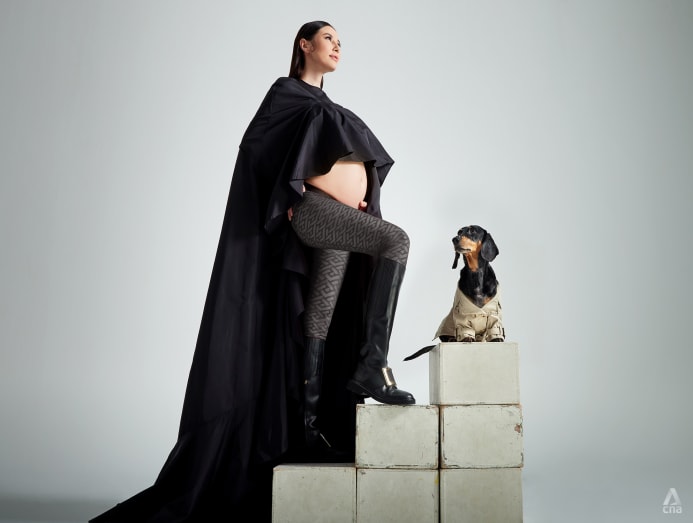 The two fur kids have also been a soothing balm for Keller, whose Persian Anouk died this year at the ripe old age of 17. (Her other cat died from breast cancer three years ago.)
"She had been with me since my MTV days and when I moved back to Singapore to Hong Kong and my belongings had not arrived yet, I had nothing in my apartment except a cat," Keller reminisced. "I loved that cat, she got treated better than my Gucci bag! And she lived a really long life."
To care for Anouk in her twilight days, Keller converted their home into a "geriatric cat spa" by laying yoga mats all over the floors so the cat could have a better grip when walking, focusing on details like elevating her food bowl at an angle for better access.
"She had given me such a wonderful 17 years of company and I wanted to make sure she had the best life. In a way, the blessing of COVID-19 is that we got to spend more time at home," said Keller.
After Anouk died, Keller observed that the other two furkids not only perceived the loss of their "sibling" but also became extra sensitive towards her. "Neko got very sweet and would sleep on my bed or just wait around for me and Ziggy was very sensitive. It almost felt like they were sad," she said.
As the family sought solace in each other, Keller also slowly began picking up the pace and started taking Ziggy out to parks to spend more time together while embarking on new adventures.
He rests his head on my bump and kind of listens to it. I think he knows there is a baby 'puppy' in there.
At the same time, she also discovered she would be having another baby – a human one this time – on the way. "I found out I was pregnant and the walks with Ziggy are also for me to get fresh air," said Keller, who is currently in the second trimester of her pregnancy.
Keller believes her ever-perceptive furkids are aware that there is a new baby on the way. "I was resting a lot in my first trimester as I was sick and nauseous and could not get out of bed. And Neko, who previously never came into my room, came in one day, jumped onto the bed and sat there by my feet. He did that almost every day, like he knew I needed him there," she said.
It took Ziggy a little longer to figure it out – only after her bump started showing. With a laugh, she added: "But now he rests his head on my bump and kind of listens to it. I think he knows there is a baby 'puppy' in there."
So, has her experience with so many furkids prepped her for the incoming bundle of joy?
"I will always be a mother to all my pets and I've always had a maternal instinct towards animals. I grew up with them and had dogs, cats, chickens, birds and fish all my life," she said.
"But I am going to be really candid and honest - I have no idea what's ahead of me, I'm anxious and nervous as a first-time mum. But I think another part of becoming a mother is to surrender and let go, which is why my yoga practice is so valuable now. I can not be in control and let go and allow things to happen the way they are supposed to."
HE YING YING: ADOPT, NOT SHOP FOR YOUR PETS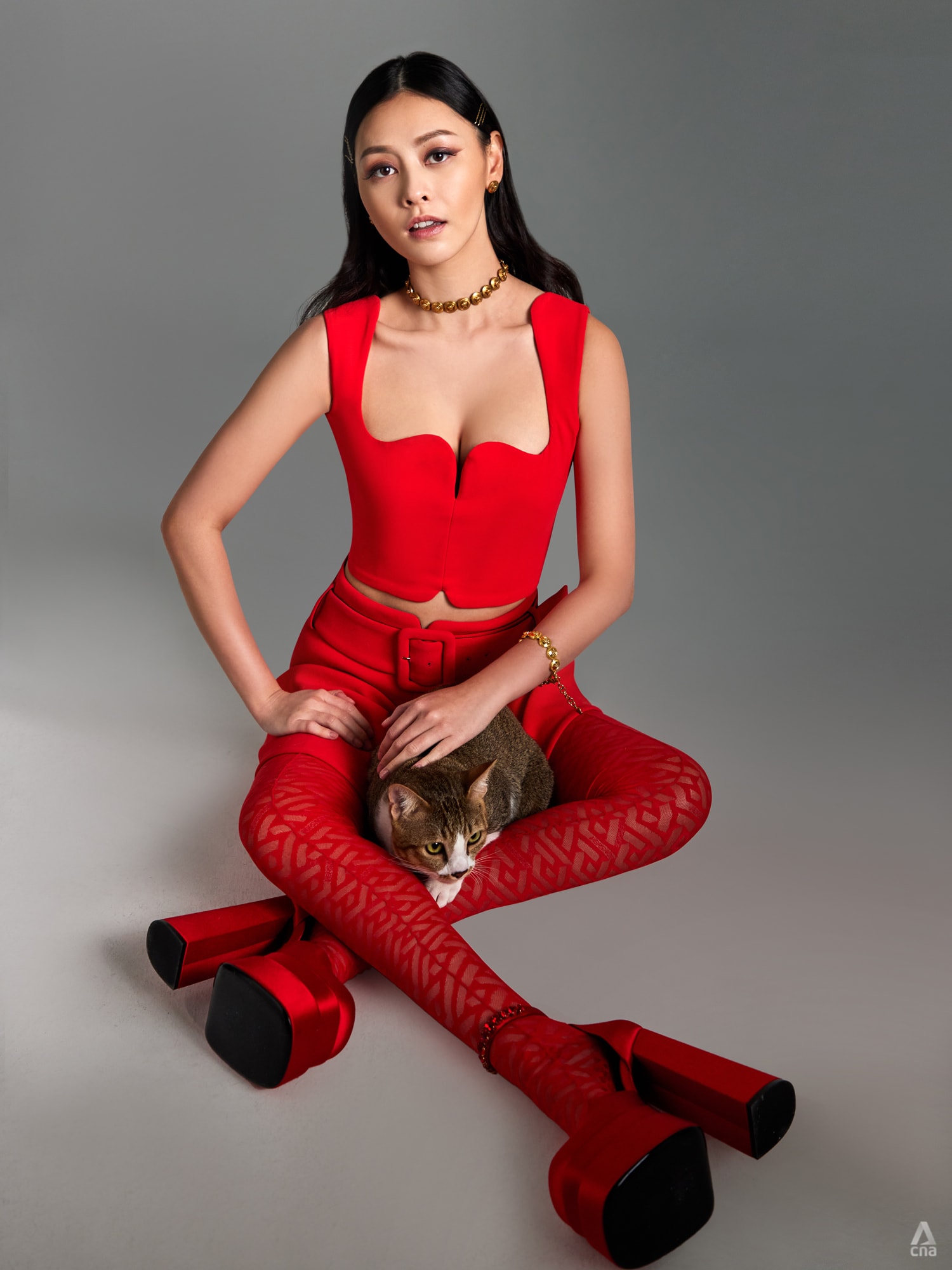 An actress with a heart of gold, He Ying Ying always wanted to adopt cats so that she could shower them with love.
"Whenever I see stray cats outside, especially when it is raining, I will feel really bad that they do not have a proper shelter at home," said the 26-year-old actress, who scored her first lead role this year in the Mediacorp drama Soul Old Yet So Young alongside Romeo Tan.
But it was only about one and a half years ago that her mother finally gave her the green light to adopt a feline bundle of joy. "She was worried I would not be able to handle cats as I was still young, but now that I am older, I can take on more responsibility," said He, who also has a family pomeranian dog, Cooper, aged four.
At that time, the actor Chen Xi (formerly known as Chen Yixi), introduced her to a friend who had to rehome a six-month-old cat, which was how her first tabby cat, Manja, came into her life.
"When I first adopted her, it was quite a challenge because Manja was really shy, so it took a lot of effort to get her to open up and trust us. But I don't regret anything, she is a very good cat," she said.
Early this year, she began to consider adopting one more cat to keep Manja company – only to be recommended to a fosterer who had a pair of male kittens who were siblings. With that, grey tabbies Hiro and Tintin came into her life.
"Manja is a 'classic cat' in that she is more reserved and protective of her own space. So I took time to slowly introduce them to each other," said He.
In comparison, the younger kittens behave a little more like dogs, she observed. "They are okay with being cuddled and having belly rubs. And now, all three of them do play fight with each other and also try to chase after each other, which is quite cute to watch," she said.
It has also been very rewarding for her to care for her three cats and to watch them grow strong and healthy. "When Hiro and Tintin got here, they were really small and quite skinny but now they are quite big and 'fat' while Manja is more plump than before. So watching them grow up during this pandemic has really been a huge source of joy," she said.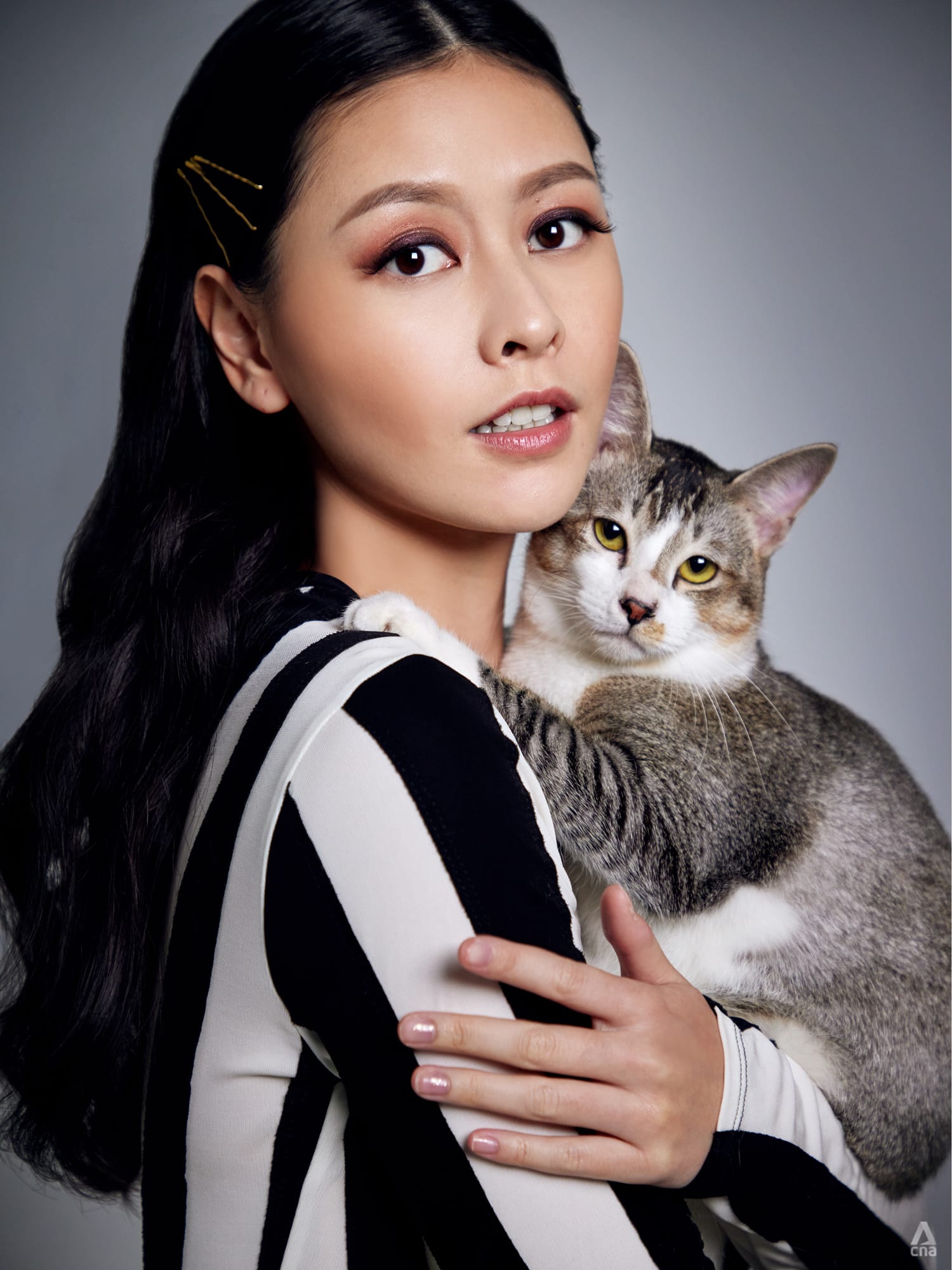 In fact, the furry felines are now so pampered by He that if they feel that she is taking too long to fill their food bowls, they will meow to let her know they are dissatisfied with her "service", she added with a laugh.
She also recently took a one-day grooming course to learn to better care for her cats. The trio, she said, love being groomed with a brush. "I thought they might not like the sensation of being brushed but they are actually very happy about it and will purr. Brushing also helps them shed their dead fur and also helps me manage my allergies to cat fur as I will get rashes and sneeze if I am exposed to too much fur," she said.
Watching them grow up during this pandemic has really been a huge source of joy,
Still, what's an occasional bout of sneezing in exchange for the best emotional support pals that a (wo)man can hope for?
"Every morning and night I get to spend some time with them and it really helps to relieve some stress from work when I can just sit down and have the cats come to me for cuddles," she said. "I do like holding them and letting them sleep on my lap while I do my work. It is rewarding to know that they feel safe around me."
This is also the reason why she is an advocate of adopting pets where possible. "There are a lot of stray and abandoned animals in shelters so if we have the capacity to care for an animal, it is worthwhile to pick one that is already out there, instead of shopping for a pet."
CARRIE WONG: MEET HER RIDE OR DIE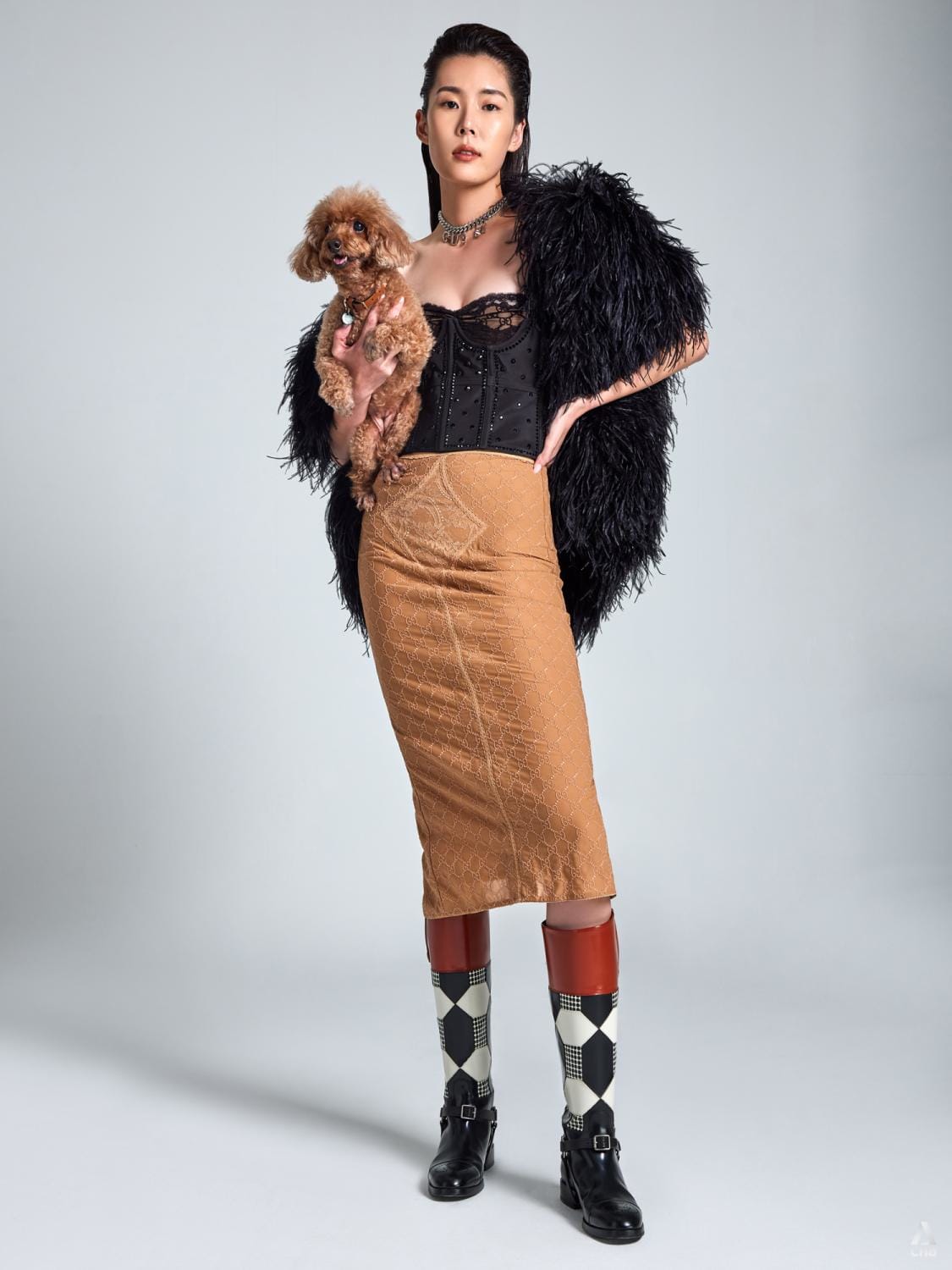 It has been almost two years of mask wearing due to the pandemic – enough time for Mediacorp actress Carrie Wong's toy poodle Gege (which means princess in Mandarin) to know what it means.
"She really loves it when we go for car rides so I will usually bring her along if I am running short errands outside like pumping gas. So nowadays, when she sees me wearing a mask, she gets all excited because she knows I'm going 'gaigai' (slang for going out)," said Wong, who was awarded the Top 10 Most Popular Female Artistes at this year's Star Awards.
The nine-year-old pooch has another funny "pandemic-friendly" habit, Wong revealed. "She doesn't like people to handle food using their hands. She growls at people who use their hands to take food. Isn't she hygienic much," she exclaimed with a laugh.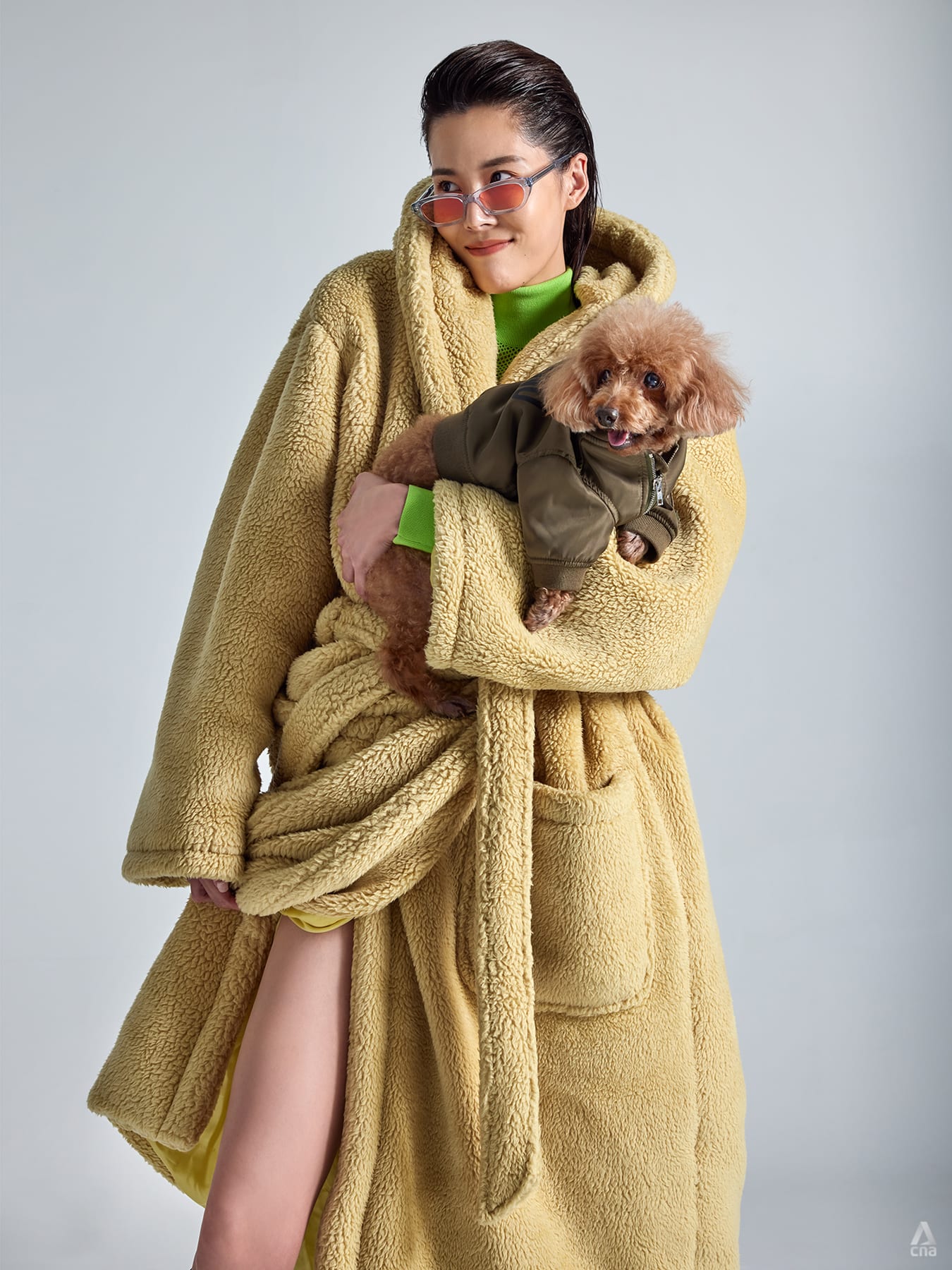 For Wong, who used to travel extensively, the past two pandemic years have allowed her to spend more quality time with Gege. "She is my first pet and my precious daughter and I shower her with all my love," she said.
Like fellow actress Jayley Woo, Wong brought Gege home without prior notice. "I brought her back when I was about 17 or 18 – she was one of the puppies my friend's dog gave birth to. I have always wanted to have a puppy but my mum would not allow it so I brought her home without telling my family first," she said.
Luckily, the cute poodle won the family over and these days, she is even pampered with home cooked healthy meals like lean meat and vegetables that are lovingly prepared by Wong's mother.
She stays with me when I cry too; she's like a ray of sunshine to my whole family.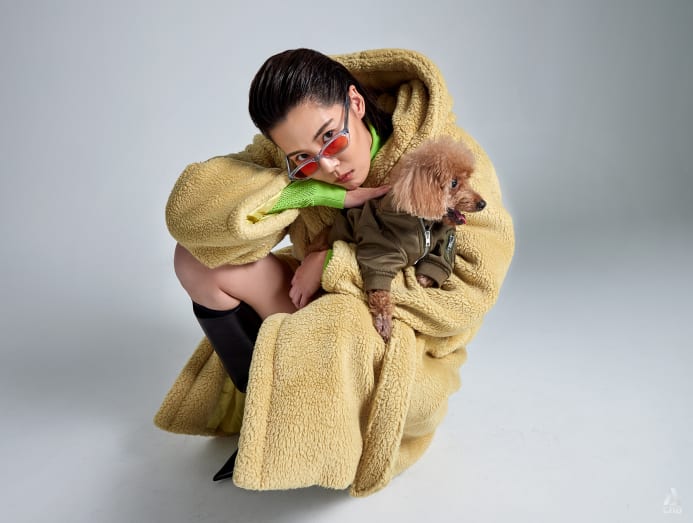 "She is allowed to do anything she wants in the house but my Gege is quite obedient as she does not chew on furniture or step on things. She will always detour around my scripts which I leave on the floor," said Wong.
And while the canine princess is pampered with toys, clothes and even cute beds, she prefers to spend quality time with Wong by sleeping on her bed with her.
After all, Gege is pretty much her loyal life companion. "She is a source of support for me. I look forward to seeing her every day when I return home from a long day of work. She grew up with me and has been through some really rough patches with me in life. She stays with me when I cry too; she's like a ray of sunshine to my whole family," reflected Wong.
(Produced by Serene Seow, production manager Shallini Selliah, creative direction by Chern Ling and Jasper Loh, photos by Aik Chen, styling by Joshua Cheung, fashion assistance by Kelly Hsu, hair by Sean Ang using Ouai and Dyson Hair Professional, makeup by Dollei Seah using Gucci Beauty, hair (for Carrie Wong) by Dexter Ng using Keune and makeup (for Carrie Wong) by Airin Lee using Nudestix.)