How dry laksa and mum's curry buns helped these local cooks through tough times
Jelebu Dry Laksa, Two Hands Two Woks and Eat My CB – "CB" stands for "curry bun" – are some of the home-based food businesses born out of the difficult "circuit breaker" period, courtesy of some resilient Singaporeans who turned lost jobs into opportunity.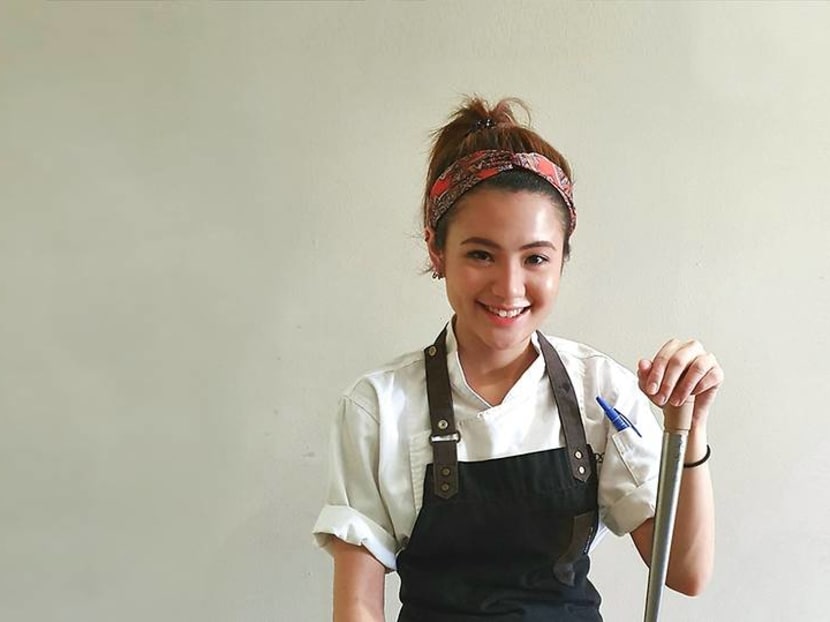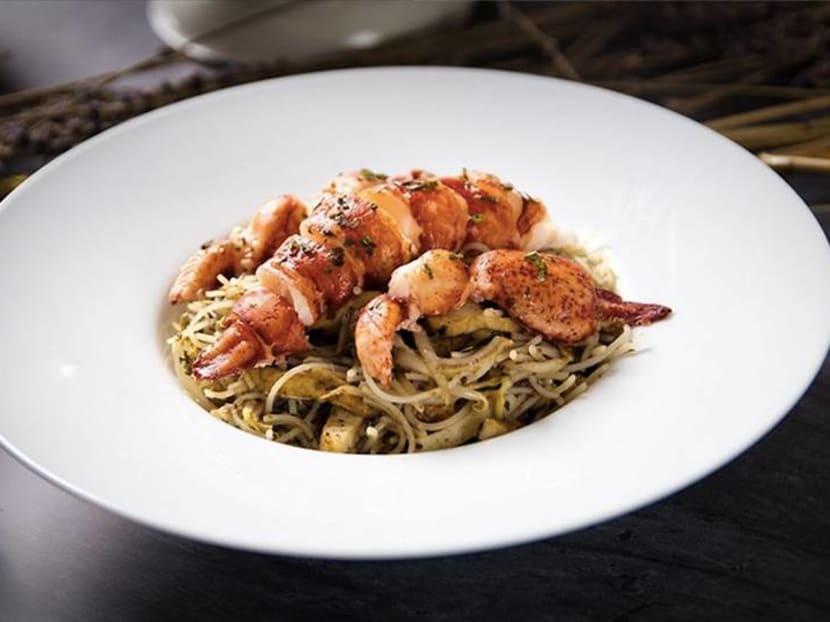 Amid the grim reality of COVID-19's battering blows to the F&B industry, it's hard not to consider a possible reality where only the fittest have a chance at survival.
Often, being fit doesn't mean working harder but working smarter – and having the courage and drive to adapt, invent and find a new niche.
Jelebu Dry Laksa, Two Hands Two Woks and Eat My CB – "CB" stands for "curry bun", what were you thinking? – are three home-based businesses started by food professionals during the "circuit breaker" period. 
Each was born out of loss of employment and income, as well as a desire to share good, homemade comfort food with people.
Thanks to these businesses, we now have the option of ordering a one-of-a-kind dry laksa topped with lobster, prawns or sakura ebi; a curry fish head dish that's faithful to grandma's recipe; or a levelled-up rendition of curry-in-a-loaf. 
All are dishes developed with culinary expertise and freshly cooked using quality ingredients.
Could this be the start of a true local food renaissance – a ground-up movement, like the birth of hawker culture – where more of us will be able to enjoy authentic, family-recipe dishes made with quality and care?
It's far too early to say, but if these cooks can make lemonade out of life's adversity, then it's also a good day for those of us who love our local food.
LAKSA, LOBSTER AND A WOK-HEI TWIST
Some of us dream of mansions; Renee Tang Eyrn dreams of dry laksa.
Two years ago, the 26-year-old quit a corporate job to pursue that dream, with plans of moving to Los Angeles and opening a food truck serving chilli crab buns, satay buns and, of course, dry laksa.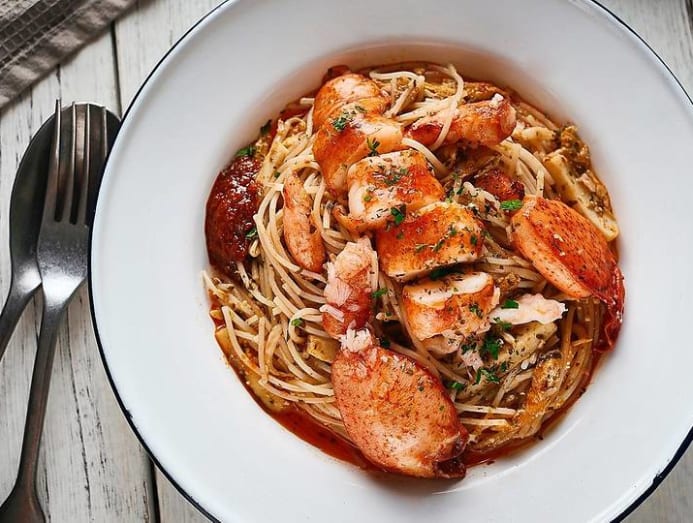 To prepare herself for that venture, the avid home cook decided she needed to get some F&B experience under her belt, and snagged a job in the kitchen of a restaurant in the buzzy Amoy Street area.
But when COVID-19 struck and the restaurant took a big hit, Tang knew she had to find a new source of income – and maybe even get a head start on her dreams of owning her own business.
"I am a firm believer in the saying, 'Go big or go home'" – although "of course, I would be operating the business from home," she quipped.
Since she'd already been experimenting with her dry laksa recipe, focusing on making it takeaway-friendly so it would be practical to sell from a food truck, she decided to see if there was a market for her interpretation of laksa, which is conventionally a soupy dish.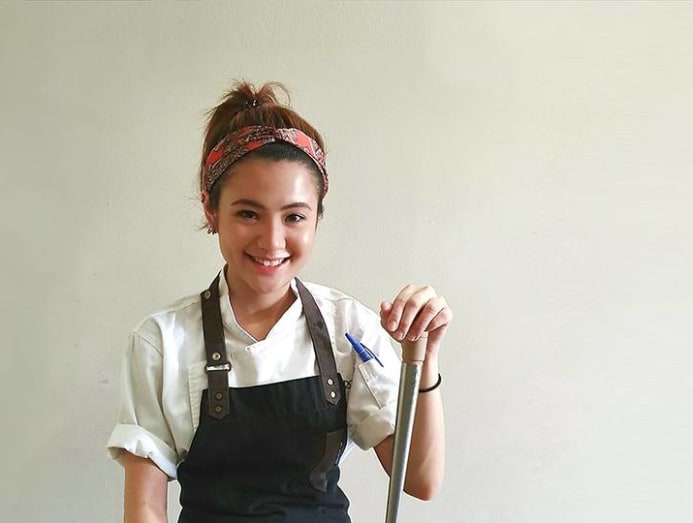 "There aren't many dry laksas around," she said, so that makes her dish unique and interesting. What's more, "I wanted to share my take on the traditional laksa, but with toppings that are uncommon, like lobster, grilled tiger prawns and sakura ebi."

For S$25, you can get half a butter-poached Boston lobster (S$48 for a whole lobster) sitting atop your dry laksa, which is made with Tang's own blend of 12 herbs and spices, and infused with organic young coconut milk. 
Dry laksa with grilled tiger prawns goes for S$15, while the crispy sakura ebi option costs S$12 – and you can even choose to add "lala" clams for an extra S$2.
The brand is named Jelebu Dry Laksa after Jelebu Road in Bukit Panjang, where Tang lives. In her tiny kitchen, she does all the cooking herself – although she does get support from her mum in the form of lifts to the market in the early mornings to score the freshest laksa leaves. 
It also helps that her partner is a chef at a restaurant and is able to help her procure supplies.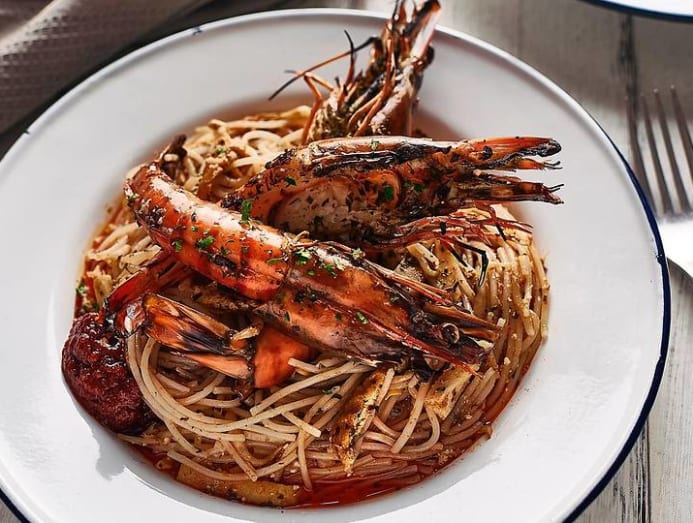 For her deliveries, "I partnered up with a very reliable courier company, Dropoffsg.com, which was also founded mainly due to COVID-19. They aim to offer deliveries with a personal touch (and) the majority of the staff are people from the F&B industry," she said, adding that she's happy to work with them because "we all need that support and extra helping hand." 
Moreover, "The idea of making someone happy when food comes knocking on their door is very apt."
Jelebu Dry Laksa currently sells an average of 20 to 30 laksas a day, with a high of 48 bowls in one day in the week that it launched.
"Getting positive feedback from customers motivates me," Tang said. "Dry laksa has always been my passion… I aspire to establish a household brand – for dry laksa to be as popular as Hokkien mee, chicken rice or char kway teow."
That go-big-or-go-home spirit is certainly standing her in good stead. "I started Jelebu Dry Laksa with the investment of a wok, a ladle and the cost of food supplies. I went into it with the same confidence and determination as when I first entered the kitchen without experience," she said. "If I could make something out of myself from scratch then, I can do the same now."
Order Jelebu Dry Laksa here.
TRAINED HANDS, TWO WOKS AND GRANDMA'S CURRY FISH HEAD
Chef-in-training Shanice Lim was all set for an exciting one-year internship at a Michelin-starred restaurant in New York City, an important part of her course at Singapore Institute of Technology's The Culinary Institute of America.
But when the COVID-19 pandemic hit, there was no longer a position for her in any restaurant kitchen – not even here at home.
In New York City, "many restaurants had to close temporarily due to the lockdown," she said, and in Singapore, "most F&B outlets are also badly affected with no dine-in guests, and many employees were asked to take no-pay-leave – which meant that part-time jobs were out of the picture for me."
It was frustrating and disappointing for the 22-year-old because "working overseas to gain firsthand experience has always been one of my goals – I took up many part-time kitchen jobs while studying to gain more experience and grow as an aspiring chef," she shared.
One day during the circuit breaker period, "I wanted to grab some food from my favourite hawker stall, but when I got there, the place was quiet and empty. It saddened me. Even though food stalls in hawker centres are allowed to operate, many have decided to stop operating temporarily. I kept asking myself, 'What can I do to help during these trying times?'"
Finding herself with time on her hands to cook for her loved ones, "I thought, 'Why don't I cook for my friends and other families, too?' So, COVID-19 gave me the opportunity to start a home-cooked food delivery business," she said.
But, "Just when I was ready to launch the business, NEA announced that home-based food businesses had to suspend operations due to circuit breaker rules. I thought I would have to close the business before I even started it," she recounted.
When home-based businesses were allowed to resume a few weeks later, Lim was finally able to roll out her menu of well-loved local dishes based on her grandmother's recipes, some of which she worked on and refined over the years.
A sumptuous curry fish head dish made with white snapper (S$28) is her piece de resistance, with the set menu also comprising classics like prawn paste chicken, Chinese omelette and sambal kangkong.
She named her business Two Hands Two Woks because "I watch a lot of food channel shows and have also learned a lot from other chefs. I'm fascinated by how they multitask with two woks and the speed at which they work with just their hands."
Besides enabling her to indulge her love of feeding people, "Cooking local dishes gives me a chance to connect with my heritage and culture," she shared. 
"My grandmother is a great cook and I learned a lot from her. I used to go with her to the wet market on the weekends, and I was surprised by her good memory of the ingredients needed to cook the dishes."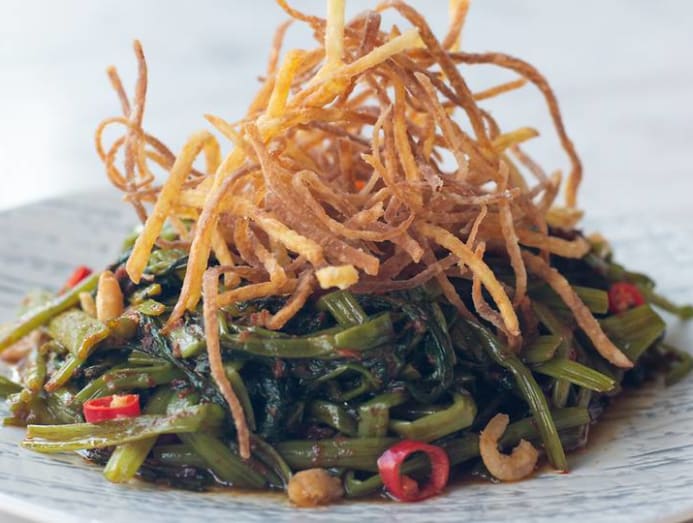 Of course, it's not as easy as it might sound. "Unlike a proper restaurant with commercial equipment and a large work space, there are limits in the home kitchen," she said. Also, "I can only visit the supermarkets late at night, to avoid the peak hours and long queues."
Still, even though she singlehandedly does all the cooking and even most of the deliveries herself, "my two younger sisters help me pack and prepare the food so it's ready for delivery." And "on certain days when I can't handle the deliveries, I ask my parents and friends for help."
The response, mainly from friends, relatives and their contacts so far, has been great, she said. 
"I sell about five or six set meals a day – a set meal is suitable for a family of five or six. The most I have cooked was for 36 people in one day."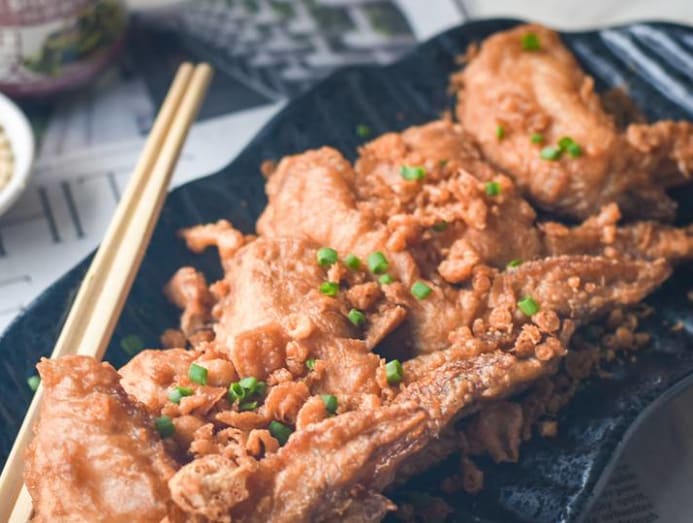 Lim is thankful for the support because it has allowed her to continue to dream big even in the face of an uncertain future. 
"I would like to experiment with more dishes and introduce them to my menu. Maybe I can even start pop-up dinners if there is a demand," she said. "I hope to gain more experience by working with different amazing chefs, and to eventually open my own restaurant."
Order Two Hands Two Woks here.
CURRY BUNS – A 'SECRET NATIONAL DISH'?
Annie Neo had been conducting cooking classes at home as part of her job as a Thermomix advisor, as well as running a small home kitchen business cooking food for friends and family, when the circuit breaker left her without classes to teach.
To make matters worse, her family members found all their jobs disrupted – husband Mark is a property agent, and son Lester Lee and his wife Charmaine run their own videography and design business.
Lee explained that "as a family of freelancers, we were collectively affected by the immediate reduction of income," since there are almost no jobs coming in for anyone – and that situation might not change anytime soon.
Unexpectedly, a business idea came in the form of one of Mum's home-cooked meals.
"Just before the circuit breaker, my mum was working on her usual food experiments and made two curry buns. We had one and gave the other to a neighbour, who enjoyed it. She ordered three from us and gifted them to her family and friends," Lee recounted.
That was when he and his wife saw the opportunity to turn the curry buns into a business, combining their design and photography expertise and online marketing know-how with Mum's kitchen prowess.
"Curry buns have always been a secret national dish to me – a dish that has never been seen or heard about on food guides but that most Singaporeans know of (and) only eat at home with their family," he said. 
"It's not something you can order at a shop or when you dine out, and it has hardly any physical presence – yet most Singaporeans our generation and older know about it."
Then came the task of naming their fledgling business. A friend came up with Eat My CB as he thought "the acronym for Curry Bun, CB, had great relevance because the business was born out of this CB period. He laughed so hard at his own joke." 
Lee had reservations about "how crude it sounded", but "thankfully, the term has been joked about so much because of Circuit Breaker that it helped soften the connotation the word has for us Singaporeans. We thought it was a quirky and memorable way to remember a new product, too. But every time we deliver an order to a condo and the guard asks us which company we are from, it still challenges my wife to mutter, 'Eat My CB'."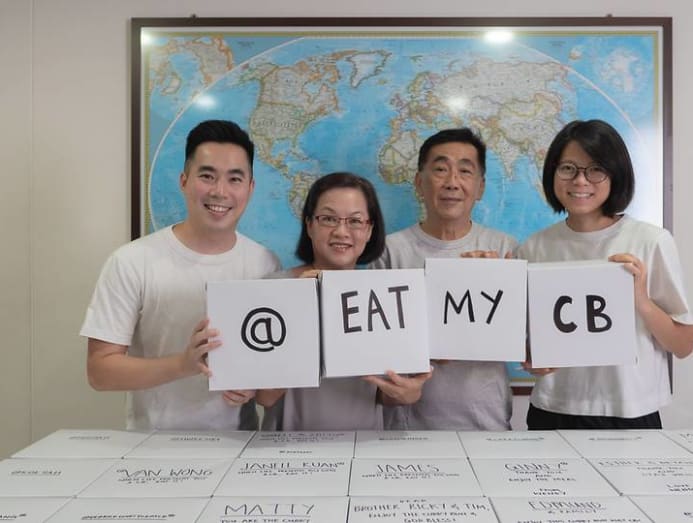 The cheeky name also signals that this is no cliched rendition of a tired product. 
Eat My CB's savvy version of the curry bun breathes new life into an old-school classic, with generous chunks of fresh, deboned chicken that fall apart in your mouth, tender potatoes and just the right level of spice, all baked into a big, buttery loaf adorned with a pretty braid. The curry is Lee's grandmother's recipe, homely, comforting and redolent with aromatics and spices.
The buns have proven popular for gifting, Lee said, with more than half of the orders placed as gifts. A small curry bun for two costs S$25 while a large one for four is S$35.
And orders have been flooding in. "Some people have had four CBs in four weeks. One person bought 19 CBs to give to his family and friends," he shared. 
"As the curry buns are home-baked and handmade, we are limited by the number of hands and ovens we currently have. Each curry bun takes two and a half hours to produce, so we can make only so many CBs in a day. We are encouraged by the customers who are willing to wait for this slow food."
He explained, "All the cooking is done at home by Mum and Charmaine – they spend more than 12 hours a day in the kitchen, and we are trying to increase our maximum capacity every other day. The hopeless cook that I am is trying to peel potatoes for now – and I never get the size of the cut potatoes right in my mum's eyes. We are bootstrapping with our limited knowledge and resources, and trying to be more productive in the kitchen so as to lessen the working hours."
It's certainly a family effort. While Lee and his father look after the deliveries, "My married sister in faraway Choa Chu Kang helps with taking Instagram orders, delivery route-planning and area-cluster planning." 
Deliveries are done only within a certain area on any given day, while self-collection in Punggol is an option. "And my IT-savvy brother helps us solve every IT problem we face."
Lee doesn't know if the business will expand or even continue beyond the COVID-19 period, but that's not important for now.
While "we are thankful that we are able to protect our livelihood with this alternative income stream during this challenging time… Everyone in the family is just contributing selflessly and doing their best," he said. 
"This is a precious moment for us. This period is probably the best family bonding we have had in a long time as we work together in this uncertain time, instead of just living together under one roof. The months ahead are still very uncertain for us freelancers. For now, we are just enjoying this process as a family. If anything else, we hope to promote this secret national dish of ours."
Order Eat My CB here.