What is it like to be a certified KonMari consultant who 'sparks joy' in Singapore?
Ahead of spring cleaning season, CNA Women spoke to decluttering expert Esther Tan about all things that spark joy – including how she became certified in Marie Kondo's tidying method and how she's now helping others through her side hustle, Your Tidy Half.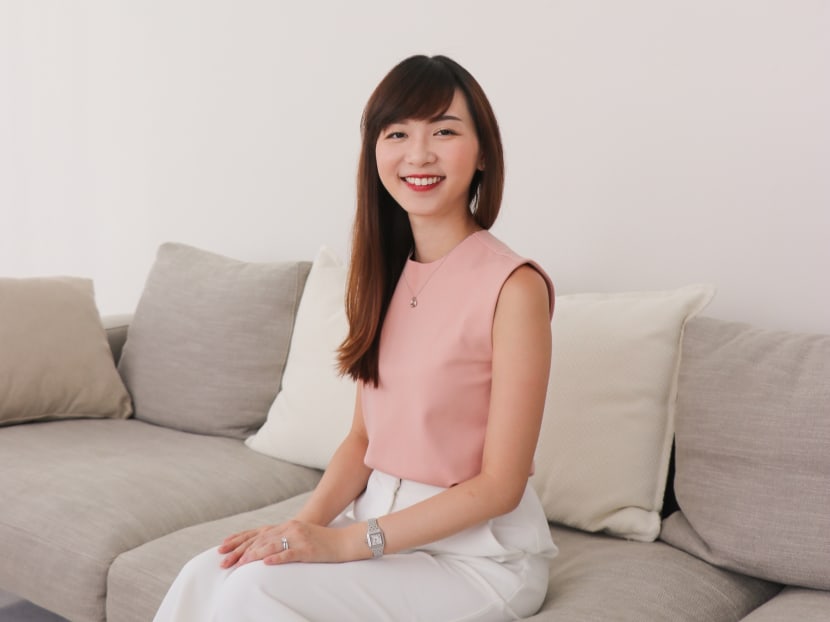 Esther Tan describes discovering Marie Kondo's book, The Life Changing Magic Of Tidying Up, as exactly that – "life-changing". 
Back in 2015, one of Tan's best friends had heard about the tidying doyen's book and was looking for a copy, which led to Tan buying one for herself, too. 
I don't have the time to keep tidying my house, so using the method allowed me to put things back where they belong when I have the time.
Tan, an executive assistant and office manager at a tech firm, said it was enlightening to know that there was "another way" to tidy a space – and that it could be enjoyable, too. Kondo's KonMari Method places emphasis on how you feel about your belongings, she said, and if they spark joy. 
As Kondo famously said, when things no longer spark joy, it's time to let them go.  
With the KonMari Method, every item has a "home", and for Tan, knowing where everything is supposed to go, made it easier to put it back in its place. 
"I don't have the time to keep tidying my house, so using the method allowed me to put things back where they belong when I have the time." She added that it's especially helpful for households with children, as it's not practical to constantly tidy up.  
Tan was so fascinated by the book that she started following Kondo's content, bought more books, applied the KonMari Method to her living space and explained how it worked to family and friends.
And then, in 2020, she learnt about the first virtual KonMari consultant programme, and signed up for it.
Tan completed the three-day course in June 2020 and started Your Tidy Half in the same month. She became a certified KonMari consultant eight months later, in February 2021, after completing more than 80 hours of hands-on work. Today, she offers a 30-minute complimentary consultation before charging S$210 for a three-hour session.
HAVE YOU ALWAYS LOVED TIDYING? 
That's the ironic part. I am the messiest person in my family.
HOW DID YOU DISCOVER THE KONMARI CERTIFICATION PROGRAMME?
Marie Kondo launched the course in 2016. I wanted to attend it then but it would mean taking leave to fly to the US for the three-day course. At that point, I had also just started working, and the course fee of US$2,000 (S$2,696) was too high for me. So I decided to just follow her content and along the way, realised it was something I was serious about. 
When they launched the virtual course in 2020, I figured that was my chance. Out of the 70 people who signed up that year, I think I was the only one from Singapore.
WHAT DID YOU HAVE TO DO DURING THE COURSE?
Following the three-day virtual course, there's a hands-on component where I needed to complete a full tidying "festival" for an entire house and complete 30 hours of tidying. 
There's also a theory exam and reports to write after each session. We have to pay an annual fee of US$500 to keep our license, so if you aren't certified, you aren't allowed to use the terminologies and references. 
YOU EVENTUALLY TURNED YOUR PASSION INTO A SIDE HUSTLE WHEN YOU STARTED YOUR TIDY HALF – WHAT DO YOU DO DURING A CONSULTATION?
Before I start work, I tell my clients that it will be a process that involves their emotional and mental commitment. It works like a partnership, so they have to be at home, too. This is slightly different than, say, if you hired a professional organiser for two to three days, go for a holiday and come back to a tidy house.
I need to know more about your lifestyle, what you do and the type of activities you have at home. For instance, tidying the kitchen takes about eight hours while a whole house would take about 50 hours. 
The process only ends when the tidying "festival" is complete, covering the five categories of items: Clothes, books, papers, komono (miscellaneous) and sentimental.
I think people are just getting to know about the method, and the culture in Singapore is still quite conservative. I have clients who ask me, "Should I tidy up before you come?" So, there's still a certain level of "shame" when people enter your house to look over your things.
DON'T TELL US YOU TIDY UP DURING YOUR FREE TIME TO DESTRESS?
Cleaning is therapeutic for me, but if your house is untidy, you can't clean much. I like to cook and host people at home, which goes back to the reason why I have to ensure everything is in the right place. 
WE SAW THAT YOU'VE ALSO BEEN SHARING TIDYING TIPS ON YOUR INSTAGRAM, INCLUDING WHERE TO GET STORAGE ITEMS IN DAISO AND MUJI.  
I watch a lot of tidying shows to get inspiration and when I go out to shop, I tend to look out for organising items so I can recommend them to my clients. That's fun for me because I've always done it for myself, but now, there's a use for it.  
IT'S BEEN CLOSE TO A YEAR SINCE YOU BECAME A CERTIFIED KONMARI CONSULTANT, ARE THERE ANY MEMORABLE PROJECTS YOU'VE WORKED ON?
I've worked with more than 20 clients since February last year but the most interesting experience would be my first male client who wanted to work on his kitchen and study area. 
Before I start work, I tell my clients that it will be a process that involves their emotional and mental commitment.
He had moved in about a year before – and the thing is, his place looked tidy. But he was ready to change everything up to fit his current lifestyle of working from home and being able to cook without a helper. He even had a label maker (laughs). His wife said she loved the end result, and that they wouldn't have been able to do it on their own. 
WHAT IS IT ABOUT BEING A TIDYING CONSULTANT THAT MAKES YOU HAPPY? 
The most joyful part of the process is when the client no longer sighs at everything. Before they show me their space, you can see that they feel very heavy about it. Sometimes, the energy of the space just wears them down mentally. 
HOW DOES A TIDY SPACE CONTRIBUTE TO HEALTHIER RELATIONSHIPS AMONG THE PEOPLE LIVING WITH YOU?
It's good for people living in the same shared space to have a system. Sometimes you don't know whose responsibility it is to put stuff back, and people have different expectations on what looks "tidy". The KonMari Method helps people to avoid unnecessary tension and distress from these unsaid expectations.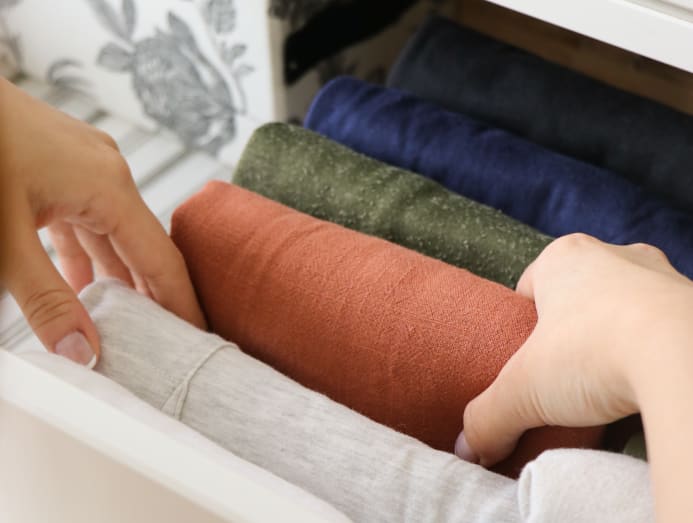 WHAT HAS BEEN THE BIGGEST CHALLENGE IN RUNNING YOUR TIDY HALF SO FAR? 
It's helping people to understand that Your Tidy Half is not an ad-hoc cleaning service that you engage, with a maintenance schedule. I have to explain the KonMari Method to make it easier for people to visualise how the process would look like.
Some are shocked that they have to be physically there (laughs). But after they "catch" it, the beauty of the method is that they can continue to apply the mindset without me.
HAS BECOMING A TIDYING EXPERT SHAPED THE WAY YOU VIEW OTHER ASPECTS OF YOUR LIFE? 
It has helped me to develop more courage and honesty, and to be less tolerant about things that, yes, no longer spark joy!
ANY HACKS OR TIPS FOR THOSE WHO ARE SPRING CLEANING FOR CHINESE NEW YEAR? 
Instead of diving straight into a cupboard or shelf, look at your belongings in this order: Clothes, books, papers, miscellaneous and lastly, sentimental items. Then look through every item in the category and decide whether to keep or discard it. Once the system is in place, you just need to put things back where they belong, so there's no need to keep figuring out where things go.
And of course, this doesn't just work for Chinese New Year.
CNA Women is a section on CNA Lifestyle that seeks to inform, empower and inspire the modern woman. If you have women-related news, issues and ideas to share with us, email CNAWomen [at] mediacorp.com.sg.