13 best teppanyaki restaurants in Singapore for every budget
From the classics to halal fusion dishes, here's what teppanyaki restaurants in Singapore have to offer in every price range.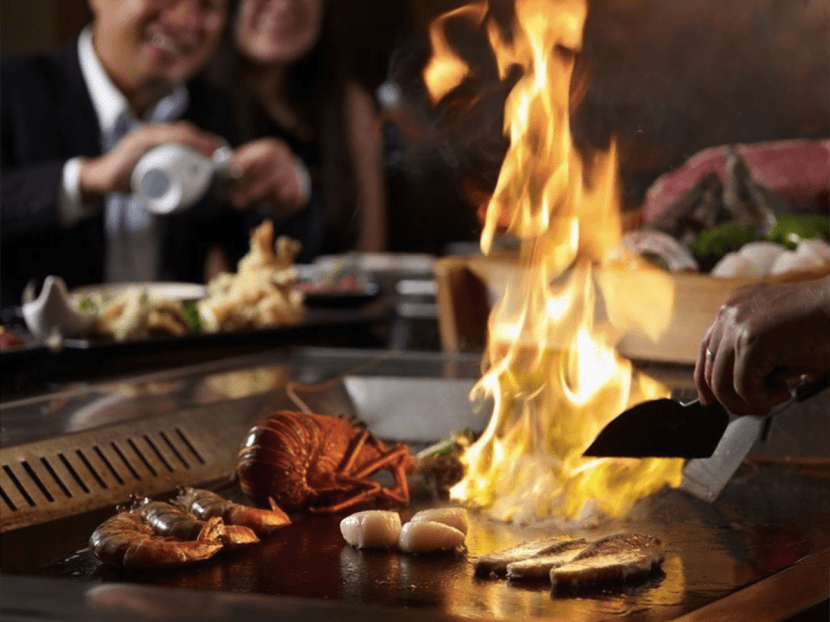 I'm not crazy about having my hair smell like food, but I would make an exception for teppanyaki.
Open kitchens are a dime a dozen, but nothing comes close to the multi-sensory experience it affords. Whether the chef is pulling out all the stops, showing off their egg-tossing and utensil-flipping chops, or working stoically with a raging fire in his face, nobody passes up a front-row seat to the theatrics.
There's just one problem: Teppanyaki restaurants aren't exactly everywhere in Singapore. Naturally, they can be expensive, especially if you're choosing a multi-course selection over a set meal for the full works. To make that upcoming occasion extra special no matter your budget, we've rounded up the 13 best teppanyaki restaurants in Singapore and sorted them by price. But fair warning – you'll probably need to reserve in advance if you're eyeing a counter seat.
1. TEPPAN KAPPOU KENJI
You know quality is guaranteed when the chef requires three days' notice for all omakase reservations and personally makes four sourcing trips to Japan every year.
That's how Chef Okumura, whose track record includes serving the Japanese emperor, brings fresh produce from all over Japan to Tanjong Pagar Road. Think shellfish from Ise Shima, unagi from Shimamoto, and seaweed from Mie – all put together with the kaiseki craft he's honed for nearly three decades now.
The menu offers an Aoi Teppan Course (S$188) and an a la carte selection if you're not looking to splurge.
99 Tanjong Pagar Road, #01-01, Singapore 088520. Details here.
2. KEYAKI
Keyaki transports you to the land of the rising sun from Pan Pacific Singapore even before you enter. The surrounding garden pavilion, koi pond and shoji screens have made it to a great many wedding pictures, but unbeknown to most, the restaurant's tatami-style rooms are an equally immersive setting to sample the chef's creations.
Among these are the Kaze multi-course meal (S$165) which comprises seafood, beef and a choice of sashimi or tempura. For birthday celebrations, the hotel's pastry team will also come through with a day's notice.
Pan Pacific Singapore, Level 4, 7 Raffles Boulevard, Singapore 039595. Details here.
3. TEPPAN-YA
Having hosted personalities such as Fann Wong and Christopher Lee, and even Boris Johnson, Teppan-Ya in Mandarin Oriental must be doing something right.
Dinner here is a visual feast in more ways than one, with chefs at work against a backdrop of the Singapore harbour and city skyline. Their lunch sets, which come with salad, chawanmushi, rice, and miso soup start at S$48, while the kaiseki courses, complete with signature appetisers, sashimi and fried rice, are priced between S$128 and S$218.
Mandarin Oriental Singapore, Level 4, 5 Raffles Avenue, Singapore 039797. Details here.
4. MIKUNI
Japanese food lovers get the best of both worlds at Mikuni, which houses both teppanyaki and sushi live stations. The restaurant in Fairmont Hotel prides itself on combining the old and new in creations like Hokkaido Wagyu Beef Consomme, Kampachi Carpaccio in Black Truffle Sauce and Warm Apple Tarte Tatin.
Their Teppan Lunch and Dinner Set (S$135 and S$280, respectively) come with a selection of sake for an extra fee and require pre-orders and pre-payments a day in advance.
Fairmont Singapore, Level 3, 80 Bras Basah Road, Singapore 189560. Details here.
5. KI TEPPAN & ROGAMA
Ki Teppan & Rogama's speciality, as its name suggests, is twofold. Apart from the teppanyaki grill, the restaurant in Palais Renaissance also uses binchotan – pretty much the wagyu of charcoal among Japanese chefs – which produces slow heat and zero odour.
Their kitchen is stocked with ingredients such as Hida beef, flat iron steak, free-range chicken, live abalone and lobster for a major surf and turf feast, starting at S$58 for lunch sets and S$120 for multi-course dinners.
Palais Renaissance, 390 Orchard Road, B1-08/09/10/11, Singapore 238871. Details here.
6. TEPPAN WORKS
If you're staying in the CBD after hours, you may as well let it all hang out somewhere casual like Teppan Works. Helmed by chefs from Tokyo, Niigata and Singapore, the tiny but spirited joint is a hit for celebrations (their wall of Polaroid pictures can attest to that).
Not just for the spirited birthday song and personalised dessert, but for a variety that suits every budget. The Wagyu Beef Omakase, starring three kinds of seafood and 70g of A4 wagyu beef, starts at S$99.
42 Tras Street, Singapore 078981. Details here.
7. TEPPAN BAR Q
Teppan Bar Q was started by the founders of Torikin and Izakya Torikin, and likewise has culinary influences from Hakata – which we know as part of Fukuoka today.
They specialise in Hakata-style tapas and teppanyaki with a Spanish twist, serving the likes of gizzard with habanero under a special menu. Their S$80 teppan course offers a choice of wagyu diced steak or seafood platter, but the star of the show is a 100g slab of A4 Kuroge Wagyu Sirloin Steak in the S$180 Q course.
Robertson Walk, 11 Unity Street, #01-21/22, Singapore 237995. Details here.
8. YAMAGAWA JAPANESE RESTAURANT
Compared to its fancier counterparts in the city, Yamagawa Japanese Restaurant's old-world charm is a breath of fresh air. The 30-year-old establishment, which houses a traditional tatami room that seats eight, offers a la carte, omakase and teppanyaki dining experiences.
You can go for the Yamagawa Deluxe Course (S$75), a no-frills line-up featuring prime beef and king prawn, or indulge in the Wagyu & Lobster Course (S$145) if payday is around the corner.
7500A Beach Road, The Plaza #01-305, Singapore 199591. Details here.
9. TATSU TEPPANYAKI
Tatsu Teppanyaki in CHIJMES was the first of its kind with a 24-seater counter table and recently extended its repertoire to sushi. According to the restaurant's website, they fly sashimi in from Japan four times a week alongside fresh fruit, and trained every single chef under their wing.
Teppanyaki lunch sets start at S$30 and dinner courses at S$68, depending on your choice of protein. Apart from the usual suspects, the a la carte menu also offers cuttlefish and ox tongue.
CHIJMES, 30 Victoria Street, #01-08 Singapore 187996. Details here.
10. SHIMA RESTAURANT
The next time you have a weekday off, make Shima Restaurant in Goodwood Park Hotel the first order of business. Their lunch buffet, priced at S$59 on weekdays and S$79 on weekends, seats a limited number of diners for 90 minutes at a time.
While premium items like oysters, scallops, and swordfish are capped, the variety alone is a great introduction to teppanyaki dining. They also offer set lunches at S$49 on weekdays and S$59 on weekends so small eaters can sample almost as widely.
Goodwood Park Hotel, 22 Scotts Road, Singapore 228221. Details here.
11. TORIO JAPANESE RESTAURANT
Conveniently located in Link Hotel at Tiong Bahru, Torio Japanese Restaurant offers a la carte, omakase and teppanyaki selections in separate zones.
According to their website, Chef Jack, the protege of several Japanese chefs, refreshes the menu every now and then to keep things novel. The lunch courses, which come with a choice of seafood or pork, are affordably priced at S$58, while the dinner courses start at S$108.
50 Tiong Bahru Road, #01-01 Link Hotel, Singapore 168733. Details here.
12. SEIWAA OKONOMIYAKI & TEPPANYAKI RESTAURANT
If you'd rather get hands-on, the hot plate tables at Seiwaa will help turn an ordinary meal into a bonding activity. But if you have a poor track record in the kitchen, a chef could always do it for you.
The Ocean Seafood Grill Set (S$69) and Flavour Meat Grill Plate (S$55) offer great value to those dining in pairs, but save some room for their extensive okonomiyaki selection, which includes unique flavours like Tom Yum and Chili Crab.
72 Dunlop Street, Singapore 209400. Details here.
13. THE STRAITS TEPPANYAKI
The Straits Teppanyaki is dedicated to halal fusion dishes, which explains why nothing about their menu looks Japanese at first glance. But whether you're having it with teriyaki sauce or sambal kicap, all mains end up sizzling on the flat-top grill all the same.
Their headliner, The Wagyu Tomahawk (S$180/kg), is apparently sourced from chocolate-fed cows in Australia. But if you aren't in the company of fellow carnivores to share it, the chef also recommends beef striploin (S$29.90), wagyu ribeye (S$49.90) and live Boston lobster (S$59.90).
16 Bussorah Street, Singapore 199437. Details here.