How wearable, no-prick glucose monitors are changing the way diabetics manage their blood sugar levels
To help the growing population of diabetics in Singapore better manage the disease, Diabetes Singapore will be giving away free Abbott FreeStyle Libre Sensors from Thursday (Sep 1). CNA Lifestyle looks at how accurate their readings are and whether you'll still need to hold on to your glucometer.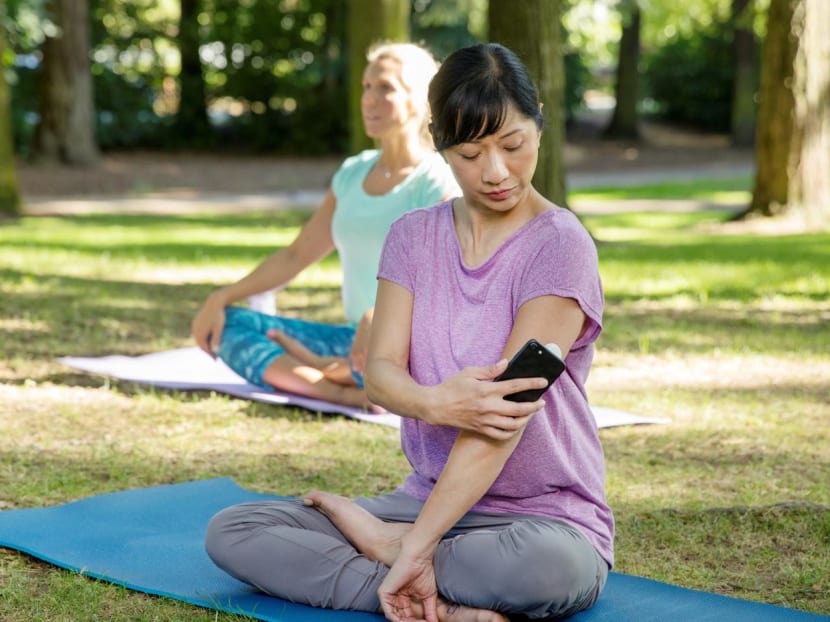 Whether it's Type 1 or 2 diabetes, diabetics know the finger-prick blood test all too well. They have to frequently prick their fingers for blood samples and apply the blood to a glucometer to test their blood sugar levels and assess their insulin requirements.
The finger pricking may be more often for Type 1 diabetes, said Professor Tai E Shyong, an endocrinologist and director of the National University Health System's Centre for Chronic Disease Prevention and Management.
This is because Type 1 diabetes patients may need to adjust their insulin dose frequently, especially "if their blood glucose is poorly controlled or they experience frequent episodes of low blood glucose", he said.
"On the other hand, patients with Type 2 diabetes, which is much more common, don't really require continuous monitoring over the long term," said Prof Tai.
Still, the frequency of the finger-prick test can come up to once or twice a week, or four times a day, said Dr Ester Yeoh, a senior consultant endocrinologist at Khoo Teck Puat Hospital.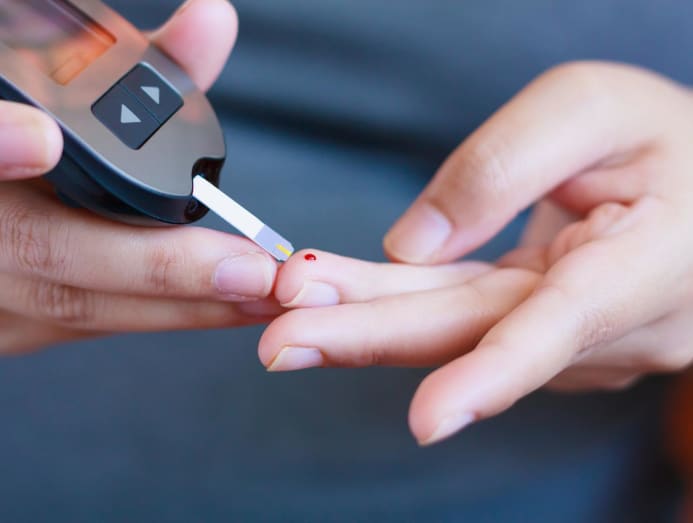 "It's not just the number of finger pricks," she said. "When testing needs to be done in the middle of the night to monitor for hypoglycaemia (low blood sugar level), it can be troublesome and annoying for patients and caregivers," she said.
Repeated finger pricking over the years can also cause the loss of sensation at the fingertips, said Satyaprakash Tiwari, the executive director of Diabetes Singapore, a non-profit organisation. "There is also evidence that some users of prick tests sometimes skip them out of frustration and the mental drain of frequent testing."
Owing to those inconveniences, it is no wonder that some diabetics have adopted wearable prick-free devices that provide continuous glucose monitoring. But are their readings accurate? Do patients still have to fall back on the finger-prick test? CNA Lifestyle finds out from the experts.
WHAT IS A CONTINUOUS GLUCOSE MONITORING SYSTEM AND HOW DOES IT WORK?
The biggest difference that a continuous glucose monitoring or CGM system brings to the table for the user is that it doesn't require the use of lancets or finger pricking for blood samples. Rather, it detects the body's interstitial fluid – the fluid that surrounds cells in the body – to measure blood glucose.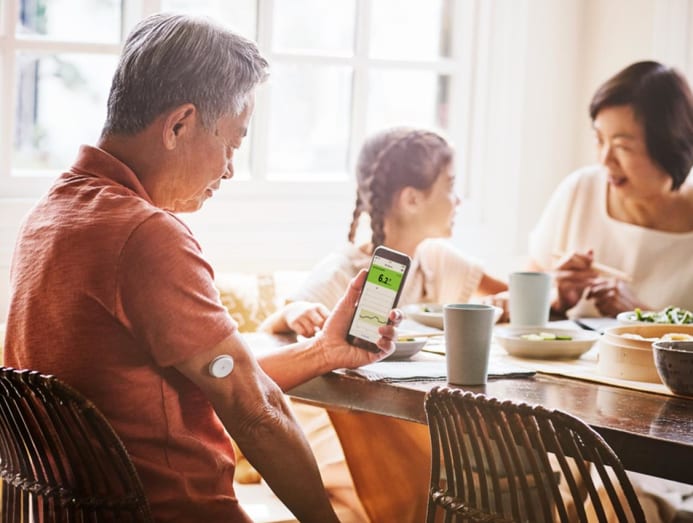 A CGM system such as the Abbott FreeStyle Libre sensor provides a glucose reading every minute of the day for up to 14 days. "The finger-prick test provides only a snapshot of a user's glucose level at a specific moment," said Tiwari.
"CGM, on the other hand, offers a constant flow of information in real time, enabling users and their caregivers to identify trends and patterns in their glucose levels," he said.
To use, the sensor (about the size of the dollar coin) is worn on the back of the upper arm for 14 days to transmit real-time information on the patient's glucose levels.
This data can be accessed via the app at any time – and as often as the patient wants – for up-to-date glucose readings as well as the last eight hours of glucose history. To obtain the readings (even over clothing), swipe a handphone that has the downloaded app over the sensor.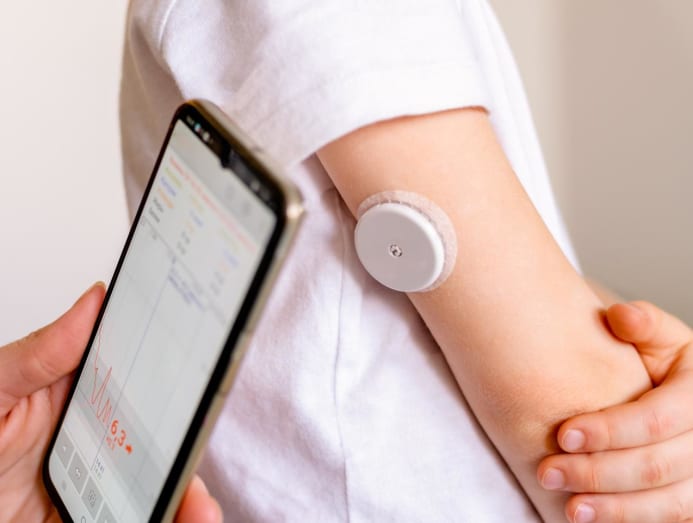 There is also no need to remove the sensor in the shower or while exercising or swimming (it is water-resistant in up to 1m of water). After 14 days, users remove it from the arm and replace it with a fresh one without having to recalibrate the new sensor.
ARE THE CGM READINGS THE SAME AS THE CONVENTIONAL GLUCOMETER'S?
"The accuracy is similar between wearable CGM monitors and conventional glucometers," said Prof Tai.
However, a CGM system doesn't measure the glucose in blood, he emphasised. As mentioned earlier, it measures the glucose in the interstitial fluid, which is the fluid that surrounds our cells outside the blood vessels.
"These readings can be a little different, in part, because they measure different fluids," he explained, "but also because it takes time for glucose to move from the blood to the interstitium when the blood glucose is changing. It takes 10 to 15 minutes before those changes are seen in the interstitial fluid."
This is particularly so when the glucose levels are very high or very low, he said. "There can be differences between the measurements using wearables and conventional glucometers," he said. Furthermore, "the wearables can also give errors in situations such as in patients on aspirin or Vitamin C", as they can affect alter blood glucose measurements.
SO DO PATIENTS STILL HAVE TO FALL BACK ON A GLUCOMETER?
For those reasons mentioned earlier, most patients using wearables will still need to perform blood glucose testing using a conventional glucometer intermittently, said Prof Tai.
This is "particularly when there is a discrepancy between what they feel and what the wearable shows", he said. For instance, if the patient feels that his blood glucose is low (signs such as tiredness, dizziness, hunger and trembling) but the wearable does not show a low glucose reading.
Or when the glucose level is supposed to rise very quickly (such as after drinking a sugar-loaded soft drink) but the reading the patient gets is still low as it takes time for the sugar in the blood to reach the interstitium, he said.
HOW DO CGM DEVICES FIT INTO PATIENTS' MONITORING EFFORTS?
What Prof Tai commonly sees in his patients, particularly those with Type 2 diabetes, is that they use their CGM devices for a few weeks at a time. They do so to help them understand how their medication, along with their food intake and exercise, affect their blood glucose levels, he said.
"After a few weeks, they are able to figure out what they need to do in order to improve their blood glucose control and thereafter, if they are able to maintain those changes in medication or lifestyle, they may be able to stop the glucose monitoring," said Prof Tai.
About 1 to 2 per cent of his patients use the wearable CGM devices. But the low take-up rate is likely owing to the cost, he said. "Although the cost of the sensors has declined significantly in recent years, few patients are able to afford the cost of using the sensors continuously."
"What is certainly true is that patients can monitor their glucose levels and manage their diabetes with much fewer finger pricks," said Prof Tai.
He added: "Some patients find that monitoring their glucose continuously using these devices helps them better understand the impact of their food and exercise on blood glucose. The advantage is that the wearables allow them to see the effects of various lifestyle choices almost immediately and they quickly learn what is best for them within the context of their own lives."
As for patients with poorly controlled blood sugar, tracking what happens over the course of the day with these devices can help healthcare professionals adjust their medication to improve their blood sugar control, he said. 
WHO IS IT SUITABLE FOR?
According to Abbott, the FreeStyle Libre sensor can be used by diabetics with Type 1 or 2 diabetes and as young as four years old. Users under the age of 18 will need the help of caregivers to manage and interpret the readings. 
However, individuals with specific health conditions and concerns should consult with their doctors before using the wearable monitor. These include those who have implanted devices such as pacemakers.
HOW DO I GET MY FREE CGM SENSOR?
If you're keen to give the CGM system a try, you are eligible to a free FreeStyle Libre sensor if you're living in Singapore and haven't used one before. The giveaway, starting Sep 1, is by Diabetes Singapore to help diabetics better monitor their blood glucose levels and manage Type 1 or 2 diabetes.
Register online at TryFreeStyleLibre.sg from Sep 1. Upon registration and screening, applicants will receive a confirmation email to join an online or in-person group session to learn how to navigate the FreeStyle Libre sensor and app, along with diabetes-management tips.
The FreeStyle Libre sensor retails at S$92 and is available at Diabetes Singapore clinics and in hospitals, selected clinics, pharmacies, e-tailers and Abbott's webshop.