Is period underwear in Singapore safe? What to know about PFAS, the 'forever chemical' behind the Thinx lawsuit
The Thinx lawsuit rocked the menstruating world. But should you be swearing off period underwear? CNA Women finds out.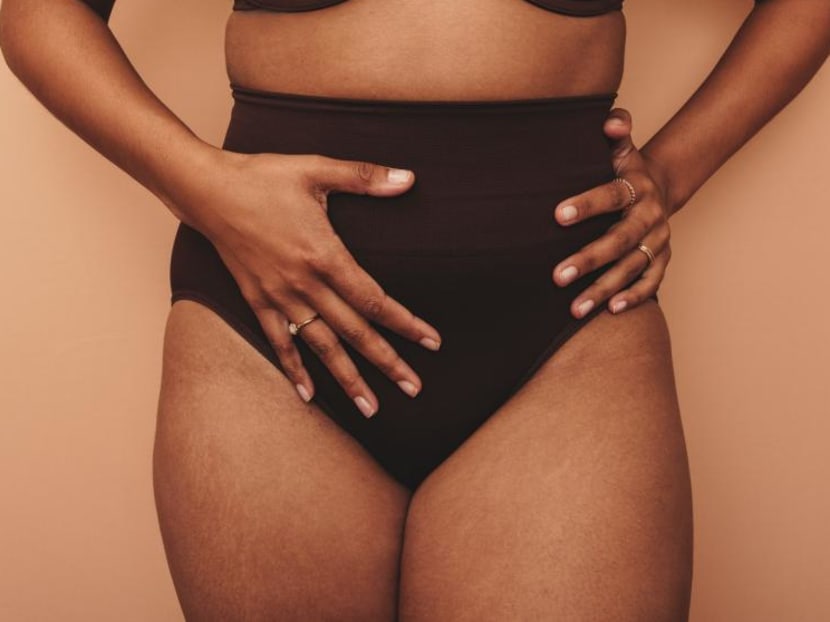 When I tried period underwear for the first time two years ago, it changed everything. Gone were the days of stocking up on sanitary pads at the supermarket. My thighs no longer chafed from the plastic. I was almost never again confronted with the sight of blood because period panties typically feature a black gusset. 
Finally, I thought, period hygiene had become a no-brainer. 
Then, in January this year, US brand Thinx made public it had settled a class-action lawsuit in relation to toxic substances allegedly found in its products. 
It all started in 2020, when a US report claimed that scientists found "high levels" of something called "per- and polyfluoroalkyl substances" (PFAS) in several pieces of Thinx underwear .
The writer had sent the garments to be tested by a PFAS expert at the University of Notre Dame in the US, who found that the crotch area contained levels that were high enough to "suggest (the products) were intentionally manufactured with PFAS". 
The first issue with this finding was that Thinx had claimed its underwear was an organic alternative to regular period products. Following the report, consumers banded together to launch a class-action case against Thinx, accusing it of misleading them. The case reached a settlement allowing consumers to apply for refunds for up to three pairs of Thinx underwear. 
But the bigger issue is this: The report claims PFAS, while not illegal, are toxic. Their use was alarming enough that Thinx ran a statement denying PFAS had been a part of its product design and that its settlement was "not an admission of guilt or wrongdoing". 
So what are PFAS? More importantly, are they harmful and if so, to what extent? 
WHAT EXACTLY IS PFAS?
PFAS are a group of man-made chemicals that have been used in a variety of consumer and industrial products for decades. They are commonly found in products that are designed to resist water, oil and stains, as well as products that are heat-resistant and non-stick. 
Products we use every day that might contain PFAS include non-stick cookware, waterproof clothing, carpets, food packaging and yes, menstrual products. 
According to a local expert, there is no peer-reviewed scientific publication on the measurement of PFAS in period underwear and that any reports in the public domain of such PFAS use may be related to investigations performed by independent organisations. 
However, it is possible that the presence of PFAS in period underwear is related to stain-resistant fabric or other similar materials used in its manufacturing, said Professor Eric Chan, a pharmaceutical scientist at the National University of Singapore's Department of Pharmacy.
PFAS can be absorbed through the skin and have been detected in human blood and breast milk. In the industry, they're known as "forever chemicals" because they're persistent in the environment, meaning they don't break down easily and can accumulate in the body over time. 
ARE PFAS HARMFUL?
The absorption of PFAS via human skin is "relatively limited" compared to its absorption through oral administration, Prof Chan told CNA Women. 
However, according to American activist group EWG, whose experts include scientists, analysts and toxicologists, PFAS "cause harm to the environment and human health, even at low levels". 
Some research backs this statement, including a 2019 review of the substances' impacts on cancer, immune function, metabolic outcomes and neurodevelopment. 
Citing an eight-year panel study conducted in the US, EWG specifically identified links between PFAS exposure to high cholesterol, pregnancy-induced hypertension and preeclampsia, testicular cancer, kidney cancer and thyroid disease.
IS YOUR PERIOD UNDERWEAR SAFE?
Prof Chan, who is an expert consultant at the Agency for Science, Technology and Research (A*STAR), said more research needs to be done to determine precisely how much PFAS is absorbed by the skin in the vaginal area. 
"The vascularity of the skin barrier – that is the number of blood vessels present – is an important factor in defining the extent of PFAS absorption via the skin. (Studies) need to be performed to compare the vascularity of the vaginal area as compared to other skin barriers to appreciate if it is more susceptible to the absorption of contaminants such as PFAS," said Prof Chan. 
Because of the lack of published data on the topic and the fact that there is "no regulation on the level of PFAS in such products" at the moment, it is "unfortunate that consumers may not have the knowledge (needed) to select PFAS-free products over the counter", he added. 
So the word is still out on specific ways to monitor the presence of PFAS in your period underwear.
However, if you own period underwear or plan to switch to it in lieu of sanitary pads, it is perhaps comforting to know that brands are becoming more transparent about the manufacturing. 
Thinx's defence suggests products purchased before the settlement do contain PFAS, but the company told The New York Times this year that it would be transitioning to a PFAS-free coating in its products. 
Uniqlo also told CNA Women in January that its parent company had "removed PFAS along with other substances from (its) processes", as part of efforts to "eliminate discharges of hazardous chemical substances" during production. 
Uniqlo carries a small range of Airism Absorbent Sanitary Shorts, which can be used by customers who experience periods. 
The Period Co, an online store based in Singapore, also told CNA Women that the brands it curates are "free of PFAS". 
One of its brands, Australian-owned Love Luna, declared on its website that its products have been "independently tested for PFAS with no trace being detected".
Another Australian brand available on the store, Modibodi, states on its website that its leak-proof and absorbent lining is "achieved through a combination of breathable, moisture-wicking and absorbent fabrics, thermoplastic polyurethane film and specific sewing techniques". 
US-based brand Saalt has gone one step further by publishing independent test results detecting no PFAS in its underwear since 2020. 
"The industry needs to partner with governments and scientific communities to phase out PFAS-containing raw materials (so that) they do not enter the manufacturing cycle of women's products," said Prof Chan.
In the meantime, it pays to be mindful about what you're putting in your basket, whether it's a swimsuit or a frying pan, and now, period panties. 
CNA Women is a section on CNA Lifestyle that seeks to inform, empower and inspire the modern woman. If you have women-related news, issues and ideas to share with us, email CNAWomen [at] mediacorp.com.sg.