Stage 4 breast cancer did not stop this 36-year-old mother of four from competing in a beauty pageant
Why would someone with cancer cells in her breast, liver, lungs, lymph nodes, spine and brain compete in a beauty pageant during the greatest battle for her life? Breast cancer warrior Alison Wee tells CNA Women why she did it, what her cancer journey taught her, and why she is determined to live more courageously for herself and her children.
Alison Wee was only 35 when she was diagnosed with Stage 4 breast cancer last year. It had spread throughout her body. Doctors told her that 70 per cent of her liver was filled with tumours. They also discovered cancer cells in her lymph nodes, lungs and spine.
Things were dire. But the young mother's life was only just beginning.
A stay-at-home mum caring for four young children then aged between two and 10, she had been thinking about returning to work. She was also 10 days away from the finals of a beauty pageant she had joined – Mrs Singapore Chinatown 2022.
Many people in her shoes would go through shock, anger, denial and despair. Not Wee.
Days after her diagnosis and first chemotherapy session, she put on her cheongsam and makeup in her hospital ward, competed in the beauty pageant and was placed first runner-up.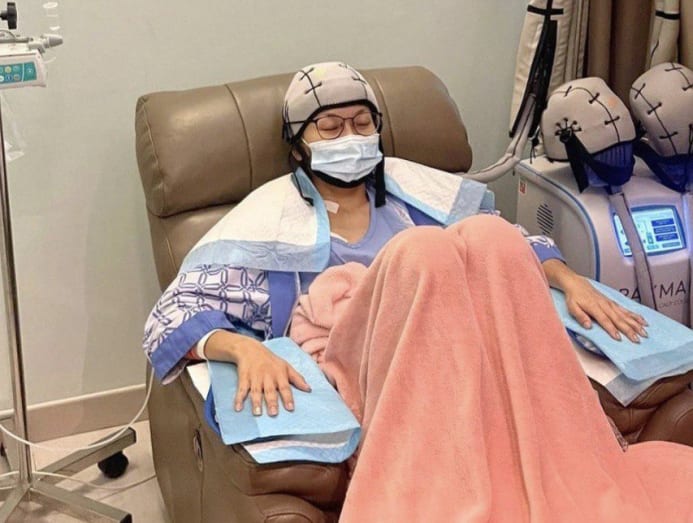 Two weeks after she competed in the finals of the beauty pageant, Wee started to lose her hair, eyebrows and eyelashes from chemotherapy.
It was such a dramatic change that it shocked her two younger children. "They stood at the door of my room watching me for a while. I think it scared them at first," she said.
But confronting death only taught Wee to embrace her beauty and life more wholeheartedly.
"Life is so tender. We come to this earth knowing that one day we will leave. But we don't know when. In between, so many things could happen – illness, accidents or something else.
"We have to make our decisions in the moment, focus on the experience and treasure what we have," she said.
HER JOURNEY TO SELF-ACCEPTANCE
The beauty queen did not always feel beautiful. "When I was young, everyone had straight hair in my school. I had natural curls which were messy and hard to manage, especially since I had to cut it short for school.
"I looked different and was always told that I didn't have the kind of looks that were considered beautiful," she said.
Life is so tender. We come to this earth knowing that one day we will leave. But we don't know when.
Her confidence did not grow with age.
Leaving her accounting job to be a full-time mother 10 years ago, she spent most of her time with her children, occasionally selling insurance on the side to supplement the family income.
"I lost touch with society. I was shy and not very outspoken," she said.
She decided to join the Mrs Singapore Chinatown pageant to come out of her shell. Little did she expect to be diagnosed with cancer just before the finals.
"Late one Tuesday night in November 2022, I suddenly started to feel a bit of pain under my right rib. At first, I thought my clothes were too tight," she recalled.
However, the pain did not abate, and the next morning, she went for a checkup and CT (computerised tomography) scan which showed that her liver was full of tumours.
She was hospitalised the same day, and further tests over the next few days confirmed that she had Stage 4 breast cancer that had spread throughout her body. On the third day of hospitalisation, doctors implanted a chemotherapy port about the size of a 20-cent coin above her right chest, connected to her veins to prepare her for chemotherapy.
Despite the stress of multiple medical procedures, Wee decided to continue with the pageant, going for the pre-judging event on the fourth day of her hospitalisation.
"When I walked out of the ward in my cheongsam and makeup, the nurse was quite shocked," she laughed.
COMPETING WHILE UNDERGOING CHEMOTHERAPY
At the pre-judging event, the pageant organisers prepared a wheelchair for Wee and wheeled her into the pre-judging event venue, where she shared with a panel of judges her personal story and beliefs.
Now a Stage 4 cancer warrior, and despite the fact that the cancer diagnosis was so fresh, Wee had a deeply personal message to share.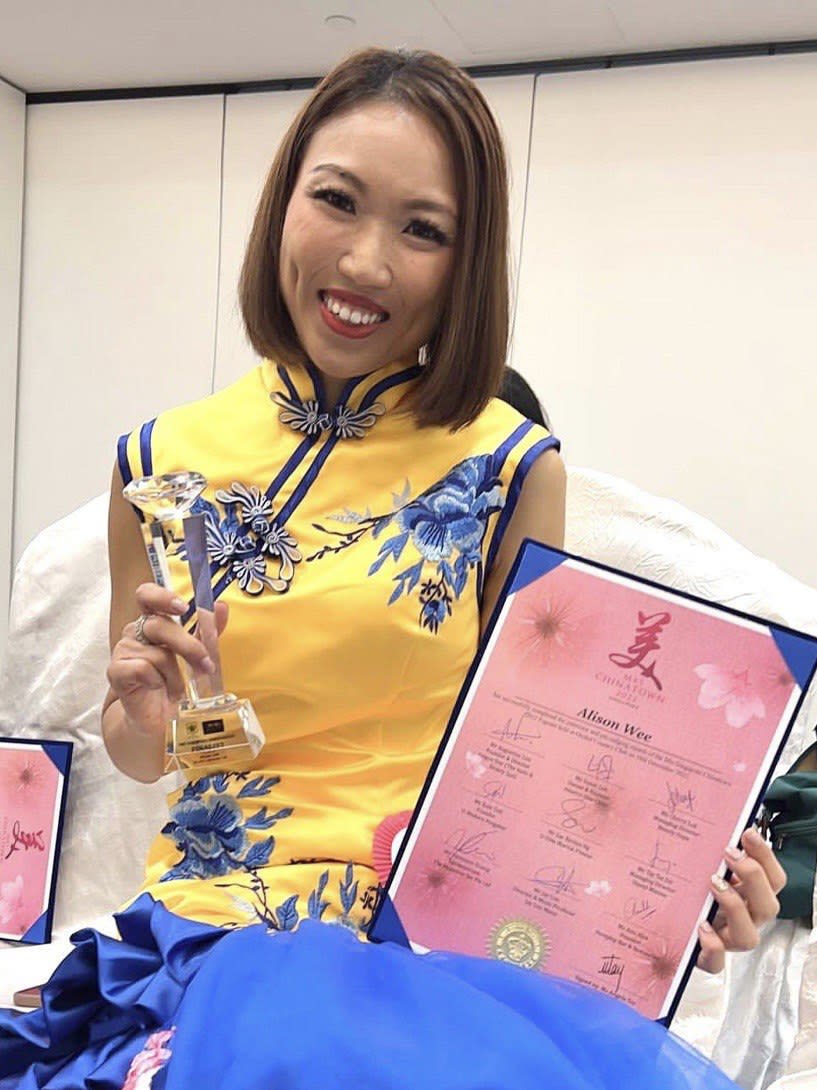 "Not everyone wants to share their experiences battling cancer. Many feel low and are afraid of how people would judge them.
"So I really wanted to help others in their darkest moments by sharing my breast cancer journey. I also wanted to let them know that they shouldn't be afraid of how people would look at them. It doesn't really matter that much," she said.
This became her motivation for competing.
Three days after the pre-judging event, she started chemotherapy. The following week, she competed in the pageant finals.
"I felt very weak and did not think I would win. I just wanted to go up there and share what I was going through so that I could be a voice helping other women facing breast cancer," she said.
When she was announced first runner-up, she was in disbelief. "It was so surreal. I was at a loss for words."
THE BATTLE AGAINST STAGE 4 BREAST CANCER
Instead of basking in the glory of her win, Wee went straight into weekly chemotherapy, and soon started to lose her hair.
"When I rubbed my scalp with my fingers, my hair would just fall off. And when I slept, the spot where I lay down became a bald patch.
"I would comb my hair and 90 per cent of it fell off. The 10 per cent left was so unsightly that I asked my husband to help me shave it off, but he just couldn't do it. So I used my eyebrow shaver to clean it off myself," she said.
Between April and May this year, Wee finally completed 18 weeks of chemotherapy. But that was not the end of the battle. 
One month later, she suddenly felt nauseous and dizzy. A magnetic resonance imaging scan showed cancer cells in her brain. She began radiotherapy, where high-energy rays are used to kill the brain cancer cells.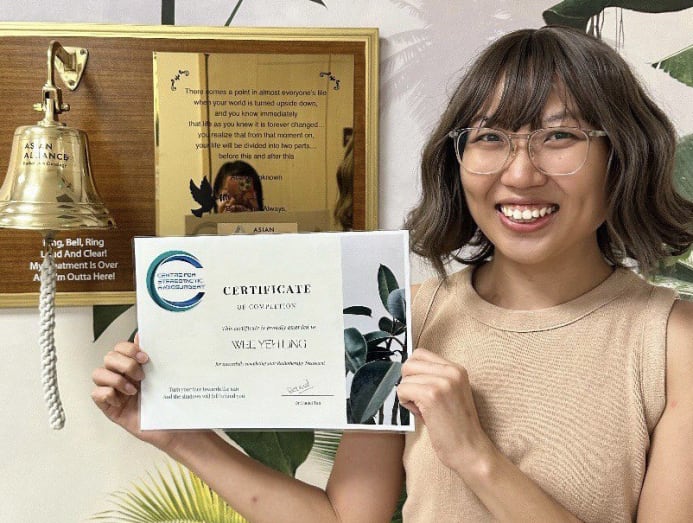 "After my first radiotherapy session, I had a headache that was so painful I felt like my head was going to crack. I felt nauseous and started throwing up. But after my doctor prescribed medicine for my radiation sickness, I felt better," she said.
SEEING LIFE WITH NEW EYES
Wee has since completed radiotherapy but will have to do maintenance chemotherapy once every three weeks for the rest of her life to suppress the cancer.
Nonetheless, she feels positive about her condition. "It might not be fully cured but I'm prepared to live with this cancer. I will not let it take over me," she declared.
Beauty has a very different definition for me. It's no longer about someone's figure or face. It's about their spirit and character.
She admitted that the thought of how young her children are makes her feel sad and afraid, but she is determined to make the most of her time with them.
Her journey has also helped her see beauty in a different light.
"In the past, I wanted to be perceived as beautiful even though I didn't conform to beauty standards. But as I grew older, I realised that beauty shouldn't have such rigid standards," she said.
"Now, after what I've gone through, beauty has a very different definition for me. It's no longer about someone's figure or face. It's about their spirit and character."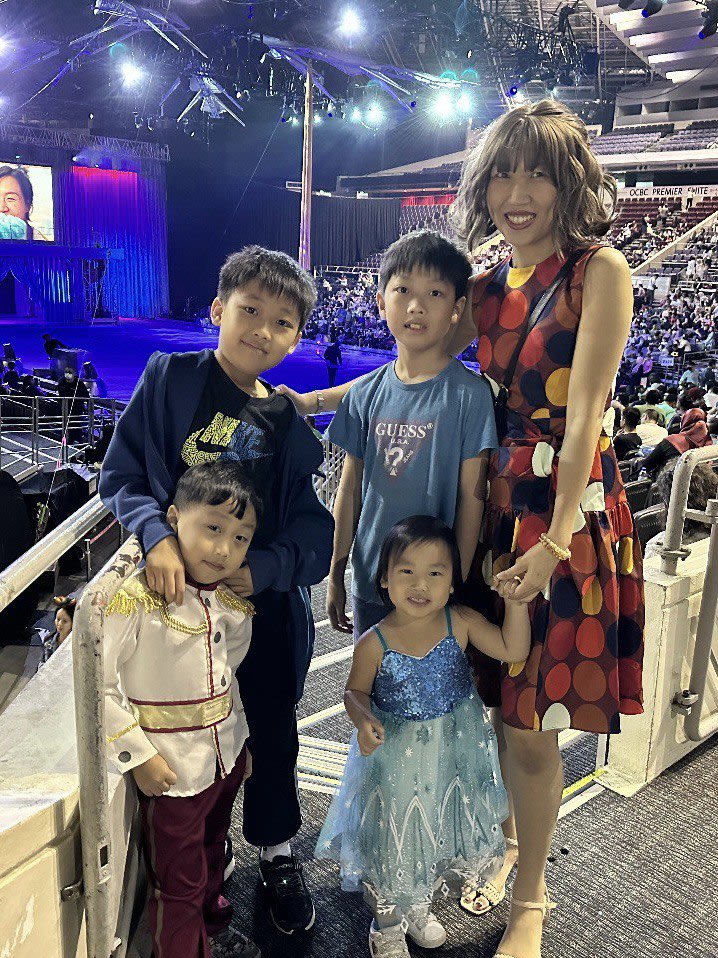 Even though she once struggled with her curly hair, these days, the beauty queen, whose hair started growing back in June, doesn't feel awkward going wigless and bald at home, even if passers-by see her.
"I can accept myself for who I am and I feel beautiful even without hair," she said. "But when I go out, I still dress up and put on a wig because it gives me a different kind of energy."
This has been the silver lining in her heartbreaking diagnosis.
"Before I got sick, I was so cowardly. I didn't dare to dream or strive for the things I wanted. I would hesitate and think about how others would react. But now I realise life is short, time is limited.
"If I could have a conversation with my younger self, I would tell her to be courageous and go for whatever she wanted without hesitation.
"I hope my children will also be brave and do whatever they want to do, and I want to be a living example for them. This is what keeps me strong," she said.
CNA Women is a section on CNA Lifestyle that seeks to inform, empower and inspire the modern woman. If you have women-related news, issues and ideas to share with us, email CNAWomen [at] mediacorp.com.sg.