9 reliable pet hotels in Singapore for pawrents going on vacation
Saying no to those puppy eyes can be hard, but these pet boarding vacations can help you leave and enjoy an overseas holiday with peace of mind.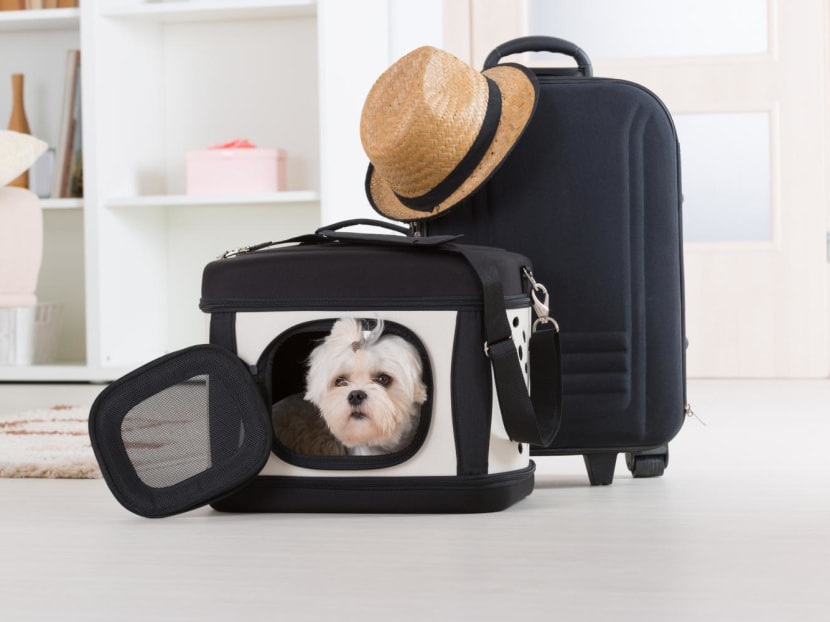 The same can't be said for everyone, but the pandemic was a blessing in disguise for our pets.
They enjoyed an unprecedented surge in playtime, cuddles and treats from their home-based humans. Every time they popped their heads into our Zoom meetings, a chorus of shrieks and squeals followed. Life was good, until our suitcases made an appearance for the first time in two years.
We desperately need a holiday, but the struggle of leaving a pet behind is universal whether you have a stoic guinea pig or an anxious puppy who whines when you, god forbid, take a shower. Pet boarding could be the answer, which is why we've rounded up nine reliable pet hotels in Singapore with a rating of at least 4.8 stars on Google reviews.
1. BREAKFAST AT FLUFFY'S (4.8 STARS, 94 REVIEWS)
Some of us can't imagine putting our dogs "behind bars", and Breakfast At Fluffy's gets it. The pet hotel in Joo Chiat touts "cage-free luxury", offering 24/7 air-conditioning and webcam viewing from S$65 a night.
Only guests who have passed the hotel's suitability test can check in, and they're all promised two walks daily and a weekly shower. A pre-booked swim session makes a nice surprise, too. Dogs are separated by gender, temperament and size at bedtime, but wardens will also be on-site round the clock if your pup needs any cajoling.
More details here.
2. BATTLESTAR BOARDING (5 STARS, 36 REVIEWS)
If your dog isn't known for being sociable, Battlestar Boarding in Sembawang has eight marble-tiled kennels and a free-roaming space to suit his moods throughout the day. It's a bold claim, but the hotel promises an experience so pleasant that dogs are reluctant to leave. Apparently, their owners on Google reviews concur.
From S$65 a night, the Battlestar Boarding experience includes at least two daily walks, two meals, accident insurance coverage, and 24-hour webcam viewing. Pre-boarding assessment is not required, which could be an upside if you're scrambling for pet hotels only at the last minute.
More details here. 
3. PAMPERED PETS (4.8 STARS, 5 REVIEWS)
Pampered Pets, the new kid in town, is backed by the ubiquitous Pet Lovers Centre. They pride themselves on a decade of experience with multiple breeds and offer pet relocation, transport and dog boarding.
From S$100 a night, their facility in The Star Vista offers junior and premium suites, as well as a "camp boarding" option for extroverted guests to hang out with dogs from the daycare arm in a communal zone. On top of supervised daycare and 24-hour webcam viewing, boarding fees include five walks a day, a nice bath, and a surprise gift when guests stay during their birthday month.
More details here.
4. MUTTS AND MITTENS (4.9 STARS, 160 REVIEWS)
Your pet's quirks are unlikely to shock Mutts and Mittens, whose glowing reviews in the last two decades speak for themselves. Furnished with spacious rooms, elevated beds, and adjustable feeding bowls, they have all the makings of a home away from home.
Their air-conditioned facilities for cats and dogs are located in Joo Chiat and Sungei Tengah, respectively. For less than S$60 a night, you get the usual 24-hour webcam viewing and daily walks. While they've done away with pre-assessments, owners have to declare behavioural issues beforehand. If your dog has separation anxiety, for instance, be sure to give the pet hotel a heads-up before making a booking.
More details here.
5. THE COLLAR CLUB (4.9 STARS, 111 REVIEWS)
River Valley is known for its luxurious houses, and The Collar Club understood the assignment. At the AVS-licensed (Animal & Veterinary Service) pet hotel, which also does pet spas, birthday parties and cage-free daycare, guestrooms are separated by glass and all dolled up.
With both indoor and outdoor play areas, dogs will get their daily dose of fun rain or shine. Besides, what better way to whet their appetites for some healthy handmade treats and prime them for a snore-fest at night? On top of 24-hour supervision, the pet hotel also has resident vets on standby. 
More details here.
6. TAILS UP (4.9 STARS, 15 REVIEWS)
Tails Up is among the newest pet hotels in Singapore, but it's quickly gaining traction for their promise of "landed living for your pup". Gardens and backyards may be out of reach for us, but surely we can live vicariously through our pets.
Located at the Civil Service Club in Changi, the terrace house-turned-pet hotel spans a whopping 5,000 sq ft of indoor and outdoor space. That includes Sniffari, a sensory garden for curious puppies to take in all the smells; and no lack of mounds, steps and sandpits for the bigger boys. Quiet zones have also been carved out for shy guests, but we reckon they'll come out of their shells to join the rest for classes in no time.
More details here.
7. THE LUXE MEOWNOR (5 STARS, 64 REVIEWS)
The Luxe Meownor is owned by a former interior design contractor and it shows. The "luxury boutique cat hotel" in Jalan Besar lives up to its title with bed chambers measuring 25 to 35 sq ft. Some come with connecting doors; others are thoughtfully built for elderly, mobility-impaired and nursing cats with newborns.
The hotel's look and feel, which one might describe as "Japandi", easily passes for a cat cafe in Tokyo. Invisible safety grilles create the illusion of a "cage-free" environment, but the cat furniture designed by the founder remains its highlight.
The nightly rate of S$58 covers two wet food meals a day, free flow of dry food, as well as daily ear cleaning, teeth brushing, and nail clipping. Upgrade them to either of their corner suites, which come with a street view or tree trunk, or throw in an organic coconut oil massage if you still feel guilty for deserting them.
More details here.
8. CATPURRA CAT CARE (5 STARS, 36 REVIEWS)
If your cat cannot be bought over with royal treatment, try Catpurra Cat Care, with claims to be Singapore's first "cat adventure club". With playgrounds and boutique cabins made of natural materials, they're all about rousing their big cat instincts by bringing the great outdoors indoors.
The Cave, a two-tiered lair with rock formations, fits up to two cats with removable dividers, while the four-tiered Maze Craze has tunnels, crevices, and a private rooftop to keep them busy. From S$30 a night, they can be personalised with your cats' favourite toys, blankets, treats and food bowls. To prevent diet complications, food isn't provided and guests will stick to their usual nosh and feeding routine.
More details here.
9. THE FLUFFY HUT (4.9 STARS, 47 REVIEWS)
Supposedly Singapore's first boarding service for small animals, The Fluffy Hut in Geylang hosts chinchillas, guinea pigs, hamsters, and rabbits from S$12 a night. Like pet hotels for cats and dogs, it provides 24-hour webcam viewing of your little critters and a two-way "hotel transfer" at S$70.
The facility is furnished with modular playpens that shapeshift to accommodate furballs of all sizes, and its largest configuration measures approximately 2 by 1 m. That will give your bunny enough space to work off all the bok choy and capsicum treats that are in store.
More details here.